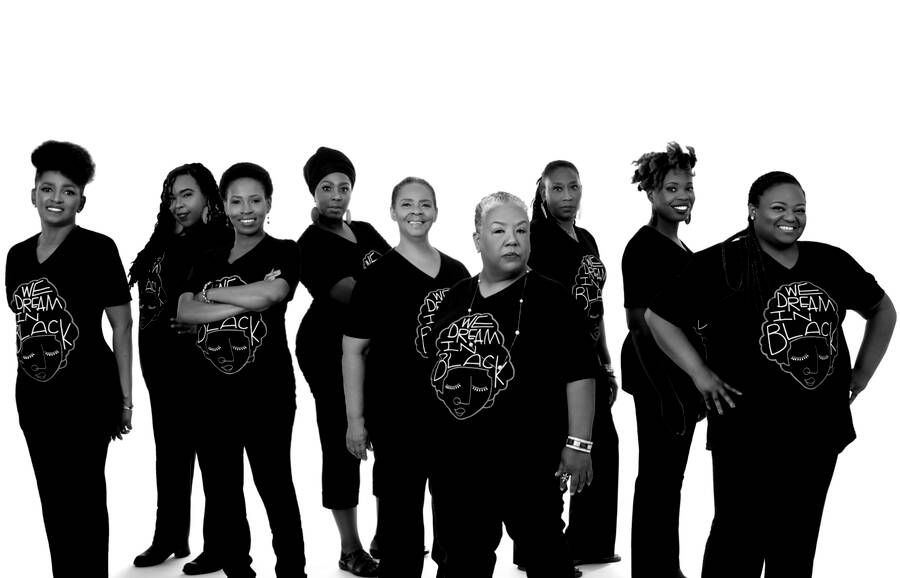 When Priscil­la Smith found her­self in Brazil this past May, speak­ing at an inter­na­tion­al con­fer­ence of domes­tic work­ers, the dis­tance from her life as a care­giv­er in North Car­oli­na seemed almost too extra­or­di­nary to believe.
"It was like a dream. I was extreme­ly ner­vous," she tells In These Times. ​"But to know that these women are fight­ing for the same caus­es from all around the world [and] to see how pas­sion­ate and strong they are gave me a sense of pride to know that I was cho­sen by an orga­ni­za­tion as pow­er­ful as [the Nation­al Domes­tic Work­ers Alliance (NDWA)] to rep­re­sent them."
In recent years, Smith had thrown her­self com­plete­ly into this work, fight­ing along­side her fel­low domes­tic work­ers for the treat­ment and ben­e­fits they know they deserve.
A new report, Pay, Pro­fes­sion­al­ism & Respect, put out by the Nation­al Domes­tic Work­ers Alliance We Dream in Black pro­gram and the Insti­tute for Pol­i­cy Stud­ies Black Work­er Ini­tia­tive, shines a spot­light on the untold work­place humil­i­a­tions, abus­es and out­right cru­el­ties inflict­ed on black women in one of the nation's fastest-grow­ing indus­tries. It's a sto­ry of mis­treat­ment clos­ing in on all sides: from work­ers tee­ter­ing on the brink of home­less­ness to ram­pant wage theft and work­place injury to unre­strained sex­u­al harass­ment and big­otry in the workplace.
"I end­ed up home­less for eight months," Diane Heller, a care­giv­er who's bounced between her home­town of Chica­go, IL and Atlanta and Savan­nah, GA, says in the report. ​"I was a live-in and the client was hor­ren­dous. She screamed and yelled a lot and kicked me out on the cold­est day of the year. I had to go to a shel­ter, and it was a liv­ing hell."
Despite grow­ing demand for care­givers of all stripes — nan­nies, house­keep­ers and home health aides — pover­ty haunts every cor­ner of the indus­try. This is espe­cial­ly true in the South. In North Car­oli­na, for exam­ple, medi­an income for home health aides is $19,680. And in the Atlanta met­ro­pol­i­tan area, maids and house­keep­ers mak­ing the medi­an wage are tak­ing home just $19,380. Both are well below the fed­er­al pover­ty line for a fam­i­ly of four, $25,100.
The indig­ni­ties don't stop at pover­ty wages. Many care­givers, who spend much of their wak­ing lives car­ing for the nation's most phys­i­cal­ly vul­ner­a­ble, find it impos­si­ble to secure care them­selves. Luri­ka Wynn of Durham, for exam­ple, has made vet­er­an health­care work her pas­sion. Yet her years work­ing in the field have been finan­cial­ly and phys­i­cal­ly per­ilous. Speak­ing of her work­place injuries and lack of health insur­ance, she says ​"I have torn lig­a­ments, plus I have nerve pain from lift­ing and pulling. … I'm nev­er going to [get work­ers' comp] for it. When this back is done, I'm out."
Wynn is not alone. There are over two mil­lion domes­tic work­ers in the Unit­ed States, but few of them enjoy any ben­e­fits to speak of. As the report notes, ​"only 12.2% of in-home work­ers nation­al­ly receive health insur­ance from their job, com­pared with 50.6% in oth­er pro­fes­sions." And across the coun­try, ​"less than 2% of domes­tic work­ers receive retire­ment or pen­sions ben­e­fits from their pri­ma­ry employer."
"It's piti­ful," Smith says. ​"And it's unfair. It's not that the mon­ey isn't there. The mon­ey is in this field. They just choose not to put it" towards health care.
But the report offers more than a cat­a­log of abus­es. Along­side every out­rage, the spot­light is also placed on the grow­ing pow­er of black domes­tic work­ers to over­come them.
"We're real­ly focused on rais­ing the floor for black domes­tic work­ers," says Celeste Fai­son, the Direc­tor of Black Orga­niz­ing at NDWA who also heads up strat­e­gy for their We Dream in Black pro­gram. With out­posts in five states — Mass­a­chu­setts, New York, Geor­gia, North Car­oli­na and Flori­da — We Dream in Black has emerged as an impor­tant vehi­cle for empow­er­ing black domes­tic work­ers and care­givers to change their lives.
But on top of win­ning robust labor pro­tec­tions and decent wages and ben­e­fits for domes­tic work­ers, Fai­son places their strug­gle in a much longer lin­eage. ​"It's also about begin­ning to tear down the sets of belief and his­tor­i­cal prac­tices of devalu­ing black labor," she says.
This approach ele­vates the country's full his­to­ry, warts and all. And the con­di­tions fac­ing black domes­tic work­ers are a per­fect exam­ple of where that his­to­ry col­lides with the present. ​"If you real­ly want to trace the his­to­ry of wealth inequity in this coun­try you can use domes­tic work."
Fai­son sketch­es a clear pic­ture, from the days of the south­ern slave empire and long into its after­math, all the way through the New Deal and right up to the present. At every step, black labor — and domes­tic work­ers in par­tic­u­lar — held the wretched posi­tion of being care­givers to a nation that enslaved, muti­lat­ed and raped them while pil­fer­ing their wages, if there were wages to speak of, and refused to offer them the work­place dig­ni­ty that pop­u­lar strug­gle had won for scores of white work­ers under FDR.
"If you ask any black per­son they'll either say their grand­moth­er or their great-grand­moth­er or their great aunt was a domes­tic work­er," Fai­son says. ​"These were the jobs that were avail­able for black women." Fast for­ward to the present and ​"you can see the wealth inequities between black women and every­one else."
As America's most faith­ful vot­ing bloc, it can be argued that black women are either the republic's truest believ­ers or the most unshak­able in their com­mit­ment to see it do no fur­ther harm.
On first glance, it can be dif­fi­cult to square this with the fact that, as the report reveals, large chunks of these women have been over­looked, or tram­pled under­foot, by the polit­i­cal class. Fai­son is both unsur­prised and unswerving.
"The polit­i­cal chan­nels don't have care work on their agen­da," she says. ​"It's real­ly up to black women and immi­grant women … to demand dig­ni­ty and respect in their work­place." She adds that there's noth­ing mys­te­ri­ous about how to make that a real­i­ty. ​"How that hap­pens is old-fash­ioned organizing."
ELI DAY was an inves­tiga­tive fel­low with In These Times' Leonard C. Good­man Insti­tute for Inves­tiga­tive Report­ing. He's also a Detroi­ter, where he writes about pol­i­tics, pol­i­cy, racial and eco­nom­ic jus­tice. His work has appeared in Vox, Cur­rent Affairs, Moth­er Jones, and the New Repub­lic, among others.