RIP Leo Robinson, Soul of the Longshore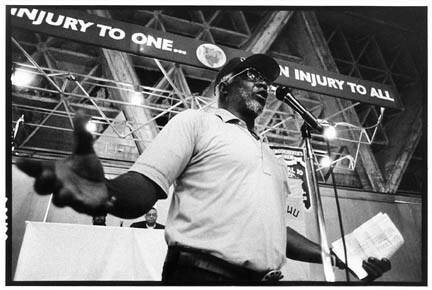 Leo Robin­son was a leader of the long­shore union in San Fran­cis­co. He died this week. For many of us, he was an exam­ple of what being an inter­na­tion­al­ist and a work­ing-class activist was all about.
Leo Robin­son came into the Inter­na­tion­al Long­shore and Ware­house Union (ILWU) because of a deal made by Har­ry Bridges and the Com­mu­nists who led the water­front strike of 1934. That strike metas­ta­sized into three-day gen­er­al strike after cops shot and killed two strik­ers on what became known as ​"Bloody Thurs­day." It was the birth of the ILWU and changed the polit­i­cal his­to­ry of the West Coast for decades to come.
At the time, long­shore­men were con­sid­ered bums; every morn­ing, they had to assem­ble in a ​"shape-up" and beg a job from the bosses.
The rad­i­cal lead­ers on the docks were both black and white. But the boss­es always showed pref­er­ence for the white gangs. Black crews got the worst jobs, when they were hired at all. Every work­er on the dock was hun­gry, poor and des­per­ate for work, but Black dock­ers were the hun­gri­est of all.
As the strike went on, the gang boss­es began look­ing for men who would cross the mass pick­et lines and start tak­ing car­go off the wait­ing ships. To keep them from recruit­ing Black work­ers, the strike lead­ers went out into the neigh­bor­hoods of Black work­ers and made a promise. The union, they said, was fight­ing to break the gang boss­es' con­trol over jobs by demand­ing a hir­ing hall run by work­ers, where no one would pay for a job or beg work from a fore­man. If Black work­ers would sup­port the strike, African Amer­i­cans would get jobs like any­one else, and the col­or lines would come down.
The union won the strike and the promise was kept. The ILWU in the Bay Area became an inte­grat­ed union with pow­er­ful, artic­u­late Black lead­ers. Some of them became heavy­weights in San Fran­cis­co pol­i­tics, where they broke the col­or line as well. In the city's African-Amer­i­can neigh­bor­hoods, long­shore­men — and even­tu­al­ly long­shore­women — were respect­ed, raised fam­i­lies, sent their kids to college.
That was quite a step up. From water­front bums, dock­work­ers became crane dri­vers — some of the best-paid work­ers in the San Fran­cis­co Bay Area. The union held real polit­i­cal power.
Even­tu­al­ly Local 10, the long­shore union for north­ern Cal­i­for­nia, became a union with a most­ly Black mem­ber­ship. It was more than a source of good jobs — it was an insti­tu­tion that brought pow­er to the com­mu­ni­ty. And as water­front work went across the bay, from San Fran­cis­co to the Port of Oak­land, the long­shore work­ers of Oak­land's Black com­mu­ni­ty had those same good jobs, ones their chil­dren and neigh­bors aspired to.
That's where Leo lived — on the bor­der between north and west Oak­land. That's where I grew up. I did­n't know Leo as a kid, but I knew the schools his chil­dren went to, the streets where they hung out, and the lan­guage they spoke.
I got to know Leo when he became a leader of the Coali­tion of Black Trade Union­ists. With Geral­dine John­son and David Stew­art, they used the CBTU to try to reach into oth­er Bay Area unions and encour­age the same kind of pro­gres­sive pol­i­tics they knew in Local 10.
This was the 1970s, an era when apartheid rode high South Africa, the years of the Sharpeville Mas­sacre, pass­book laws, and the ban­ning of the African Nation­al Con­gress (ANC), the South African Com­mu­nist Par­ty (SACP) and the South African Con­gress of Trade Unions (SAC­TU). But it was also the era of the Cold War. The ANC, the SACP and the SAC­TU were all called ter­ror­ist orga­ni­za­tions by our gov­ern­ment and accused of tak­ing help from the Sovi­et Union.
Red-bait­ing did­n't stop Leo, David and Geral­dine. They saw a con­nec­tion between Oak­land and Johan­nes­burg. They believed that Black peo­ple would not be free in the Unit­ed States if they were not free in South Africa, and were deter­mined to end the sup­port giv­en by the U.S. gov­ern­ment that kept the apartheid régime alive.
Leo knew that work­ers in both coun­tries had the poten­tial to break that tie. If long­shore­men in San Fran­cis­co could find a way to sup­port Black work­ers in South Africa, it would help the lib­er­a­tion move­ment there sur­vive and win. At the same time they would change the con­di­tions for Black work­ers here at home.
Their work began when the anti-apartheid move­ment was still small.
Togeth­er with oth­er labor activists they brought lead­ers of SAC­TU to the Bay Area when the hier­ar­chy of the AFL-CIO, then still under the influ­ence of the cold war­riors, refused to sup­port them.
One of the first things I learned about Leo was that he was not afraid of being called a Red. He took pride in it. ​"When some peo­ple insult you and call you a Red," he said, ​"that's when you know you're real­ly doing good work. When you're hurt­ing the racists, that's their weapon of choice."
He was a tremen­dous speak­er. The best pho­to­graph I ever took of Leo was while he was talk­ing in a union meet­ing about safe­ty con­di­tions on the docks. He had the full atten­tion of every union mem­ber in Local 10's cav­ernous water­front union hall. Leo was an agi­ta­tor, but peo­ple lis­tened to him because what he said made sense to them. He knew how to speak their language.
In 1984, Local 10, the Marine Clerks Union Local 34, and mem­bers of the Inland­boat­men's Union, togeth­er refused to unload the Nedl­loyd Kim­ber­ley, a ship from South Africa docked in San Fran­cis­co Bay. For eleven days, they defied the threats of the ship own­ers. They did­n't just take advan­tage of a tech­ni­cal­i­ty in their con­tract allow­ing them to respect out­side pick­et lines. They used the pow­er they'd won in the hir­ing hall, dis­patch­ing mem­bers to unload the ship who would refuse to do the work when they arrived on the pier. Local 10 mem­bers risked their union for a prin­ci­ple, some­thing the ship own­ers here have nev­er for­got­ten, or forgiven.
Leo was a leader of that action. The ship boy­cott was end­ed under the threat of a fed­er­al injunc­tion. But then the hun­dreds of union and com­mu­ni­ty activists who'd turned out to demon­strate every day on the docks moved their pick­et line to Oak­land. There they demon­strat­ed against the Pacif­ic Mar­itime Asso­ci­a­tion, the shipown­ers, every day for two years.
That was the real birth of the anti-apartheid move­ment in north­ern Cal­i­for­nia. Even­tu­al­ly the shipown­ers could no longer bring South African car­go into any port on the West Coast. Cities like Oak­land and San Fran­cis­co divest­ed from com­pa­nies with South African oper­a­tions. And when apartheid fell, Nel­son Man­dela came to Oak­land and acknowl­edged what Leo, CBTU, the ILWU, and our Free South Africa Move­ment had fought for through the years.
I was chair of the Bay Area Free South Africa Labor Com­mit­tee for many of those years. I worked with Leo and helped build a rela­tion­ship between the ILWU and South African unions, espe­cial­ly the Con­gress of South African Trade Unions in a lib­er­at­ed South Africa. Those ties, and that inter­na­tion­al per­spec­tive, is part of the life of the ILWU today and part of the lega­cy Leo leaves behind him.
Leo's polit­i­cal com­mit­ments extend­ed beyond South Africa. He worked for an end to the wars in Iraq and Afghanistan. He protest­ed police bru­tal­i­ty in the Oak­land where he lived for many years. He defend­ed the union he loved, and unions and work­ers everywhere.
Most impor­tant, Leo Robin­son believed that imme­di­ate changes were impor­tant because they are steps to a more just world. He once spoke in a packed church in West Oak­land to the ones he called the ​"young com­rades." He described his vision of a more just soci­ety, in which work­ing peo­ple weren't exploit­ed for pri­vate gain, one that would abol­ish racism and sex­ism. He gave that vision a name — social­ism — at a time when the media claimed that social­ism was dead, and cap­i­tal­ism was the best humankind could hope for.
​"I know that's a lie," he shout­ed out. ​"The world depends on us, on our labor. And we have the right to decide what kind of world it's going to be."
David Bacon
is a writer, pho­tog­ra­ph­er and for­mer union orga­niz­er. He is the author of The Right to Stay Home: How US Pol­i­cy Dri­ves Mex­i­can Migra­tion (
2013
), Ille­gal Peo­ple: How Glob­al­iza­tion Cre­ates Migra­tion and Crim­i­nal­izes Immi­grants (
2008
), Com­mu­ni­ties With­out Bor­ders (
2006
), and The Chil­dren of NAF­TA: Labor Wars on the US/​Mexico Bor­der (
2004
). His web­site is at dba​con​.igc​.org.