Let Old Labor Die
With union membership declining, Tom Geoghegan has a radical prescription for labor.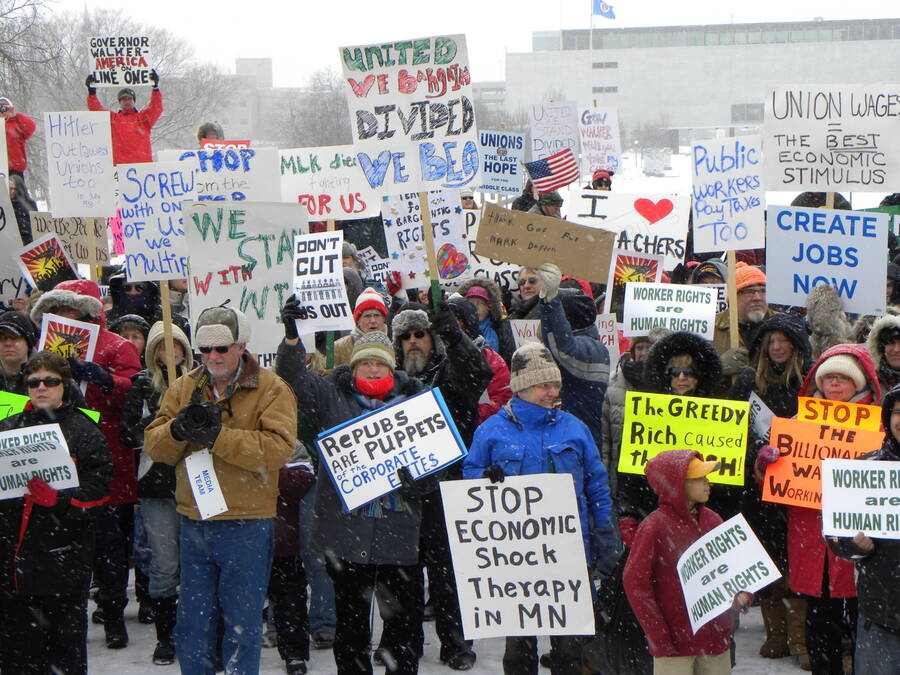 It is not dif­fi­cult to imag­ine the Unit­ed States with­out a labor move­ment. Less than 7 per­cent of the country's pri­vate-sec­tor work­force is union­ized. Twen­ty-four states have enact­ed ​"right to work" laws that sap union trea­suries by allow­ing work­ers to ben­e­fit from union con­tracts with­out pay­ing dues. Even Michi­gan became right-to-work in 2012.
'In the century to come, new labor has to step back, give up its control over the old labor law remedies and let workers do things for themselves.'
Is labor's decline ter­mi­nal? Long-time labor lawyer Thomas Geoghe­gan says yes — unless we redesign the legal sys­tem upon which the mod­ern labor move­ment was built.
The title of Geoghegan's new book, Only One Thing Can Save Us: Why Our Coun­try Needs a New Kind of Labor Move­ment (The New Press), sig­nals a man­i­festo. Geoghe­gan method­i­cal­ly builds his case around two argu­ments. First, for labor to make a come­back, Amer­i­can work­ers must be less behold­en to hide­bound unions and the fed­er­al Nation­al Labor Rela­tions Board (NLRB), the agency that ref­er­ees union elec­tions and medi­ates labor dis­putes. Work­ers must have the oppor­tu­ni­ty to more direct­ly con­trol their lives through work­place democracy.
Geoghegan's sec­ond argu­ment is that a new kind of move­ment can only be born through new laws — which means the Demo­c­ra­t­ic Par­ty must return to its labor roots. Geoghe­gan pleads with Democ­rats to do more than tin­ker with the mini- mum wage and tout col­lege diplo­mas. Giv­en that most jobs being cre­at­ed in the Unit­ed States do not require a four-year degree, he argues, Democ­rats must fos­ter a new and stronger labor move­ment to com­bat ram­pant inequality.
Only One Thing Can Save Us is vin­tage Geoghe­gan: eru­dite, wit­ty, auto­bi­o­graph­i­cal and com­pul­sive­ly tan­gen­tial. (He's not shy about his love for John Dewey and John May­nard Keynes.) There's also some guilt. While run­ning for Chica­go May­or Rahm Emanuel's old Illi­nois con­gres­sion­al seat in a 2009 spe­cial elec­tion, Geoghe­gan bare­ly men­tioned orga­nized labor. He got clob­bered (his word) in the pri­ma­ry and now gives us this ​"act of expiation."
Geoghe­gan churns out a book every three or four years, all while rep­re­sent­ing embat­tled work­ers and unions (includ­ing the Chica­go Teach­ers Union). He was bound to return to the fate of the U.S. labor move­ment, hav­ing start­ed there in 1991 with his first book, Which Side Are You On?: Try­ing to Be for Labor When It's Flat on Its Back.
Now labor's back seems to be bro­ken, and Geoghe­gan is tired of los­ing. The ambiva­lence about unions (not to be con­fused with work­ers' rights) that ani­mat­ed Which Side Are You On? has become 11th-hour des­per­a­tion. Out­matched by union-bust­ing employ­ers in court and hob­bled by the bot­tle­neck of the NLRB, orga­nized labor's last best hope is to con­duct ​"polit­i­cal strikes" that force deep change, he argues.
"To go up against employ­ers with the idea of bring­ing labor back is futile," Geoghe­gan writes. ​"Yet if the real tar­get is the Demo­c­ra­t­ic Par­ty and not the employ­ers, enough dis­rup­tion, made up of lit­tle hit-and-run strikes, might change the world."
He advo­cates one-day strikes, con­clud­ed before employ­ers can legal­ly replace work­ers, as a way to dis­rupt busi­ness-as-usu­al for employ­ers and to shame Democ­rats into push­ing a pro-labor agen­da. An exam­ple of the approach is the SEIU-backed Fight for 15 campaign's fast-food work­er strikes, which seem to have pushed a min­i­mum wage increase onto the Demo­c­ra­t­ic agen­da this year.
But Geoghe­gan is after more than
wage boosts. ​"The goal is to build up
to a 1968-style polit­i­cal fight to force
the Demo­c­ra­t­ic Par­ty to sign on to a revamp­ing of cor­po­rate law," he writes.
The revamp would sub­sti­tute a ​"stake-hold­er" cor­po­rate mod­el for our cur­rent one. In oth­er words, fol­low the lead of Ger­many, where labor pow­er is baked into com­pa­ny oper­a­tions through ​"co-deter­mined" boards of direc­tors fea­tur­ing elect­ed employ­ees and ​"works coun­cils" unaf­fil­i­at­ed with any union that help man­age local work­ing con­di­tions. He explored such themes in his last book, Were You Born on the Wrong Con­ti­nent? How the Euro­pean Mod­el Can Help You Get a Life, which declared his love for Germany's labor rela­tions and well-guard­ed indus­tri­al base.
Yet Geoghegan's push for the stake-hold­er mod­el has an air of unre­al­i­ty, and not just because it's nigh impos­si­ble to imag­ine Democ­rats alter­ing the DNA of Amer­i­can-style cor­po­rate cap­i­tal­ism. Import­ing the Ger­man labor-man­age­ment mod­el would also change unions. Under cur­rent labor law, only an elect­ed union rep­re­sent­ing all work­ers can nego­ti­ate work­ing conditions.
Geoghe­gan thinks this mod­el alien­ates Amer­i­cans who are look­ing for con­trol rather than sol­i­dar­i­ty — like ​"a guy in Alaba­ma who deep down is wait­ing for a labor move­ment that won't be imposed on him." So unions must sur­ren­der some con­trol, he writes, in a pas­sage sure to anger some union officials:
The peri­od of child­hood or tute­lage — the nature of it depends on which union is the ​"par­ent" — has to end. In the cen­tu­ry to come, new labor has to step back, give up its con­trol over the old labor law reme­dies, and let work­ers do things for themselves.
Sounds great. But why would unions flex what lit­tle mus­cle they have left to push for changes that under­mine their own pow­er — espe­cial­ly giv­en what appears to be long-term GOP con­trol of the House and the Sen­ate fil­i­buster. (The fil­i­buster, Geoghe­gan notes acid­ly, ​"has always exist­ed in part to ensure a pool of either slave or low-wage labor.") Mind­ful of Washington's per­pet­u­al grid­lock, he sug­gests that state gov­ern­ments might first exper­i­ment with amend­ing the cor­po­rate mod­el to boost work­ers' pow­er. For exam­ple, they could give tax breaks to any com­pa­ny that allows employ­ees to elect half of its board of directors.
A more straight­for­ward way to bol­ster the labor move­ment would be to amend the Civ­il Rights Act to include the right to join a union. This would allow indi­vid­u­als to bypass cum­ber­some NLRB pro­ce­dures and sue anti-union employ­ers in fed­er­al court. Geoghe­gan is so con­fi­dent that a civ­il right to union­ize would grow the move­ment that he pro­pos­es — if the fil­i­buster isn't abol­ished! — stom­ach­ing a nation­al right-to-work law in exchange for the amendment.
It is a trou­bling para­dox that his vision for a new kind of move­ment — less hier­ar­chi­cal and depen­dent on NLRB-cer­ti­fied elec­tions and con­tracts — is so pred­i­cat­ed on gov­ern­ment action. A New Deal Demo­c­rat, Geoghe­gan sees the mod­ern labor move­ment as a glo­ri­fied fed­er­al pol­i­cy project gone off the rails. It began with Wash­ing­ton elites arm­ing work­ers with legal tools, which have since rust­ed into uselessness.
Appar­ent­ly, then, the one thing that can real­ly save us is a new kind of Demo­c­ra­t­ic Par­ty. But as implau­si­ble as Geoghegan's vision for labor — and the Demo­c­ra­t­ic Par­ty — may be, its premise is right: Unions can only sur­vive by fight­ing — and evolving.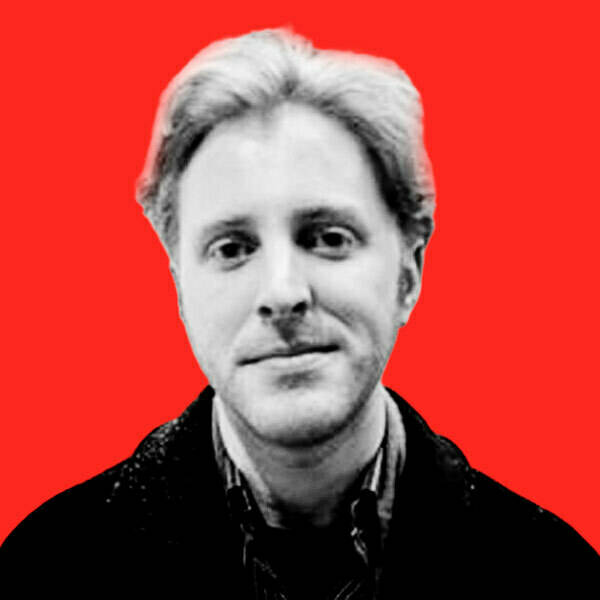 Jere­my Gantz is a con­tribut­ing edi­tor at the mag­a­zine. He is the edi­tor of The Age of Inequal­i­ty: Cor­po­rate America's War on Work­ing Peo­ple (2017, Ver­so), and was the Web/​Associate Edi­tor of In These Times from 2008 to 2012.