Letter from the Syrian Border
An on-the-ground report from the growing Syrian refugee camps in Turkey.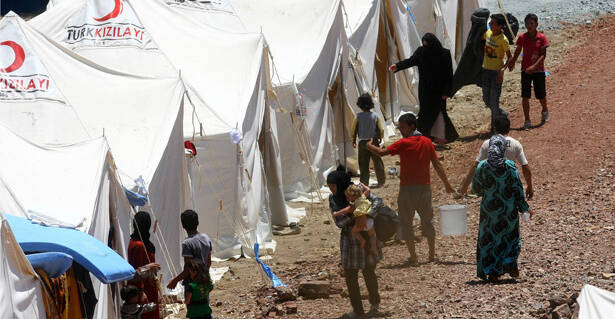 YAY­LADAG, Turkey (On the Syr­i­an bor­der) — Yass­er Jani hud­dles in a tiny sliv­er of shade. He wants to escape from the heat and crowd­ing and an uncer­tain future. But the small patch of trees just out­side the camp for Syr­i­an refugees here didn't offer one and his face shows it.
​"Most of the peo­ple here are hope­less," says the short, mid­dle-aged Syr­i­an, who taught high school sci­ence before flee­ing last year with his wife, two small chil­dren, moth­er and broth­er. ​"They lost their homes, their work, and their mon­ey and they don't know any­thing about their future," he said.
​"And I feel the same way," he flat­ly adds.
As Syr­ia boils, its dias­po­ra lives in dis­parate worlds of faith and despair, of denial and accep­tance, and many places in between. The young body­builder whose stom­ach was plugged with bul­lets from Syr­i­an sol­diers nur­tures old dreams while the hus­band, whose sev­enth-month preg­nant wife was killed as they were flee­ing, is frozen in shock.
Dai­ly the specter grows of yet anoth­er mas­sive pop­u­la­tion of uproot­ed and wound­ed souls in the Arab world.
Already more than 112,000 refugees are jammed in camps in Turkey, Lebanon, Iraq and Jor­dan, with thou­sands more are sur­viv­ing on their own in these coun­tries. Many more Syr­i­ans appear ready to join these ranks and flee their coun­try as the fight­ing grows fiercer in Syria's largest cities.
Dr. Moustafa, a Syr­i­an psy­chi­a­trist now liv­ing in the Unit­ed King­dom who would not give his last name, wor­ries about the indeli­ble scars that he says will last long beyond any res­o­lu­tion to the cri­sis. The only Syr­i­an psy­chi­a­trist on hand here, he is forced to flit from camp to camp, deal­ing with pan­ic-strick­en refugees, dis­pens­ing med­ica­tion and try­ing to mea­sure the depth of the problem.
Yass­er Jani is one of those refugees liv­ing some­where between hope and dark­ness. Despite his frus­tra­tion about spend­ing the last year in the small, crowd­ed camp, where he com­plains about the dai­ly incon­ve­niences, he has helped out with class­es for young chil­dren. It's all he can do, he adds.
Like­wise, Ahmed Has­soun, 56, fol­lows the same dai­ly rou­tine, which gives him mean­ing in Antakya, a large city in south­east­ern Turkey, where many Syr­i­ans have gath­ered. A lawyer from Idlib in north­west­ern Syr­ia, where the fight­ing has been intense, Has­soun puts on a clean shirt and well-pressed dark pants ear­ly in the morn­ing in an almost emp­ty apart­ment, where he lives with his chil­dren, and heads to an office where he works with anoth­er 20 Syr­i­an refugee lawyers. His wife stayed behind in Syria.
He gets no pay for his work. None of the lawyers do. But they have gath­ered dai­ly, meet­ing with clients and tak­ing care­ful notes for the last month and a half. Their goal is to pro­duce an accu­rate and detailed account of the abus­es suf­fered by Syr­i­ans under the Assad régime. They hope to turn it over to the Inter­na­tion­al Crim­i­nal Court or to a court in Syr­ia when they return, he explains.
They are also work­ing with attor­neys with­in Syr­ia to com­pile their records.
From the hand­ful of refugees, who vis­it the office dai­ly to tell their sto­ries or the sto­ries of oth­ers who are too ashamed, as is the case for female rape vic­tims, or too over­whelmed to per­son­al­ly recount the events, they have cat­a­logued more than 30 kinds of tor­ture, and at least 1,500 rapes, some of them in groups.
His records show that Syr­i­an tor­tur­ers use met­al and wood­en sticks and often elec­tric­i­ty on their vic­tims. They also use acid and it is not unusu­al for vic­tims to die of their burns and wounds, he says.
Sol­diers caught escap­ing, ​"are exe­cut­ed right away by gun or they slaugh­ter them with knifes," he says.
As a fel­low attor­ney sit­ting beside Has­soun cool­ly recalls see­ing some­one beat­en to death on the street by Syr­i­an sol­diers with a rock, Has­soun adds soft­ly, ​"I feel ter­ri­ble when I hear these stories."
Many of the tor­tures that Has­soun has been record­ing were suf­fered by Dr. Mohammed Sheik Ibrahim, 38, a soft-spo­ken pedi­a­tri­cian, who didn't want to leave Syr­ia even after eight months in prison.
​"They put me in a small cell for 28 days and they inter­ro­gat­ed me four times a day for an hour or two each time. Or they would make me stand for hours. They beat me. They used wood­en sticks and met­al sticks," he says. ​"I heard them rap­ing women and girls in the rooms nearby."
When Ibrahim came home to Latakia from prison, he con­tin­ued to speak out to his clients, col­leagues and any­one else about the régime's abus­es. ​"I wasn't afraid," he explains. Then one day a high-rank­ing offi­cial warned him that his life was in dan­ger. He fled the next day, near­ly nine months ago.
Ibrahim has since been work­ing with injured fight­ers in Turkey from the Free Syr­i­an Army. When thou­sands of fel­low Turk­mens from Syr­ia poured across the bor­der recent­ly, dri­ven by aer­i­al attacks, he rushed to the camp that Turk­ish offi­cials quick­ly set up for them here in Yayladag.
He is com­mit­ted, he says, to work with the fight­ers and fol­low them into Syr­ia when they launch a large bat­tle. His father has asked him not to go, fear­ing for his life, but he remains deter­mined to go with the fight­ers, he says.
He explains that he is a doc­tor treat­ing one wound after anoth­er with no end in sight.
​"When I am fix­ing them (the sol­diers), I tell myself that Bashar Assad is the man with the knife and he is the one caus­ing all of these wounds," he says intense­ly, mov­ing his arms, and rais­ing his voice.
Like Ibrahim, Dr. Khaula Sawah knows much about the refugees' med­ical needs, because she has been orga­niz­ing the help com­ing from expa­tri­ate Syr­i­ans med­ical experts like her­self. The expats arrive here in waves from across Europe, the Unit­ed States and the Arab world. They stay sev­er­al weeks and leave. Many return.
Sawah also works on find­ing med­ical sup­plies need­ed inside of Syr­ia. A clin­i­cal phar­ma­cist at a Cincin­nati hos­pi­tal, she has come to south­east­ern Turkey five times this year so far for this kind of work. This time she brought her two sons along with her.
Born in St. Louis, Sawah moved as a child to Syr­ia with her Syr­i­an-born par­ents. When her father was put in prison by the gov­ern­ment, the fam­i­ly wait­ed 12 years in Syr­ia until he was released.
Now vice-pres­i­dent of the Turk­ish branch of the Union of Syr­i­an Med­ical Relief Orga­ni­za­tions, Sawah has late­ly been fill­ing up a small ware­house with med­i­cine and then find­ing safe ways to smug­gle it into Syria.
​"The needs are humungous," she says. ​"We'll pitch in $100,000 worth of med­i­cine (in Syr­ia) and it is gone in a few days."
At the ware­house — the base­ment of a near­by apart­ment house in Rey­han­li — peo­ple are unpack­ing a new deliv­ery of blood absorb­ing ban­dages. A U.S. man­u­fac­tur­er had donat­ed the sup­plies, worth near­ly $500,000, Sawah says.
From vis­its to the Turk­ish-run camps as well as clin­ics that the Syr­i­an physi­cians have set up, she is famil­iar with the refugees' frustration.
It's been espe­cial­ly dif­fi­cult, she says, for those who didn't want to live in the camps because of their stark con­di­tions or iso­la­tion. As a result, they struck out on their own, rent­ing apart­ments and often dou­bling up with oth­er fam­i­lies. In many places, rents dou­bled with the refugees' arrival, the refugees say.
​"They are all ille­gal and they don't have any rights," she explains. Soon they run out mon­ey and then dis­cov­er that can't get help at the Turk­ish hos­pi­tals because they are not reg­is­tered. ​"I just got a call from a woman who went to the state hos­pi­tal and said they wouldn't check up her child."
But the great­est dis­con­tent, she says, is felt by those who have been in the camps the longest. It wells up into squab­bles between groups and com­plaints about con­di­tions. Indeed, there have been three dis­tur­bances in refugee camps by Syr­i­ans ask­ing for refrig­er­a­tors, or water and food. Turk­ish secu­ri­ty forces used tear gas and fired bul­lets into the air to calm an upris­ing at one camp.
But Sawah has also seen the way the refugees have strug­gled to accom­mo­date each oth­er and adjust to a future on hold. Some have set up small stores in the camps to earn mon­ey and make life more hos­pitable. And at over­crowd­ed clin­ics, old­er patients have giv­en up their beds and slept on the floor to make room for new arrivals.
At the Yay­ladag camp, where a recent fire took the lives of a new­ly­wed cou­ple who had arrived only a few days ear­li­er, Yass­er Jani wor­ries about the young chil­dren who he says need more food and cloth­ing, and the teenagers who need a school. He wor­ries too about the women who have to put up with a lack of pri­va­cy and oth­er difficulties.
After the fire at the camp, an old fac­to­ry ware­house min­utes from the Syr­i­an bor­der, Turk­ish offi­cials talked of mov­ing the refugees to anoth­er camp. But over­come by the arrival of as many as 1,000 refugees a day and the need to open at least two more camps, the camp here has stayed open.
Pri­vate­ly, Jani wor­ries about not hav­ing mon­ey and what's ahead. But on anoth­er day in the low 100s, he wor­ries about just catch­ing his breath. Most nights he can­not sleep because of the heat.
​"But I'm try­ing to make my life bet­ter," he adds.
The Pulitzer Cen­ter for Cri­sis Report­ing sup­port­ed this reporting.
Stephen Franklin is a for­mer labor and work­place reporter for the Chica­go Tri­bune, was until recent­ly the eth­nic media project direc­tor with Pub­lic Nar­ra­tive in Chica­go. He is the author of Three Strikes: Labor's Heart­land Loss­es and What They Mean for Work­ing Amer­i­cans (2002), and has report­ed through­out the Unit­ed States and the Mid­dle East.