Liberal Pundits Once Championed Government Transparency—Then Hillary Clinton Ran For President
Matt Yglesias and Kevin Drum have suddenly come out against open government, betraying a long journalistic legacy.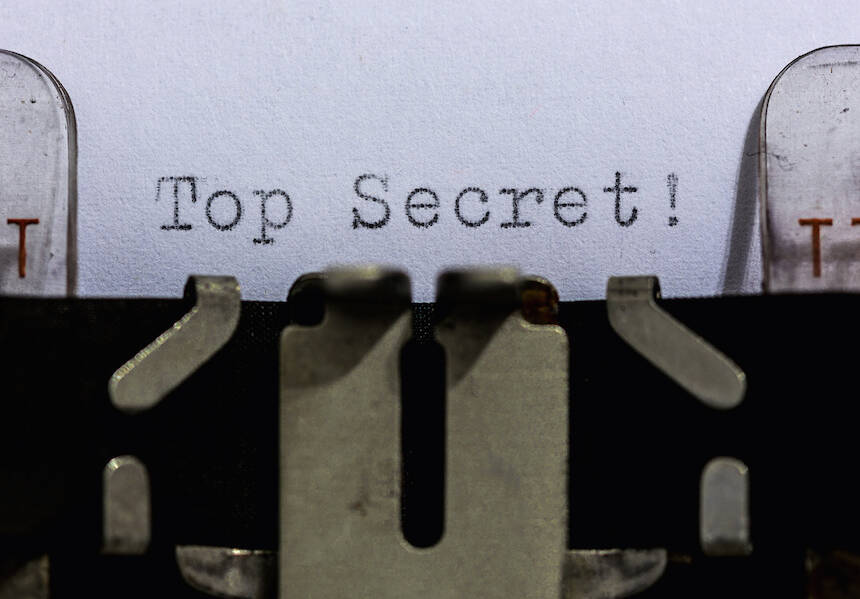 The 2016 elec­tion has cer­tain­ly been a strange one. Typ­i­cal­ly, peo­ple point to the Right's infat­u­a­tion with a racist, red-faced con­man as a clear exam­ple. Yet some­thing strange has been hap­pen­ing on the Left, too.
Drum, posed an ingenious solution to the problem of balancing government effectiveness with transparency: "less transparency, but faster, more effective transparency." How does one have "more effective" transparency while having less of it?
The lat­est antics from lib­er­al quar­ters are relat­ed to open gov­ern­ment. This week, Vox's Matt Ygle­sias made waves (and, prob­a­bly, a spike in Vox's traf­fic) by post­ing an arti­cle provoca­tive­ly titled ​"Against Trans­paren­cy," argu­ing that gov­ern­ment offi­cials' emails should be exempt from pub­lic records requests. Ygle­sias and his piece were prompt­ly and round­ly mocked by var­i­ous jour­nal­ists who make exten­sive use of the Free­dom of Infor­ma­tion Act (FOIA) in their work to keep gov­ern­ment offi­cials accountable.
Ygle­sias would lat­er claim that his crit­ics were only read­ing the click­baity head­line and ignor­ing the nuanced argu­ment of the arti­cle itself, con­tribut­ing to the out­rage. In real­i­ty, it's the argu­ment of the piece that is its biggest problem.
Ygle­sias' point is rel­a­tive­ly sim­ple: Ter­ri­fied of leav­ing an embar­rass­ing paper trail where inno­cent or com­plete­ly banal email con­ver­sa­tions are lat­er blown out of pro­por­tion upon being released pub­licly, gov­ern­ment offi­cials are appar­ent­ly switch­ing to the use of ​"inef­fi­cient" meth­ods of com­mu­ni­ca­tion like phone calls or in-per­son con­ver­sa­tions en masse. I say ​"appar­ent­ly," because Ygle­sias at no point cites any evi­dence for this sup­posed trend.
The result of this, accord­ing to Ygle­sias, is that effec­tive gov­ern­ment is being hob­bled by a fear of dis­clo­sure, with offi­cials either avoid­ing hon­esty and instead opt­ing to say what they think would look good to the pub­lic, or sim­ply dis­pens­ing with email altogether.
The crux of Ygle­sias' argu­ment is this: ​"Dis­clo­sure laws sit as a con­stant threat to the adop­tion and use of effi­cient com­mu­ni­ca­tions tools," he writes. As he lat­er elab­o­rates, ​"Effec­tive gov­ern­ment" — that is, one that's effi­cient — ​"beats trans­par­ent government."
The priz­ing of effi­cien­cy above all oth­er val­ues — includ­ing trans­paren­cy and basic account­abil­i­ty — is a sta­ple of tech­no­crat­ic, one might even say neolib­er­al, belief. Ygle­sias would rather the gov­ern­ment oper­ate as effec­tive­ly as pos­si­ble, and if it needs total secre­cy to do so, so be it.
Per­haps he's right. For most of his­to­ry, the U.S. gov­ern­ment has oper­at­ed very effec­tive­ly when offi­cials have had lit­tle fear of pub­lic account­abil­i­ty. To name just a few of its great­est hits: offi­cials have lied to the pub­lic to involve the coun­try in a dis­as­trous war in Viet­nam; oper­at­ed a cam­paign of dirty tricks out of the White House against their polit­i­cal ene­mies; embarked on count­less ille­gal oper­a­tions to depose for­eign gov­ern­ments they didn't like, which have typ­i­cal­ly come back to haunt the Unit­ed States; and launched a secret, decades-long war to destroy the civ­il rights move­ment and oth­er peace­ful activists. The gov­ern­ment can be very effec­tive when ensconced in a lay­er of total secre­cy — what it's effec­tive at is anoth­er story.
There are sev­er­al oth­er prob­lems with Ygle­sias' argu­ment, too. Ygle­sias writes as if the sup­posed inef­fi­cien­cy cre­at­ed by offi­cials avoid­ing email (some­thing which, again, he doesn't demon­strate any evi­dence of) is a press­ing cri­sis that demands the prin­ci­ple of gov­ern­ment trans­paren­cy be urgent­ly sac­ri­ficed. Yet there's no evi­dence — and Ygle­sias nev­er cites any — that this prob­lem, even if it exists, is so great it out­weighs the need to keep offi­cials accountable.
Per­haps more impor­tant­ly, as Vice​'s Jason Leopold point­ed out, FOIA already allows for the kinds of excep­tions to the release of gov­ern­ment com­mu­ni­ca­tions that Ygle­sias frets about, which the gov­ern­ment rou­tine­ly uses to redact large swaths of doc­u­ments it releas­es, often unjus­ti­fi­ably. As a House Com­mit­tee on Over­sight and Gov­ern­ment Reform report released in Jan­u­ary this year titled ​"FOIA Is Bro­ken" puts it, one such exemp­tion has come to be known as the ​"with­hold it because you want to" exemption.
Despite Ygle­sias' anx­i­ety that a fear of trans­paren­cy is keep­ing offi­cials up at night, the report shows just how easy it already is for offi­cials to run around FOIA. Among the report's find­ings were that: agen­cies ​"overuse and mis­ap­ply exemp­tions," in one case redact­ing an official's name and ini­tials so it was impos­si­ble to know who was mak­ing deci­sions; they use delays and exor­bi­tant fees to avoid releas­ing doc­u­ments; and in some cas­es, sim­ply out­right refuse to release the request­ed records.
And con­tra to Ygle­sias' asser­tions — which are cen­tral to his argu­ment — there is no evi­dence that email is a unique­ly effi­cient com­mu­ni­ca­tion tool. In fact, much evi­dence sug­gests the oppo­site: that reliance on email makes work­ers less pro­duc­tive and efficient.
No mat­ter. Ygle­sias' arti­cle was quick­ly picked up by oth­er trans­paren­cy-sus­pi­cious lib­er­als, such as Moth­er Jones' Kevin Drum, who rev­elled in the ​"lib­er­al heresy" of oppos­ing transparency.
Drum, how­ev­er, posed an inge­nious solu­tion to the prob­lem of bal­anc­ing gov­ern­ment effec­tive­ness with trans­paren­cy: ​"less trans­paren­cy, but faster, more effec­tive trans­paren­cy." How does one have ​"more effec­tive" trans­paren­cy while hav­ing less of it? Will we some­how be able to read the minds of offi­cials and sim­ply pluck out the most rel­e­vant infor­ma­tion? Drum nev­er explains, prob­a­bly because this is not a seri­ous sug­ges­tion but an arbi­trary ​"mid­dle ground" stance meant to sound ​"rea­son­able."
At a time when gov­ern­ment secre­cy is arguably worse than it's been since the pas­sage of FOIA, why exact­ly are some lib­er­als sud­den­ly bad­mouthing trans­paren­cy? Have they tru­ly had a change of heart and real­ized the per­ils of open government?
Of course not. As both Ygle­sias and Drum make clear, this sud­den stand against trans­paren­cy — aside from the out­rage clicks it gen­er­ates — is moti­vat­ed almost entire­ly by pet­ty par­ti­san concerns.
As Ygle­sias says, ​"It's impos­si­ble to write about this issue in today's envi­ron­ment with­out think­ing of Clinton's use of a pri­vate email account while serv­ing as sec­re­tary of state." Sure enough, the sole exam­ple of trans­paren­cy run amok that Ygle­sias cites has to do with one of the emails released from Clinton's pri­vate serv­er, which he argues is an exam­ple of a banal exchange being turned into a scan­dal. Sim­i­lar­ly, Drum argues that Clin­ton ​"is a real object les­son in how FOIA can go wrong when it's weaponized," which makes now ​"the per­fect time to talk" about a mid­dle ground in transparency.
Such attacks against FOIA have occurred fre­quent­ly through­out its his­to­ry. The dif­fer­ence is, it's typ­i­cal­ly gov­ern­ments and pub­lic offi­cials who have led the charge to weak­en the law, not jour­nal­ists. Unsur­pris­ing­ly, jour­nal­ists are usu­al­ly on the oth­er side of this battle.
Con­gress­man John Moss, the ​"father of FOIA," took 12 years to cob­ble togeth­er the sup­port to get FOIA passed. A whole 27 fed­er­al agen­cies tes­ti­fied against the law, claim­ing, like Ygle­sias and Drum, that the inabil­i­ty to oper­ate in secre­cy would debil­i­tate government's abil­i­ty to oper­ate effec­tive­ly. Stand­ing against fed­er­al agen­cies' protes­ta­tions, unlike Ygle­sias and Drum, were jour­nal­ists, who along with sci­en­tists and edu­ca­tors argued for the need for more trans­paren­cy. The Wash­ing­ton Post​'s exec­u­tive edi­tor and one of the Des Moines Reg­is­ter's inves­tiga­tive reporters played a key role in its pas­sage, work­ing with Moss to drum up pub­lic sup­port for the bill.
Con­gress over­whelm­ing­ly passed the bill in 1966 and a furi­ous Lyn­don John­son — who feared the law would expose his administration's lies over Viet­nam — signed the bill at his Texas ranch with no cer­e­mo­ny or tele­vi­sion cam­eras. He was pushed to do so by a num­ber of news­pa­per edi­tors, who per­son­al­ly called him to urge him to sign the bill. John­son made sure, how­ev­er, to issue a sign­ing state­ment with it that weak­ened the law by mak­ing excep­tions for mil­i­tary secrets. He par­tial­ly fore­shad­owed Ygle­sias and Drum's argu­ments, warn­ing that offi­cials could not ​"oper­ate effec­tive­ly" if their deci­sion-mak­ing process­es were made public.
The law had numer­ous flaws that ren­dered it inef­fec­tive, and was only strength­ened by the pas­sage of amend­ments in 1974. It was Don­ald Rums­feld, Dick Cheney and Antonin Scalia, those cham­pi­ons of effec­tive, effi­cient gov­ern­ment, who con­vinced Ger­ald Ford to veto the bill. For­tu­nate­ly, Con­gress over­rode his veto.
The Rea­gan admin­is­tra­tion tried sim­i­lar­ly to lim­it the effec­tive­ness of FOIA. One of Reagan's attor­ney general's first actions was to instruct gov­ern­ment depart­ments to try hard­er to resist FOIA requests. The admin­is­tra­tion then tried, unsuc­cess­ful­ly, to pass a host of restric­tions to the law that today's Clin­ton-sup­port­ing pun­dits may have been enam­ored with, includ­ing near total exemp­tion from the law for intel­li­gence agen­cies like the CIA and NSA, a 10-year mora­to­ri­um on records from law enforce­ment agen­cies like the FBI and jacked-up fees for pro­cess­ing requests.
Since then, politi­cians have con­tin­ued to peri­od­i­cal­ly take shots at the law and greater trans­paren­cy. The Bush admin­is­tra­tion issued guide­lines to fed­er­al agen­cies that severe­ly lim­it­ed the release of FOIAble records, and its hos­til­i­ty to trans­paren­cy came to be strong­ly opposed by jour­nal­ists. Just last year, Repub­li­can Sen­ate Major­i­ty Leader Mitch McConnell tried to slip what would have been the first new FOIA exemp­tion into the annu­al defense autho­riza­tion bill. Mean­while, the Oba­ma admin­is­tra­tion has set a record for either cen­sor­ing gov­ern­ment records or sim­ply not releas­ing them under FOIA.
Of course, oth­er than John­son and Oba­ma, these have all been Repub­li­can-led efforts, so no peep was heard from lib­er­al pun­dits about the dan­gers of trans­paren­cy then (in fair­ness, Oba­ma has received plen­ty of crit­i­cism from jour­nal­ists for his appalling record on secre­cy). It's no coin­ci­dence that their deep con­cern for ​"effec­tive gov­ern­ment" has only been awak­ened when pub­lic records have hurt their pre­ferred Demo­c­ra­t­ic can­di­date. There's no doubt that even a sin­gle term by a Repub­li­can pres­i­dent would be enough to reverse their posi­tions about the impor­tance of ​"effi­cient government."
For the record, here are just a few of the numer­ous sto­ries that once out­raged lib­er­al pun­dits and would not have been bro­ken if pub­lic records requests exempt­ed emails:
The Chris Christie ​

"

bridge­gate" scan­dal
The numer­ous instances of racist emails sent by police offi­cers in cities rang­ing from Los Ange­les to Ferguson
The State Depart­ment work­ing to fast-track the expan­sion of a Key­stone-esque pipeline, leapfrog­ging fed­er­al rules in the process
The machi­na­tions of Michi­gan Gov. Rick Snyder's office regard­ing the Flint water crisis
Con­necti­cut Gov. Dan Mal­loy tak­ing a lead­ing hand in a con­tro­ver­sial health insur­ance merg­er, after the com­pa­nies involved donat­ed mon­ey to the Demo­c­ra­t­ic Gov­er­nors Association
The close rela­tion­ship between Com­modi­ties Futures Trad­ing Com­mis­sion reg­u­la­tors and a Koch Indus­tries lobbyist
This is only a small sam­ple of the kinds of major and impor­tant sto­ries that are reg­u­lar­ly pub­lished thanks to emails being made avail­able through records requests. It's hard to argue some vague and ques­tion­able notion of a more ​"effi­cient gov­ern­ment" out­weighs the news val­ue of such reporting.
And while the major­i­ty of the Clin­ton emails might be banal minu­tia (a point you could make about the most cor­rupt pub­lic offi­cials' email accounts), and the media may have a habit of overblow­ing cer­tain of her exchanges, here are some of the legit­i­mate rev­e­la­tions the pub­lic is bet­ter off know­ing thanks to Clinton's emails being released:
Gov­ern­ment trans­paren­cy seems to now have joined sin­gle pay­er health care and the cor­rupt­ing influ­ence of mon­ey as areas in which the Clin­ton-sup­port­ing Left has done a com­plete about-face when the issues in ques­tion affect their pre­ferred pres­i­den­tial can­di­date. The trou­ble with elec­tion cam­paigns is that they lead indi­vid­u­als to become emo­tion­al­ly invest­ed in a can­di­date, at which point they'll revise just about any long-held prin­ci­ple to accom­mo­date their support.
It's too bad. Jour­nal­ists were once on the front lines in the bat­tle over ensur­ing trans­par­ent gov­ern­ment. Now, poi­soned by the all-encom­pass­ing par­ti­san­ship of a pres­i­den­tial elec­tion, they appear to be on the fore­front of calls to gut it.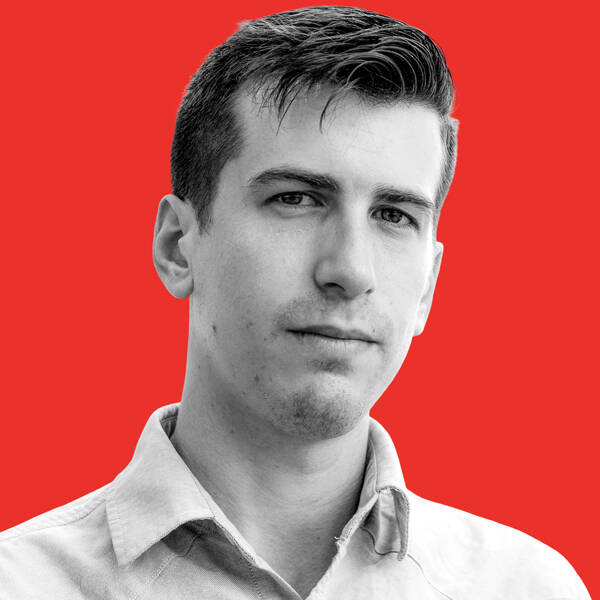 Branko Marcetic
is a staff writer at Jacobin mag­a­zine and a
2019
 – 
2020
Leonard C. Good­man Insti­tute for Inves­tiga­tive Report­ing fel­low. He is work­ing on a forth­com­ing book about Joe Biden.