The Limitations and Possibilities of Student-Labor Coalitions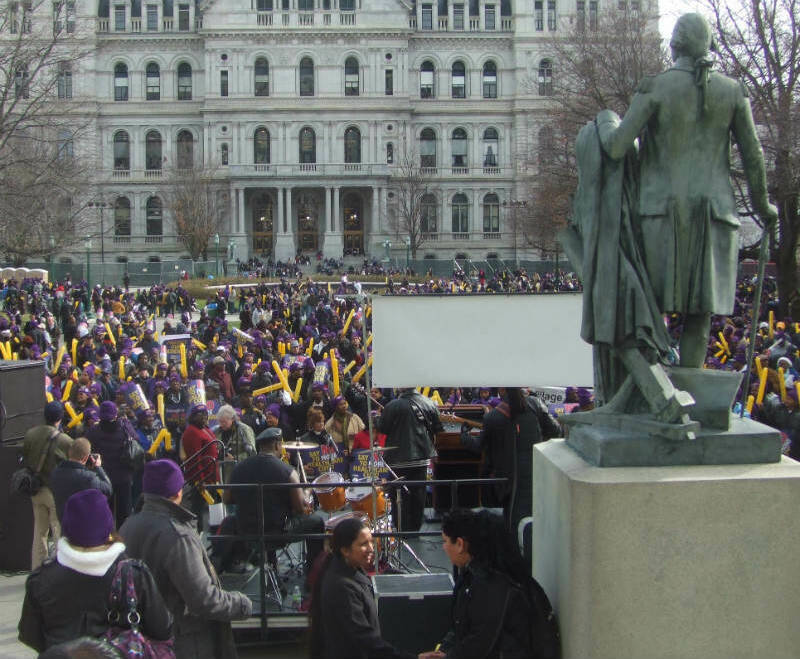 In April, New York Uni­ver­si­ty found itself the sub­ject of uncom­fort­able scruti­ny when Michael Pow­ell report­ed in the New York Times that Daniel E. Straus, own­er of the Health­Bridge and Care­One nurs­ing home com­pa­nies in New Jer­sey and Con­necti­cut and a board mem­ber at NYU law school, had sub­poe­naed the emails, text mes­sages and per­son­al writ­ings of two NYU law stu­dents, Luke Her­rine and Leo Gert­ner. The two were part of a grow­ing move­ment of NYU under­grad­u­ates and law stu­dents call­ing atten­tion to work­ing con­di­tions at Straus's facil­i­ties, and they had been help­ing to cir­cu­late a peti­tion to the law school dean ask­ing for a meet­ing to dis­cuss Straus's pres­ence on the board.
The next day, with some­what less fan­fare, a one-line memo was sent to NYU law stu­dents by their dean, inform­ing them that Straus would no longer be on the school's board. The Straus Insti­tute for the Advanced Study of Law and Jus­tice, which Straus has fund­ed since 2009, will close at the end of the year. (Although the time­line of the clo­sure deci­sion is unclear, Her­rine, one of the sub­poe­naed stu­dents, believes it was due to the controversy.)
The sub­poe­na brouha­ha was only the lat­est chap­ter in an expan­sive bat­tle with Straus's com­pa­nies on one side and 1199 SEIU Health­care Work­ers East, 1199 SEIU New Eng­land, and the Stu­dent Labor Action Move­ment (SLAM) at NYU on the oth­er — while NYU, claim­ing neu­tral­i­ty, remained in the mid­dle. It's a mul­ti-year, mul­ti-state strug­gle that began with low-wage care work­ers being locked out in 2011 and has­n't end­ed with Straus los­ing his seat on the law school's board. A close exam­i­na­tion of the sto­ry yields impor­tant lessons about the pos­si­bil­i­ties and lim­i­ta­tions of stu­dent-labor coali­tions, the lat­est anti-union strate­gies of cor­po­ra­tions, and the cur­rent state of labor struggles.
Rack­e­teer­ing charges
Caitlin MacLaren, a senior at NYU this past year, first heard about Daniel Straus in Jan­u­ary of 2012 when a Health­Bridge facil­i­ty in Con­necti­cut locked out union­ized work­ers who had staged an unfair labor prac­tices strike. A mem­ber of SLAM, MacLaren trav­eled with a group of her fel­low stu­dents to Con­necti­cut to join work­ers on the pick­et lines. They then invit­ed the work­ers to come to NYU and speak to stu­dents about the lock­out and their fight to keep their health ben­e­fits, and SLAM launched a peti­tion to the admin­is­tra­tion that spring ask­ing for a meet­ing with the admin­is­tra­tion about the issue.
The admin­is­tra­tion did­n't grant their request, so they dropped ban­ners, held ral­lies, and hand­ed out fly­ers at galas and alum­ni events.
MacLaren says it dis­turbed NYU stu­dents that Straus was on the board of the law school when his com­pa­ny has been accused of dozens of labor law vio­la­tions by the Nation­al Labor Rela­tions Board. They're also both­ered by the irony that Straus has giv­en mil­lions to the law school, but his com­pa­nies seem unwill­ing to con­tin­ue pay­ing work­ers' health­care benefits.
At one ral­ly in Sep­tem­ber of 2012, Straus's com­pa­ny hired ​"secu­ri­ty" to turn up and counter-protest. A video of the event shows one man say­ing to a per­son iden­ti­fied as an NYU stu­dent, ​"When you leave here, I'll find you."
Luke Her­rine, then a first-year law stu­dent, attend­ed that ral­ly with a friend and learned about the cam­paign. They decid­ed they should orga­nize among law stu­dents specif­i­cal­ly, since Straus was on the law school board.
The group of law stu­dents, includ­ing Her­rine and Leo Gert­ner, began to cir­cu­late the peti­tion on March 6, ask­ing the new law school dean, Trevor Mor­ri­son, to meet with them or with rep­re­sen­ta­tives from 1199.
On March 20, sub­poe­nas arrived at Gert­ner and Her­rine's apart­ments, ask­ing for all doc­u­ments or com­mu­ni­ca­tions relat­ing to Daniel Straus or Care­One. The sub­poe­nas were from the Unit­ed States Dis­trict Court in New Jer­sey in the case of Care­One Man­age­ment LLC vs. Unit­ed Health­care Work­ers East, SEIU 1199—a RICO Act law­suit filed by Straus's com­pa­ny against the union.
Her­rine isn't sure why the sub­poe­nas came only to him and to Gert­ner, but thinks they were a response to the fact that law stu­dents were get­ting involved. ​"It's actu­al­ly hit­ting home," Her­rine says, and points out that Straus's sup­port for the Insti­tute for the Advanced Study of Law and Jus­tice — the theme of which this year was ​"Racial, Eth­nic, and Eco­nom­ic Seg­re­ga­tion" — would seem to indi­cate that Straus wants to project a pub­lic rep­u­ta­tion for con­cern for social justice.
The RICO law­suit against SEIU cer­tain­ly isn't the first such suit filed against a union. A spokesper­son for 1199 SEIU tells In These Times, ​"This law­suit is one of a series of actions by Daniel Straus' com­pa­nies to attack and intim­i­date nurs­ing home care­givers and their sup­port­ers. Among these attacks are slash­ing of fam­i­ly health ben­e­fits, fir­ing work­ers for orga­niz­ing unions, and indi­rect­ly hir­ing indi­vid­u­als who threat­ened NYU stu­dents with vio­lence for call­ing for Straus' removal from the NYU Law School Board of Trustees. Admin­is­tra­tive Law Judges have found that nurs­ing homes run by Straus' com­pa­nies have vio­lat­ed fed­er­al labor law 41 times."
Her­rine says RICO suits, usu­al­ly used to tar­get orga­nized crime, are ​"the cor­po­rate response to the com­pre­hen­sive cam­paign" — a strat­e­gy in which unions, in recent years, have increas­ing­ly applied pub­lic pres­sure to push employ­ers to come to the bar­gain­ing table. Care­One's RICO suit effec­tive­ly charges that this strat­e­gy is crim­i­nal activ­i­ty. The orig­i­nal com­plaint, pro­vid­ed to Work­ing In These Times by Her­rine, calls the union's tac­tics ​"extor­tion."
A state­ment from Straus, issued after the Sep­tem­ber 2012 protest, under­lines this strat­e­gy, call­ing the union's tac­tics ​"sleazy, manip­u­la­tive," and sug­gest­ing that the union's Con­tract Cam­paign Man­u­al func­tions as a blue­print for crim­i­nal tac­tics. (The union says its tac­tics have all been vet­ted by lawyers and that it remains undaunted.)
To Her­rine, it's Care­One that is engag­ing in pres­sure tac­tics. "[The suit] drains the funds of SEIU, it gives them the pow­er to issue all these sub­poe­nas to elect­ed offi­cials who have been on the pick­et line, to stu­dents who have voiced sol­i­dar­i­ty," he says. ​"You issue sub­poe­nas to them and then oth­er peo­ple know ​'Now I'm going to have to get involved in the legal sys­tem if I deal with these people.'"
At NYU, at least, the sub­poe­nas have had the oppo­site effect. The admin­is­tra­tion, which had been reluc­tant to get involved in the fight, paid for lawyers for Her­rine and Gert­ner to file a motion to quash the sub­poe­nas. And on cam­pus, law stu­dents who had not been involved before stepped up. Stu­dents might not have cared enough to get involved in a labor cam­paign, but more of them seemed will­ing to step up when free speech was at issue.
It was the free speech issue that led the Times' Pow­ell to write his col­umn call­ing the NYU admin­is­tra­tion's response to the sub­poe­nas ​"weak tea," and that got the Amer­i­can Civ­il Lib­er­ties Union of New Jer­sey to file an ami­cus brief defend­ing the stu­dents' right to ​"whol­ly-law­ful con­sti­tu­tion­al­ly-pro­tect­ed speech." The ACLU brief argued that the stu­dents have a right to com­mu­ni­cate with union crit­ics of Straus and CareOne.
With­in the law school, a group of law stu­dents inde­pen­dent of Her­rine and Gert­ner put togeth­er a let­ter to Straus demand­ing he drop the sub­poe­nas. They had gar­nered over 500 sig­na­tures from law stu­dents, pro­fes­sors and alum­ni, accord­ing to Her­rine, when the news broke that Straus would no longer be on the board.
A bit­ter­sweet victory
Straus's depar­ture serves as a mixed vic­to­ry for the stu­dent move­ment on cam­pus. The stu­dents man­aged to get a response from Straus and the admin­is­tra­tion, but at the expense of a sig­nif­i­cant point of lever­age. MacLaren notes, ​"It's good to see that our school isn't asso­ci­at­ed with him giv­en his track record, but of course the fight con­tin­ues because at the end of the day what we real­ly want­ed all along was for him to change his labor prac­tices. It's a step in the right direc­tion, but it was nev­er the end result that we wanted."
Uni­ver­si­ties, in par­tic­u­lar cor­po­rate-style uni­ver­si­ties that cul­ti­vate cus­tomer-ser­vice rela­tion­ships with their stu­dents — of which NYU is the pro­to­type — pro­vide use­ful points of pres­sure on cor­po­rate bad actors. Stu­dents mak­ing demands, whether in response to labor law vio­la­tions or invest­ments in dirty ener­gy, have some sway with admin­is­tra­tors, who in turn con­trol large chunks of mon­ey or, in the case of Straus, pres­ti­gious board appointments.
But once Straus is off the board, the uni­ver­si­ty stu­dents no longer have much pow­er, though their sol­i­dar­i­ty and sup­port is still appre­ci­at­ed. The work­ers at Health­Bridge and Care­One con­tin­ue to strug­gle, and the RICO suit goes for­ward; the sub­poe­nas have not gone away.
On the NYU cam­pus, the stu­dent groups are con­sid­er­ing a way to use this vic­to­ry to make struc­tur­al change in the uni­ver­si­ty's rela­tion­ship with its stu­dents. For Her­rine, the ques­tion now becomes ​"How are stu­dents' con­cerns going to be addressed in the future?" He'd like to cam­paign per­haps for a stu­dent mem­ber on the board, or for some oth­er mech­a­nism for stu­dents to get their con­cerns addressed faster the next time.
It remains dif­fi­cult to say, how­ev­er, what the result will be for the work­ers at Care­One and Health­Bridge nurs­ing homes.
Sarah Jaffe
is a for­mer staff writer at
In These Times
and author of
Nec­es­sary Trou­ble: Amer­i­cans in Revolt
, which Robin D.G. Kel­ley called ​
"
The most com­pelling social and polit­i­cal por­trait of our age." You can fol­low her on Twit­ter
@sarahljaffe
.