Litterers or Life-Savers?
Government prosecutes activists who leave water for immigrants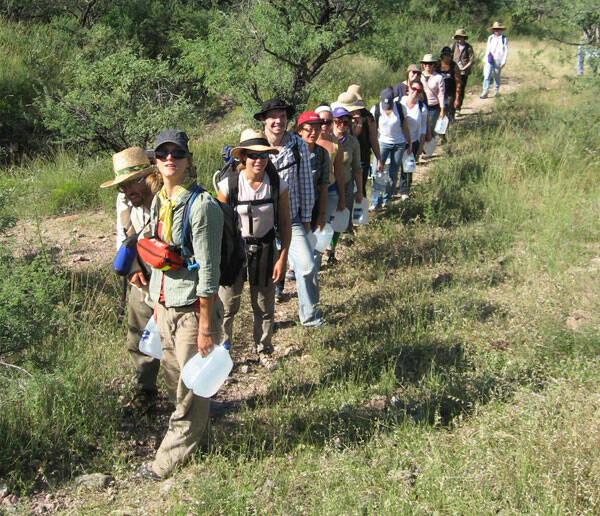 Walt Sta­ton faces up to a year in prison and a $10,000 fine for littering.
'If this is just about water jugs on the refuge, it's a very expensive way for them to go about proving that point,' Staton says.
Though he doesn't expect to actu­al­ly get jail time, the 27-year-old Tuc­son web design­er still thinks the charges are iron­ic and dis­pro­por­tion­ate. (Editor's note: See update regard­ing Staton's sen­tence below.) Sta­ton says that when he was cit­ed in Decem­ber 2008, he was actu­al­ly pick­ing up trash while also leav­ing full water jugs in the Buenos Aires Nation­al Wildlife Refuge along the Mex­i­can border.
Sta­ton is a mem­ber of No More Deaths/​No Mas Muertes, a bor­der activism group that leaves water along trails for migrants cross­ing through the harsh, unfor­giv­ing Sono­ran Desert. About 50,000 migrants cross through the wildlife refuge each year, down from about 250,000 since a sev­en-mile stretch of a 12-foot-tall fence was built along the bor­der there, accord­ing to refuge man­ag­er Michael Hawkes. No More Deaths is one of three Tuc­son-area groups that pro­vide water for migrants, who die at the rate of about one per day while cross­ing the border.
Anoth­er group, Humane Bor­ders, head­ed by Rev. Robin Hoover, has per­mits to main­tain three per­ma­nent water sta­tions – large bar­rels marked with blue flags – on the wildlife refuge. But No More Deaths mem­bers say plac­ing water right on the trails is also cru­cial, since most migrants cross at night and might miss the flags that mark the three Humane Bor­ders sta­tions on the 118,000-acre refuge.
In Feb­ru­ary 2008, No More Deaths vol­un­teer Daniel Mil­lis found the body of a 14-year-old Sal­vado­ran girl. (The cause of death is unclear.) Two days lat­er he was cit­ed for lit­ter­ing while leav­ing water jugs on trails. He refused to pay the $175 ticket.
Then, on Dec. 4, 2008, three oth­er activists were cit­ed in addi­tion to Sta­ton, though charges against them were dropped. The U.S. Attorney's Office in Tuc­son decid­ed to pur­sue Class A mis­de­meanor charges against Sta­ton, which meant a jury tri­al and the max­i­mum pos­si­ble sen­tence of a year behind bars and a $10,000 fine, Hawkes says. A spokesper­son for the U.S. Attorney's Office declined to com­ment for this sto­ry. When No More Deaths pub­li­cized a mis­sion for July 9, Hawkes put extra offi­cials on duty and cit­ed 13 activists that day.
Hawkes says he is all for giv­ing water to des­per­ate migrants, but points out that there is plen­ty of water on the refuge already, includ­ing Humane Bor­ders' bar­rels, three Bor­der Patrol res­cue sta­tions, and a few inhab­it­ed build­ings and wells.
"There's so much water here – peo­ple aren't dying for lack of water. This refuge has more water avail­able for migrants than any oth­er stretch of land in south­ern Ari­zona," Hawkes says. ​"But they seem to be very sin­gle-mind­ed. I guess this is just con­ve­nient for them to dri­ve in from Tuc­son and do some­thing that makes them feel good."
Hawkes says the trash left by migrants ​"would appall you – in some places it's so thick you can't even see the ground." When refuge offi­cials find migrants, they typ­i­cal­ly turn them over to the Bor­der Patrol, which oper­ates with­in the park. A por­tion of the refuge has been closed in the past due to vio­lence asso­ci­at­ed with bor­der cross­ing – caused main­ly by ​"coy­otes" (smug­glers) or ban­dits tar­get­ing the migrants. ​"There were mur­ders, rapes, rob­beries," Hawkes says.
Sta­ton says No More Deaths mem­bers actu­al­ly pick up trash left by migrants, along with their emp­tied water jugs. No More Deaths mem­ber John Fife, 69, says the group records where their jugs are emp­tied and uses soft­ware to ana­lyze where water is most needed.
Hoover says there have been few­er than 10 deaths in the refuge dur­ing a peri­od in which 1,500 migrants died in the region as a whole. Bor­der cross­ings are sig­nif­i­cant­ly down this year, which most attribute to the econ­o­my and stricter bor­der enforce­ment – hence the death toll is down as well. But Hoover thinks the pro­por­tion­al rate of deaths has actu­al­ly increased, since stepped-up enforce­ment has pushed bor­der-crossers into riski­er areas. ​"Few­er peo­ple are cross­ing, but more of them are dying," he says. ​"They're mak­ing more dif­fi­cult treks and dying in more remote areas."
On July 24, Sta­ton and oth­er No More Deaths mem­bers met with Sec­re­tary of the Inte­ri­or Ken Salazar. Mem­bers of all three Tuc­son groups are hop­ing an endorse­ment from the Depart­ment of the Inte­ri­or will help them car­ry out their projects. Right now, they must over­come fre­quent oppo­si­tion from local and region­al officials.
"If this is just about water jugs on the refuge, it's a very expen­sive way for them to go about prov­ing that point," says Sta­ton, whose sen­tenc­ing is August 11. ​"It seems to me they have a larg­er agen­da. If you want to talk about dis­rupt­ing wildlife, this is a war zone. They've got heli­copters, ATVs, trucks all over the refuge – and they built a wall right through the refuge. Of every­thing out there, No More Deaths has the small­est footprint."
Fife notes that last sum­mer around 20 Bor­der Patrol agents on horse­back raid­ed the group's desert camp about 10 miles from the refuge.
"They said they had tracked migrants there," he says. ​"I don't think they need 20 guys and their PR agent to do that. There's been a whole series of attempts to roll back human­i­tar­i­an aid and intim­i­date aid workers."
UPDATE: In ear­ly August, a judge sen­tenced Sta­ton to one year of ​"unsu­per­vised pro­ba­tion." Dur­ing that peri­od, he ​"must com­plete 300 hours of com­mu­ni­ty ser­vice focus­ing on trash removal from pub­lic lands," the Ari­zona Dai­ly Star report­ed. Sta­ton was also banned from enter­ing the Buenos Aires Nation­al Wildlife Refuge.
GET INVOLVED
No More Deaths
br>
Humane Bor­ders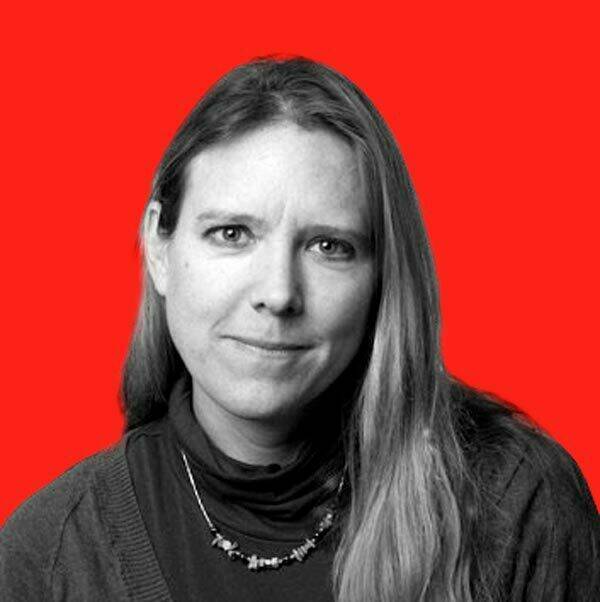 Kari Lyder­sen
is a Chica­go-based reporter, author and jour­nal­ism instruc­tor, lead­ing the Social Jus­tice
&
amp; Inves­tiga­tive spe­cial­iza­tion in the grad­u­ate pro­gram at North­west­ern Uni­ver­si­ty. She is the author of May­or
1
%: Rahm Emanuel and the Rise of Chicago's
99
%.