LIUNA's Rank-and-File is Challenging Union Leadership on Standing Rock—and Beyond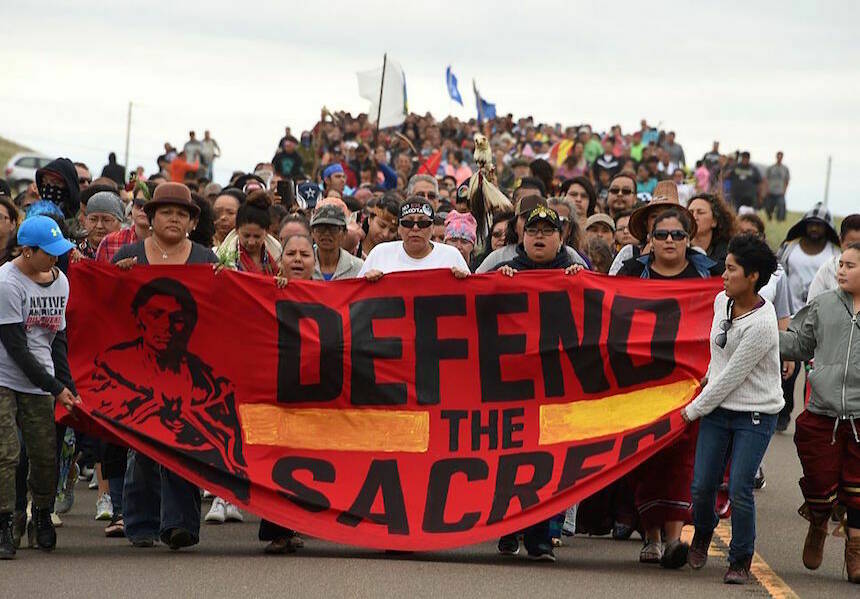 To date, sev­er­al unions have come out in oppo­si­tion to the Dako­ta Access Pipeline, includ­ing the Com­mu­ni­ca­tions Work­ers of Amer­i­ca (CWA), Nation­al Nurs­es Unit­ed, Amal­ga­mat­ed Tran­sit Union (ATU), Amer­i­can Postal Work­ers Union (APWU) and the 2 mil­lion-mem­ber Ser­vice Employ­ees Inter­na­tion­al Union (SEIU).
Ter­ry O'Sullivan — Gen­er­al Pres­i­dent of Labor­ers Inter­na­tion­al Union of North Amer­i­ca (LIU­NA) — has few kind words for them. In a let­ter from late Octo­ber, he called them ​"self-right­eous," ​"a group of bot­tom-feed­ing orga­ni­za­tions" that ​"have sided with THUGS against trade union­ists" and showed ​"a tru­ly amaz­ing lev­el of hypocrisy and ignorance."
​"LIU­NA will not for­get the rep­re­hen­si­ble actions and state­ments against our mem­bers and their fam­i­lies from the five unions list­ed above," O'Sullivan warned. ​"Broth­ers and sis­ters, for every ACTION there is a REAC­TION, and we should find every oppor­tu­ni­ty to rec­i­p­ro­cate their total dis­re­spect and dis­re­gard for the health, safe­ty and liveli­hoods of our members."
But will union lead­er­ship take ​"ACTION" against its own mem­bers, many of whom are buck­ing O'Sullivan's posi­tion and choos­ing to stand with Stand­ing Rock? The fight against the Dako­ta Access Pipeline is cre­at­ing and revi­tal­iz­ing alliances between indige­nous com­mu­ni­ties, greens and labor. In short order, these new­ly strength­ened ties could have a sig­nif­i­cant impact on the ener­gy indus­try and the next pres­i­dent alike.
Labor for Stand­ing Rock
In Madi­son, Wis., LIU­NA-City Employ­ees Local 236 — a LIU­NA local — unan­i­mous­ly passed a res­o­lu­tion in sup­port of water pro­tec­tors at Stand­ing Rock and against the Dako­ta Access Pipeline, cit­ing their belief that ​"there would be more and bet­ter sus­tain­able jobs if we invest­ed in oth­er types of ener­gy that were not fraught with so many acci­dents." Local 236 also sent a del­e­gate, Chaous Rid­dle, to North Dako­ta for an Octo­ber 29 con­ver­gence of the new­ly formed group Labor For Stand­ing Rock, which has launched what they hope is a per­ma­nent union encamp­ment with­in the larg­er Oceti Sakowin camp.
Asked if her local is expect­ing blow­back from LIU­NA lead­er­ship over the deci­sion, Rid­dle says, ​"We're expect­ing to get that any­time," though exact­ly what that reac­tion will look like is unclear.
Rid­dle was one of sev­er­al thou­sand pro­tes­tors, many of them pub­lic sec­tor work­ers, to help occu­py the Wis­con­sin state capi­tol in 2011, a response to Gov. Scott Walker's ulti­mate­ly suc­cess­ful attempt to enact sweep­ing anti-union mea­sures. "[Stand­ing Rock] real­ly wasn't that much dif­fer­ent from the protest in the capi­tol five years ago, where we had peo­ple from all walks of life com­ing," Rid­dle says. ​"Peo­ple were giv­ing, and every­body was kind-heart­ed. If some­body was hun­gry we fed them. If they were cold we gave them a coat."
"At first I got a lot of flak because I was wear­ing my LIU­NA shirt," Rid­dle says, though fel­low campers warmed upon real­iz­ing she was there to join water pro­tecters, not berate them. Rid­dle has recruit­ed more Madis­o­ni­ans to trav­el to Stand­ing Rock in the com­ing weeks. ​"We took a pledge when we were all in Wis­con­sin to all be a part of a Wis­con­sin union," she tells In These Times. ​"So in my book every­one we're send­ing out to Stand­ing Rock is part of the Wis­con­sin union.
This is far from the first intra-labor con­flict over fos­sil fuel infra­struc­ture, and the sides can seem almost pre­dictable: A hand­ful of small and reli­ably pro­gres­sive unions against the build­ing trades and the AFL-CIO's top brass. And while SEIU's sup­port for Stand­ing Rock's water pro­tec­tors has helped tip the bal­ance, the dis­sent among rank-and-file mem­bers of LIU­NA and oth­er build­ing trades unions may point to a larg­er shift in the old ​"jobs ver­sus envi­ron­ment" debate — both in terms of how work­ers relate to envi­ron­men­tal issues and to their unions' leadership.
Among fel­low LIU­NA mem­bers in Madi­son, Rid­dle says, sup­port­ing the water pro­tec­tors makes obvi­ous sense. The Bad­ger State's cap­i­tal sits between two lakes, and the city has long reg­u­lat­ed things like how much salt it deploys on roads dur­ing snowy win­ters, to pro­tect the city's water sup­ply. ​"We want clean water," Rid­dle said. ​"My guys under­stand that if the water's poi­soned they're not going to be able to fish and hunt."
"Our hope is that oth­er unions will fol­low. … If we get more locals to fol­low us, we can change the head hon­chos," she says, adding that she has spo­ken with LIU­NA mem­bers in oth­er parts of the country.
Pipelin­ers for Trump?
Liam Cain, of LIU­NA Local 1271 out of Cheyenne, Wyo., was in Stand­ing Rock with Rid­dle and the rest of the Labor For Stand­ing Rock del­e­ga­tion. While his main job now is fight­ing for­est fires on fed­er­al land, he still picks up occa­sion­al work from LIU­NA, and spent years build­ing pipelines through the union. Also a mem­ber of the Indus­tri­al Work­ers of the World's Envi­ron­men­tal Union­ism Cau­cus, he says it was ​"the bla­tant racism involved in [what's hap­pen­ing in Stand­ing Rock] that was the cat­a­lyst for me [to go] from being uneasy, to not being able to sup­port these projects in general."
Cain says he is ​"deeply ashamed and dis­gust­ed" of his union's posi­tion on the pipeline, and has ​"very lit­tle respect for the heads of LIU­NA. … I think these are very top-down state­ments that are not reflec­tive of the membership."
In addi­tion to pipeline and refin­ery work­ers, LIU­NA also rep­re­sents work­ers in the clean ener­gy econ­o­my, and its mem­bers some­times flow between jobs build­ing pipelines and those erect­ing wind tur­bines. The issue, says Cain, is that the green jobs through LIU­NA are often worse than those that ​"pil­lage the earth," as he puts it.
"When I worked on a nat­ur­al gas pipeline, that was the best income I ever made," he says, not­ing that work­ing 8 months could earn him as much as $52,000, plus gen­er­ous ben­e­fits and health insur­ance. The work was long — 10- to 12-hour days, 6 days a week — but reli­able, and even when work was delayed a healthy pay­check would come through.
Con­verse­ly, Cain says, ​"If I worked through LIU­NA on a green project it was very ten­u­ous whether I could pay my bills or not." While oth­er fac­tors exist, Cain cred­its part of the pre­car­i­ty of wind work to LIU­NA lead­er­ship, eager to enter the green jobs space but not as will­ing to nego­ti­ate strong con­tracts. ​"There's a lot of noise around green ener­gy and green con­struc­tion, and LIU­NA and many oth­er build­ing trade unions want to be on the right side of that." But, he argues, ​"they've been con­cil­ia­to­ry with the wind­mill companies."
This dis­par­i­ty, accord­ing to Cain, is part of what leads some pipeline work­ers to vote for Don­ald Trump. He says that they are in a prime demo­graph­ic for Trump: Large­ly straight, white men ​"who make more mon­ey than oth­er peo­ple. It's most­ly not poor white peo­ple who sup­port Trump," he observes, but ​"peo­ple with a lit­tle bit to lose."
Ampli­fy­ing Trump's appeal is the fact that — while all con­struc­tion work is tem­po­rary — pipeline work is tem­po­rary in a more fun­da­men­tal sense. The urgency of cli­mate change man­date that the whole indus­try be phased out, ide­al­ly with­in the decade. By not acknowl­edg­ing the prob­lem, Trump would keep those jobs around.
The phe­nom­e­non isn't spe­cif­ic to this year's GOP nom­i­nee, how­ev­er: ​"A lot of union peo­ple vote Repub­li­can because Repub­li­cans don't leg­is­late extrac­tive indus­try as much," Cain adds. Many — Cain includ­ed — have grown dis­il­lu­sioned with Democ­rats ​"who haven't done shit for us."
Key to chan­nel­ing that dis­il­lu­sion toward pro­gres­sive ends, he says, is rec­og­niz­ing a shared goal: well-pay­ing union jobs and a liv­able plan­et. Clinton's plan includes invest­ing in infra­struc­ture and tran­si­tion­ing coal min­ers into new jobs, but rel­a­tive­ly lit­tle atten­tion is paid to how she will ensure work­ers in oth­er extrac­tive indus­tries end up in high-qual­i­ty jobs.
If Cain's expe­ri­ence is indi­ca­tion, Democ­rats hop­ing to pull pipelin­ers in from across the aisle should work to make exist­ing green jobs into good jobs, and help build the polit­i­cal will for a just, union­ized tran­si­tion away from fos­sil fuels.
As the most recent rounds of leaked emails from the Hillary Clin­ton cam­paign show, con­struc­tion unions have held a pow­er­ful sway with the can­di­date before. It was in front of the Build­ing Trades Union that she unleashed some of her most impas­sioned defens­es of nat­ur­al gas, pipelines and frack­ing, say­ing that ​"keep it in the ground" activists should ​"get a life."
Labor for Stand­ing Rock is show­ing that if Clin­ton hopes to main­tain the sup­port of the rank-and-file, she'll have to change her tune. If she wins Tues­day, work­ers, envi­ron­men­tal­ists and Native peo­ple will be push­ing her to ​"make a just tran­si­tion more than just a set of aca­d­e­m­ic talk­ing points," as Cain says — whether LIU­NA lead­er­ship likes it or not.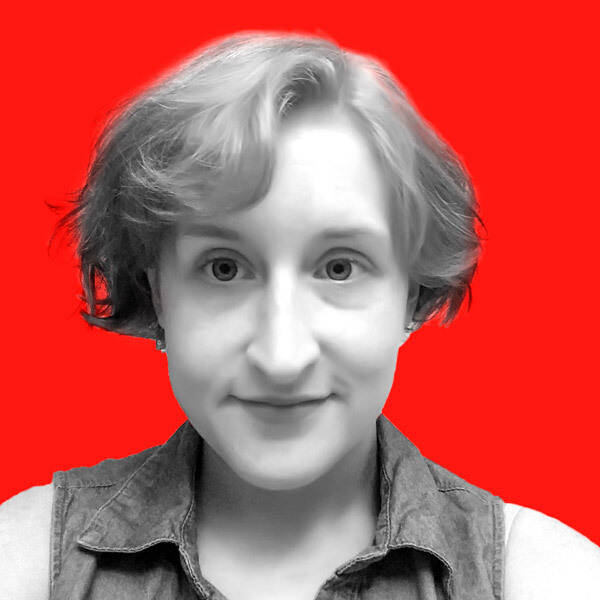 Kate Aronoff
is a Brook­lyn-based jour­nal­ist cov­er­ing cli­mate and U.S. pol­i­tics, and a con­tribut­ing writer at The Inter­cept. Fol­low her on Twit­ter @katearonoff.