Local Economies to Save the Land and the People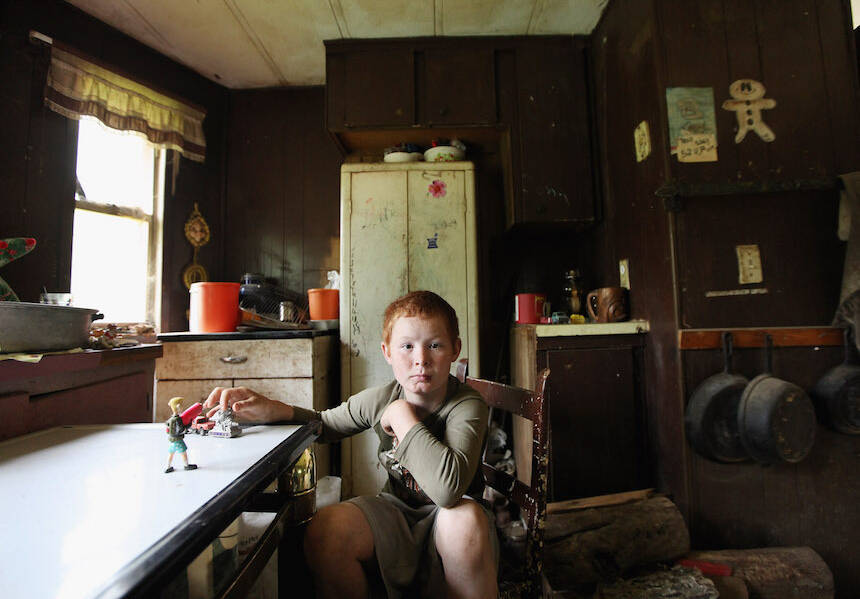 As often before, my thoughts begin with the mod­ern his­to­ry of rur­al Ken­tucky, which in all of its regions has been deplorable. In my coun­ty, Hen­ry Coun­ty, for exam­ple, as recent­ly as the mid­dle of the last cen­tu­ry, every town was a thriv­ing eco­nom­ic and social cen­ter. Now all of them are either dying or dead. If there is any con­cern about this in any of the state's insti­tu­tions, I have yet to hear about it. The peo­ple in these towns and their trib­u­tary land­scapes once were sup­port­ed by their use­ful­ness to one anoth­er. Now that mutu­al use­ful­ness has been removed, and the peo­ple relate to one anoth­er increas­ing­ly as ran­dom particles.
To help in under­stand­ing this, I want to quote a few sen­tences of a let­ter writ­ten on June 22, 2013, by Anne Caudill. Anne is the wid­ow of Har­ry Caudill. For many years she was involved in Harry's study of con­di­tions in East­ern Ken­tucky and in his advo­ca­cy for that region. Since Harry's death, she has main­tained on her own the long inter­est and devo­tion she once shared with Har­ry, and she is always worth lis­ten­ing to. She wrote:
The Lex­ing­ton Her­ald Leader last Sun­day … pub­lished a major piece on the effects of the cur­rent down­turn in the coal indus­try … Per­haps the most telling state­ment quot­ed came from Karin Slone of Knott Coun­ty whose hus­band lost his job in the mines … final­ly found a job in Alaba­ma and the fam­i­ly had to leave their home. Karin said, ​"There should have been greater efforts to diver­si­fy the econ­o­my ear­li­er." [Fifty] years ago and more Har­ry tried … every­thing he could think of to encour­age diver­si­ty. My heart goes out to those fam­i­lies who yet again are being bat­tered by a major slump in avail­able jobs. … Again they are not being exploit­ed, but discarded.
This is a con­cise and use­ful descrip­tion of what Anne right­ly calls a tragedy, and ​"tragedy" right­ly applies, not just to the present con­di­tion of East­ern Ken­tucky, but to the present con­di­tion of just about every part of rur­al Ken­tucky. The tragedy of East­ern Ken­tucky is the most dra­mat­ic and obvi­ous because that region was so exten­sive­ly and rapid­ly indus­tri­al­ized so ear­ly. The indus­tri­al­iza­tion of oth­er regions (mine, for exam­ple) began with the accel­er­at­ed indus­tri­al­iza­tion of agri­cul­ture after World War II, and it has accel­er­at­ed increas­ing­ly ever since. The sto­ry of indus­tri­al­iza­tion is the same sto­ry every­where, and every­where the result is ruin. Though it has devel­oped at dif­fer­ent rates of speed in dif­fer­ent areas, that sto­ry is now pret­ty ful­ly devel­oped in all parts of our state.
To know clear­ly what indus­tri­al­iza­tion is and means, we need to con­sid­er care­ful­ly some of the lan­guage of Anne Caudill's let­ter. We see first of all that she is speak­ing of a region whose econ­o­my is depen­dent upon ​"jobs." This word, as we now use it in polit­i­cal clichés such as ​"job cre­ation," entire­ly dis­so­ci­ates the idea of work from any idea of call­ing or voca­tion or voca­tion­al choice. A ​"job" exists with­out ref­er­ence to any­body in par­tic­u­lar or any place in par­tic­u­lar. If a per­son los­es a ​"job" in East­ern Ken­tucky and finds a ​"job" in Alaba­ma, then he has ceased to be ​"unem­ployed" and has become ​"employed," it does not mat­ter who the per­son is or what or where the ​"job" is. ​"Employ­ment" in a ​"job" com­plete­ly sat­is­fies the social aim of the indus­tri­al econ­o­my and its indus­tri­al government.
Per­haps there have always been ​"jobs" and ​"employ­ees" to fill them. The point here is that the sto­ry of indus­tri­al­iza­tion rad­i­cal­ly enlarges the num­ber of both. It also enlarges the num­ber of the unem­ployed and the unem­ploy­able. I can tell you con­fi­dent­ly that the many own­ers of small farms, shops, and stores and the self-employed crafts­peo­ple who were thriv­ing in my coun­ty, Hen­ry Coun­ty, in 1945, did not think of their work as ​"a job." Most of those peo­ple, along with most skilled employ­ees who worked in their home coun­try or home town, have now been replaced by a few peo­ple work­ing in large chain stores and by a few peo­ple using large machines and oth­er human-replac­ing indus­tri­al tech­nolo­gies. Local economies, local com­mu­ni­ties, even local fam­i­lies, in which peo­ple lived and worked as mem­bers, have been bro­ken. The peo­ple who once were mem­bers of mutu­al­ly sup­port­ive mem­ber­ships are now ​"human resources" in the ​"labor force," whose fate (to return to the lan­guage of Anne Caudill's let­ter) is either to be ​"exploit­ed" by an employ­er or ​"dis­card­ed" by an employ­er when the econ­o­my fal­ters or as soon as a machine or a chem­i­cal can per­form their ​"job." The key word in Anne's let­ter is ​"dis­card­ed," which denotes exact­ly the mean­ing and the sor­row of our tragedy.
How can it be that the peo­ple of rur­al Ken­tucky can first become depen­dent upon offi­cial­ly favored indus­tries, the ​"job-cre­at­ing indus­tries" that their politi­cians are always talk­ing of ​"bring­ing in," and then by those indus­tries be dis­card­ed? To answer that ques­tion, I need to refer again to East­ern Ken­tucky and some­thing I learned there —or began con­scious­ly to learn there —near­ly 50 years ago.
In the sum­mer of 1965 I paid a vis­it of sev­er­al days to my friend Gur­ney Nor­man, who was then a reporter for the Haz­ard Her­ald. At that time a for­mi­da­ble old man, Dan Gib­son, armed with a .22 rifle, stopped a strip miner's bull­doz­er. The land Mr. Gib­son was defend­ing belonged to his step­son, who was serv­ing with the Marines in Viet­nam. Gibson's defi­ance and his arrest caused a con­sid­er­able dis­tur­bance, and a crowd of trou­bled peo­ple gath­ered on a Fri­day night in the court house in Hind­man, Ky. Gur­ney and I attend­ed the meet­ing. That night Har­ry Caudill made a speech that recalled cer­tain meet­ings in Philadel­phia in the sum­mer of 1776, for he spoke against the domes­tic suc­ces­sors of the British colo­nial­ists: ​"The mind­less oafs who are destroy­ing the world and the glee­ful yahoos who abet them."
I am indebt­ed to anoth­er speech of the same night. That speech was made by Leroy Mar­tin, chair­man of the Appalachi­an Group to Save the Land and the Peo­ple. Mar­tin bore wit­ness to the sig­nif­i­cance of Dan Gibson's act, his loy­al­ty, and his courage. He spoke impres­sive­ly also of the for­est that stood on the moun­tain­side that Dan Gib­son had defend­ed. He spoke the names of the trees. He remind­ed his hear­ers, many of whom were local peo­ple, that they knew the char­ac­ter and the val­ue of such woodlands.
Three lines of thought have stayed with me pret­ty con­stant­ly from that time until now.
The first con­cerns the impos­si­bil­i­ty of mea­sur­ing, under­stand­ing or express­ing either the eco­log­i­cal cost or the human heart­break of the per­ma­nent destruc­tion of any part of our only world.
The sec­ond con­sists of repeat­ed returns to the impos­si­bil­i­ty, at least so far, of per­ma­nent­ly stop­ping this per­ma­nent dam­age by con­fronting either actu­al machines or polit­i­cal machines. Dan Gibson's unlaw­ful weapon was answered by the law­ful weapons of 13 state police, a sher­iff, and two deputies. Our many attempts to con­front the polit­i­cal machine that autho­rizes the indus­tri­al machin­ery have real­ly not been answered at all. If mon­ey is speech, as our dom­i­nant politi­cians believe, then we may say that all our lit­tle speech­es have been effec­tive­ly answered by big mon­ey, which speaks pow­er­ful­ly though in whispers.
The third line of thought, the one I want to fol­low now, has to do with the hope­ful­ness, and the cor­rec­tion, implied in the name of the Appalachi­an Group to Save the Land and the Peo­ple. The name of that orga­ni­za­tion — and, if I have remem­bered it cor­rect­ly, Leroy Martin's speech — assumed that we must not speak or think of the land alone or of the peo­ple alone, but always and only of both togeth­er. If we want to save the land, we must save the peo­ple who belong to the land. If we want to save the peo­ple, we must save the land the peo­ple belong to.
To under­stand the absolute right­ness of that assump­tion, I believe, is to under­stand the work that we must do. The con­nec­tion is nec­es­sary of course because it is inescapable. All of us who are liv­ing owe our lives direct­ly to our con­nec­tion to the land. I am not talk­ing about the con­nec­tion that is implied by such a term as ​"envi­ron­men­tal­ism." I am talk­ing about the con­nec­tion that we make eco­nom­i­cal­ly, by work, by liv­ing, by mak­ing a liv­ing. This con­nec­tion, as we see every day, is going to be either famil­iar, affec­tion­ate and sav­ing, or dis­tant, uncar­ing and destructive.
The loss of a sav­ing con­nec­tion between the land and the peo­ple begins and con­tin­ues with the destruc­tion of local­ly based house­hold economies. This hap­pens, whether in the Unit­ed States after World War II or in present day Chi­na, by poli­cies more or less forcibly mov­ing peo­ple off the land. It hap­pens also when the peo­ple remain­ing on the land are per­suad­ed by gov­ern­ment or aca­d­e­m­ic experts that they ​"can't afford" to pro­duce any­thing for them­selves, but must employ all their land and all their effort in mak­ing mon­ey with which to buy the things they need or can be per­suad­ed to want. Lead­ers of indus­try, indus­tri­al pol­i­tics, and indus­tri­al edu­ca­tion decide, for exam­ple, that there are ​"too many farm­ers," and that the sur­plus would be ​"bet­ter off" work­ing at urban ​"jobs." The move­ment of peo­ple off the land and into indus­try, away from local sub­sis­tence and into the econ­o­my of jobs and con­sump­tion, was our nation's pol­i­cy after World War II, and it has succeeded.
This divi­sion between the land and the peo­ple has hap­pened in all the regions of rur­al Ken­tucky, just as it has hap­pened or is hap­pen­ing in rur­al places all over the world. The prob­lem, invis­i­ble equal­ly to lib­er­als and con­ser­v­a­tives, is that the forces that destroy the pos­si­bil­i­ty of a sav­ing con­nec­tion between the land and the peo­ple destroy at the same time essen­tial val­ues and prac­tices. The con­ver­sion of an enor­mous num­ber of some­what inde­pen­dent pro­duc­ers into entire­ly depen­dent con­sumers is a rad­i­cal change that in many ways is imme­di­ate­ly cat­a­stroph­ic. With­out a sav­ing con­nec­tion to the land, peo­ple become use­less to them­selves and to one anoth­er except by the inter­ven­tion of mon­ey. Every­thing they need must be bought. Things that can­not be bought they do not have.
This great change is the sub­ject of Har­ri­ette Arnow's nov­el The Doll­mak­er. In the ear­ly pages of this book we rec­og­nize its hero­ine, Ger­tie Nevels, as an entire­ly com­pe­tent woman. Her com­pe­tence does not come from any ​"suc­cess," polit­i­cal or social or eco­nom­ic. She is pow­er­ful because, with­in the cir­cum­stances of her agrar­i­an life in the moun­tain com­mu­ni­ty of Ballew, Ken­tucky, she is emi­nent­ly prac­ti­cal. Among the var­ied resources of her native place, she is resource­ful. She has, from her own strength and will­ing­ness and from her her­itage of local knowl­edge, the means of doing what­ev­er needs to be done. These are the means, for her, of being con­tent in Ballew where she is at home. Her hus­band, Clo­vis, is not con­tent or at home in Ballew. He is an off-and-on mechan­ic and coal hauler whose aspi­ra­tion and frus­tra­tion are embod­ied in a decrepit truck. This is dur­ing World War II. The world is chang­ing, and peo­ple are being changed. Phys­i­cal­ly unfit for the draft, attract­ed to mod­ern life and ​"big mon­ey," Clo­vis goes to Detroit and finds a job as a ​"machine repair man." Ger­tie and their chil­dren fol­low him to the city where, to Ger­tie, the cars seem to be ​"dri­ving them­selves through a world not meant for peo­ple." They find that Clo­vis has rent­ed a dis­heart­en­ing, small, thin-walled apart­ment, and is already in debt for a used car, a radio, and oth­er things that he has bought on credit.
In these cir­cum­stances, Gertie's prac­ti­cal good sense is depre­ci­at­ed near­ly to noth­ing, except for the mean­ing it gives to her grief. Back home, she had dreamed of buy­ing, and had almost bought, a small farm that would have giv­en greater effi­ca­cy to her abil­i­ties and greater scope to her will. As her dras­ti­cal­ly nar­rowed life in Detroit clos­es upon her, she thinks: ​"Free will, free will: only your own place on your own land brought free will." (And now we should notice that those who have lived in the sav­ing way pre­ferred by Ger­tie Nevels — and some have done so — are sol­vent still, and Detroit is bankrupt).
It is a small log­i­cal step from under­stand­ing that self-deter­mi­na­tion for an indi­vid­ual depends on ​"your own place on your own land" to under­stand­ing that self-deter­mi­na­tion for a com­mu­ni­ty depends on the same thing: its home ground, and a rea­son­able mea­sure of local ini­tia­tive in the use of it. This gives us a stan­dard for eval­u­at­ing the influ­ence of an ​"out­side inter­est" upon a region or a com­mu­ni­ty. It gives us a stan­dard for eval­u­at­ing the pol­i­cy of ​"bring­ing in indus­try" and any indus­try that is brought in. Out­side inter­ests do not come in to a place to help the local peo­ple or to make com­mon cause with the local com­mu­ni­ty or to care respon­si­bly for the local coun­try­side. There is noth­ing at all to keep a brought-in indus­try in place when the place has become less invit­ing, less exploitable or less prof­itable than anoth­er place.
We may not want to oppose any and all bring­ing in or com­ing in of indus­try, but local­i­ties and com­mu­ni­ties should insist upon deal­ing for them­selves with any out­side inter­est that pro­pos­es to come in. They should not per­mit them­selves mere­ly to be dealt for by state gov­ern­ment or any oth­er offi­cial body. This of course would require effec­tive, unof­fi­cial local orga­niz­ing, and I believe we are devel­op­ing the abil­i­ty to do that.
But the most effec­tive means of local self-deter­mi­na­tion would be a well-devel­oped local econ­o­my based upon the use and pro­tec­tion of local resources, includ­ing local human intel­li­gence and skills. Local resources have lit­tle local val­ue when they are indus­tri­al­ly pro­duced or extract­ed and shipped out. They become far more valu­able when they are devel­oped, pro­duced, processed and mar­ket­ed by, and first of all to, the local peo­ple — when, that is, they sup­port, and are sup­port­ed by, a local econ­o­my. And here we real­ize that a local econ­o­my, sup­ply­ing local needs so far as pos­si­ble from local fields and wood­lands, is nec­es­sar­i­ly diverse.
As things now stand, the land and peo­ple of rur­al Ken­tucky are not going to be saved by the state and the fed­er­al gov­ern­ments or any of their agen­cies and insti­tu­tions. All of those great offi­cial forces are ded­i­cat­ed pri­mar­i­ly to the per­pet­u­a­tion of the cor­po­rate econ­o­my, not to new life and liveli­hood in small Ken­tucky com­mu­ni­ties. We must not make of that a rea­son to give up our efforts for bet­ter pol­i­tics, bet­ter pol­i­cy, bet­ter rep­re­sen­ta­tion, bet­ter offi­cial under­stand­ing of our prob­lems and needs. But to quit expect­ing the help we need from gov­ern­ment bureaus, uni­ver­si­ty admin­is­tra­tions and the like will give us an increase of clar­i­ty and free­dom. It will give us back the use of our own minds.
For the fact is that if the land and the peo­ple are ever to be saved, they will be saved by local peo­ple enact­ing togeth­er a prop­er respect for them­selves and their places. They can do this only in ways that are neigh­bor­ly, con­vivial and gen­er­ous, but also, and in the small­est details, prac­ti­cal and eco­nom­ic. How might they do this? I will offer a few suggestions:
1. We must reject the idea — pro­mot­ed by politi­cians, com­men­ta­tors, and var­i­ous experts — that the ulti­mate real­i­ty is polit­i­cal, and there­fore that the ulti­mate solu­tions are polit­i­cal. If our project is to save the land and the peo­ple, the real work will have to be done local­ly. Obvi­ous­ly we could use polit­i­cal help, if we had it. Most­ly, we don't have it. There is, even so, a lot that can be done with­out wait­ing on the politi­cians. It seems like­ly that pol­i­tics will improve after the peo­ple have improved, not before. The ​"lead­ers" will have to be led.
2. We should accept help from the cen­ters of pow­er, wealth and advice only if, by our stan­dards, it is actu­al­ly help­ful. The aim of the cor­po­ra­tions and their polit­i­cal and aca­d­e­m­ic dis­ci­ples is large, stan­dard­ized indus­tri­al solu­tions to be applied every­where. Our aim, to bor­row lan­guage from John Todd, must be ​"ele­gant solu­tions pred­i­cat­ed on the unique­ness of [every] place."
3. The rul­ing ideas of our present, very destruc­tive nation­al or inter­na­tion­al econ­o­my are: com­pe­ti­tion, con­sump­tion, glob­al­ism, cor­po­rate prof­itabil­i­ty, mechan­i­cal effi­cien­cy, tech­no­log­i­cal progress, upward mobil­i­ty — and in all of them there is the impli­ca­tion of accept­able vio­lence against the land and the peo­ple. We, on the con­trary, must think again of rev­er­ence, humil­i­ty, affec­tion, famil­iar­i­ty, neigh­bor­li­ness, coop­er­a­tion, thrift, appro­pri­ate­ness, local loy­al­ty. These terms return us to the best of our her­itage. They bring us home.
4. Though many of our worst prob­lems are big, they do not nec­es­sar­i­ly have big solu­tions. Many of the need­ed changes will have to be made in indi­vid­ual lives, in fam­i­lies and house­holds, and in local com­mu­ni­ties. And so we must under­stand the impor­tance of scale, and learn to deter­mine the scale that is right for our places and needs
5. Brought-in indus­tries are like­ly to over­whelm small com­mu­ni­ties and local ecosys­tems because both the brought-in and the bringers- in ignore the issue of scale.
6. We must under­stand and reaf­firm the impor­tance of sub­sis­tence economies for fam­i­lies and communities.
7. For the sake of cul­tur­al con­ti­nu­ity and com­mu­ni­ty sur­vival, we must recon­sid­er the pur­pose, the worth and the cost of edu­ca­tion — espe­cial­ly of high­er edu­ca­tion, which too often leads away from home, and too often grad­u­ates its cus­tomers into unem­ploy­ment or debt or both. When young peo­ple leave their col­lege or uni­ver­si­ty too much in debt to afford to come home, we need to think again. There can nev­er be too much knowl­edge, but there cer­tain­ly can be too much school.
8. Every com­mu­ni­ty needs to learn how much of the local land is local­ly owned, and how much is avail­able for local needs and uses.
9. Every com­mu­ni­ty and region needs to know as exact­ly as pos­si­ble the local need for local products.
10. There must be a local con­ver­sa­tion about how best to meet that need, once it is known.
11. The high costs of indus­tri­al land-using tech­nol­o­gy encour­age and often enforce land abuse. This tech­nol­o­gy is adver­tised as ​"labor-sav­ing," but in fact it is peo­ple-replac­ing. The peo­ple, then, are gone or unem­ployed, the prod­ucts of the land are tak­en by vio­lence and export­ed, the land is wast­ed, and the streams are poi­soned. For the sake of our home places and our own sur­vival, we need many more skilled and care­ful peo­ple in the land-using economies. The prob­lems of achiev­ing this will be dif­fi­cult, and prob­a­bly they will have to be solved by unof­fi­cial peo­ple work­ing at home. We can't expect a good land-based econ­o­my from peo­ple who wish above all to con­tin­ue a land-destroy­ing economy.
12. The peo­ple who do the actu­al work and take the most imme­di­ate risks in the land economies have almost always been the last to be con­sid­ered and the poor­est paid. And so we must do every­thing we can to devel­op asso­ci­a­tions of land own­ers and land users for the pur­pose of land use plan­ning, but also of sup­ply man­age­ment and the main­te­nance of just prices. The near­est, most famil­iar mod­el here in Ken­tucky is the fed­er­al tobac­co pro­gram, which gave the same eco­nom­ic sup­port to the small as to the large pro­duc­ers. If we are inter­est­ed in sav­ing the land and the peo­ple of rur­al Ken­tucky, we will have to con­front the issue of prej­u­dice. Too many rur­al Ken­tuck­ians are prej­u­diced against them­selves. They have been told and have believed that they are provin­cial, back­ward, igno­rant, ugly and thus not wor­thy to ​"stand in the way of progress," even when ​"progress" will destroy their land and their homes. It is hard to doubt that good places have been destroyed (as in the coal fields) or appro­pri­at­ed by hos­tile tak­ing (as in Land Between the Lakes) because, in offi­cial judg­ment, nobody lived there but a bunch of coun­try peo­ple — ​"hicks" or ​"hill­bil­lies." But prej­u­dice against oth­er dis­fa­vored groups still is alive and well in rur­al Ken­tucky. This is iso­lat­ing, weak­en­ing, and dis­tract­ing. It reduces the sup­ply of love to our needs and our work.
To end, I want to say how grate­ful I am to have this audi­ence for this speech. I remem­ber when there was no orga­ni­za­tion called (or like) Ken­tuck­ians for the Com­mon­wealth, and so I know its worth. I am proud to be one of you. In speak­ing to you, I've felt that I could reach, beyond sev­er­al false assump­tions, toward our actu­al neigh­bor­hoods and the actu­al ground under our feet. If we keep faith­ful to our land and our peo­ple, both togeth­er, nev­er apart, then we will always find the right work to do, and our long, nec­es­sary, dif­fi­cult, hap­py effort will continue.
This arti­cle was orig­i­nal­ly pub­lished in Our Only World: Ten Essays (Coun­ter­point). It is based on a speech to Ken­tuck­ians for the Com­mon­wealth in Car­roll­ton, Ken­tucky, on August 16, 2013. Copy­right © Wen­dell Berry, from Our Only World. Reprint­ed by per­mis­sion of Counterpoint.
Wen­dell Berry
, author of more than
40
books of fic­tion, poet­ry and essays, has farmed a hill­side in his native Hen­ry Coun­ty, Ken­tucky, for
40
years. He has received numer­ous awards for his work, includ­ing the T.S. Eliot Award, the Aiken Tay­lor Award for poet­ry and the John Hay Award of the Ori­on Society.