Diverse, Radical and Ready to Resist: Meet the First in the New Wave of Local Progressive Officials
At Local Progress's 150-person meet-up, left-leaning politicians from around the country share plans to build rebel cities.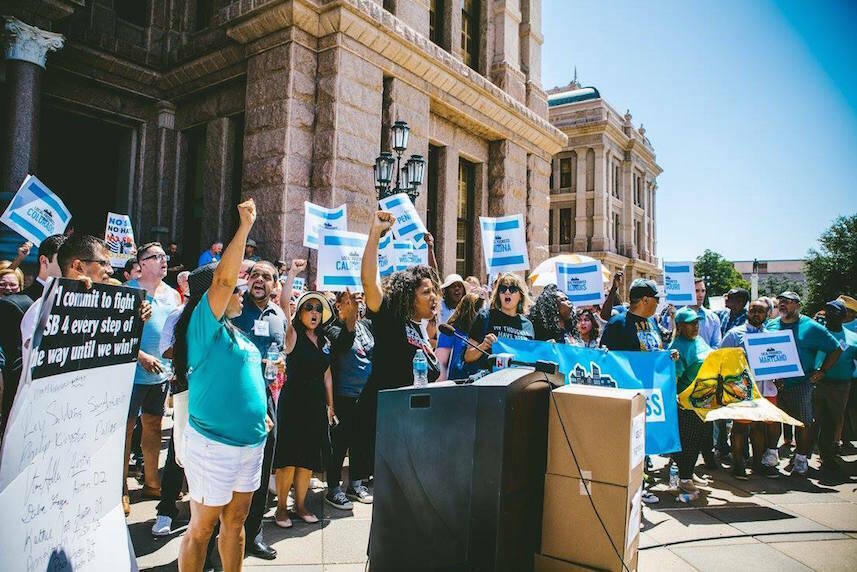 AUSTIN, TEXAS — When San Fran­cis­co super­vi­sor John Ava­l­os helped form Local Progress, a nation­al net­work of pro­gres­sive elect­ed offi­cials, he was dis­mayed by his own city's left-lean­ing polit­i­cal scene. The Bay Area was a hotbed of inno­v­a­tive pol­i­cy-mak­ing. But get­ting his city hall col­leagues to work togeth­er more close­ly, rather than just pro­mote their own pet projects and per­son­al ​"brand" was not easy. ​"Pol­i­tics should be a team sport," he says. ​"And we didn't have that enough."
Informed that she was "outside the norm for St. Louis politics"—at least in the view of its "white, wealthy, political power establishment"—St. Louis Alderwoman Megan Green has, nevertheless, won several election contests since 2014.
On the oth­er side of the coun­try, Bill Hen­ry, a pro­gres­sive on Baltimore's city coun­cil, often felt like a minor­i­ty of one. Hen­ry was among 30 munic­i­pal offi­cials from around the coun­try who joined Ava­l­os at a found­ing meet­ing of Local Progress in Novem­ber 2012. He found the oth­er atten­dees to be ​"peo­ple who weren't afraid to say things should be a lot dif­fer­ent" — in short, the meet­ing looked like ​"the coun­cil I want­ed to have at home."
Local Progress ini­tia­tors began reach­ing out to peers in oth­er cities — some in solid­ly blue states, some buck­ing con­ser­v­a­tive state gov­ern­ments. The result­ing net­work has a twofold goal, accord­ing to Ava­l­os, ​"not only [plant­i­ng] the seeds of local progress — plant­i­ng seeds of resistance."
When Local Progress mem­bers — now num­ber­ing more than 600, from 328 munic­i­pal­i­ties in 41 states — met in Austin on July 27 – 29, their theme was, in fact ​"Resis­tance and Progress." Trump's vic­to­ry drove turnout and sharp­ened the focus on the for­mer, with pro­gres­sive city coun­cilors, may­ors, school board mem­bers, and coun­ty super­vi­sors dis­cussing how to fend off con­ser­v­a­tive counter-attacks from Wash­ing­ton and many state cap­i­tals. But par­tic­i­pants didn't lose sight of plans to make ​"rebel cities" a mod­el for what gov­ern­ment can accom­plish, now and in the future, under bet­ter lead­er­ship. They swapped advice on pass­ing mea­sures like mod­el ordi­nances for rent con­trol, min­i­mum wage increas­es, police account­abil­i­ty mea­sures, pro­tec­tions for immi­grants, and keep­ing the plan­et from over-cook­ing through pub­lic invest­ment in sus­tain­able infra­struc­ture. (Late July tem­per­a­tures in the Lone Star state cer­tain­ly helped focus atten­tion on the impact of cli­mate change, even inside the air-con­di­tioned bub­ble of a Uni­ver­si­ty of Texas con­fer­ence center!)
The high turnout also reflect­ed in part the new ener­gy around local pro­gres­sive races com­ing out of the Bernie Sanders cam­paign. Groups like the Work­ing Fam­i­lies Par­ty, People's Action, and Our Rev­o­lu­tion are all encour­ag­ing and sup­port­ing pro­gres­sives to run for office. For exam­ple, one attendee was Andrea Jenk­ins, a trans­gen­der African-Amer­i­can woman run­ning for city coun­cil can­di­date in Min­neapo­lis, who has earned the back­ing of Our Rev­o­lu­tion, Con­gres­sion­al Pro­gres­sive Cau­cus co-chair Kei­th Elli­son, and SEIU and AFSCME locals.
Local Progress adds a lay­er of sup­port for these new can­di­dates: hav­ing ready access to a nation­al clear­ing­house of infor­ma­tion about suc­cess­ful munic­i­pal reforms is help­ful dur­ing a first-time cam­paign and, if that's suc­cess­ful, in post-elec­tion work. At Local Progress annu­al gath­er­ings, most of the dis­cus­sion is orga­nized, in small work­shops, to help actu­al prac­ti­tion­ers share per­son­al expe­ri­ences, polit­i­cal tips, and pol­i­cy ideas directly.
What it looks like to be suc­cess­ful in ​"down bal­lot" elec­tions was very much on dis­play in the eth­nic, racial, geo­graph­i­cal and gen­der diver­si­ty of the crowd. Some of this year's par­tic­i­pants, like Kansas City, Mo., city coun­cilor Jer­maine Reed, need lit­tle instruc­tion on why poor and work­ing class Amer­i­cans can ben­e­fit from munic­i­pal uplift. Now run­ning for may­or, Reed is one of four African-Amer­i­can broth­ers raised by a sin­gle moth­er who is still work­ing and ​"nev­er made more than $11 an hour." He per­son­al­ly expe­ri­enced hav­ing gas and elec­tric­i­ty shut off at home because bills couldn't be paid. At age 14, he found him­self liv­ing in a home­less shelter.
"On an issue like rais­ing the min­i­mum wage, you don't have to con­vince me," he told his col­leagues. ​"I know the sto­ry. I've lived the sto­ry. I am the story."
Anoth­er com­pelling speak­er was Rashi­da Tlaib, the first Mus­lim woman to serve in the Michi­gan leg­is­la­ture (and from a dis­trict only 2 per­cent Arab-Amer­i­can). The daugh­ter of an auto work­er born in Pales­tine and the old­est of his 14 chil­dren, Tlaib grew up in south­west Detroit among neigh­bors pre­dom­i­nant­ly African-Amer­i­can and Lati­no; they, like her, assumed that the ever-present smell of local indus­tri­al pol­lu­tion was ​"nor­mal," she recalls.
Now termed out, like John Ava­l­os in San Fran­cis­co, Tlaib urged Local Progress mem­bers to be pro-active in caus­es rang­ing from pub­lic health to envi­ron­men­tal pro­tec­tion. ​"We have to go beyond intro­duc­ing bills, hold­ing a press con­fer­ence, and just show­ing up," she told them. Dur­ing her six years in office, Tlaib cre­at­ed a neigh­bor­hood ser­vice cen­ter, helped con­stituents raise mon­ey for com­mu­ni­ty improve­ment projects, become a plain­tiff in pub­lic inter­est law­suits, and orga­nized reg­u­lar ​"Town Hall" meet­ings so cit­i­zen com­plaints, about pub­lic ser­vices, could be aired in the pres­ence of rel­e­vant city and state officials .
Fix­ing prob­lems often requires that union or com­mu­ni­ty orga­niz­ers run for office them­selves. For­mer labor coun­cil leader Cindy Chavez is now a San­ta Clara Coun­ty super­vi­sor rep­re­sent­ing 360,000 peo­ple. But she attrib­ut­es her polit­i­cal career to becom­ing a home-own­er in down­town San Jose, CA. After some­one fired shots into her house, she was told by an inves­ti­gat­ing offi­cer that her new neigh­bor­hood was ​"unsafe" (hard­ly a rev­e­la­tion at that point). His advice was: ​"You should move." Instead, she ran for city coun­cil, then may­or (unsuc­cess­ful­ly) and four years ago, the Board of Supervisors.
As an elect­ed offi­cial, Chavez has worked on pub­lic safe­ty issues like how police han­dle ​"inti­mate part­ner vio­lence" and for­mer­ly incar­cer­at­ed res­i­dents re-enter the com­mu­ni­ty. Next month, San­ta Clara Coun­ty will begin a tri­al pro­gram — that she and oth­er super­vi­sors sup­port­ed — to place non-vio­lent drunks in ​"sober­ing cen­ters" with sup­port ser­vices pro­vid­ed by the county's behav­ioral health depart­ment, rather than jail­ing them for pub­lic intoxication.
Unlike Chavez, who grad­u­at­ed from San Jose State, or Tlaib, who went to law school, 44-year old Jen­nifer Mecozzi has only a high school degree. But that didn't stop her from get­ting elect­ed to the Buf­fa­lo Board of Edu­ca­tion, where her col­leagues include Trump sup­port­er Carl Pal­adi­no, a wealthy upstate New York real estate devel­op­er and for­mer Repub­li­can guber­na­to­r­i­al candidate.
A pub­lic school par­ent and moth­er of four, Mecozzi was endorsed by the Buf­fa­lo Teach­ers Fed­er­a­tion. She cam­paigned for more school-based ser­vices for the chil­dren of refugees and oth­er for­eign immi­grants recent­ly arrived in Buf­fa­lo. ​"I'm a watch­dog for my com­mu­ni­ty but I'm a bull­dog for my babies," says Mecozzi, a long-time staff mem­ber for PUSH-Buf­fa­lo, a non-prof­it group that fights for sus­tain­able low-income housing.
Like oth­er suc­cess­ful can­di­dates who are now part of a pro­gres­sive fac­tion on a local elect­ed body, Mecozzi faced the post-elec­tion chal­lenge of ral­ly­ing her neigh­bors to do more than just vote for her. ​"I'm chal­leng­ing my con­stituents to help me make change," she said. ​"I'm the only per­son on the board from a grass­roots back­ground. So every­one is look­ing to me to solve everybody's prob­lems. And I can't do it alone."
Hang­ing like a pall over the Austin meet­ing was the grow­ing use of leg­isla­tive pre-emp­tion to thwart local prob­lem solv­ing (or relat­ed Trump Admin­is­tra­tion defund­ing threats). In state cap­i­tals across the coun­try, foes of reform are work­ing — often in bipar­ti­san fash­ion — to block the cre­ative exer­cise of munic­i­pal pow­er on behalf of work­ers, con­sumers, undoc­u­ment­ed immi­grants, trans­gen­der peo­ple and the envi­ron­ment. Dur­ing their con­ven­ing, Local Progress lead­ers trekked over to the Texas state capi­tol build­ing to protest Repub­li­can Gov­er­nor Greg Abbott's sign­ing of state Sen­ate Bill 4 ear­li­er this year. That dra­con­ian mea­sure, now being chal­lenged in court by the city of Austin and oth­ers, would impose crim­i­nal penal­ties on elect­ed offi­cials and local law enforce­ment per­son­nel who uphold sanc­tu­ary city policies.
Local offi­cials fac­ing such threats got some brac­ing advice from Lar­ry Kras­ner, the civ­il rights attor­ney and death penal­ty foe on track to become Philadelphia's next Dis­trict Attor­ney. In a keynote address, Kras­ner recount­ed his past rep­re­sen­ta­tion of peo­ple arrest­ed for civ­il dis­obe­di­ence, some of whom helped engi­neer his upset vic­to­ry in a Demo­c­ra­t­ic pri­ma­ry three months ago.
In Philadel­phia, he said, ​"the next gen­er­a­tion of pro­gres­sive lead­ers are labor and com­mu­ni­ty organizers…activists who do pol­i­tics bet­ter than politi­cians." But he urged any­one in the room, whether fac­ing re-elec­tion or a first time bid for office, ​"to be as rad­i­cal as the truth requires and do it with­out fear."
St. Louis Alder­woman Megan Green has been one such pro­file in courage already. Only 34, she ran ini­tial­ly, as an inde­pen­dent when her local Demo­c­ra­t­ic com­mit­tee wouldn't back her. Then, she par­tic­i­pat­ed in Fer­gu­son-relat­ed police bru­tal­i­ty protests, sup­port­ed the Black Lives Mat­ter move­ment, and tack­led pub­lic safe­ty reform issues in a way that made her instant­ly unpop­u­lar with the St. Louis police union.
Informed that she was ​"out­side the norm for St. Louis pol­i­tics" — at least in the view of its ​"white, wealthy, polit­i­cal pow­er estab­lish­ment" — Green has, nev­er­the­less, won sev­er­al elec­tion con­tests since 2014. She sur­vived a blitz of neg­a­tive ads by well-fund­ed oppo­nents. She helped orga­nize a Bernie Sanders-backed effort to shake up the local Demo­c­ra­t­ic Par­ty estab­lish­ment and now serves on the state and nation­al Demo­c­ra­t­ic committees.
"It's not enough just to have pro­gres­sives in St. Louis," Green acknowl­edged. While in Austin, she and oth­ers in Local Progress pledged to strength­en their mutu­al sup­port net­work through more per­son­al finan­cial dona­tions and joint action. Exam­ples of the lat­ter, cit­ed at the meet­ing, includ­ed ​"sign-on" state­ments by hun­dreds of elect­ed offi­cials call­ing for a min­i­mum wage hike in New York state, reject­ing anti-Mus­lim big­otry every­where, and protest­ing col­lu­sion between fed­er­al hous­ing offi­cials and pri­vate equi­ty firms in the sale of dis­tressed mortgages.
Local Progress also unveiled a flashy new adver­tise­ment for itself, in the form of a short video cel­e­brat­ing its coor­di­nat­ing role, col­lec­tive accom­plish­ments, and six years of steady growth.
The film's mes­sage: ​"if you're out­raged by the Trump agen­da, you should run for local office" because that's where the action is going to be until the ​"local and state lead­ers of today become nation­al leaders."
Steve Ear­ly worked for 27 years as an orga­niz­er and inter­na­tion­al rep­re­sen­ta­tive for the Com­mu­ni­ca­tions Work­ers of Amer­i­ca. He is the author of sev­er­al books, includ­ing Refin­ery Town: Big Oil, Big Mon­ey, and the Remak­ing of an Amer­i­can City (Bea­con Press).