"If They Strike, We Won't Cross the Picket Line": LA Teachers And Service Workers Unite
The school district's service workers announced plans to begin a three-day strike on Tuesday. The teachers union has their back.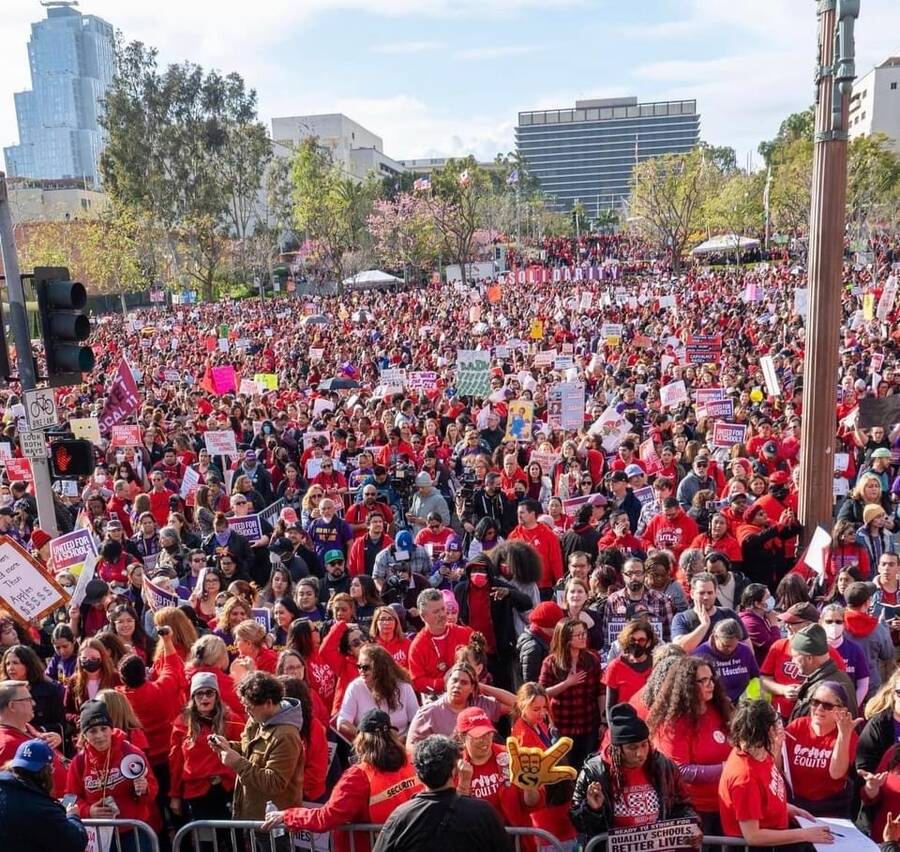 Following weeks of uncharacteristically gloomy days, the weather broke late in the afternoon on Wednesday, March 15, seemingly in preparation for the 4:30 PM Unite for Los Angeles Schools rally in Grand Park outside City Hall. The gathered crowd buzzed with excitement and righteous indignation. Drums and horns sounded, signs and t-shirts were given out and street vendors peddled everything from cotton candy to tacos, making the event feel more like a music festival than a rally. Our headliners? Leaders from two of the largest unions in Los Angeles County.
Several thousand showed out for the rally which was organized by United Teachers Los Angeles (UTLA), the tenacious union representing 90% of the city's public schools teachers, and SEIU Local 99, which represents more than 30,000 cafeteria workers, bus drivers, custodians, special education assistants and other service workers in the Los Angeles Unified School District (LAUSD). Both unions are negotiating new contracts with LAUSD. Over the last 10 months, UTLA has had more than 25 bargaining sessions with district officials, while Local 99 has been negotiating since April 2022, according to Blanca Gallegos, the union's Communications Director.

The two unions' struggles have national implications, much like UTLA's historic 2019 strike when more than 30,000 Los Angeles teachers walked out for the first time in 30 years — inspiring strikes in California (Oakland teachers went on strike a month later) and across the country. Arlene Inouye, UTLA secretary and bargaining team co-chair, says the strike ​"really uplifted social justice and racial justice" as key demands and showed how teachers unions could use labor contracts to win public services to the entire community. ​"We often say that our working conditions are our students' learning conditions," Inouye says. UTLA's 2019 campaign tried to improve both, advancing common good demands such as immigrant student support, a ban on random metal detector searches (or ​"wanding") of students and piloting a green spaces program.

UTLA partnered with Reclaim Our Schools LA — a coalition of families, students, educators and community organizations — in their 2019 contract campaign; the deal they negotiated expired in 2022. The two groups are now coming together again to build on their older demands. Inouye says UTLA officers have canvassed every school to gain input from students and staff on issues they care about. According to Inouye, the union also held community forums inviting parents and local organizations to answer the simple question: ​"What do you want to see in this contract?"

The resulting platform — which is called ​"Beyond Recovery" — ​"was not just something UTLA came up with," says Eloisa Galindo, member of the groups Eastside Padres Contra La Privatización and the Alliance of Californians for Community Empowerment (ACCE) Action and longtime LAUSD parent. ​"The Beyond Recovery platform is something that was built from community voices. Folks came together to voice their needs," Galindo adds.

The platform argues that LAUSD's nearly $5 billion 2023 budget surplus, which includes state and federal Covid-19 relief funds, is an unprecedented opportunity to address the ​"devastating levels of community and family trauma, economic stress, emotional isolation and racial inequity" laid bare by the Covid-19 pandemic. ​"We wanted to create a platform that goes beyond recovery [from the pandemic]," says Inouye. ​"We have a real vision." That vision is to establish public schools as centers by and for the community, which would mean offering counseling support instead of police, an immigrant defense fund, a comprehensive climate justice curriculum, support for unhoused youth and families, community schools, clean water and protections against charter schools on public school campuses.

The Beyond Recovery platform also includes demands such as adequate school staffing — which would not only benefit educators but also students and families. ​"Since the pandemic, society has changed for the worse," Carlson Elementary special education teacher Bruce Le said at the rally, citing an increase in mental health issues among students. ​"It's better [to get kids] back in school, but the support [they need] is not there." Le said LAUSD needs to ​"reduce class sizes, pay teachers better because inflation is 10%, we can barely live, provide counseling and other services to the school." Jessica Escalante, a parent and special education teacher at Carlson, said at the rally that ​"the wages are too low, [that's why LAUSD] can't get people," and that increasing staff pay would be a step toward addressing short-staffing throughout LAUSD.

The teachers have been negotiating with a school board led by superintendent Alberto M. Carvalho, whose $440,000 salary is nearly ten times that of a starting salary for a LAUSD teacher, and as several rally signs noted, more than the president of the United States makes. Carvalho also heads negotiations with SEIU Local 99, whose workers make on average $25,000 annually — well below the federal poverty line for families. ​​In a statement released by Local 99, Janette Verbera, a special education assistant at LAUSD, said: ​"I am a single mother and for the past 20 years I have worked two and sometimes three jobs just to support my family … How do we properly service our students when we are being overworked and underpaid and disrespected?"
UTLA teachers see their own struggle reflected in Local 99. Heather Teixeira, a speech pathologist at East Valley High School and Clifford Magnet Tech, tells In These Times that Local 99 are ​"they're in the same position as we are where the district's brought nothing to the bargaining table over the last few years." She adds that the district is making ​"very paltry and stingy offers considering they have nearly $5 billion in reserve." LAUSD responded to a request for comment with a summary of offers the district has presented Local 99, which includes a 15% wage increase over a three-year period. Local 99 is asking for a 30% wage increase effective July 1, 2023.

Near the conclusion of the rally, Local 99 executive director Max Arias announced the union's intention to begin a three-day strike starting next Tuesday, March 21. ​"If they strike, we won't cross the picket line in solidarity with them," said Teixeira. The resulting strike would shut schools down for more than 420,000 students as there would be ​"no way of ensuring a safe and secure environment where teaching can take place," the district said in a statement.

Jasmin Joseph is an LA-based writer and researcher from Yonkers, New York.