"Welcome to the Revolution": LA Teachers Strike Pits Working-Class Power Against Privatization
Over 30,000 Los Angeles teachers are out on a historic strike to beat back austerity and pro-charter school forces.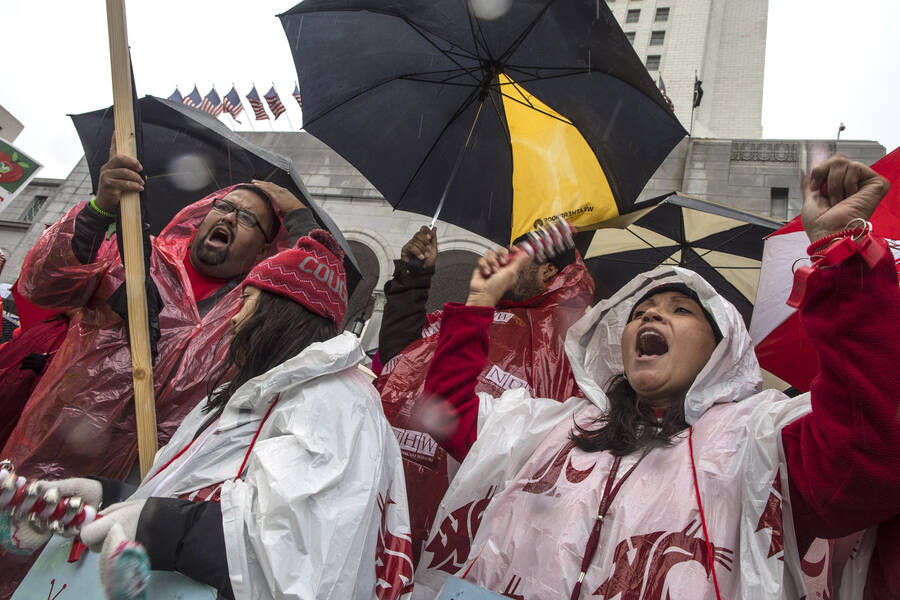 LOS ANGE­LES— ​"Wel­come to the rev­o­lu­tion." This was the mes­sage from Link Mize, a his­to­ry and gov­ern­ment teacher at the NOW Acad­e­my in the heart of Kore­atown, as he hand­ed out signs to pick­et­ing teach­ers on Mon­day, the open­ing day of Unit­ed Teach­ers Los Ange­les' (UTLA) first city­wide strike in 30 years. Mize and dozens of his fel­low NOW Acad­e­my teach­ers braved rain to show their sup­port, the lat­est in a wave of ​"Red for Ed" strikes that spread across many con­ser­v­a­tive-lean­ing states last year.
Many of the striking teachers see the battle in Los Angeles as a front-line action to put an end to starvation of public school funding on one end, and corporate-fueled privatization on the other.
But here in the nation's sec­ond-largest school dis­trict, where an incred­i­ble 98 per­cent of UTLA vot­ing mem­bers vot­ed to autho­rize a strike last August, the issues are not lim­it­ed to wages and ben­e­fits, as they were in West Vir­ginia, Ari­zona and Okla­homa. ​"I feel like this is part of the war to keep pub­lic edu­ca­tion pub­lic," said Mize, a UTLA chap­ter chair at the NOW Acad­e­my, which is built on the for­mer site of the Ambas­sador Hotel, where Robert Kennedy was assas­si­nat­ed in 1968.
Many of the strik­ing teach­ers see the bat­tle in Los Ange­les as a front-line action to put an end to star­va­tion of pub­lic school fund­ing on one end, and cor­po­rate-fueled pri­va­ti­za­tion on the oth­er. And while that debate has been play­ing out in Los Ange­les and across the coun­try for years, union lead­ers and teach­ers believe this could be a last stand. ​"If this doesn't work there may not be a union left," said Mize.
Because there's so much at stake, the bat­tle doesn't real­ly end with the strike. It's also tied up with a qui­et­ly rad­i­cal pro­pos­al loom­ing from school super­in­ten­dent and for­mer invest­ment banker Austin Beut­ner, which would divide the Los Ange­les Uni­fied School Dis­trict (LAUSD) into 32 ​"net­works." Crit­ics call the plan a blue­print to close neigh­bor­hood schools, pour mon­ey into char­ters and decen­tral­ize oppo­si­tion to pri­va­ti­za­tion. Beut­ner has even brought in a con­sul­tant, Cami Ander­son, who test­ed this mod­el while super­in­ten­dent of schools in Newark, New Jersey.
Plus, an upcom­ing school board spe­cial elec­tion will decide the bal­ance of pow­er between char­ter sup­port­ers and those backed by UTLA, and whether the net­work mod­el has major­i­ty sup­port to go for­ward. You can­not dis­ag­gre­gate the strike from these oth­er issues. Union lead­ers see LAUSD as under attack, and are using all means at their dis­pos­al to stem the tide.
UTLA, which has been work­ing with­out a con­tract since June 2017, does want to improve con­di­tions for teach­ers. They're seek­ing a 6.5 per­cent raise in the first year of a three-year con­tract; the dis­trict has offered 6 per­cent spread over two years. UTLA also wants the district's $1.8 bil­lion reserve to be used to reduce class sizes and hire nurs­es, librar­i­ans, psy­chol­o­gists, and coun­selors, which are in short sup­ply in pub­lic schools.
"I start­ed in 1993, when I came in the class size was 45, and when I left it was 45," said Mar­cy Wino­grad, a for­mer Con­gres­sion­al can­di­date and retired teacher who taught Eng­lish and spe­cial edu­ca­tion. Wino­grad cit­ed UTLA sta­tis­tics that 80 per­cent of schools in the sys­tem don't have full-time nurs­es, that coun­selors have case­loads as high as 500 stu­dents, and that librar­i­ans are fre­quent­ly itin­er­ant labor­ers dri­ving between schools.
LAUSD has said these staffing and wage enhance­ments would wipe out the bud­get reserve and cre­ate a deficit. ​"The dis­trict is not com­mit­ted to low­er­ing class sizes, they've only promised it for the first year," Wino­grad said. ​"They have to bring more mon­ey to the table. What's more impor­tant than our stu­dents and our future?"
But the finan­cial mat­ters are almost a side­light to UTLA's oth­er demands. Teach­ers have asked for cut­backs to stan­dard­ized test­ing. They want more say in deci­sion-mak­ing for the schools. They want dis­trict-owned real estate to be used to pro­vide afford­able housing.
The UTLA vision is holis­tic, envi­sion­ing not only schools based on analy­sis rather than rote mem­o­riza­tion and democ­ra­cy rather than dic­ta­tor­ship, but cen­tral­iz­ing the role of the school in com­mu­ni­ty devel­op­ment and progress. So far, accord­ing to the union, LAUSD has not even addressed these proposals.
UTLA claims the school board has a dif­fer­ent vision, informed by the bil­lion­aire donors who spent $9.7 mil­lion in 2017 to flip two seats and gain a major­i­ty for char­ter pro­po­nents on the school board. About 20 per­cent of Los Ange­les K‑12 schools are char­ters, which the dis­trict funds to the tune of $600 mil­lion a year.
Beut­ner, who had no expe­ri­ence in edu­ca­tion before being hired last May, was the char­ter back­ers' hand­picked choice. ​"There is no trust in this super­in­ten­dent," said Mon­i­ca Stud­er, a test­ing coor­di­na­tor for Eng­lish-lan­guage learn­ers who also struck dur­ing the last UTLA action in 1989. ​"His goals are to pri­va­tize education."
The blue­print for split­ting up LAUSD into net­works, which has been the sub­ject of com­mu­ni­ty meet­ings, would seem to fit with­in that mis­sion. This ​"port­fo­lio mod­el" would allow local man­agers to close neigh­bor­hood schools and turn them into for-prof­it char­ters, with­out any cen­tral over­sight. That's what hap­pened in Newark, under the same super­in­ten­dent, Ander­son, who is con­sult­ing with the dis­trict. New Orleans and Detroit have also tried the port­fo­lio mod­el.
The breakup of LAUSD would require board approval, and that's where the open seat comes in. Ref Rodriguez, the for­mer board pres­i­dent, left office after being indict­ed in a scheme where he faked grass­roots sup­port by pay­ing for straw dona­tions. Rodriguez could have just self-fund­ed his race legal­ly, but he want­ed to show he had local sup­port­ers, by buy­ing them.
On March 5, vot­ers in Rodriguez' dis­trict will vote for a replace­ment, and with char­ter and teach­ers union sup­port­ers on the board dead­locked at 3 – 3, the win­ner of the race could deter­mine LAUSD's future. Union lead­ers coaxed the leg­endary for­mer school board mem­ber and state leg­is­la­tor Jack­ie Gold­berg to run for her old seat. There are sev­er­al pro-char­ter oppo­nents, and the Cal­i­for­nia Char­ter Schools Asso­ci­a­tion decid­ed not to endorse in the first round. If nobody gets 50 per­cent, the race goes to a top-two runoff, where pre­sum­ably Gold­berg and a char­ter advo­cate will face off in a con­se­quen­tial matchup.
The strike is tak­ing place as a back­drop to these machi­na­tions. Some teach­ers believe that the pres­sures on local polit­i­cal lead­ers could push toward a set­tle­ment. L.A. May­or Eric Garcetti thinks he wants to run for pres­i­dent, and Cal­i­for­nia Gov­er­nor Gavin New­som just start­ed his first term a week ago. Nei­ther wants to deal with a mas­sive edu­ca­tion strike on their watch.
In fact, Newsom's first bud­get, which would pro­vide more mon­ey to K‑12 edu­ca­tion, led the dis­trict to up its offer to UTLA last Fri­day, guar­an­tee­ing full-time nurs­es at every ele­men­tary school, librar­i­ans at every sec­ondary school and mod­est­ly low­er class sizes. But the district's offers were lim­it­ed to one year, with the pos­si­bil­i­ty for retrench­ment afterward.
Both sides appear to be dug in. The dis­trict has hired 400 high­ly-paid scabs, includ­ing some union mem­bers who are sub­sti­tute teach­ers, to essen­tial­ly babysit stu­dents in giant assem­bly halls. ​"A nor­mal sub­sti­tute can make $190 a day," said Nicholas Har­ris, a sub­sti­tute in the dis­trict who was walk­ing pick­et lines on Mon­day, but she not­ed that dur­ing the strike the dis­trict was offer­ing up to $385 a day. ​"If they have that kind of mon­ey why aren't they fund­ing the schools? Because they want to break the union."
With 85 per­cent of LAUSD stu­dents liv­ing near or below the pover­ty line, keep­ing kids off the streets and in the class­room dur­ing the strike is worth­while, but it also eas­es the pres­sure on man­age­ment that often can lead to a deal. Many par­ents weren't tak­ing advan­tage of the offer Mon­day, with drop-offs just a slow trick­le at the NOW Acad­e­my. ​"I think the stu­dents under­stand and sup­port us," said Patri­cia Andrade, a third and fourth-grade teacher at the NOW Acad­e­my. ​"Our stu­dents are smarter than we think."
The pub­lic has already shown sup­port for strik­ing teach­ers. For exam­ple, the Los Ange­les chap­ter of the Demo­c­ra­t­ic Social­ists of Amer­i­ca helped raise over $10,000 to send taco trucks to pick­et lines all week; at the NOW Acad­e­my, teach­ers had break­fast bur­ri­tos with eggs and chori­zo made to order. And a sol­i­dar­i­ty march of over 50,000 peo­ple took over down­town L.A. in mid-December.
The march point­ed­ly con­clud­ed in front of the Broad Muse­um, an art com­plex con­struct­ed by bil­lion­aire devel­op­er Eli Broad, one of the most gen­er­ous donors to the char­ter school move­ment. That UTLA recent­ly called for a mora­to­ri­um on char­ters puts the entire bat­tle between the union and the dis­trict into relief — this is about stop­ping the pri­va­ti­za­tion machine cold.
"The bil­lion­aires want to bank­rupt the dis­trict and slice and dice and pri­va­tize," said Wino­grad. ​"We don't want to see the demise of pub­lic education."