Here's Why LA Teachers Are Walking Out in a Historic Strike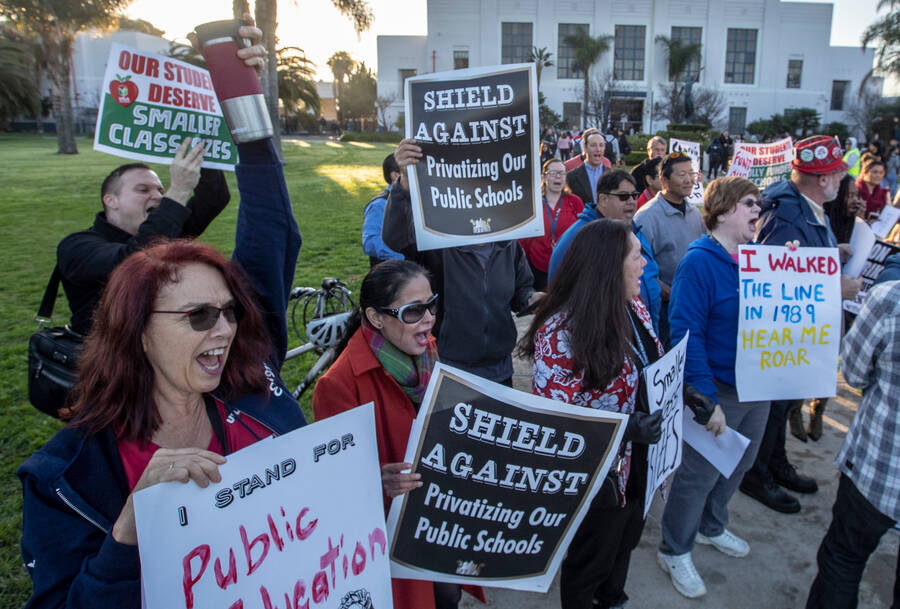 After near­ly two years of bar­gain­ing, pub­lic-school teach­ers in Los Ange­les have ini­ti­at­ed a strike in protest of their district's poli­cies. Start­ing today, teach­ers are pick­et­ing out­side of their work­places, under­scor­ing an invet­er­ate lack of invest­ment in pub­lic schools made worse by a pro-char­ter-school ​"aus­ter­i­ty agen­da."
From April of 2017 to Jan­u­ary of this year, Unit­ed Teach­ers of Los Ange­les (UTLA) — which rep­re­sents more than 35,000 teach­ers, nurs­es, librar­i­ans and coun­selors in Los Ange­les Uni­fied School Dis­trict (LAUSD) — had been in nego­ti­a­tions with the dis­trict, and even­tu­al­ly reached an impasse. The union's pro­pos­als address griev­ances includ­ing pref­er­en­tial fund­ing for char­ter schools, and such relat­ed prob­lems as inflat­ed class size, inad­e­quate sup­port for spe­cial and bilin­gual edu­ca­tion, and exces­sive stan­dard­ized testing.
The strike is the cul­mi­na­tion of a pro­tract­ed bat­tle against the de fac­to pri­va­ti­za­tion brought on by the growth of char­ter schools, which are pub­licly fund­ed but pri­vate­ly oper­at­ed — that is, inde­pen­dent of local school board reg­u­la­tions. In Los Ange­les Coun­ty, char­ter-school enroll­ment has risen 35.7 per­cent since 2012 to 2013, ren­der­ing the coun­ty, among dozens of oth­ers in Cal­i­for­nia, one of the fastest-grow­ing hubs of char­ter-school education.
In recent years, Los Ange­les char­ter-school advo­cates have gen­er­at­ed unprece­dent­ed financ­ing: Pro-char­ter groups, for exam­ple, were respon­si­ble for more than two-thirds of the $14.3 mil­lion in cam­paign spend­ing in a May, 2017, LAUSD school board elec­tion. That elec­tion saw pro-char­ter can­di­dates clinch a major­i­ty and, the fol­low­ing year, appoint for­mer invest­ment banker and deputy may­or Austin Beut­ner as superintendent.
Much of this growth can be attrib­uted to char­ters cur­ry­ing favor with Wall Street and Sil­i­con Val­ley as grounds for tax breaks, real-estate invest­ments, and busi­ness oppor­tu­ni­ties. In Los Ange­les specif­i­cal­ly, char­ter schools have become the pet projects of promi­nent bil­lion­aires, includ­ing Net­flix chief Reed Hast­ings and real-estate devel­op­er and financier Eli Broad.
UTLA con­tends that the polit­i­cal cli­mate of the school board has stripped tra­di­tion­al pub­lic schools of fund­ing. A 2016 report com­mis­sioned by the union found that char­ters had siphoned $591 mil­lion from tra­di­tion­al pub­lic schools. The union also says that the dis­trict has $1.86 bil­lion in ​"unre­strict­ed" reserves, which UTLA claims can be used to fund LAUSD's pub­lic schools. Beut­ner argues that the reserve funds exist, but are already being spent.
Accord­ing to UTLA trea­sur­er Alex Oroz­co, there's no evi­dence the reserve funds have been spent, and the cur­rent dis­tri­b­u­tion of funds has bred unten­able stu­dent-to-teacher ratios. Oroz­co told In These Times that he vis­its schools with aver­age class sizes in the 40s — a num­ber that LAUSD's own sta­tis­tics for mid­dle- and high-school class­es confirm.
Beut­ner respond­ed to these con­cerns via an arti­cle in the Los Ange­les Times, propos­ing ​"to add teach­ers and reduce class size at 15 mid­dle schools and 75 ele­men­tary schools in com­mu­ni­ties that have the high­est needs." UTLA holds that this falls short. ​"You can just feel the dis­re­spect," Oroz­co said. ​"The pro­pos­al that he put out addressed class size, which in the 16 months that we were in nego­ti­a­tions, not once did they address class size. But they addressed class size at the bare min­i­mum, which is focus­ing on our need­i­est schools."
Avail­abil­i­ty of essen­tial per­son­nel out­side the class­room, includ­ing nurs­es, librar­i­ans, coun­selors and school psy­chol­o­gists, has also been com­pro­mised. For the 2014 to 2015 fis­cal year, Cal­i­for­nia ranked as the worst state in stu­dent-to-teacher librar­i­an ratios. Mean­while, Cal­i­for­nia suf­fers a trou­bling short­age of school nurs­es. UTLA main­tains that near­ly 40 per­cent of LAUSD pub­lic schools have a nurse for only one day a week. Accord­ing to Oroz­co, many schools are forced to pay out of pock­et for a nurse.
This scarci­ty dis­pro­por­tion­ate­ly affects stu­dents with dis­abil­i­ties and spe­cial needs, who may ben­e­fit from more reg­u­lar vis­its. After appoint­ments, nurs­es and school psy­chol­o­gists ​"are spend­ing a lot of time doing paper­work," says spe­cial-edu­ca­tion teacher and UTLA rank-and-file mem­ber Alli­son John­son. ​"So if they're only there one day a week, then how much time are they actu­al­ly get­ting to pro­vide care for the students?"
Johnson's con­cerns raise ques­tions about the district's sup­port for stu­dents who depend on accom­mo­da­tions for dis­abil­i­ties, lan­guage bar­ri­ers, and oth­er needs. Tra­di­tion­al pub­lic schools are legal­ly required to pro­vide for these stu­dents. Char­ter schools, how­ev­er, aren't held to the same stan­dards. A report from the Los Ange­les Board of Edu­ca­tion found that, as of 2014, the per­cent­age of total LAUSD char­ter stu­dents with severe dis­abil­i­ties was less than one-third that of tra­di­tion­al dis­trict schools.
Anoth­er symp­tom of char­ter­i­za­tion, UTLA says, is an excess of stan­dard­ized test­ing. Accord­ing to UTLA pres­i­dent Alex Caputo-Pearl, the dis­trict requires up to 18 dis­cre­tionary stan­dard­ized tests—despite mount­ing nation­wide crit­i­cism of stan­dard­ized test­ing — in addi­tion to those man­dat­ed by the fed­er­al and state gov­ern­ments. Oroz­co told In These Times that these tests are admin­is­tered so fre­quent­ly in order to gen­er­ate school per­for­mance data, which can be lever­aged into jus­ti­fi­ca­tions for char­ter models.
Tests ​"make it very easy for the char­ters to come and pri­va­tize our schools based on this data that was col­lect­ed by these exams that real­ly are not nec­es­sary," he said. ​"We want our teach­ers to be able to use their pro­fes­sion­al judg­ment and assess the kids in many oth­er dif­fer­ent ways."
When con­tact­ed for com­ment, LAUSD referred In These Times to its web­site, which includes the fol­low­ing state­ment: ​"We hear our teach­ers and want to work with them. Los Ange­les Uni­fied and teach­ers agree — small­er class sizes, more teach­ers, coun­selors, nurs­es and librar­i­ans in schools would make our schools bet­ter. We know teach­ers deserve to be paid more and a work­ing envi­ron­ment where kids can have the best pos­si­ble education."
In addi­tion to its class-size reduc­tion pro­pos­al, LAUSD has offered a six-per­cent pay raise to teach­ers, back pay for the 2017 to 2018 year, and no changes to their health ben­e­fits. In antic­i­pa­tion of a strike, the dis­trict has already hired 400 non-union sub­sti­tute teach­ers for its more than 600,000 students.
Still, UTLA, frus­trat­ed by ​"20 months of fruit­less bar­gain­ing and lies and manip­u­la­tion," as well as Beutner's and oth­er crit­i­cism in the media of the edu­ca­tors for their demands and deci­sion to strike, feel this is far from enough. Echo­ing the con­cerns of many of her col­leagues, John­son argues that while a strike isn't ide­al, teach­ers have been left with no choice.
"It's not about the raise," she said. ​"Peo­ple are mad. They want things to change. They want the pro­fes­sion to be respect­ed and to have what we need to be able to func­tion as educators."
Julianne Tveten
writes about tech­nol­o­gy, labor, and cul­ture, among oth­er top­ics. Her work has appeared in The Nation, Cap­i­tal
&
Main, KPFK Paci­fi­ca Radio, and elsewhere.