After Loyola's Cinderella NCAA Run, Faculty Are Out On Strike. Where Is Sister Jean?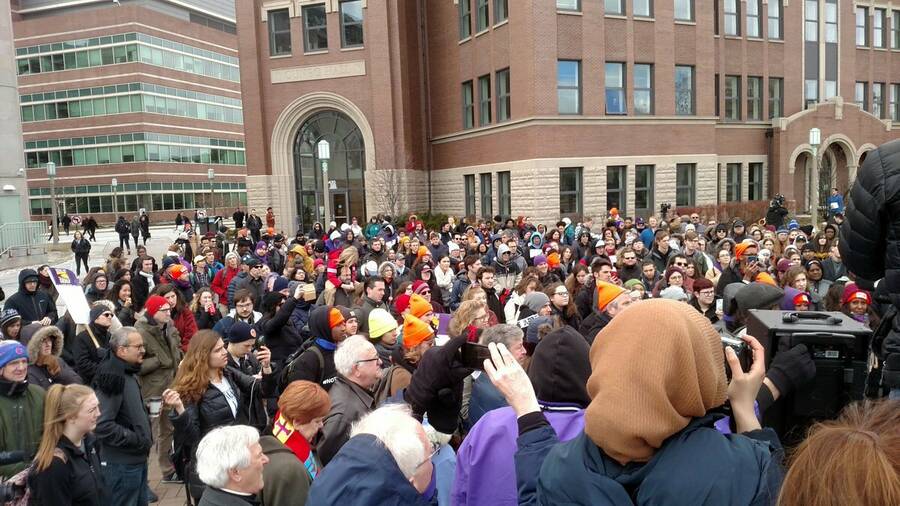 In the wake of the under­dog Loy­ola Ram­blers' Cin­derel­la run in the NCAA men's bas­ket­ball tour­na­ment last month, under­dog work­ers at Chicago's Jesuit uni­ver­si­ty are hop­ing to pull off an upset of their own.
Over 300 non-tenure-track (NTT) fac­ul­ty at Loy­ola are on strike today to win their first con­tract after two years of nego­ti­a­tions. They are being joined in a cam­pus-wide walk­out this after­noon by stu­dents and oth­er uni­ver­si­ty work­ers who say they are fed up with the admin­is­tra­tion's poor track record on eco­nom­ic and racial justice.
"Any­body who knows what's hap­pen­ing to work­ers on cam­pus — from din­ing hall work­ers to clean­ing ser­vices work­ers to adjuncts to grad stu­dents — knows that this uni­ver­si­ty does not care about social jus­tice," Lil­lian Osborne, a 2016 Loy­ola grad­u­ate and for­mer stu­dent orga­niz­er, tells In These Times.
"The NCAA tour­na­ment hap­pened at a very oppor­tune time for the uni­ver­si­ty," Osborne points out, accus­ing the admin­is­tra­tion of using the new­found star­dom of Sis­ter Jean Dolores Schmidt — the bas­ket­ball team's chap­lain and long­time celebri­ty on cam­pus — to ​"pla­cate peo­ple, put on a show, and mask what's real­ly happening."
So far Sis­ter Jean has not pub­licly com­ment­ed on the fac­ul­ty orga­niz­ing drive.
"We've heard that Sis­ter Jean was very sup­port­ive of strik­ers at Loy­ola dur­ing the 1970s," says Lau­ra Gold­stein, a Loy­ola fac­ul­ty mem­ber par­tic­i­pat­ing in the strike, ​"but she has been silent on the issue of our con­di­tions, our fight for a con­tract and the strike."
Over the last decade, annu­al tuition for incom­ing fresh­men has climbed from $28,000 to $42,000. Yet dur­ing the same peri­od, NTT fac­ul­ty have seen no pay rais­es and make $4,000-$4,500 per course with no ben­e­fits, accord­ing to organizers.
Accord­ing to a 2015 study, 57 per­cent of fac­ul­ty at Jesuit col­leges like Loy­ola are now adjuncts, and 15 per­cent receive pub­lic assis­tance because their pay is so low.
"I'm com­mit­ted to strik­ing because of the issues I've grown to under­stand are cru­cial to the well­be­ing of indi­vid­ual instruc­tors: a liv­ing wage, ben­e­fits, job secu­ri­ty and a path to pro­mo­tion," Gold­stein recent­ly wrote.
NTT fac­ul­ty with the Col­lege of Arts and Sci­ences vot­ed to union­ize with SEIU Local 73 in Jan­u­ary 2016, and have been fight­ing for a con­tract ever since. Before begin­ning con­tract nego­ti­a­tions, the uni­ver­si­ty unsuc­cess­ful­ly appealed to have the union elec­tion results thrown out.
"The bar­gain­ing process here has been ridicu­lous­ly slow," Sari­ta Heer, an NTT instruc­tor in Loyola's Art Depart­ment, said last month. ​"The uni­ver­si­ty has been try­ing the old tac­tic of ​'stall, stall, stall,' and they think we don't have teeth."
Loyola's grad­u­ate stu­dent work­ers also vot­ed to union­ize with Local 73 in Feb­ru­ary 2017, but the uni­ver­si­ty is refus­ing to enter into con­tract nego­ti­a­tions with them.
In addi­tion to the labor unrest, the uni­ver­si­ty is also under fire by stu­dents for mis­man­age­ment and racial profiling.
In Feb­ru­ary, after Loy­ola announced it would be build­ing a new $18 mil­lion prac­tice facil­i­ty for the bas­ket­ball and vol­ley­ball teams, stu­dents held a protest out­side the Ram­blers' final home game to ques­tion the university's finan­cial pri­or­i­ties. Fol­low­ing the protest, cam­pus police were filmed assault­ing Black stu­dents while a uni­ver­si­ty admin­is­tra­tor looked on, fuel­ing fur­ther protests the fol­low­ing week. The episode was rem­i­nis­cent of a racial pro­fil­ing inci­dent on the Loy­ola cam­pus that sparked stu­dent unrest a decade ago.
Osborne, who now works as an assis­tant researcher for the Chica­go Teach­ers Union, was one of four stu­dents threat­ened with expul­sion in late 2015 for orga­niz­ing a demon­stra­tion demand­ing high­er wages for cam­pus din­ing hall work­ers. The stu­dents were even­tu­al­ly exon­er­at­ed, but the stu­dent gov­ern­ment — which had spon­sored the demon­stra­tion — was for­mal­ly sanc­tioned by the uni­ver­si­ty for hav­ing caused a ​"dis­rup­tion."
In the midst of the sol­i­dar­i­ty cam­paign with din­ing hall work­ers, Osborne says Sis­ter Jean ​"was not sup­port­ive at all" and per­son­al­ly pres­sured a stu­dent orga­niz­er to back down, telling them they were fos­ter­ing divi­sion. Oth­er stu­dent orga­niz­ers lat­er con­firmed this account. Sis­ter Jean did not imme­di­ate­ly respond to a request for comment.
"Sis­ter Jean is used to ral­ly peo­ple around emp­ty rhetoric of uni­ty. It's the feel-good whole­some­ness that the uni­ver­si­ty wants to present," Osborne explains. ​"If peo­ple want uni­ty, what they should care about is not the NCAA tour­na­ment and bas­ket­ball team, they should care about the actu­al orga­niz­ing that's hap­pen­ing on cam­pus right now."
"The hypocrisy of a Jesuit Catholic Uni­ver­si­ty, which aims to uphold a mis­sion of social jus­tice, mean­while fail­ing to pro­vide its work­ers with ade­quate salary and ben­e­fits, hasn't gone unno­ticed," the edi­to­r­i­al board of the Loy­ola Phoenix wrote recent­ly.
Loyola's hos­til­i­ty to unions seems to run counter to the words of Pope Fran­cis, who last year called unions ​"prophet­ic" insti­tu­tions that ​"unmask the pow­er­ful who tram­ple the rights of the most vul­ner­a­ble workers."
"In its nego­ti­a­tions, Loy­ola sets the bar low," Ter­ry Boyle, a Loy­ola NTT since 2004, argued last month. ​"Instead of lead­ing the way, and becom­ing a cat­a­lyst for trans­for­ma­tion by offer­ing real signs of human­iz­ing the process, the uni­ver­si­ty aims to main­tain the sta­tus quo."
Osborne believes today's walk­out is a ​"momen­tous event," bring­ing togeth­er mul­ti­ple cam­pus con­stituen­cies the admin­is­tra­tion has long tried to keep sep­a­rate. ​"It's incred­i­ble that this deep orga­niz­ing has hap­pened," she says. ​"Learn­ing con­di­tions are teach­ing con­di­tions are work­ing con­di­tions, and they're all connected."
Full dis­clo­sure: Lil­lian Osborne is a for­mer In These Times edi­to­r­i­al intern.
Jeff Schuhrke has been a Work­ing In These Times con­trib­u­tor since 2013. He has a Ph.D. in His­to­ry from the Uni­ver­si­ty of Illi­nois at Chica­go and a Master's in Labor Stud­ies from UMass Amherst. Fol­low him on Twit­ter: @JeffSchuhrke