After Loyola's Cinderella NCAA Run, Faculty Are Out On Strike. Where Is Sister Jean?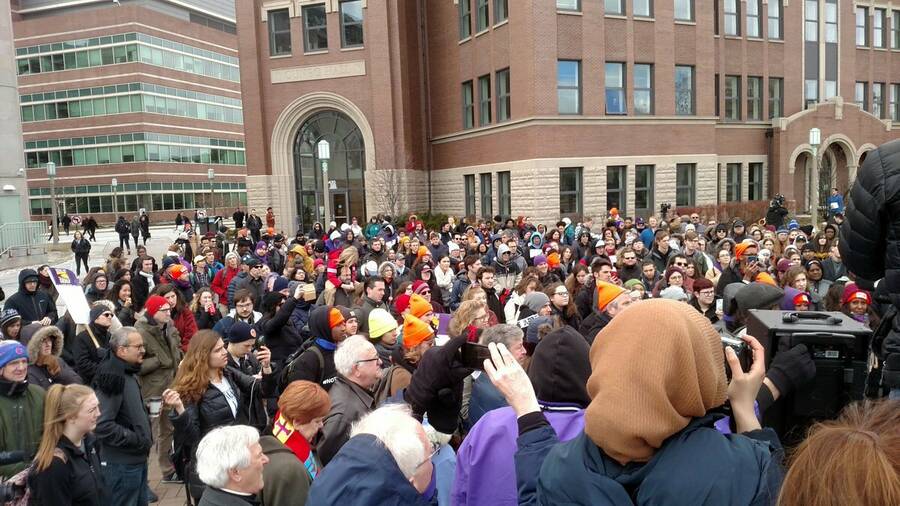 In the wake of the underdog Loyola Ramblers' Cinderella run in the NCAA men's basketball tournament last month, underdog workers at Chicago's Jesuit university are hoping to pull off an upset of their own.
Over 300 non-tenure-track (NTT) faculty at Loyola are on strike today to win their first contract after two years of negotiations. They are being joined in a campus-wide walkout this afternoon by students and other university workers who say they are fed up with the administration's poor track record on economic and racial justice.
"Anybody who knows what's happening to workers on campus — from dining hall workers to cleaning services workers to adjuncts to grad students — knows that this university does not care about social justice," Lillian Osborne, a 2016 Loyola graduate and former student organizer, tells In These Times.
"The NCAA tournament happened at a very opportune time for the university," Osborne points out, accusing the administration of using the newfound stardom of Sister Jean Dolores Schmidt — the basketball team's chaplain and longtime celebrity on campus — to ​"placate people, put on a show, and mask what's really happening."
So far Sister Jean has not publicly commented on the faculty organizing drive.
"We've heard that Sister Jean was very supportive of strikers at Loyola during the 1970s," says Laura Goldstein, a Loyola faculty member participating in the strike, ​"but she has been silent on the issue of our conditions, our fight for a contract and the strike."
Over the last decade, annual tuition for incoming freshmen has climbed from $28,000 to $42,000. Yet during the same period, NTT faculty have seen no pay raises and make $4,000-$4,500 per course with no benefits, according to organizers.
According to a 2015 study, 57 percent of faculty at Jesuit colleges like Loyola are now adjuncts, and 15 percent receive public assistance because their pay is so low.
"I'm committed to striking because of the issues I've grown to understand are crucial to the wellbeing of individual instructors: a living wage, benefits, job security and a path to promotion," Goldstein recently wrote.
NTT faculty with the College of Arts and Sciences voted to unionize with SEIU Local 73 in January 2016, and have been fighting for a contract ever since. Before beginning contract negotiations, the university unsuccessfully appealed to have the union election results thrown out.
"The bargaining process here has been ridiculously slow," Sarita Heer, an NTT instructor in Loyola's Art Department, said last month. ​"The university has been trying the old tactic of ​'stall, stall, stall,' and they think we don't have teeth."
Loyola's graduate student workers also voted to unionize with Local 73 in February 2017, but the university is refusing to enter into contract negotiations with them.
In addition to the labor unrest, the university is also under fire by students for mismanagement and racial profiling.
In February, after Loyola announced it would be building a new $18 million practice facility for the basketball and volleyball teams, students held a protest outside the Ramblers' final home game to question the university's financial priorities. Following the protest, campus police were filmed assaulting Black students while a university administrator looked on, fueling further protests the following week. The episode was reminiscent of a racial profiling incident on the Loyola campus that sparked student unrest a decade ago.
Osborne, who now works as an assistant researcher for the Chicago Teachers Union, was one of four students threatened with expulsion in late 2015 for organizing a demonstration demanding higher wages for campus dining hall workers. The students were eventually exonerated, but the student government — which had sponsored the demonstration — was formally sanctioned by the university for having caused a ​"disruption."
In the midst of the solidarity campaign with dining hall workers, Osborne says Sister Jean ​"was not supportive at all" and personally pressured a student organizer to back down, telling them they were fostering division. Other student organizers later confirmed this account. Sister Jean did not immediately respond to a request for comment.
"Sister Jean is used to rally people around empty rhetoric of unity. It's the feel-good wholesomeness that the university wants to present," Osborne explains. ​"If people want unity, what they should care about is not the NCAA tournament and basketball team, they should care about the actual organizing that's happening on campus right now."
"The hypocrisy of a Jesuit Catholic University, which aims to uphold a mission of social justice, meanwhile failing to provide its workers with adequate salary and benefits, hasn't gone unnoticed," the editorial board of the Loyola Phoenix wrote recently.
Loyola's hostility to unions seems to run counter to the words of Pope Francis, who last year called unions ​"prophetic" institutions that ​"unmask the powerful who trample the rights of the most vulnerable workers."
"In its negotiations, Loyola sets the bar low," Terry Boyle, a Loyola NTT since 2004, argued last month. ​"Instead of leading the way, and becoming a catalyst for transformation by offering real signs of humanizing the process, the university aims to maintain the status quo."
Osborne believes today's walkout is a ​"momentous event," bringing together multiple campus constituencies the administration has long tried to keep separate. ​"It's incredible that this deep organizing has happened," she says. ​"Learning conditions are teaching conditions are working conditions, and they're all connected."
Full disclosure: Lillian Osborne is a former In These Times editorial intern.
Jeff Schuhrke is a labor historian, educator, journalist and union activist who teaches at the Harry Van Arsdale Jr. School of Labor Studies, SUNY Empire State College in New York City. He has been an In These Times contributor since 2013. Follow him on Twitter @JeffSchuhrke.