Leaks Show Machinists' Union President Secretly Moved Up Endorsement Vote to Help Clinton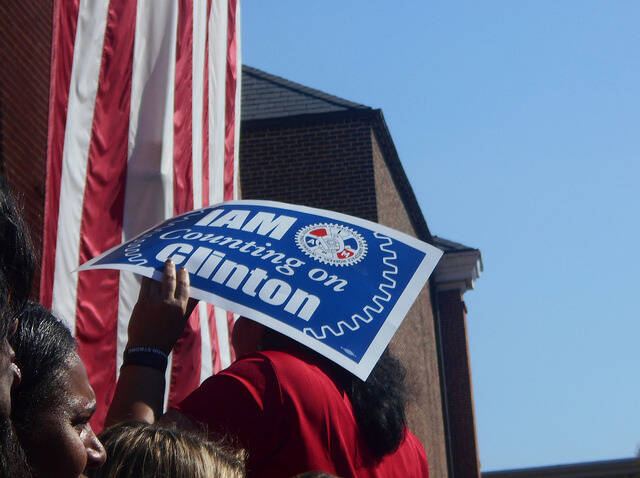 Back in August 2015, when Bernie Sanders and Hillary Clin­ton were still bat­tling it out for the Demo­c­ra­t­ic nom­i­na­tion and Sanders' cam­paign was viewed as a quixot­ic amuse­ment, Clin­ton won the piv­otal endorse­ment of the Inter­na­tion­al Asso­ci­a­tion of Machin­ists and Aero­space Work­ers (IAM), one of the nation's biggest unions. It was the sec­ond endorse­ment Clin­ton had secured from a nation­al union and helped shore up Clinton's cre­den­tials as a friend to workers.
Emails released by Wik­iLeaks over the past two weeks sug­gest the kind of machi­na­tions that went on behind the scenes to secure Clin­ton that endorse­ment. Accord­ing to a July 8, 2015 email from Nik­ki Budzin­s­ki, the Clin­ton campaign's labor out­reach direc­tor, the union's then-inter­na­tion­al pres­i­dent, Tom Buf­fen­barg­er, moved up the endorse­ment vote many months and did so with­out the knowl­edge of most of IAM's officers.
"I just spoke with IAM, they have con­fi­den­tial­i­ty [sic] shared with us that Buf­fen­barg­er will be mov­ing his board to take a endorse­ment vote on August 14th in NYC," wrote Budzin­s­ki. ​"Only three offi­cers at IAM are aware of this, so its [sic] being tight­ly held so that they don't have any issues on the board with timing."
Accord­ing to a state­ment put out by IAM the day of the vote, the endorse­ment was based on an inter­nal poll of near­ly 2,000 of the union's mem­bers, includ­ing cur­rent and retired work­ers. The sur­vey, which IAM spokesman Frank Larkin at the time told In These Times had ​"reached out quite sci­en­tif­i­cal­ly" to IAM mem­bers, favored Clin­ton by a more than 2 – 1 mar­gin, includ­ing more than 6 – 1 against Sanders among Demo­c­ra­t­ic mem­bers, accord­ing to IAM's press release. The poll also had IAM mem­bers favor­ing ear­ly involve­ment by more than 2 – 1.
Budzinski's email rais­es ques­tions, how­ev­er, about whether the ear­ly endorse­ment was indeed dri­ven by the feel­ings of mem­bers, or if it was more based on the whims of Buf­fen­barg­er. IAM did not imme­di­ate­ly respond to a request for comment.
"The IAM endorse­ment is usu­al­ly made at their Con­ven­tion," wrote Budzin­s­ki. ​"But their next Con­ven­tion is not until 2016. Buf­fen­barg­er did­n't want to wait."
Five months after the vote, Buf­fen­barg­er retired and joined the Clin­ton cam­paign as an unpaid sur­ro­gate and liai­son to labor groups.
The IAM offi­cers involved were so cer­tain Clin­ton would win the endorse­ment vote, they request­ed that she attend a retire­ment din­ner for IAM Sec­re­tary-Trea­sur­er Robert Roach that was to be held the evening of August 14, fol­low­ing the vote. Budzin­s­ki not­ed that the board would attend the dinner.
In a sep­a­rate email, Budzin­s­ki open­ly referred to the din­ner as an ​"endorse­ment event." As she explained in anoth­er email, the din­ner would be the venue where Clin­ton would offi­cial­ly accept the IAM endorse­ment from the board. Buf­fen­barg­er was so insis­tant Clin­ton be at the event in per­son, Budzin­s­ki wrote, that ​"he is even offer­ing a jet to get her there (!)."
Call­ing the vote ear­ly was cru­cial for the Clin­ton cam­paign. At the time, Sanders — con­sid­ered a long­shot can­di­date for most of the year — had dra­mat­i­cal­ly filed down Clinton's once-com­mand­ing lead in the polls, and both can­di­dates held an endorse­ment from one nation­al union each: Clin­ton from the Amer­i­can Fed­er­a­tion of Teach­ers (AFT) and Sanders from Nation­al Nurs­es Unit­ed (NNU). Clin­ton was also under fire from left-wing and labor groups for her less than forth­right posi­tions on issues like the $15 min­i­mum wage and the Trans-Pacif­ic Part­ner­ship agreement.
It's not clear how exact­ly IAM's inter­nal poll was con­duct­ed. But there's a chance that, giv­en more time and as IAM mem­bers and oth­er vot­ers got to know the can­di­dates bet­ter, Clinton's sig­nif­i­cant­ly stronger show­ing in the sur­vey could have been erod­ed or even reversed by Sanders.
By the close of Feb­ru­ary 2016, Sanders — once con­sid­ered bare­ly more than a protest can­di­date by most media observers — had demol­ished Clin­ton in New Hamp­shire and vir­tu­al­ly tied with her in Iowa. And as The Inter­cept report­ed in Jan­u­ary 2016, Sanders tend­ed to win endorse­ments from unions and pro­gres­sive groups that let its mem­bers vote.
Buf­fen­barg­er jus­ti­fied the IAM's ear­ly endorse­ment on the idea that the sit­u­a­tion was dire for Clin­ton. ​"She is now the tar­get of unprece­dent­ed attacks, financed on a scale nev­er seen before," Buf­fen­barg­er said at the time. ​"The time to help is when help is need­ed most, and we intend to do just that."
It's not clear why August 2016 was the time help was ​"need­ed most," how­ev­er. At that point, the Democ­rats were yet to even have their first debate, and while the GOP can­di­dates took reg­u­lar pot­shots at Clin­ton, the Repub­li­can field was a crowd­ed mess. Mean­while, Buffenbarger's alarm about financ­ing was more applic­a­ble to Clin­ton than her oppo­si­tion. By July 2015, Clin­ton had beat­en Obama's 2012 fundrais­ing record and raised more than $45 mil­lion, much of it from lob­by­ists and Wall Street-linked vol­un­teers.
The Wik­iLeaks emails give us only a small glimpse into the behind-the-scenes wheel­ing and deal­ing that goes into pres­i­den­tial endorse­ments. What they do sug­gest, how­ev­er, is that in the midst of a com­pet­i­tive pri­ma­ry cam­paign, at least one of Clinton's high-rank­ing allies in the world of labor was more than hap­py to do what he could to tip the scales in her favor.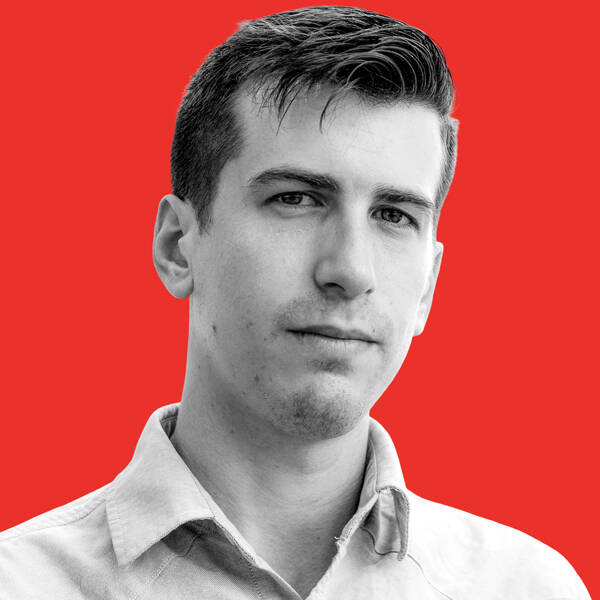 Branko Marcetic
is a staff writer at Jacobin mag­a­zine and a
2019
 – 
2020
Leonard C. Good­man Insti­tute for Inves­tiga­tive Report­ing fel­low. He is work­ing on a forth­com­ing book about Joe Biden.