Mad Men: Season 7, Episode 5: The Tragedy of the Nipple in a Box
As Ginsberg suffers a breakdown, Betty finally has a breakthrough.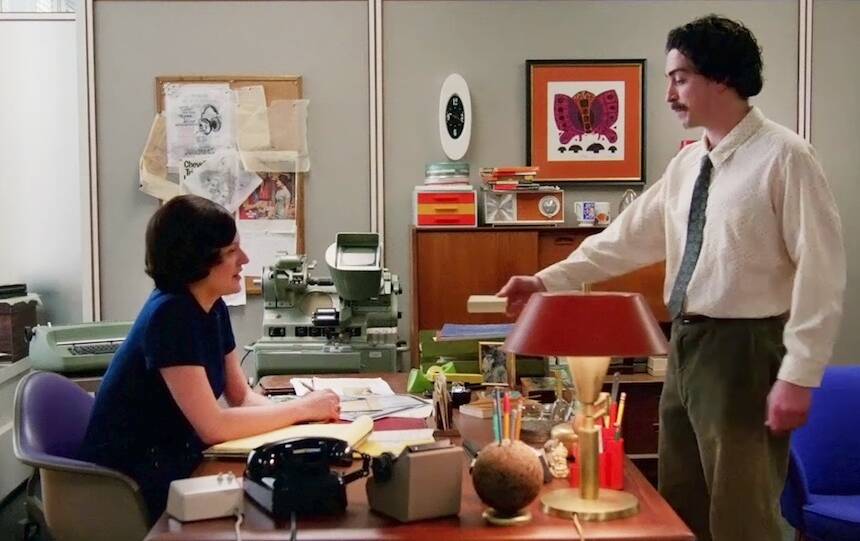 First things first: We lost Michael Gins­berg last night. What we saw, at the end of this episode — a man in the mid­dle of a psy­chot­ic break, being cart­ed away on a stretch­er with restraints — is not some­thing it is easy to come back from in the year 1969.
Before Betty can be kinder or more respectful to anyone else, she has to respect herself enough to realize that she is capable of thinking independently, and she doesn't need one more shitty husband to think for her.
This sto­ry most often end­ed very bad­ly back then, par­tic­u­lar­ly for men in Michael Ginsberg's spe­cif­ic posi­tion. And while the shock of that end­ing — the blood, the gore, the fuck­ing sliced-off nip­ple in a gift box—is one of those wild out-of-nowhere bursts of vio­lence on Mad Men that reads as com­ic (remem­ber, if you will, the sad sto­ry of the in-office lawn­mow­er) the tru­ly dis­turb­ing thing about the episode is that a very fright­en­ing and sad sto­ry has effec­tive­ly been dis­guised as com­ic relief the entire time. Gins­berg is in the midst of a psy­chot­ic break for the entire episode. We just think it's fun­ny, right up until it's not.
But some­thing else hap­pened last night, too. Some­thing good, some­thing that we've been wait­ing on for a very, very long time. In the same episode that we lost Gins­berg, we saw Bet­ty Drap­er final­ly start to wake up.
Let's start in the office, where the com­put­er has been installed. Stand­ing out­side of the trans­par­ent glass office where they're hous­ing the com­put­er, there's Gins­berg, who is shout­ing, at the top of his lungs, at an inan­i­mate object. He wants the com­put­er to stop hum­ming, because it's not hap­py. His co-work­ers stop by and tease him: Oh, that wacky Gins­berg, always hav­ing out­bursts. Remem­ber his tirade about the couch last week? How he thought his couch was ​"full of farts?" He's an emo­tion­al guy; it's fun­ny. He turns around, and he tries, in the only lan­guage he has avail­able at the moment, to tell them: It's not that. This is not nor­mal.
But it's just Gins­berg, so they walk away. Some­body has found Lou's secret com­ic strips on the copy machine, and for a while, it's all any­one can talk about. They don't pay atten­tion (and we don't pay atten­tion) when — at the meet­ing where every­one is mak­ing fun of Lou — Gins­berg is there in the back­ground, pok­ing at the radio, mut­ter­ing to him­self about how some­thing has been done to it, things are get­ting worse, this is anoth­er sign that some­thing has gone wrong. Try­ing again, in the clear­est lan­guage that he has with­out access to lucid con­scious­ness, to tell them that some­thing has gone ter­ri­bly wrong.
We cut away. Don is hav­ing his req­ui­site week­ly dra­ma: Anna Draper's niece is preg­nant in Cal­i­for­nia, and he's sweet and pater­nal with her, and tells her to crash with Megan until he can come out to see them both. Megan is with her new best gal pal, and being very flir­ty with her, set­ting up one of the most exploita­tive and need­less things Mad Men has ever done to one of its female char­ac­ters. So Don is going to California.
Mean­while: Bet­ty is get­ting ready to host a neigh­bor­hood party.
Back in the office, and Gins­berg has stuffed cot­ton in his ears. He's tak­ing phys­i­cal mea­sures, but what we see is wacky Gins­berg doing his usu­al slap­stick com­e­dy. He creeps out into the emp­ty office and sees Lou and Jim Cut­ler hav­ing a con­ver­sa­tion behind the glass of the com­put­er office wall. He can't hear them, and the shot in which the cam­era scans back and forth, find­ing their lips, is a shot-for-shot remake of the killer com­put­er HAL 9000 read­ing lips in 2001, fig­ur­ing out that the astro­nauts plan to shut him off. Last week, every­one (includ­ing me) was talk­ing about the over-the-top 2001 ref­er­ences. But that movie didn't come out in 1969; it came out a year pri­or, in 1968. And lis­ten to the sto­ry Gins­berg is telling: There's a machine, an evil com­put­er that wants to kill every­one, and they have to shut it off. So you tell me: Is Mad Men slop­pi­ly ref­er­enc­ing 2001? Or did Gins­berg see a movie? Did Gins­berg hear a sto­ry about a com­put­er some­where, and did it match with the coin­ci­dence of a real-life com­put­er and the sto­ry his brain was already telling him—some­thing hor­ri­ble is hap­pen­ing right now, be afraid—to the point that, in his own point-of-view shots, we're not entire­ly clear on the bound­aries between that sto­ry and his real life?
Back to Betty's par­ty. She's talk­ing with the neigh­bors, who are so impressed with Hen­ry, the big Repub­li­can state sen­a­tor. They're talk­ing about how wild kids are these days, and also Viet­nam. Bet­ty perks up: ​"I don't know that the two things are unre­lat­ed. First the kids start protest­ing, then every­thing is up for grabs." Every­one shuts her down: She's say­ing they should stay in Viet­nam, and no one wants to stay in Viet­nam, not even the pres­i­dent. Is she say­ing that Hen­ry doesn't sup­port the pres­i­dent? She's tanked the con­ver­sa­tion and storms off, in grand Bet­ty style, to sulk alone in her bed­room until the night is over.
But no one heard what she actu­al­ly said. Just like Gins­berg, Bet­ty is right, but she's right about the wrong things: The kids have start­ed protest­ing — and pub­lish­ing The Fem­i­nine Mys­tique, orga­niz­ing women's rights march­es, advo­cat­ing equal pay laws and form­ing the Nation­al Orga­ni­za­tion for Women. In three years, the kids are going to try to rat­i­fy a con­sti­tu­tion­al amend­ment guar­an­tee­ing equal rights to women, and in four, abor­tion will be legal. Every­thing is up for grabs. The only one not grab­bing is Bet­ty. She's telling the truth, but even she doesn't quite hear it yet. She will.
Back to Don and Megan. Don has learned that Lou and Cut­ler are woo­ing Philip Mor­ris behind his back, and that the they're treat­ing him hor­ri­bly in order to pres­sure him into quit­ting — since his anti-tobac­co New York Times ad, they can't land any tobac­co account with Don at SCP. Mean­while, Megan has kicked Don's preg­nant niece out of the apart­ment, and lied about it so that she can give Don a super-hot three­some with her new lady friend. There is no rea­son for this scene to exist. It's an embod­i­ment of all the worst things about Matt Weiner's char­ac­ter­i­za­tion of Megan — a slop­py, half-writ­ten recep­ta­cle for what­ev­er soft-porn straight-guy fan­tasies he's got cook­ing at the time — and it serves no pur­pose but to make a bunch of cave­men hoot on Twit­ter about how Drap­er total­ly pulled the three­some, right brah? High five! Don also makes the sort of big hero­ic move (barg­ing into the Philip Mor­ris meet­ing to win them over) we've seen a hun­dred times before, and it gets less inter­est­ing every time we see it. It's not a great week for Don or Megan, so let's move on.
Because Gins­berg is at Peggy's apart­ment. He can't work in the office, the machine is there. He has to work here, with Peg­gy. ("It's Sat­ur­day," Peg­gy tells him. He doesn't know where he's sup­posed to be, or when, right now.) He's afraid, and Peg­gy is a safe per­son. Peg­gy liked his work, Peg­gy hired him, and when they first met, he told Peg­gy that he was a Mar­t­ian. What he meant was ​"con­cen­tra­tion camp sur­vivor" — just like right now, when he says ​"the machine," what he means is man­ic swing or schiz­o­phre­nia—but she lis­tened, and she cared. So he tries, again, to speak to her, in his only avail­able lan­guage, the metaphors that the dis­ease forces on him: The machine is turn­ing peo­ple into ​"homos," he tells her. The machine is mak­ing him want to do things he knows he doesn't want, like sex with Stan, or Peg­gy. ​"Homos" sounds awful in 2014, and peo­ple do laugh, but what Ginsberg's say­ing has noth­ing to do with being gay, or even with sex. Lis­ten to what he's say­ing, his Mar­t­ian dialect: He knows he's not think­ing clear­ly, and he doesn't think he's able to make his own deci­sions, which scares him, because he might do some­thing real­ly out of char­ac­ter. What is hap­pen­ing to him ​"makes men do unnat­ur­al things," he says; ​"there's this pres­sure in my head like a hydro­gen bomb going off." He's being as clear as he can.
But he push­es too hard, he insists on sex with Peg­gy, and the safe, smart thing for Peg­gy to do is to get Gins­berg out of her house imme­di­ate­ly. So she does. It's Ginsberg's job to find a solu­tion. He's in a state where men do unnat­ur­al things. So he does.
And here's Bet­ty, also deal­ing with the con­se­quences of her lan­guage. Specif­i­cal­ly, Hen­ry Fran­cis, who lays out exact­ly what he wants from Bet­ty: a pret­ty object that makes him look good at par­ties. He comes into the room, blus­ters about his impor­tance ("I'm their elect­ed offi­cial") and her nerve in bring­ing up polit­i­cal mat­ters, makes it clear exact­ly who he thinks Bet­ty Drap­er Fran­cis is, and what she's worth. He screams it into her face: ​"From now on, keep your con­ver­sa­tion to how much you hate get­ting toast crumbs in the but­ter, and leave the think­ing to me."
Now here's Gins­berg again, look­ing hap­py, walk­ing into Peg­gy Olson's office. He's very sor­ry for his behav­ior. He does ​"have feel­ings" for her. (Remem­ber this: The last thing Gins­berg did, as a free man, was tell Peg­gy he loved her. When he was more afraid than he'd ever been in his life, he went to Peg­gy, who already knew he was a Mar­t­ian. Lots of this is Ginsberg's ill­ness. Sex was part of the ill­ness. But I don't think Gins­berg lov­ing Peg­gy was ever less than real.) But he was out of line. Some­thing hor­ri­ble was inside him — data waves, bad data — and he had to get it out. So he wants to give her a lit­tle thank-you present.
You already know what's in there. He's sliced part of his chest off — that's how des­per­ate he is to make it stop. And now she's on the phone, and now he's in the stretch­er, and now Michael Gins­berg is gone.
Here's what hap­pens, after this, for men like Gins­berg: If he recov­ers, the world is set up to make sure that it doesn't last. He's a sin­gle, child­less man from a work­ing-class fam­i­ly with only one elder­ly rel­a­tive: There's no fam­i­ly mon­ey or sup­port net­work, in the event that he can't find work or care for him­self. Giv­en that his co-work­ers just saw this hap­pen, Gins­berg is not like­ly to find work eas­i­ly. Men like Gins­berg usu­al­ly end up home­less, or in prison, because men­tal hos­pi­tals are clos­ing at an epi­dem­ic rate in the 1960s, and can't take in most of the peo­ple who need them. So men like Michael Gins­berg live on the street until they die of expo­sure or break a law. Think about Michael Gins­berg: He was fun­ny. He was smart. He was the best writer there, and every­one knew it. He is now very like­ly to freeze or starve to death, alone, on the streets of New York. This is quite pos­si­bly a death sen­tence. And we were laugh­ing the whole time.
There has to be some joy in here. Over at Betty's, we seem unlike­ly to find it. Sally's back home, she's bro­ken her nose play­ing with a golf club, and Bet­ty, as usu­al, is unload­ing all of her own trau­ma onto Sal­ly. She pays Henry's abuse down the line almost word-for-word: ​"You're lucky Hen­ry is so impor­tant," she tells Sal­ly. (Hen­ry said: ​"I'm their elect­ed offi­cial!") And: ​"You can't be trust­ed out on your own." (Hen­ry said: ​"Leave the think­ing to me.") Hen­ry gets to play the saint and be shocked by Betty's cru­el­ty in front of the chil­dren — though we now know that he has no prob­lem with inflict­ing the exact same cru­el­ty on his wife when no one is look­ing — but it's Sal­ly, actu­al­ly, who jolts Bet­ty awake. She tells Bet­ty that Betty's only accom­plish­ment is her ​"per­fect nose;" with­out her pret­ty face, she wouldn't be mar­ried, she wouldn't be rich, she'd be ​"noth­ing."
Bet­ty real­izes that even her own daugh­ter is clear on this: She has no val­ue to Hen­ry out­side of being a pret­ty face at the par­ties. Her inte­ri­or life is worth noth­ing. Don's abuse was lead­ing to this, Henry's con­trol was lead­ing to this, Francine's job was lead­ing to this, but Sally's nascent fem­i­nism— though it has very lit­tle sym­pa­thy for Bet­ty — is what final­ly pushed her here. The next time she sees Hen­ry, she unleash­es on him: ​"I'm tired of every­one telling me to shut up. I'm not stu­pid. I speak Ital­ian." Every­one uses the lan­guage they have avail­able at the time. ​"You're sor­ry you for­got to inform me what I'm sup­posed to think. Guess what: I think. All by myself!"
And there it is. At the pre­cise moment that Michael Gins­berg is los­ing his mind, Bet­ty Drap­er Fran­cis is reclaim­ing hers. She's scream­ing it, as loud as Gins­berg was scream­ing about the com­put­er. And she should be scream­ing: She's need­ed to say this since the first episode of the show. She's need­ed to say it her whole life. This might be the one thing Bet­ty Drap­er can say, to final­ly res­cue her­self from being such a bit­ter and tox­ic per­son. Before she can be kinder or more respect­ful to any­one else, she has to respect her­self enough to real­ize that she is capa­ble of think­ing inde­pen­dent­ly, and she doesn't need one more shit­ty hus­band to think for her.
It's a huge thing for her to real­ize, and it's dan­ger­ous too, which is why Hen­ry — like every con­trol­ling man through­out his­to­ry — tries knock­ing it down right away with a lit­tle nasty sar­casm: ​"You're so smart. Why don't you run for office?"
She paus­es. She sizes him up. ​"You know what, Hen­ry, I don't know what I'm going to do," she says. ​"But that's a good idea."
I don't know what Betty's going to do, either. If she keeps to the insight she had in this moment, a whole lot of things will become pos­si­ble. This week, one char­ac­ter lost his lucid­i­ty, and anoth­er gained her lucid­i­ty. This was their sto­ry, so I like to think that Ginsberg's final state­ment was a mes­sage to Bet­ty, as much as any­one: Get out while you still can.