"Why We Threw Mark Janus a Going Away Party—But Didn't Invite Him"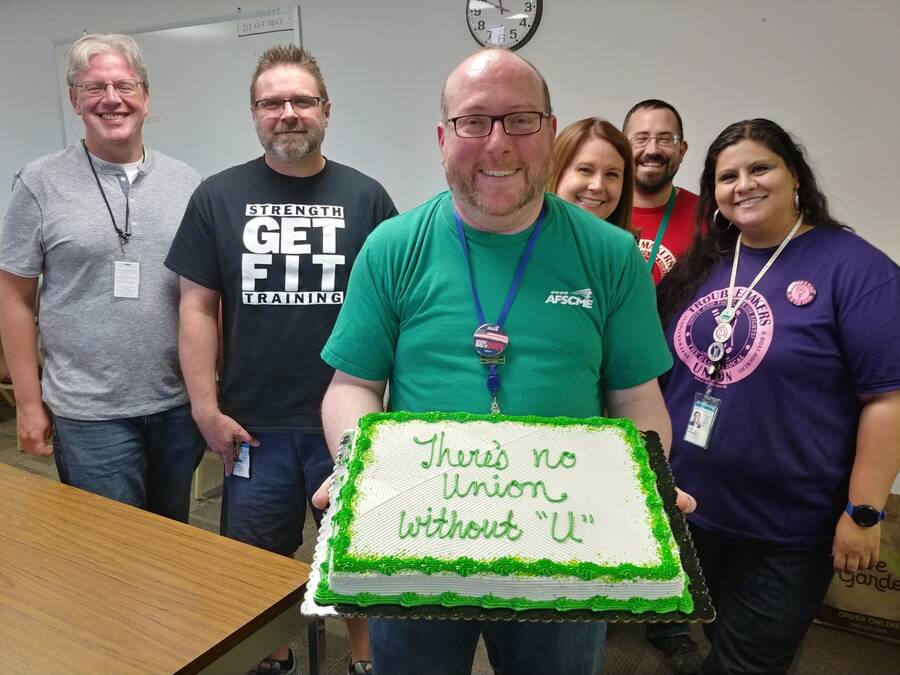 While he might just be a fig­ure­head, for many mem­bers of AFSCME Local 2600, Mark Janus is also a for­mer cowork­er. And those union mem­bers have no choice but to grap­ple with the intense­ly per­son­al aspects of the case, in which Mark Janus — a Spring­field, Illi­nois-based child sup­port spe­cial­ist — suc­cess­ful­ly charged that work­ers have a First Amend­ment right not to chip in for their unions' bar­gain­ing ser­vices. Mem­bers had to watch a cowork­er who had spent years ben­e­fit­ing from his AFSCME con­tract strike a major finan­cial blow against their union and all pub­lic-sec­tor unions nationwide.
So, when news broke that Mark Janus was leav­ing his job to work for the Illi­nois Pol­i­cy Insti­tute — a con­ser­v­a­tive, anti-union think tank that helped take the Janus case to the Supreme Court — mem­bers of his union decid­ed to respond with a bit of humor. On Fri­day, they threw Mark Janus a retire­ment par­ty, com­plete with a cake that read, in frost­ing, ​"There is no union with ​'u.'" But because they declared it union mem­bers-only, the guest of hon­or was unable to attend.
In These Times spoke with Don­nie Killen, a child sup­port spe­cial­ist, vice pres­i­dent and exec­u­tive stew­ard for AFSCME Local 2600 and chief stew­ard for the build­ing where Mark Janus worked. He explained why mem­bers decid­ed to make this rebel­lious ges­ture — and why it's impor­tant for work­ers to under­stand ​"the val­ue of their union."
Sarah Lazare: Can you tell me why your local decid­ed to throw Mark Janus a retire­ment party?
Don­nie Killen: Tues­day night we got word that Mark Janus announced he was retir­ing. A lot of mem­bers in my build­ing are real­ly upset at how this all went down and how he is mak­ing deals after he demand­ed his rights to not pay the union. We were try­ing to think of a way to have a pos­i­tive spin for mem­bers' morale. I thought of the idea to do a retire­ment par­ty. We'd make it mem­bers-only so he could­n't come.
We real­ly need to build more val­ue in mem­ber­ship [after Janus made pay­ments option­al]. We recent­ly had our annu­al mem­ber pic­nic, and peo­ple had to sing mem­ber cards to come to the pic­nic. This is a way to show we appre­ci­ate their membership.
We had 76 mem­bers come to the retire­ment par­ty, and we prob­a­bly would have had more if we had­n't run out of piz­zas. We ran out of 21 piz­zas. Peo­ple real­ly were excit­ed at hav­ing some sort of show of com­radery. I can't say I'm shocked, but I was pleas­ant­ly sur­prised at how many peo­ple weren't afraid to do this. We had three peo­ple sign [union mem­ber­ship] cards in order to come to the party.
Sarah: What mes­sage were you hop­ing to send?
Don­nie: A union is a group of col­lec­tive mem­bers. It is a com­radery group that looks out for each oth­er. This was show­ing we look out for our own, through offer­ing some­thing sim­ple like piz­zas. It real­ly boost­ed morale in the build­ing. I expect­ed peo­ple to be upset, but they were extreme­ly excit­ed to have cake and social­ize with one anoth­er, instead of hav­ing to watch him cel­e­brate. The val­ue real­ly is build­ing that feel­ing of a fam­i­ly, which unions used to be.
I think what it has done for his local is ramped up this feel­ing of com­radery. And we make sure we con­tin­ue to pass infor­ma­tion to our mem­bers and show that we're there for them. Now we have to real­ly try even hard­er, because you real­ly don't see that per­son who's going to be the next gov­er­nor's pawn.
Sarah: How do you feel, per­son­al­ly, about Mark Janus?
Don­nie: It was very insult­ing what he did. Myself and the oth­er two stew­ards in the build­ing did a very good job mak­ing sure mem­bers are informed and that their con­cerns were addressed. I was shocked to hear Mark was unhap­py with his union when he had nev­er approached us. He was the qui­etest per­son in the build­ing. We nev­er fig­ured he had any prob­lems. He was nev­er in trou­ble. We were blindsided.
I saw him dai­ly. When I leave the build­ing at the end of the day, he's usu­al­ly right in front of me. We got off in the same time. He knew me as the union. He was­n't hos­tile. It's weird. I worked with Mark six years.
He was used. I don't think he knew what he was get­ting into. The oth­er two who joined the law­suit at the begin­ning dropped off. The groups that were car­ry­ing him to the top in the name of First Amend­ment rights real­ly played him.
Sarah: How does the mem­ber­ship feel about what Mark Janus did?
Don­nie: Mem­ber­ship feels cheat­ed. They know when they have a con­cern, they ask us and we address it. They don't under­stand why he'd take that approach. They have this pic­ture of him as a free­loader. He real­ly want­ed some­thing for noth­ing. They know the val­ue of their union.
Our mem­ber­ship is get­ting a lot younger. A lot of peo­ple retired dur­ing bud­get process. The new peo­ple are real­ly see­ing the val­ue of a union.
The prob­lem with free­load­ers is want­i­ng some­thing for noth­ing. Every­one knows there's no free lunch. But appar­ent­ly, they believe they are owed one.
They know there are options for oth­er jobs with­out union pro­tec­tion. But they want the pro­tec­tions and they want to give noth­ing for it. It plays into the hands of peo­ple who think state work­ers are lazy and don't do any work. Free­load­ers play right into that image. The labor move­ment as a whole needs mon­ey to fight cas­es, to file briefs, file cas­es with the board, be there and fight them. We can't do that with­out mon­ey. It's an envi­ron­ment where mon­ey is very important.
Right now, there's a lot of the oth­er side play­ing this game say­ing we were pet­ty. This was­n't about him. It was about uplift­ing our mem­bers — show­ing them the val­ue of being a mem­bers of the union.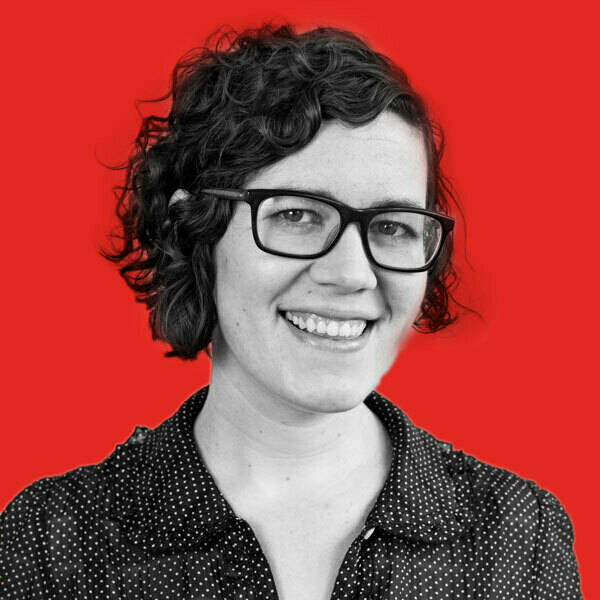 Sarah Lazare is web edi­tor at In These Times. She comes from a back­ground in inde­pen­dent jour­nal­ism for pub­li­ca­tions includ­ing The Inter­cept, The Nation, and Tom Dis­patch. She tweets at @sarahlazare.