Massachusetts Teachers Aim To Knock Down 'Data Walls'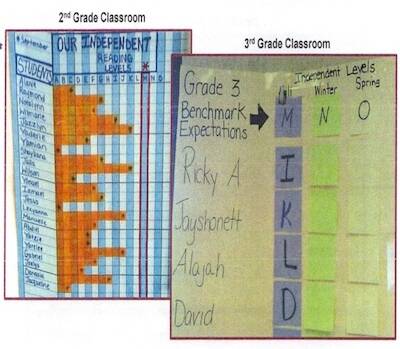 Last year, K‑12 teach­ers in the Holyoke, Mass­a­chu­setts school dis­trict were told to try a new tac­tic to improve test scores: post­ing ​"data walls" in their class­rooms. The walls list stu­dents by name and rank them by their scores on stan­dard­ized tests. This, they say admin­is­tra­tors told them, would moti­vate chil­dren to try hard­er on those tests.
Teach­ers did so, many unwill­ing­ly. Agustin Morales, an Eng­lish teacher at Mau­rice A. Don­ahue Ele­men­tary School in Holyoke felt pres­sure to com­ply, but finds the data walls cru­el. One of his top stu­dents did poor­ly on a stan­dard­ized test in Novem­ber and found her name at the bot­tom of the data wall. After­ward, in a writ­ing assign­ment for class, she ​"wrote about how sad she was, how depressed she was because she'd scored neg­a­tive­ly on it. She felt stupid."
​"So why do I hate data walls?" he con­tin­ued. ​"Because of how she felt that day. She felt worth­less. She felt like she was­n't as good as oth­er people."
Morales isn't alone in oppos­ing the data walls. They're wide­ly seen as just the lat­est front in a war being fought by edu­ca­tors, par­ents and stu­dents nation­wide against what teacher edu­ca­tor Bar­bara Made­loni calls ​"preda­to­ry edu­ca­tion reform."
Made­loni, a for­mer Eng­lish teacher, is per­haps best known for refus­ing, with her stu­dents at the Uni­ver­si­ty of Mass­a­chu­setts, to par­tic­i­pate in a stan­dard­ized teacher-licens­ing pro­gram co-devel­oped by Stan­ford Uni­ver­si­ty and test­ing behe­moth Pear­son. She's help­ing to grow a new move­ment in Mass­a­chu­setts against a cor­po­rate school-reform ide­ol­o­gy, pushed by a bipar­ti­san alliance of politi­cians and busi­ness tycoons, that boils every­thing, includ­ing teach­ers' con­tin­ued employ­ment, down to test scores. She and Morales are mem­bers of Edu­ca­tors for a Demo­c­ra­t­ic Union, a cau­cus with­in the Mass­a­chu­setts Teach­ers Asso­ci­a­tion that seeks to step up the union's fight against the cor­po­rate-backed reformers.
In Holyoke, teach­ers and par­ents flood­ed a school com­mit­tee meet­ing (the equiv­a­lent of a school board) on Feb­ru­ary 3 to protest the use of the walls. Paula Burke, the par­ent of a third-grad­er at Don­ahue, called them ​"pub­lic humil­i­a­tion" for chil­dren. But the teach­ers in atten­dance were sur­prised to hear Super­in­ten­dent Ser­gio Paez, whom they say direct­ed them to start using the walls, blame teach­ers for putting the names up. Argu­ing that he nev­er intend­ed the boards to be pub­lic, Paez said dur­ing the meet­ing, ​"I'm ask­ing teach­ers to do hun­dreds of things, but I'm not ask­ing them to humil­i­ate kids… It's not what­so­ev­er a direc­tive from this admin­is­tra­tion to do this."
In response to his com­ments, the teach­ers released copies of a Pow­er­Point pre­sen­ta­tion giv­en to teach­ers and para­pro­fes­sion­als for kinder­garten (yes, kinder­garten) through third grade at Kel­ly Ele­men­tary School in Holyoke on Octo­ber 11, 2013 — at which Super­in­ten­dent Paez deliv­ered the wel­com­ing remarks. The slides, pro­vid­ed to In These Times by teacher activists, clear­ly show sam­ple data walls with stu­dents' first names and in some cas­es, last initials.
Morales says that admin­is­tra­tors have been play­ing a ​"word game" for a while, say­ing that they ​"sug­gest" or ​"encour­age" the use of data walls, but being cagey about whether they are manda­to­ry or not. But teach­ers, he says, hear the mes­sage, ​"You bet­ter do this or you're going to suf­fer for it."
The admin­is­tra­tion seemed aware that the data walls could be con­tro­ver­sial. Jen­na Kaep­pel, a sev­enth and eighth-grade Eng­lish teacher at Holyoke's Lt. Elmer J. McMa­hon Ele­men­tary School, says that the push for the walls has actu­al­ly been hard­est in kinder­garten through third grade. ​"I think it's inten­tion­al," she says, because younger stu­dents are less like­ly to talk about it to their families.
​"The data walls real­ly speak to a big­ger prob­lem," Kaep­pel says. The bat­tle against data walls is just one fight in a broad­er war — every­where, test­ing is replac­ing teach­ing time, and test scores are used to pres­sure stu­dents, to deter­mine whether teach­ers can keep their jobs, and to rate schools as suc­cess­es or as ​"fail­ures," with dire con­se­quences. Morales points out that his stu­dents in Holyoke spend 27 days out of the 180-day school year tak­ing stan­dard­ized tests rather than learning.
Teach­ers take the blame for the prob­lems with schools even when those prob­lems — like pover­ty — are big­ger than any­thing they can fix. That's why Morales has become more active with­in his union — he was recent­ly elect­ed polit­i­cal action leader of his local, and is part of its nego­ti­a­tions team as well. And that's also why he's a part of EDU and plans to vote for Bar­bara Made­loni for MTA pres­i­dent in this May's union election.
EDU is one of a grow­ing num­ber of activist teach­ers' union cau­cus­es — such as CORE with­in the Chica­go Teach­ers Union in Chica­go and MORE with­in the Unit­ed Fed­er­a­tion of Teach­ers in New York — chal­leng­ing the exist­ing lead­er­ship with­in those unions to be more proac­tive in the face of the grow­ing attacks on teach­ers. Accord­ing to Made­loni, EDU began about two years ago, inspired in part by the deci­sion of the lead­er­ship to accept Race to the Top fund­ing. A con­fer­ence held by the cau­cus last year attract­ed over 100 edu­ca­tors from the union.
​"In Mass­a­chu­setts, there's all this destruc­tion hap­pen­ing, but it's not all at once, and so peo­ple are feel­ing it pri­vate­ly," Made­loni told In These Times. Poor­er dis­tricts, like Holyoke and Spring­field, may get the brunt of the state-lev­el reforms, with more tests added when scores stay low, while more afflu­ent dis­tricts bear a lighter bur­den because their stu­dents score well on tests.
In Spring­field, the city and schools are just now recov­er­ing from a ​"con­trol board" that was installed by then-gov­er­nor Mitt Rom­ney in 2004 to reor­ga­nize the city's finances. Phil Dowgiert, an infor­ma­tion tech­nol­o­gy teacher at Cen­tral High School in Spring­field, Mass., and exec­u­tive board mem­ber of his local, com­pared the con­trol board to the emer­gency man­agers run­ning Michi­gan's cities. Board mem­bers, he said, ​"had carte blanche to do pret­ty much what they liked." The board, which was even­tu­al­ly dis­solved in 2009, insti­tut­ed a wage freeze on pub­lic employ­ees, pri­va­tized some ser­vices, and brought the city bud­get from a deficit to a surplus.
Dur­ing the wage freeze years, the schools lost some 1,325 expe­ri­enced teach­ers who decamped for bet­ter-pay­ing jobs else­where. The board may have turned around the city's finances, but sev­er­al Spring­field schools are still rat­ed Lev­el 4 by the state, on a scale of 1 – 5, which means they're sub­ject to a ​"turn­around mod­el." All the teach­ers have to reap­ply for their jobs, and only 50 per­cent will retain them. Even at Dowgiert's school, which is rat­ed Lev­el 3, he described the cli­mate as "[Admin­is­tra­tors] turn­ing up the tune, mak­ing it go faster and faster and faster, so peo­ple are spend­ing less and less time teach­ing and more and more time danc­ing. Kids are get­ting a lot less of what we would like to con­sid­er to be a full-breadth edu­ca­tion, and they're get­ting a nar­row­er and nar­row­er and nar­row­er education."
The MTA, an affil­i­ate of the Nation­al Edu­ca­tion Asso­ci­a­tion, rep­re­sents teach­ers in most of Mass­a­chu­setts (pri­mar­i­ly out­side of Boston), which means that its mem­bers are spread across many of the nation's best pub­lic schools and some of the worst, from wealthy sub­urbs to poor ​"gate­way cities." Bring­ing these far-flung teach­ers togeth­er on a com­mon goal can be dif­fi­cult — hard­er, say, than in one major urban area like New York or Chica­go, where the same poli­cies are being imposed on the entire union. Teach­ers have felt iso­lat­ed in their indi­vid­ual towns, and the EDU mem­bers feel like the union has not made a unit­ed stand against the spread of reform.
​"We've become accus­tomed to hav­ing a peace­time chief, and that's OK, I have noth­ing against any­body in par­tic­u­lar," Morales says. ​"But what I'm try­ing to get peo­ple to under­stand now is that we are at war. And we need a wartime chief."
​"Some [teach­ers] say, '[Reform] does­n't affect me because I'm not in Spring­field,'" says Eugene Stein, a mem­ber of EDU and a teacher at South High School in New­ton — an afflu­ent, lib­er­al Boston sub­urb. ​"We're lucky because we're in New­ton, but we're maybe one super­in­ten­dent away from not being lucky."
Even in New­ton, he notes, teach­ers are ​"get­ting a real taste of being assessed." The dis­trict accept­ed Race to the Top fund­ing, which comes with a 43-cat­e­go­ry rubric on which the teach­ers will be eval­u­at­ed, ​"smart goals" for achieve­ment they're sup­posed to set, and statewide stan­dard­ized tests to take. Adding these require­ments to an already heavy work­load has teach­ers too busy to ful­ly under­stand what's hap­pen­ing to them.
Stein points out that nation­wide, and cer­tain­ly in Mass­a­chu­setts, neolib­er­al edu­ca­tion reform has involved attempts to blame unions for stu­dents' strug­gles and to make it eas­i­er to fire teach­ers. Even in New­ton, where jobs have not been dis­ap­pear­ing at the rate they have in poor­er school dis­tricts, he believes the effects of reforms hap­pen­ing in poor­er dis­tricts could ​"trick­le down." He tells his col­leagues, ​"It could affect you, because you are part of this union and the rhetoric is about teach­ers as a whole."
Dowgiert notes that despite anti-union rhetoric from those who say they want to improve schools, Mass­a­chu­setts teach­ers are among the most heav­i­ly union­ized in the coun­try, and the states' schools are con­sis­tent­ly rat­ed the best in the nation.
Made­loni points out that the con­stant attacks on teach­ers come at a time when more and more is being demand­ed of them in the class­room. The speed-up dur­ing the day and the demands for more work leave teach­ers with sim­ply no time and emo­tion­al resources left to fight what's hap­pen­ing. ​"That's the neolib­er­al agen­da. Peo­ple are expe­ri­enc­ing it every­where, our time has been tak­en away. I can't tell you how many peo­ple say to me, ​'I'm with you, thank you for doing this, I can't do any more,' " she says.
The con­stant exhaus­tion means that the union must prove to its mem­bers that a fight is worth the effort. That's why EDU is try­ing to build sol­i­dar­i­ty through con­crete vic­to­ries — like the effort to fight the data walls in Holyoke. Kaep­pel, who was one of Made­loni's stu­dents at UMass, says that it seemed like a winnable fight to the Holyoke EDU mem­bers and their sup­port­ers from out­side of the dis­trict, and has served to cat­alyze some par­ent sup­port. Admin­is­tra­tors, she says, assume that the low­er-income par­ents in Holyoke are not involved with their kids' school­ing and won't chal­lenge school prac­tices, but they got a sur­prise when par­ents and teach­ers spoke togeth­er at the school com­mit­tee meet­ing. They plan to attend the next com­mit­tee meet­ing lat­er this month, where they've been told the issue of data walls will be addressed by the super­in­ten­dent — and if it isn't, they will speak out again and again until it is.
Around the coun­try, pro­gres­sive cau­cus­es with­in teach­ers' unions have found that it is indeed pos­si­ble to gain trac­tion with par­ents and com­mu­ni­ties, par­tic­u­lar­ly by focus­ing on broad­er issues of inequal­i­ty. EDU hopes to take its place with­in that move­ment — Made­loni is part of a nation­al coor­di­nat­ing coun­cil of pro­gres­sive caucuses.
​"We don't know where we are in his­to­ry. We could be real­ly close to the thing that opens it all up," she says. ​"We're till­ing soil in var­i­ous places, we're mak­ing connections."
Of her own cam­paign, she says, ​"What­ev­er hap­pens, there's this new con­ver­sa­tion that's hap­pen­ing, there's this new way of think­ing about our­selves as union members."
Sarah Jaffe
is a for­mer staff writer at
In These Times
and author of
Nec­es­sary Trou­ble: Amer­i­cans in Revolt
, which Robin D.G. Kel­ley called ​
"
The most com­pelling social and polit­i­cal por­trait of our age." You can fol­low her on Twit­ter
@sarahljaffe
.