In a National May Day Strike, Puerto Rican Marchers Face Down Tear Gas To Protest Privatization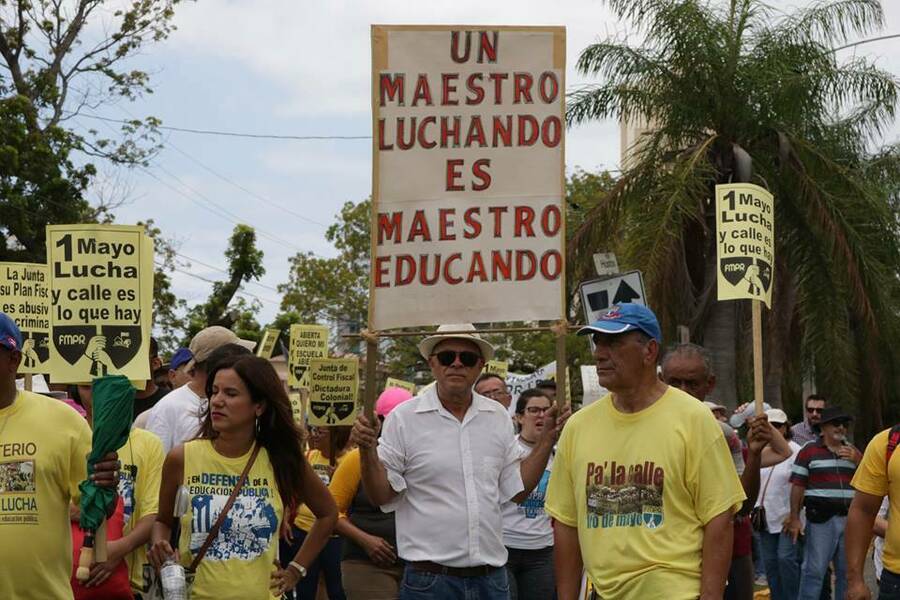 This sto­ry first appeared at Rethink­ing Schools.
In a May Day event large­ly over­looked by main­land U.S. media, strik­ers rep­re­sent­ing var­i­ous unions, oppo­si­tion par­ties, and social move­ments all con­verged on San Juan's bank­ing dis­trict, known as ​"Mil­la De Ora" (the Gold­en Mile) for a nation­al strike.
Push­ing back against a slew of aus­ter­i­ty mea­sures being unveiled by the Wash­ing­ton-appoint­ed Fis­cal Over­sight and Man­age­ment Board (FOMB) and Puer­to Rico's rul­ing New Pro­gres­sive Par­ty, strik­ers took the oppor­tu­ni­ty to bring their fights to their oppo­nents' doorsteps, ral­ly­ing through­out the day at their offices in loca­tions scat­tered through­out the city.
By the end of the day, police were fir­ing off sev­er­al rounds of tear gas and wrestling stu­dents to the ground.
Strik­ing teach­ers from around the island began Tues­day out­side the Depart­ment of Edu­ca­tion. Just a few days ear­li­er, sev­er­al of those same teach­ers had been pep­per sprayed dur­ing anoth­er demon­stra­tion against the fis­cal con­trol board's plan to close 283 pub­lic schools on the island and replace them with char­ter schools that like­ly won't be sub­ject to reg­u­la­to­ry over­sight. That edu­ca­tion plan was one of a rash of new pro­pos­als released by the board (col­lo­qui­al­ly known as ​"la jun­ta") just a day before cer­ti­fy­ing them in mid-April, which togeth­er lay out dra­mat­ic trans­for­ma­tions for every­thing from labor law to energy.
"It's a colo­nial sit­u­a­tion that we are fac­ing," Mer­cedes Mar­tinez, pres­i­dent of the Teach­ers Fed­er­a­tion of Puer­to Rico (FMPR is the Span­ish acronym), tells me. ​"The fis­cal over­sight board are the ones telling the gov­er­nor what to do. If he was some­body else he would say no. They are not here for the peo­ple, they are here for them­selves." In addi­tion to school clo­sures and char­ter­i­za­tion of the island's school sys­tem, FMPR is also fight­ing pro­posed cuts to pub­lic sec­tor pen­sions, which the board has sug­gest­ed should be cut by 25 percent.
Inspired by oppo­si­tion to those plans and, in part, by strik­ing teach­ers in Okla­homa, West Vir­ginia, and Ken­tucky, FMPR vot­ed in an assem­bly sev­er­al weeks ago to strike on May 1. (At that point, Arizona's walk­outs had not yet happened.)
So under a blaz­ing sun Tues­day, union mem­bers in the edu­ca­tion bloc wore dif­fer­ent col­ors to denote their respec­tive affil­i­a­tions. FMPR wore yel­low, and many mem­bers hoist­ed match­ing yel­low signs denounc­ing the fis­cal plans as ​"abu­sive and crim­i­nal," and the board itself as a colo­nial body. As the loca­tion of Tuesday's demon­stra­tion might sug­gest, one of the main tar­gets — for teach­ers and demon­stra­tors more gen­er­al­ly — was Puer­to Rico's con­tro­ver­sial edu­ca­tion sec­re­tary Julia Kele­her, tapped by Gov. Ricar­do Rossel­ló for her record as a Bush-era Depart­ment of Edu­ca­tion staffer turned edu­ca­tion consultant.
The month after Hur­ri­cane Maria hit Puer­to Rico, Kele­her tweet­ed that Puer­to Rico should look to the trans­for­ma­tion of New Orleans' school sys­tem after Hur­ri­cane Kat­ri­na as a mod­el. After that storm, New Orleans pub­lic schools were rapid­ly pri­va­tized, in many cas­es while stu­dents still resided in oth­er states wait­ing for their homes and com­mu­ni­ties to be rebuilt. Since that time, Kele­her sup­port­ed poli­cies that seem to be mov­ing the island fur­ther in that direc­tion — includ­ing the fis­cal con­trol board's — and received hearty finan­cial and advi­so­ry back­ing from U.S. Sec­re­tary of Edu­ca­tion Bet­sy DeVos. Many of today's demon­stra­tors also took issue with the gap between Keleher's $250,000 salaryand the teach­ers' own salaries. Puer­to Rican teach­ers make the least on aver­age of any of their coun­ter­parts in oth­er U.S. states and ter­ri­to­ries, just $33,952 per year.
One of the day's more col­or­ful signs, a ban­ner around 12 feet tall, fea­tured a fake mug shot of Kele­her at the top above the Span­ish word for ​"sur­plus." Sev­er­al mem­bers the teach­ers' bloc posed for pic­tures in front of the sign.
"She's no good," retired sci­ence teacher Juan San­tos said. ​"She's not doing any­thing for edu­ca­tion, or lis­ten­ing to any­one. She's wag­ing a rev­o­lu­tion against the people."
Near­ly every­one I spoke with agreed that the admin­is­tra­tion offi­cials and the board had both tak­en advan­tage of the storm's dev­as­ta­tion. ​"She didn't come here for edu­ca­tion. She came here for her own ben­e­fit," anoth­er retired teacher, Tony Latal­lo­di, said of Kele­her. ​"Her back­ground isn't in edu­ca­tion. It's in busi­ness. All she knows about is mon­ey-mak­ing. It's like me — an edu­ca­tor — run­ning a hos­pi­tal. The only place to learn about edu­ca­tion is in the classroom."
"We're fight­ing for our rights as teach­ers. Our rights are being vio­lat­ed in ways you can­not imag­ine," added Latal­lo­di, who lives in the south­east­ern town of Patillas.
While the con­ver­gence of march­es from each part of the city resolved in a kind of fes­ti­val of speech­es and music from the main stage, the lat­ter half of the day took a more chaot­ic turn.
After many marchers had dis­persed, a con­tin­gent com­prised of stu­dents from the Uni­ver­si­ty of Puer­to Rico and sev­er­al oth­ers were hop­ing to march to the cen­ter of Mil­la De Ora, only to be stopped by police. At some point marchers believed a set­tle­ment had been reached where­by police would let them pass, but no such thing hap­pened. Demon­stra­tors pressed on in a tense con­fronta­tion, attempt­ing to push through police lines to their des­ti­na­tion. With­in min­utes police fired sev­er­al rounds of tear gas into the crowd, send­ing not just stu­dents but chil­dren and elder­ly peo­ple run­ning to escape the fumes. At least 100 police, some in SWAT gear and oth­ers in mil­i­tary-like garb, pro­ceed­ed to push crowds south toward the Uni­ver­si­ty of Puer­to Rico (PR), peri­od­i­cal­ly fir­ing off new rounds of tear gas and march­ing forward.
Soon after, police entered off-cam­pus stu­dent hous­ing, pulling out and arrest­ing peo­ple from behind fences. The inter­ac­tion was par­tic­u­lar­ly charged giv­en the his­to­ry of San Juan police and the uni­ver­si­ty. After UPR stu­dent Anto­nia Martínez Lagares was shot and killed by police dur­ing an anti-war demon­stra­tion in 1970, offi­cers are not per­mit­ted to enter the campus.
Among those arrest­ed in that same Rio Piedras neigh­bor­hood was Luis Rodriguez Sánchez, the head of Proyec­to de Apoyo Mutuo Mar­i­ana, which pro­vid­ed food and solar pow­er in Mar­i­ana after the storm. Accord­ing to illus­tra­tor and jour­nal­ist Mol­ly Crabap­ple — who's been writ­ing about Sánchez's mutu­al aid project for the last sev­er­al months — the rea­son giv­en for his arrest was ​"expired plates," although sev­er­al peo­ple versed in Puer­to Rican pol­i­tics spec­u­lat­ed that the police were tar­get­ing well-known organizers.
At a press con­fer­ence Tues­day night, Gov. Rossel­ló denounced vio­lence on the part of pro­test­ers, which con­sist­ed at its most aggres­sive of throw­ing rocks and light­ing bags of trash on fire in the street. ​"This kind of vio­lence," he said, hold­ing up a rock, ​"dam­ages the good name of Puer­to Rico."
Late Tues­day night, Mar­tinez post­ed on Face­book that 22 stu­dents — who were protest­ing mas­sive tuition hikes and oth­er deep cuts to the UPR sys­tem — had been arrested.
"Today was a mil­i­tant May 1st, Inter­na­tion­al Work­ers Day. Thou­sands of teach­ers and work­ers on the streets of Puer­to Rico," she wrote. ​"Repres­sion by the gov­ern­ment was bru­tal. Roads were obstruct­ed by police offi­cers, stu­dents were pep­per sprayed, tear gas thrown, tasers, ​'balas de goma', police chas­ing stu­dents to their dorms and arrest­ing them."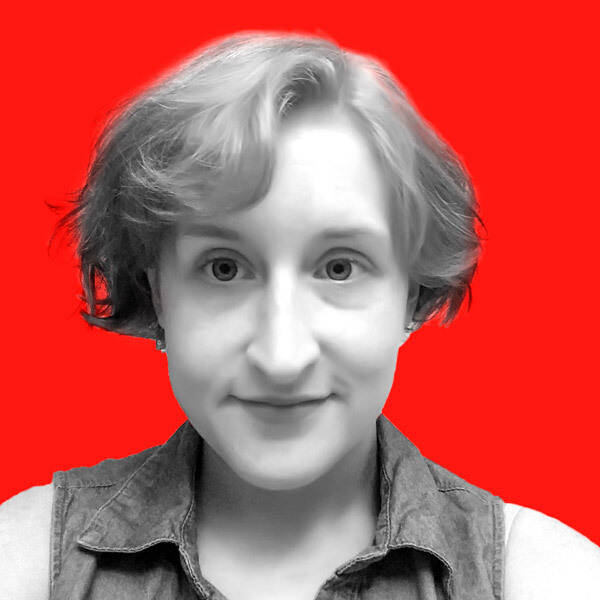 Kate Aronoff
is a Brook­lyn-based jour­nal­ist cov­er­ing cli­mate and U.S. pol­i­tics, and a con­tribut­ing writer at The Inter­cept. Fol­low her on Twit­ter @katearonoff.