When There's a Fee to Get Your Pay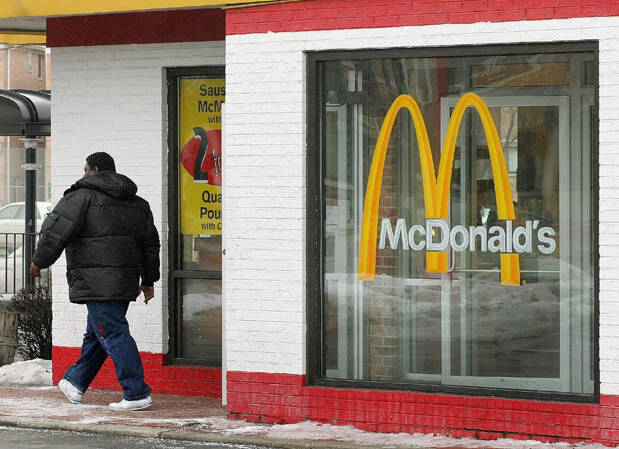 We wanted to make sure you didn't miss the announcement of our new Sustainer program. Once you've finished reading, take a moment to check out the new program, as well as all the benefits of becoming a Sustainer.

In the years since the financial crisis struck in 2008, it's often been pointed out that gains for bankers have gone hand in hand with losses for workers. But few cases provide a better example of just how direct that relationship can be than that of Natalie Gunshannon, who says her employer put her in a situation that forced her to pay fees to one of the big banks just to access her wages.
Gunshannon, of Dallas Township, Penn., filed a class action lawsuit this week against a McDonald's franchise where she worked, claiming that she and other workers were paid not through check or direct deposit, but through a pre-paid JPMorgan Chase debit card. Along with her card, her lawsuit alleges, she received a list of fees she'd incur when she used it: $1.50 for ATM withdrawals; $5 for over-the-counter cash withdrawals; $1 per balance inquiry; 75 cents for online bill pay and $15 if she lost the card or had it stolen from her.
​"I need to receive all the money I earn," Gunshannon, who was being paid around $7.44 an hour, told a local newspaper. ​"I can't afford to lose even a few dollars per paycheck. I just think people should be paid fairly and not have to pay fees to get their wages."
The lawsuit, filed by attorney Mike Cefalo of Cefalo & Associates and provided to In These Times by the firm, alleges that the cards violate the Pennsylvania Wage Payment and Collection Act, which provides that ​"Wages shall be paid in lawful money of the United States or check." The suit further alleges that the fees reduce the actual wages workers receive — in some cases bringing them below minimum wage, which in Pennsylvania remains at the federal minimum wage rate of $7.25 per hour.
The lawsuit also notes that managerial employees were paid by regular direct deposit; only hourly workers were stuck with the cards and the fees.
In a statement, Albert and Carol Mueller, the owners of the McDonald's in question, said that they could not comment on the case, and added, ​"We are committed to providing them the best possible work environment so [employees] can deliver the fast, reliable service that our customers expect." (McDonald's Corporation did not return a request for comment.)
These ​"payroll cards," which after being loaded with wages work like a regular debit card, are growing increasingly popular as companies look for alternatives to paper checks and payroll services. Like most debit cards, payroll cards can be used to purchase goods, or they can be used to make withdrawals from banks or ATMs. JPMorgan Chase is one of several banking companies, including Bank of America and U.S. Bank, that offer them.
JPMorgan's website touts its ​"Prepaid Card Solutions" as an efficient and cost-effective way to pay employees, calling them a ​"direct deposit alternative for unbanked and underserved employees." Cost-effective, apparently, for the employer — who transfers the cost of the service to the workers themselves. As the Consumer Financial Protection Bureau—the government office founded by Elizabeth Warren to inform consumers of their rights when dealing with financial products — explains, employers make arrangements with the financial institution as to the terms of the cards, including ​"any fees that may be charged to [the employee]."
According to the CFPB, employers ​"typically" offer the card as one of several payment options and advise employees who opt for the payroll card to read the terms and conditions carefully. But according to Gunshannon's lawsuit, when she asked if she could be paid another way, she was told, ​"If you don't activate the card, there is no way for us to pay you." She quit, and called a lawyer.
Nickeled and dimed
Fast food workers like Gunshannon are some of the lowest-paid workers in the country. As many have noted, it's expensive to be poor, with lower-income people paying more for, among other things, basic financial services. A recent study released by the Fast Food Forward campaign — the union- and community group-backed campaign to organize New York City's fast food industry — and performed by research firm Anzalone Research found that 84 percent of fast food workers surveyed said they had been the victims of wage theft in some form. Jonathan Westin, campaign director of Fast Food Forward and executive director of New York Communities for Change, said at the time, ​"The [wage theft] epidemic is preying on the city's most vulnerable residents — the men and women who make $7.25 / hour and are the least able to afford it."
In theory, for low-wage workers who don't have bank accounts, payroll debit cards could be an alternative to expensive options like check-cashing services and payday lenders. But the fees make that argument tough to swallow. Certain states, however, protect users against fees associated with payroll cards. ​"In some states," the CFPB notes, ​"you can't be charged a fee to get your pay, which means that you won't be charged a monthly fee to have a payroll card or for the first withdrawal per pay period, which can include all of your pay."
Right now, New York State is considering legislation that would recognize payroll debit cards as a lawful form of payment. A bill has been introduced in its State Senate and Assembly, endorsed by the state's Business Council, that would allow workers to be paid on payroll cards, provided that they consent in writing prior to the payment and that at least one withdrawal per pay period is allowed without the worker incurring fees. The Business Council calls it ​"a less expensive, environmentally friendly way" to pay workers and touts the benefits of the cards to ​"unbanked" workers who lack checking accounts.
Supporters say that as long as workers can make one withdrawal without a fee per pay period, they're not being ripped off. But what, then, about the worker who doesn't want to carry her entire paycheck in cash for the rest of the period? The payday lending industry, it's true, makes an easy villain, running workers up to $15 or $20 to cash a decent-sized paycheck. But the kinder, gentler version offered by debit cards is a difference of degree, not of kind, and for fast food workers, whose weekly check may only add up to $180, every dollar counts. In many cases, it's poverty that keeps these workers from opening traditional bank accounts in the first place, and the added costs they face to get paid create a cycle that's nearly impossible to break.
Labor steps in
While low-wage workers without regular bank accounts are most likely to have these cards offered as an option, workers in many fields, from restaurants to academia, find their wages presented to them on a piece of plastic with fees attached.
The public sector is one of the biggest users of payroll cards: Some 41 states use debit cards to distribute unemployment benefits to recipients, many of whom have reported complaints similar to Gunshannon's. Federal law requires that unemployment recipients be offered direct deposit as an option, but a 2013 report found some states still didn't offer that choice. As I reported for AlterNet last year, Bank of America distributed South Carolina's unemployment benefits via prepaid cards — and users reported getting charged fees for calling to check a hold on their account, or having to drive 50 miles to get to a bank where they could use the card.
Recognizing the financial burden these cards put on recipients, some unions and workers' groups have begun to fight back. In 2011, Oregon's SEIU Local 503 led a campaign to push back against U.S. Bank, the issuer of that state's ReliaCard, which was used to distribute unemployment and child-support benefits and which had been criticized by the National Consumer Law Center. The state paid nothing to the bank, which recouped its money entirely through the fees paid by card users — including an unusually onerous overdraft fee of $17, as well as ATM and bank teller fees and an ​"inactivity" fee.
Heather Conroy, executive director of Local 503, explained that the issue became a part of the union's bargaining campaign that year, with statewide actions by home care workers and state employees. Their campaign against the fees laid the groundwork for their innovative plan this year to bring bank issues to the bargaining table as they negotiate new contracts (a story I wrote about in The American Prospect).
As Gunshannon's lawsuit proceeds, it's worth taking a lesson from the win Oregon workers scored: unlimited withdrawals at any bank, getting rid of the overdraft fee, cutting down other fees, and pushing back on the idea that lower-income people should pay more just to get at their money than those who have lots of it to begin with.
As the use of these cards spreads in the private sector and states like New York consider legislation allowing them, advocates can play a necessary role in making sure that the cards don't turn into just another profit center for big banks at the expense of working people. Stephen Lerner, a longtime labor organizer and adviser to several campaigns targeting Wall Street, warns that the banks are happy to make $1.50 a pop off low-wage workers' paychecks, just the same as they would be to make money off mortgages. Or, as he puts it, ​"No scam is too small or too big for the wizards of finance."
Become a Sustainer
We surveyed thousands of readers and asked what they would like to see in a monthly giving program. Many of you expressed interest in magazine subscriptions, gift subscriptions, tote bags, events and books —and we've added all of those. Some of you said that cost was an issue, so we've kept our starting tier at just $5 a month—less than 17 cents a day.

Now, for the first time, we're offering three different levels of support, with unique rewards at each level, for you to choose from. Check out the new Sustainer program.
Sarah Jaffe is a Type Media Center Fellow, co-host (with Michelle Chen) of Dissent magazine's Belabored podcast, and a columnist at The New Republic and New Labor Forum. She was formerly a staff writer at In These Times and the labor editor at AlterNet. Her previous book is Necessary Trouble: Americans in Revolt, which Robin D.G. Kelley called ​"The most compelling social and political portrait of our age." You can follow her on Twitter @sarahljaffe.