Buttigieg Is Shocked, Shocked at McKinsey's Transgressions. But It Was Notorious When He Joined It.
McKinsey was embroiled in a nationwide scandal over helping insurance companies squeeze customers.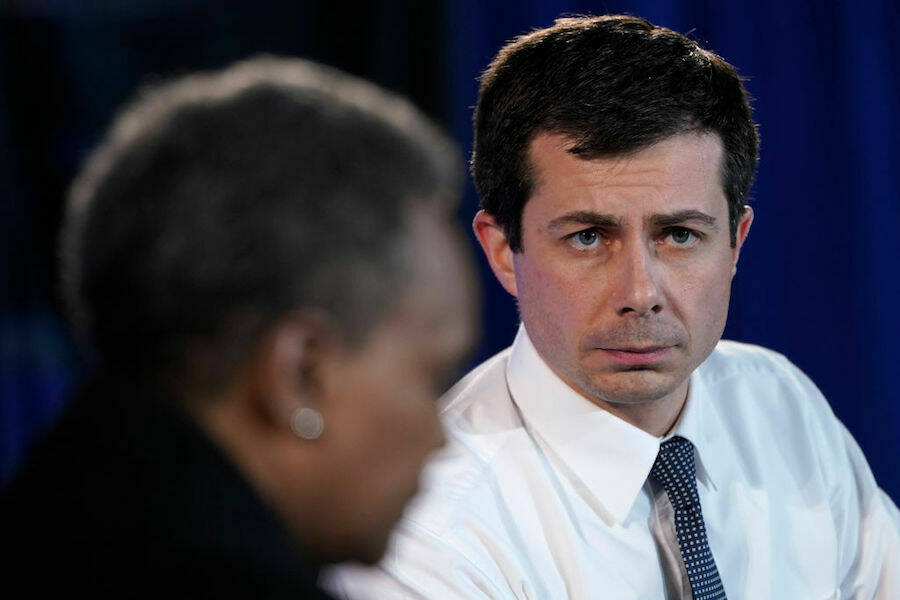 Ear­ly in his polit­i­cal career, 2020 pres­i­den­tial can­di­date and South Bend May­or Pete Buttigieg talked proud­ly of his years at the con­sult­ing firm McK­in­sey & Com­pa­ny — his most ​"intel­lec­tu­al­ly inform­ing expe­ri­ence," at ​"a place to learn … all the things about busi­ness I didn't know." With Buttigieg's rise to fourth place in the polls, how­ev­er, the firm's unsa­vory activ­i­ties have come under increas­ing scruti­ny — its work in the past decade with author­i­tar­i­an states like Sau­di Ara­bia and Chi­na, its immi­grant deten­tion cost-cut­ting advice so inhu­mane it shocked even ICE work­ers.
McKinsey cast the claims process as a "zero-sum economic game," where "Allstate gains" and "others must lose," as one PowerPoint slide put it.
Under pres­sure for more trans­paren­cy about his role at McK­in­sey, Buttigieg pre­vailed upon the firm to waive his NDA and released his client list. But the cam­paign has dis­missed scruti­ny of his clients on the basis that he was a just one cog with no deci­sion-mak­ing power.
And in response to the firm's recent scan­dals, Buttigieg has not­ed that he ​"left the firm a decade ago" and called ​"what cer­tain peo­ple in that firm have decid­ed to do…extremely frus­trat­ing and extreme­ly disappointing."
But McK­in­sey was mired in high-pro­file scan­dals pri­or to Buttigieg's deci­sion to work there after grad­u­at­ing from Oxford in 2007 — and through­out his time there. It was impli­cat­ed in the 2001 Enron scan­dal (among oth­er things, one of the company's chief exec­u­tives, Jef­frey Skilling, was a for­mer McK­in­sey man) and had become noto­ri­ous as the brains behind count­less cor­po­rate cost-cut­ting schemes that slashed jobs, such as the 2007 ​"Project X" plan, in which Chrysler closed U.S. plants and laid off thou­sands of fac­to­ry work­ers.
Per­haps the most noto­ri­ous of these was the sprawl­ing insur­ance scan­dal that became known as ​"the McK­in­sey doc­u­ments," in which McK­in­sey rev­o­lu­tion­ized the insur­ance indus­try to max­i­mize prof­its at the expense of vul­ner­a­ble policyholders.
In the ear­ly 1990s, All­state, then one of the country's biggest auto insur­ers and look­ing to pare down how much it was spend­ing on claims, hired McK­in­sey to do what McK­in­sey is best-known for doing: cut costs. McK­in­sey duti­ful­ly devel­oped a strat­e­gy to ​"rad­i­cal­ly alter our whole approach to the busi­ness of claims" and boost com­pa­ny prof­its, which All­state imple­ment­ed in 1995. Inter­nal doc­u­ments released years lat­er showed that McK­in­sey cast the claims process as a ​"zero-sum eco­nom­ic game," where ​"All­state gains" and ​"oth­ers must lose," as one Pow­er­Point slide put it — the ​"oth­ers" being claimants who had suf­fered the very mis­for­tunes and dis­as­ter their insur­ance was meant to cushion.
The strat­e­gy increased income thir­ty­fold. Rev­enue soared from a year­ly aver­age of $82 mil­lion in the pre­ced­ing decade to an aver­age of $2.5 bil­lion in the decade that fol­lowed. Dur­ing that time, the amount All­state paid out per every dol­lar it charged cus­tomers for pre­mi­ums dropped from around 69 cents to 43.5 cents. By 2007, it had hit a record prof­it of near­ly $5 bil­lion. The strat­e­gy was con­sid­ered such a suc­cess that two years lat­er, the pro­gram was expand­ed beyond auto insur­ance to fire, water and roof dam­age for homes.
Allstate's surg­ing prof­its meant hard­ship for its cus­tomers. Claimants who had dili­gent­ly paid their pre­mi­ums for years were sud­den­ly aban­doned at pre­cise­ly the moment of cri­sis their insur­ance was meant for. Many received low offers that cov­ered only a frac­tion of the costs. Some were treat­ed as frauds and poten­tial crim­i­nals. Oth­ers were tied up in court until they sim­ply gave up on ever recoup­ing their losses.
A host of oth­er insur­ers also made use of McK­in­sey. Insur­ance giant State Farm hired McK­in­sey in the ear­ly 1990s; like All­state, by 2007, its prof­its had dou­bled over 1990s levels.A 2007 analy­sis by the Sun Her­ald in Biloxi, Miss., found that between 2002 and 2005 alone, even as eight major hur­ri­canes wreaked destruc­tion along the coast and, par­tic­u­lar­ly, in Flori­da, the insur­ance giant's fire and casu­al­ty sub­sidiary saw its net worth more than dou­ble to $7.7 bil­lion and its pay­outs per pre­mi­um dol­lar drop from 70.6 per­cent to 51.6 percent.
By the time Hur­ri­cane Kat­ri­na struck land in August 2005, prop­er­ty insur­ers across the coun­try were oper­at­ing accord­ing to the McK­in­sey strat­e­gy, as the Bloomberg Mar­kets cov­er sto­ry ​"The Insur­ance Hoax" lat­er detailed. Reports abound­ed of insur­ers low-balling, under­pay­ing, or sim­ply flat-out refus­ing to ful­fill Kat­ri­na-relat­ed claims. In Novem­ber 2005, Louisiana Attor­ney Gen­er­al Charles Foti filed a suit accus­ing McK­in­sey and nine oth­er defen­dants, includ­ing All­state and State Farm, of ​"rig­ging the val­ue of pol­i­cy­hold­er claims and raid­ing the pre­mi­ums held in trust by their com­pa­nies for the ben­e­fit of pol­i­cy­hold­ers to cov­er their loss­es." The state accused McK­in­sey of head­ing an insur­ance conspiracy.
The McK­in­sey-designed insur­ance strat­e­gy was major news through the 2000s. This was thanks to numer­ous law­suits by both pri­vate attor­neys and state offi­cials like Foti, who went to war with All­state and State Farm on behalf of con­sumers rail­road­ed by the com­pa­nies after not just auto col­li­sions and fires, but nat­ur­al dis­as­ters like tor­na­does and hurricanes.
They were giv­en a boost by San­ta Fe lawyer David Berar­dinel­li, who sued All­state in 2000 for bad faith denial of an insur­ance claim, and tem­porar­i­ly obtained 12,500 pages of Pow­er­Point slides out­lin­ing McKinsey's strat­e­gy. For­bid­den from copy­ing the doc­u­ments, Berar­dinel­li took copi­ous notes and pub­lished an exposé titled From Good Hands to Box­ing Gloves: The Dark Side of Insur­ance in 2006, the year before Buttigieg joined McKinsey.
Insur­ers went to extreme lengths to block oth­er damn­ing doc­u­ments about McKinsey's advice com­ing out pub­licly dur­ing law­suits. Ordered to release inter­nal doc­u­ments by a Mis­souri court in 2007, All­state sim­ply refused and was held in con­tempt, rack­ing up $25,000-a-day fines that ulti­mate­ly totaled more than $7 mil­lion. It took an order from Florida's insur­ance com­mis­sion­er to final­ly bring the doc­u­ments into the light of day, and even then All­state ini­tial­ly refused, relent­ing in April 2008 only after Flori­da sus­pend­ed it from sell­ing new insur­ance poli­cies in the state.
The doc­u­ments made nation­al head­lines in out­lets like the Chica­go Tri­bune and CNN, which pro­duced a Feb­ru­ary 2007 report look­ing at insur­ers' prac­tice of low-balling claimants. For­mer claims agents admit­ted to the net­work they had offered as lit­tle as $50 to pol­i­cy­hold­ers who had suf­fered bod­i­ly injury and used what employ­ees called ​"the three D's": delay, deny and, if it comes to it, defend.
The insurer's refusal to release the doc­u­ments was under­stand­able giv­en what their con­tents revealed. Inside were McKinsey's Pow­er­Point slides posit­ing a ​"zero-sum game" between All­state and its pol­i­cy­hold­ers. ​"Leak­age" was McKinsey's term for pay­ing pol­i­cy­hold­ers more than nec­es­sary. The company's bet was that when faced with a ​"take it or leave it offer," most claimants would choose to take it, par­tic­u­lar­ly in the midst of the finan­cial inse­cu­ri­ty in the wake of an acci­dent. McK­in­sey advised All­state that while most cus­tomers could be treat­ed with ​"good hands" (as in the company's slo­gan, ​"You're in good hands with All­state") and get a quick set­tle­ment, those who refused the low-ball fig­ures the insur­er offered should get the ​"box­ing gloves" treat­ment and be made to wait three years or more for a resolution.
If pol­i­cy­hold­ers lawyered up, McK­in­sey coun­seled that the com­pa­ny ​"align alli­ga­tors" — adopt tougher legal action — and then ​"sit and wait." Clients fight­ing All­state often gave up in the face of years of lit­i­ga­tion, local tri­al attor­ney David Shapiro told the Sara­so­ta Her­ald-Tri­bune. ​"There are many lawyers who won't take an All­state case," he said.
"[All­state] pay[s] less than every sin­gle insur­ance com­pa­ny, and they cer­tain­ly will spend more on lit­i­ga­tion," one for­mer All­state lawyer told the paper.
McK­in­sey also rec­om­mend­ed the adop­tion of a com­put­er pro­gram named Colos­sus to remove the dis­cre­tion of claims agents in favor of ​"estab­lish­ing a new fair mar­ket val­ue" for bod­i­ly injuries. The pro­gram could alleged­ly be ​"tuned" to pro­duce low-ball offers from the get-go. McK­in­sey instruct­ed claims agents ​"to stay with­in the Colos­sus range or below it in most cas­es." The pro­gram would lead to prof­its, McK­in­sey assured All­state, and ​"share­hold­ers will notice."
The long-run­ning scan­dal rais­es the ques­tion of why Buttigieg, as rival can­di­date and Hawaii Rep. Tul­si Gab­bard put it, ​"chose to work for a com­pa­ny like McK­in­sey." But it also rais­es anoth­er ques­tion: How much of the firm's ethos — putting cor­po­rate prof­its over the health and eco­nom­ic secu­ri­ty of the US pub­lic with a ruth­less, amoral zeal — was inter­nal­ized by him?
Accord­ing to Buttigieg, his first client for the firm was the health insur­er Blue Cross Blue Shield of Michi­gan. By his own account, accord­ing to the New York Times, the insur­er had ​"had grown in such a way that there was a great deal of dupli­ca­tion and some peo­ple didn't even know what the peo­ple work­ing for them were doing." Two years lat­er, it laid off 10% of its work­force, froze pay for non-union work­ers and increased its rates.
As the Huff­in­g­ton Post report­ed, Buttigieg went on to serve as part of a team that rec­om­mend­ed cuts to the U.S. Postal Ser­vice and the replace­ment of union­ized postal work­ers with pri­va­tized staff. And as the Intercept's Ryan Grim not­ed, Buttigieg would lat­er cred­it his ​"great expe­ri­ence" at McK­in­sey with expos­ing him ​"to a lot of dif­fer­ent ideas and ways of solv­ing prob­lems," com­ing to view run­ning the city of South Bend as akin to ​"run­ning a cor­po­ra­tion" and to see its 100,000 res­i­dents as ​"stake­hold­ers." Buttigieg's tech­no­crat­ic style of may­or­dom earned him crit­ics in South Bend, includ­ing res­i­dents, the direc­tor of a local char­i­ty for the home­less, and a city coun­cil mem­ber and now may­oral rival, who com­plain of top-down, data-dri­ven poli­cies that made life hard­er for the home­less and accel­er­at­ed the dis­place­ment of communities.
Buttigieg, the Rhodes Schol­ar, is known for doing his home­work. It stretch­es creduli­ty that he was unaware of the mas­sive insur­ance scan­dal engulf­ing the com­pa­ny before and through­out his years there, one that laid bare the heart of McKinsey's busi­ness strat­e­gy: Max­i­mize prof­its, no mat­ter what the human cost.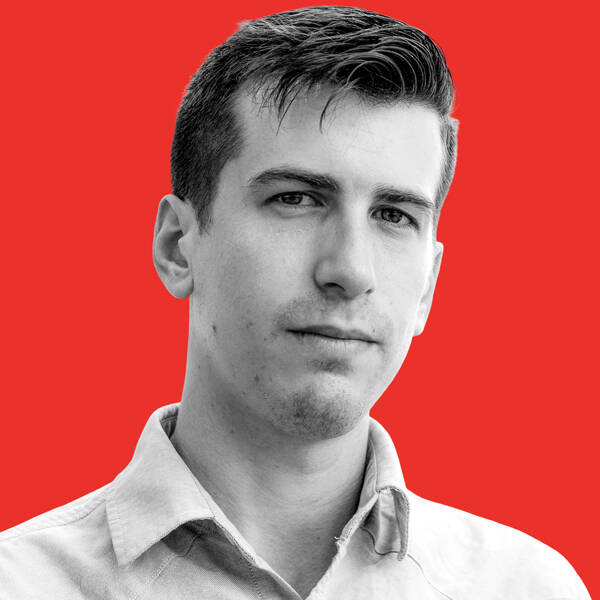 Branko Marcetic
is a staff writer at Jacobin mag­a­zine and a
2019
 – 
2020
Leonard C. Good­man Insti­tute for Inves­tiga­tive Report­ing fel­low. He is work­ing on a forth­com­ing book about Joe Biden.