The Media Uses Coal Miners To Attack the Green New Deal—Then Ignores Their Pension Fight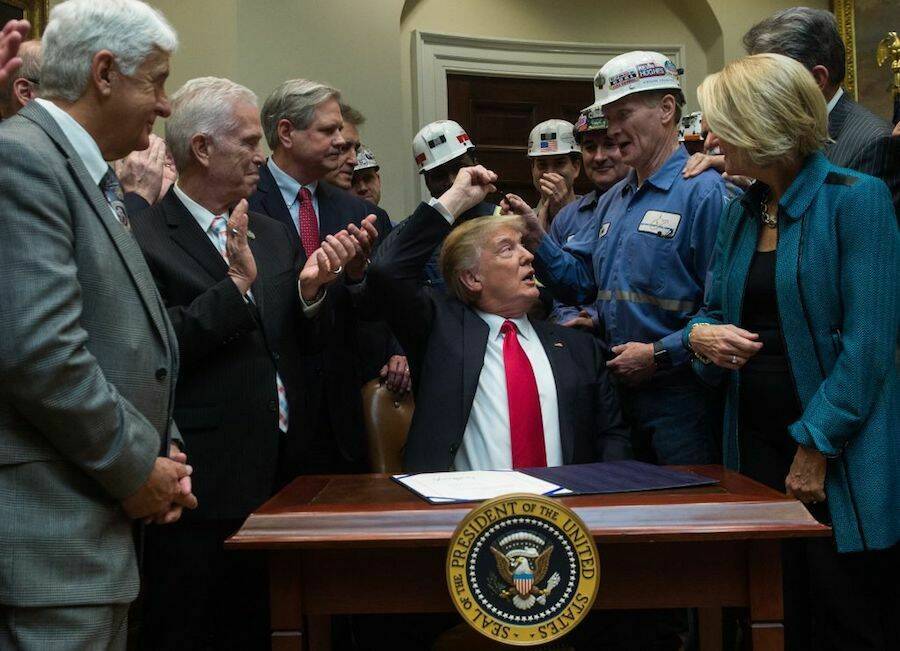 Anna Attie, Eleanor Col­bert and Daniel Fer­nan­dez con­tributed research to this report.
To stave off the worst effects of the cli­mate cri­sis, at least 80 per­cent of coal reserves must stay in the ground, accord­ing to a con­ser­v­a­tive esti­mate in the jour­nal Nature. This means that coal min­ers would see their already declin­ing indus­try all but dis­ap­pear. The Green New Deal, the res­o­lu­tion put for­ward by Rep. Alexan­dria Oca­sio-Cortez (D‑N.Y.) and Sen. Ed Markey (D‑Mass.) for an econ­o­my-wide mobi­liza­tion to address the cli­mate cri­sis, calls for a ​"just tran­si­tion" that guar­an­tees good new jobs for coal min­ers. Some insist that the ​"just tran­si­tion" start now, which is why they are sup­port­ing the Amer­i­can Min­ers Act.
Intro­duced in the Sen­ate on Jan­u­ary 3, the Act pro­tects the pen­sions of more than 100,000 coal min­ers whose retire­ment fund was deplet­ed by the 2008 crash. It also res­cues the health­care ben­e­fits of min­ers whose com­pa­nies went bank­rupt last year.
But you wouldn't know about this bill, or its sis­ter leg­is­la­tion in the House, from read­ing the New York Times, the Wash­ing­ton Post or Politi­co, three influ­en­tial out­lets with­in the Belt­way. None have report­ed on — or men­tioned — the leg­is­la­tion since it was intro­duced in ear­ly Jan­u­ary, even though it has the sup­port of the Unit­ed Mine Work­ers of Amer­i­ca (UMWA) and high-pro­file cospon­sors like Sen. Bernie Sanders (I‑Vt.), Sen. Eliz­a­beth War­ren (D‑Mass.) and Ocasio-Cortez.
Yet these out­lets have giv­en con­sid­er­able space to coal min­ers and unions to advance oth­er nar­ra­tives. In a four-month peri­od this spring and sum­mer (Feb­ru­ary 25 to June 25), the New York Times, Wash­ing­ton Post and Politi­co have pub­lished 34 arti­cles and opin­ion pieces that touch on coal min­ers or their unions. Col­lec­tive­ly, they paint coal min­ers pri­mar­i­ly as a source of votes, and assume that the sole polit­i­cal moti­va­tion of that bloc is oppos­ing envi­ron­men­tal poli­cies that would close mines.
Sev­en sto­ries dis­cuss the decline of the coal indus­try or the new merg­ers, with­out men­tion­ing the Amer­i­can Min­ers Act. Sev­en describe Democ­rats' attempts to reach out to coal min­ers. One men­tions ris­ing sui­cide rates among coal min­ers in the Mid­west. One includes brief men­tion of a coal min­ers' strike more than a cen­tu­ry ago. Only one piece high­lights coal min­ers' present-day con­cerns about work­place con­di­tions: an arti­cle about sil­i­ca dust caus­ing a resur­gence of black lung, that was pro­duced by Reuters and reprint­ed by the New York Times. And only one dis­cuss­es how the Gre­en New Deal could sup­port coal miners.
By far the most fre­quent ref­er­ence, in 16 sto­ries, was to depict coal work­ers as a con­ser­v­a­tive con­stituen­cy. These 16 sto­ries either pit coal min­ers' liveli­hoods against robust cli­mate action, ref­er­ence min­ers' sup­port for regres­sive poli­cies like envi­ron­men­tal dereg­u­la­tion, or dis­cuss min­ers who back Pres­i­dent Trump. When coal min­ers speak against pro­gres­sive poli­cies, par­tic­u­lar­ly envi­ron­men­tal ones, they're more like­ly to be giv­en a plat­form. When they issue demands that affect their every­day sur­vival, they're on their own.
Politi­co and the Wash­ing­ton Post gave con­sid­er­able space to the oppo­si­tion of coal min­ers and unions to the Green New Deal, with three arti­cles in this peri­od high­light­ing the top­ic. By con­trast, only one arti­cle, a 855-word opin­ion piece in the Wash­ing­ton Post, made the case for why coal min­ers should sup­port the Green New Deal.
Over­looked blue-green alliances
These Green New Deal arti­cles are worth exam­in­ing, because they estab­lish a nar­ra­tive that there is an insur­mount­able divide between elite cli­mate activists and work­ers just try­ing to get by. On March 12, the Wash­ing­ton Post ran the head­line, ​"AFL-CIO crit­i­cizes Green New Deal, call­ing it ​'not achiev­able or real­is­tic.'" The piece cen­tered on a let­ter of oppo­si­tion to the Green New Deal co-draft­ed by Cecil Roberts, the pres­i­dent of the Unit­ed Mine Work­ers of Amer­i­ca, and Lon­nie Stephen­son, pres­i­dent of the Inter­na­tion­al Broth­er­hood of Elec­tri­cal Work­ers, on behalf of the AFL-CIO's ener­gy committee.
Yet, on May 8, when Roberts ral­lied at Capi­tol Hill to call atten­tion to the exis­ten­tial threat posed to retired coal min­ers' liveli­hoods, the Wash­ing­ton Post was mum. Along­side the Alliance of Retired Amer­i­cans, the Asso­ci­a­tion of Flight Atten­dants (AFA) and mul­ti­ple mem­bers of Con­gress, Roberts made an impas­sioned case for the Amer­i­can Min­ers Act, the afore­men­tioned leg­is­la­tion that would trans­fer mon­ey to the UMWA pen­sion fund, a boon to work­ers whose ben­e­fits were threat­ened by the Great Reces­sion. ​"We didn't get any of the mon­ey you sent to Wall Street. You bailed them out," Roberts shout­ed from a podi­um. ​"What about the peo­ple who work for a liv­ing in Amer­i­ca? What about the peo­ple who've giv­en their health to America?"
The press con­fer­ence would have also offered an oppor­tu­ni­ty to report on alliance-build­ing between coal min­ers and Green New Deal pro­po­nents. And in fact, Sara Nel­son, pres­i­dent of AFA and vocal sup­port­er of the Green New Deal, spoke at the press con­fer­ence. ​"Flight atten­dants are here, with our min­ers, to make sure that min­ers' health­care and pen­sions are pre­served," she said. ​"They earned them."
In a May inter­view with In These Times, Nel­son empha­sized the impor­tance of ral­ly­ing behind the bill. ​"We need to push to adopt leg­is­la­tion that keeps America's promise to coal min­ers of pen­sions and health­care," she said, ​"as well as address­es black lung— that's the bare min­i­mum to show good faith that this process of tak­ing on cli­mate change will focus on mak­ing coal min­ers' lives bet­ter, not worse."
As labor and cli­mate activists grap­ple with dif­fi­cult ques­tions about how to tran­si­tion away from a fos­sil fuel econ­o­my with­out leav­ing work­ers behind, major media out­lets remain stuck in a reduc­tive ​"elite vs. blue-col­lar" divide. In These Times con­trib­u­tor Michelle Chen not­ed that this false dichoto­my appears through­out a June 1 Politi­co arti­cle, ​"Labor anger over Green New Deal greets 2020 con­tenders in Cal­i­for­nia." The arti­cle quotes Jack Pit­ney, described as ​"a vet­er­an Cal­i­for­nia polit­i­cal ana­lyst and polit­i­cal sci­ence pro­fes­sor at Clare­mont McKen­na College."
He says there's a ​"cau­tion­ary tale" for Democ­rats, who should remem­ber that ​"West Vir­ginia, until 2000, was con­sid­ered solid­ly blue." Repub­li­can strate­gist Karl Rove, work­ing for can­di­date George W. Bush, pushed the fact ​"that the Demo­c­ra­t­ic nom­i­nee was Al Gore, author of ​'Earth in the Bal­ance,''' a fact that didn't sit well with coal min­ers, Pit­ney recalls.
The piece cites unnamed coal min­ers as a warn­ing to Democ­rats: If you cam­paign on the Green New Deal, you will lose elec­tions. But real­i­ty is not so sim­ple. While it is true that labor lead­ers in the build­ing trades and extrac­tive indus­tries have expressed crit­i­cism or out­right oppo­si­tion to the Green New Deal, they don't rep­re­sent all of labor, nor all of their own rank-and-file mem­ber­ship. As Stan­ley Sturgill, a retired coal min­er, told me at the People's Cli­mate March in 2014, ​"I worked under­ground for 41 years and I have black lung dis­ease. I'm actu­al­ly hav­ing a hard time breath­ing just to get to this stage. I am march­ing today because I want to build a bright future for my fam­i­ly, for Appalachia, and for this world. I have a vision where my chil­dren, grand­chil­dren, great-grand­chil­dren can have good jobs that sup­port our fam­i­lies with­out doing dam­age to our water, air, land and climate."
And in fact, a sur­vey by the pro­gres­sive think tank Data for Progress in June found that ​"union mem­ber­ship is one of the fac­tors most high­ly cor­re­lat­ed with sup­port for Green New Deal poli­cies, as well as the Green New Deal frame­work as a whole."
Some unions, locals and labor fed­er­a­tions have come out in sup­port of the Green New Deal, includ­ing the Ser­vice Employ­ees Inter­na­tion­al Union, the San Diego and Impe­r­i­al Coun­ties Labor Coun­cil, the Maine AFL-CIO and the Los Ange­les Coun­ty Fed­er­a­tion of Labor. And labor and cli­mate groups worked togeth­er to pass land­mark cli­mate leg­is­la­tion through the New York leg­is­la­ture in June, thanks in part to the back­ing of the New York State Amal­ga­mat­ed Tran­sit Union, Team­sters Joint Coun­cil 16 and the Com­mu­ni­ca­tions Work­ers of Amer­i­ca Local 1108. Envi­ron­men­tal and work­ers' groups have long tried to build cross-move­ment trust and sol­i­dar­i­ty, years before the Green New Deal was introduced.
The Black Mesa Water Coali­tion, for exam­ple, has long orga­nized in Ari­zona to build sup­port with­in coal min­ing com­mu­ni­ties for a just tran­si­tion from coal. And Ken­tuck­ians for the Com­mon­wealth orga­nizes coal min­ing com­mu­ni­ties, includ­ing coal min­ers with black lung, to push for a tran­si­tion away from fos­sil fuel extrac­tion, root­ed in oppo­si­tion to cli­mate change and the dev­as­tat­ing health effects of coal min­ing. The orga­ni­za­tion has been talk­ing about the need for a just tran­si­tion for at least a decade, mean­ing that coal min­ing com­mu­ni­ties deserve par­tial cred­it for advanc­ing this con­cept. In the for­mer coal camps of Lynch and Ben­ham, the orga­ni­za­tion is work­ing to help res­i­dents envi­sion and fight for a just tran­si­tion to renew­able ener­gy, from protest­ing moun­tain­top removal to retro­fitting homes.
The cli­mate stakes
But per­haps the most glar­ing omis­sion in Politi­co​'s June 1 arti­cle is its fail­ure to reck­on with the stakes. Whether to sup­port or not sup­port a Green New Deal is not a ques­tion of polit­i­cal strat­e­gy to win vot­ers or union sup­port, devoid of con­text. The UN's IPCC report, released in Octo­ber, esti­mat­ed that we have 12 years to keep glob­al warm­ing under 1.5 degrees Cel­sius and save hun­dreds of mil­lions of peo­ple from dev­as­tat­ing envi­ron­men­tal destruc­tion, pover­ty and death. This is a cri­sis that hurts poor and work­ing-class peo­ple most, par­tic­u­lar­ly those in the Glob­al South, who are already see­ing their soci­eties uproot­ed by inten­si­fy­ing storms, draughts, and sea-lev­el rise. Min­ers, who are on the front lines of haz­ardous fos­sil-fuel extrac­tion, are not spared.
To be sure, a May 7 arti­cle in the Wash­ing­ton Post does empha­size the urgency of the cli­mate cri­sis before not­ing the con­cern that it would ​"put coal min­ers out of work." And it is worth not­ing the one Wash­ing­ton Post op-ed, pub­lished April 19, that defends the Green New Deal against crit­ics like Rep. Gar­land ​"Andy" Barr (R‑Ky.), who dared Oca­sio-Cortez to come his district.
"The Green New Deal specif­i­cal­ly address­es the need to help peo­ple in com­mu­ni­ties affect­ed by the tran­si­tion away from fos­sil fuels," the arti­cle notes. ​"It calls for ​"direct­ing invest­ments [to] dein­dus­tri­al­ized com­mu­ni­ties, that may oth­er­wise strug­gle with the tran­si­tion away from green­house gas inten­sive industries."
Yet the 855-word opin­ion piece may do lit­tle to coun­ter­bal­ance the nar­ra­tive of con­ser­v­a­tive, anti-envi­ron­men­tal coal min­ers rein­forced across many sto­ries. This lop­sided focus con­tributes to the impres­sion that the gulf between coal min­ers and cli­mate jus­tice cam­paign­ers is impos­si­ble to bridge.
"Mine work­ers are not the ene­my here, and I think the press does play them out to be," says Joe Uehlein, the pres­i­dent of the Labor Net­work for Sus­tain­abil­i­ty, a coali­tion of labor and envi­ron­men­tal groups. ​"But they're not. They're poten­tial allies if we can wrap our heads around real full-spec­trum ​'just tran­si­tion' poli­cies and fight for them."
Accom­plish­ing this trans­for­ma­tion will require nuance and respect for the lives of coal min­ers who are hurt­ing from dried-up pen­sion funds, some­thing influ­en­tial media out­lets could use more of.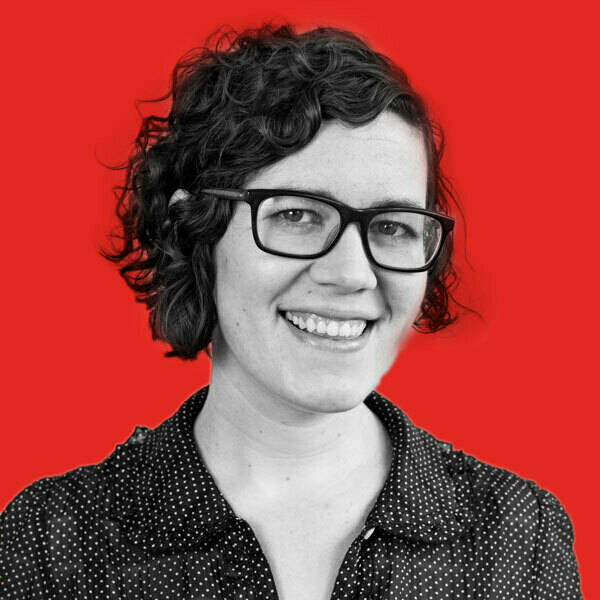 Sarah Lazare is web edi­tor at In These Times. She comes from a back­ground in inde­pen­dent jour­nal­ism for pub­li­ca­tions includ­ing The Inter­cept, The Nation, and Tom Dis­patch. She tweets at @sarahlazare.