The Media Must Face Up to Its Role in Inflaming a Frenzy Over Russiagate
By claiming Trump was colluding with Putin, media outlets distracted from the president's overt crimes while escalating tensions with Russia. They should own up to their failures.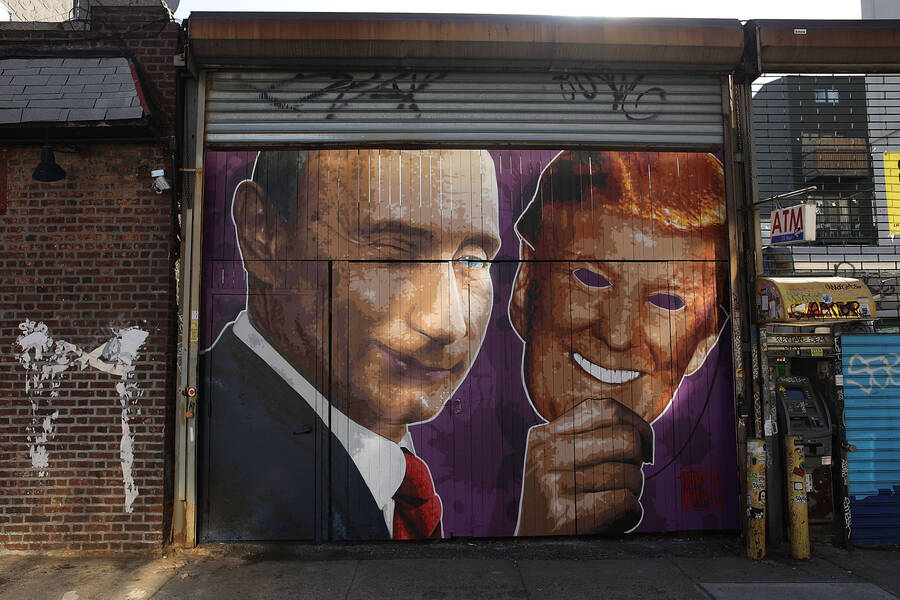 "What wrong facts did we put out?"
The idea that the media is blameless for the past two years of swirling panic, misinformation and conspiracizing is a cop-out that could turn out to be more damaging for the mainstream press than an honest reckoning with its failures.
CNN's Chris Cuo­mo asked this ques­tion under a hail of crit­i­cism direct­ed at the press since Sun­day, when Attor­ney Gen­er­al William Barr announced that Spe­cial Coun­sel Robert Mueller was unable to estab­lish ​"col­lu­sion" between the Trump cam­paign and Rus­sia. Cuomo's ques­tion echoes the insis­tence by oth­er media fig­ures that the press got the report­ing on the scan­dal large­ly right.
It's true that the media doesn't deserve whole­sale con­dem­na­tion. There was plen­ty of fair, infor­ma­tive inves­tiga­tive report­ing around Trump and Rus­sia. But the idea that the media is blame­less for the past two years of swirling pan­ic, mis­in­for­ma­tion and con­spir­a­ciz­ing is a cop-out that could turn out to be more dam­ag­ing for the main­stream press than an hon­est reck­on­ing with its failures.
The irony is that if the press was look­ing for crimes, there was no short­age of them. Trump is a career crim­i­nal who has spent his entire life lying, cheat­ing and swin­dling his coun­try­men, from bilk­ing peo­ple through his fake uni­ver­si­ty, to the sex­u­al assaults he's been accused of and admit­ted to, to his bla­tant­ly uncon­sti­tu­tion­al refusal to divest him­self from his busi­ness­es, through which he's been enrich­ing him­self through his pres­i­den­cy. This isn't even to get into his delib­er­ate­ly ruinous envi­ron­men­tal and oth­er reg­u­la­to­ry poli­cies, the obvi­ous cor­rup­tion that's dri­ven them, and his cal­lous and incom­pe­tent response to Hur­ri­cane Maria's dev­as­ta­tion of Puer­to Rico, which rivaled only the botched hur­ri­cane relief effort that helped sink George W. Bush's presidency.
The media doesn't deserve crit­i­cism for dig­ging into cor­rup­tion, whether Russ­ian or oth­er­wise, in the Trump cam­paign and admin­is­tra­tion. What it does deserve crit­i­cism for is for relent­less­ly push­ing onto a fright­ened pub­lic the dan­ger­ous nar­ra­tive that Trump was lit­er­al­ly under the con­trol of Russ­ian Pres­i­dent Vladimir Putin, even as this the­o­ry became increas­ing­ly unten­able. The media deserves crit­i­cism for near-con­stant fear-mon­ger­ing over Rus­sia, often through spu­ri­ous report­ing, and for ignor­ing the real threat of mount­ing ten­sions between the two nuclear powers.
While MSNBC host Rachel Mad­dow and a host of online cranks and grifters may be serv­ing as scape­goats for push­ing such the­o­ries, the prob­lem was far big­ger. It was over­whelm­ing­ly main­stream media that broad­cast what would nor­mal­ly be con­sid­ered a fringe con­spir­a­cy the­o­ry, and as a result helped to stoke increas­ing aggres­sion toward Rus­sia while help­ing push the dooms­day clock clos­er to mid­night than it's ever been.
Con­sid­er the vast array of dis­cred­it­ed, retract­ed report­ing in this vein: C‑Span was hacked by RT (For­tune); a Ver­mont pow­er grid was hacked by Rus­sians (Wash­ing­ton Post); Trump had a secret email serv­er pip­ing him in to a bank in Rus­sia (Slate); inde­pen­dent news out­lets are ​"Russ­ian pro­pa­gan­da" that spread ​"fake news" (Wash­ing­ton Post, again). And that's all before Trump was even inau­gu­rat­ed. At one point dur­ing the pres­i­den­tial cam­paign, a Bloomberg reporter asked Hillary Clin­ton if bomb attacks in New York and New Jer­sey could pos­si­bly be part of a Russ­ian plot to ​"dri­ve votes to Don­ald Trump."
Such mis­re­port­ing has con­tin­ued through­out the Trump pres­i­den­cy, hand­ing him more ammu­ni­tion to both attack the media and claim vic­tim­iza­tion by the estab­lish­ment. And each error, often walked back to less pub­lic atten­tion, has helped fuel the the­o­ry that Putin con­trols Trump, while also inflat­ing the Russ­ian threat.
One of the major ele­ments of the the­o­ry, cit­ed at the time and ever after, was a man­gled sto­ry about the Trump cam­paign ​"dra­mat­i­cal­ly alter[ing]" the Repub­li­can plat­form on Ukraine. Media out­lets uncrit­i­cal­ly repeat­ed the sto­ry that the Trump cam­paign ​"weak­ened" or ​"soft­ened" the GOP plat­form on Ukraine, remov­ing lan­guage pledg­ing to send lethal arms to Ukraine. Adopt­ing such a pol­i­cy would have been a major esca­la­tion of mil­i­tary ten­sions with Rus­sia, which is why Pres­i­dent Oba­ma had resist­ed it for years. The episode was reg­u­lar­ly paint­ed as some­thing sus­pect and sin­is­ter, or, in the words of Clin­ton cam­paign man­ag­er Rob­by Mook, ​"pro-Russ­ian." One Forbes head­line spu­ri­ous­ly pro­claimed Trump had been ​"defer­ring to Putin."
In fact, as Masha Gessen — a fierce Putin crit­ic who has inde­fati­ga­bly pushed back against the Putin-owns-Trump con­spir­a­cy the­o­ry since it began — and oth­ers have point­ed out, this isn't the real sto­ry of what hap­pened. Rather, the Trump team soft­ened the lan­guage of a pro­posed amend­ment to the plat­form that would have pledged to send weapons to Ukraine, replac­ing it with a call for ​"appro­pri­ate assis­tance" to the coun­try. The rest of the amend­ment, which was plen­ty tough on Rus­sia, was kept and can be viewed in the final plat­form, which promis­es ​"greater coor­di­na­tion with NATO defense plan­ning," and to main­tain, and even increase, sanc­tions on Russia.
The inci­dent set the pat­tern of paint­ing Trump as a Krem­lin agent when­ev­er he failed to be hawk­ish enough on the world stage.
From July 2016 onward, the Clin­ton campaign's strat­e­gy of tying Trump to Rus­sia was in full swing. Clin­ton cam­paign man­ag­er Rob­by Mook point­ed to the leaks, the GOP plat­form inci­dent, and Trump's threats to not defend NATO allies, as some­thing vot­ers should ​"reflect on." Ex-CIA deputy direc­tor Michael Morell penned a New York Times op-ed endors­ing Clin­ton and call­ing Trump an ​"unwit­ting agent of the Russ­ian Fed­er­a­tion," with­out dis­clos­ing he was employed by a con­sult­ing firm found­ed by three Clin­ton aides.
Media fig­ures quick­ly picked this up, using inflam­ma­to­ry lan­guage that sug­gest­ed Trump was being con­trolled by Rus­sia, which they some­times walked back lat­er on in the text or pre­sent­ed as sim­ply ask­ing ques­tions. He was ​"Putin's Pup­pet," wrote Slate​'s Franklin Foer. Jef­frey Gold­berg, who had spent the ear­ly 2000s infa­mous­ly writ­ing dis­cred­it­ed reports push­ing for war in Iraq, called him Putin's ​"de fac­to agent." Anne Apple­baum sug­gest­ed he was a ​"Manchuri­an can­di­date," while Paul Krug­man viewed him as the ​"Siber­ian can­di­date," ques­tion­ing ​"what kind of hold" Putin had over him and ​"whether that influ­ence will con­tin­ue if he wins."
Mean­while, the Guardian quot­ed a fig­ure from the weapons man­u­fac­tur­er-fund­ed Atlantic Coun­cil claim­ing that a Trump admin­is­tra­tion would lead to ​"appease­ment" on Ukraine and Syr­ia, and a ​"clos­er rela­tion­ship with Rus­sia" that would ​"endan­ger west­ern secu­ri­ty inter­ests." Call­ing the Russ­ian elec­tion med­dling ​"one of the year's most under­re­port­ed sto­ries," the Wash­ing­ton Post​'s Col­bert I. King claimed that ​"in Don­ald Trump, Rus­sia will nev­er have had it so good." Head­lines blared about Trump going on a ​"state-owned Russ­ian net­work"; it was left to read­ers who went beyond the head­lines to find out he was actu­al­ly appear­ing on Lar­ry King's show.
This was all height­ened by Moth­er Jones' deci­sion in Octo­ber to pub­lish David Corn's report about the now large­ly dis­cred­it­ed Steele dossier, which claimed the Krem­lin had been work­ing for years to cul­ti­vate Trump as an intel­li­gence asset and had black­mail mate­r­i­al on him, lead­ing Van­i­ty Fair to ques­tions whether he was a ​"Manchuri­an can­di­date." Iron­i­cal­ly, on that same day as the Van­i­ty Fair head­line, the New York Times pub­lished a report about the FBI fail­ing to find con­clu­sive evi­dence of a con­nec­tion between Rus­sia and the Trump cam­paign, which now appears to have aged far better.
After Trump's vic­to­ry, Corn would go on to pub­lish anoth­er report based on the dossier, sug­gest­ing Trump had been spied on and com­pro­mised by Rus­sia. It quot­ed ana­lyst Mal­colm Nance, who has since accrued a record of mak­ing sen­sa­tion­al fab­ri­ca­tions, that Trump was ​"poten­tial­ly a vic­tim of black­mail" and that Rus­sia, ​"with­out ques­tion," had ​"infor­ma­tion he would not want exposed." The Times' Nicholas Kristof called the hack­ing ​"an attack on Amer­i­ca," and claimed Trump would be a ​"Russ­ian poo­dle," as evi­denced by his appoint­ing Rex Tiller­son, ​"a Putin friend," to run for­eign pol­i­cy. (When Trump lat­er fired Tiller­son, this, too, would be con­strued as sus­pi­cious­ly pro-Russ­ian by some mem­bers of the media).
Despite all this, as pres­i­dent-elect, Trump appeared to take a hard­er line against Rus­sia. He staffed his admin­is­tra­tion with anti-Russ­ian and anti-Iran­ian hawks like Jim Mat­tis, Mike Pom­peo and Jeff Ses­sions, and made noise about upgrad­ing and expand­ing U.S. nuclear capa­bil­i­ty, a sharp break from the rhetoric of pre­vi­ous admin­is­tra­tions. Just days into his pres­i­den­cy, he phoned Putin and trashed the 2010 New Start nuclear arms con­trol treaty, claim­ing that he wouldn't renew it. It would lat­er come out that Trump reject­ed the Kremlin's offer of full nor­mal­iza­tion of relations.
Pun­dits appar­ent­ly didn't notice, how­ev­er, with Col­bert I. King spec­u­lat­ing in Decem­ber that a Trump-Putin pact could be ​"on the hori­zon." Some­times sto­ries would run whose sala­cious head­lines were rebuked by the actu­al con­tent, as when Vox ran this inter­view promis­ing to explain ​"how Putin made Trump his pup­pet," only for the inter­vie­wee, the edi­tor of the Moscow Times, to say he did­n't believe in ​"the con­spir­a­cy the­o­ries about ​'gold­en show­ers' and black­mail­ing," which he thought were ​"shal­low."
As U.S.-Russian rela­tions steadi­ly wors­ened and Trump became ever more aggres­sive towards the coun­try, many news out­lets — enthralled by sala­cious spy-thriller tales of kom­pro­mat, secret meet­ings and shad­owy con­spir­a­cies — ignored the Trump administration's ten­sions with Rus­sia in lieu of spec­u­lat­ing over and over about whether or not Trump was secret­ly being influ­enced by Putin.
Even as Demo­c­ra­t­ic offi­cials tamped down expec­ta­tions about what they would find in inves­ti­ga­tions, and offi­cials like Mike Morell him­self and for­mer Direc­tor of Nation­al Intel­li­gence James Clap­per warned they'd seen no evi­dence, news out­lets plowed ahead, often on remark­ably shal­low terms. When Trump react­ed to an unfa­vor­able rat­ing on the GOP health care plan by crit­i­ciz­ing Oba­macare — in oth­er words, reg­u­lar behav­ior from a politi­cian — NPR charged he was using the (alleged) Russ­ian tac­tic of ​"whataboutism." CNN claimed the White House ​"is start­ing to look like Putin's Krem­lin," because of Trump's nepo­tism and lying (the arti­cle help­ful­ly made clear past the sen­sa­tion­al head­line that there was no evi­dence Trump was Putin's pup­pet). Van­i­ty Fair spec­u­lat­ed that the dai­ly chaos of Trump's pres­i­den­cy was actu­al­ly a con­scious tac­tic import­ed from Putin.
April 2017 saw Tiller­son vis­it Moscow for the first time. It was a dis­as­ter for renew­ing the coun­tries' rela­tion­ship, with Tiller­son and his Russ­ian coun­ter­part snip­ing at each oth­er at the press con­fer­ence, large­ly due to ten­sion over Trump's airstrike in Syr­ia ear­li­er that month. CNN not­ed Trump's hon­ey­moon with the coun­try was marked­ly short­er than those of pre­vi­ous pres­i­dents. Ahead of Tillerson's Moscow trip, neo­con Max Boot, also a pre­vi­ous­ly pro-Iraq War pun­dit who has since scored a col­umn at the Post, declared Trump was either ​"Russia's use­ful idiot" or ​"irrepara­bly com­pro­mised," while a day after the press con­fer­ence, the paper's opin­ion colum­nist Jen­nifer Rubin decid­ed it was ​"very, very unlike­ly" that all of Trump's Rus­sia con­nec­tions were ​"mere happenstance."
As mil­i­tary ten­sions between the two coun­tries in Syr­ia became increas­ing­ly hos­tile, Evan McMullin, a for­mer CIA offi­cer who became an anti-Trump pun­dit after the elec­tion, warned in the Post, again, that the GOP was ​"becom­ing the par­ty of Putin" (when the two lat­er signed a cease­fire, this was ​"Trump's gift to Putin"). In July, Trump chal­lenged Russia's nat­ur­al gas export dom­i­nance in East­ern Europe and gave one of the more anti-Russ­ian speech­es from a pres­i­dent in mod­ern mem­o­ry in War­saw, while Putin expelled hun­dreds of U.S. diplo­mats. ​"Why does Trump still refuse to crit­i­cize Putin?" lat­er blared the Atlantic.
Start­ing in August 2017, Trump halt­ed visas for Rus­sians, with­drew from the Iran deal while fac­ing Russ­ian objec­tions, accused Rus­sia of sti­fling his efforts to get rid of North Kore­an nukes, and closed three Russ­ian diplo­mat­ic facil­i­ties. Mean­while, Politi­co broad­cast Clapper's (who had since then become a cable news talk­ing head with a pen­chant for mak­ing wild, unsub­stan­ti­at­ed accu­sa­tions) claim that ​"the Rus­sians have exceed­ed beyond their wildest expec­ta­tions," the Guardian stat­ed the Steele dossier's find­ings were ​"grow[ing] more sig­nif­i­cant by the day," while David Corn repeat­ed the dossier's alle­ga­tions of Trump blackmail.
In Decem­ber 2017, Trump unveiled an aggres­sive new nation­al secu­ri­ty strat­e­gy tak­ing aim square­ly at Rus­sia, and days lat­er crossed a pre­vi­ous­ly untouched line by final­ly send­ing weapons to Ukraine, send­ing U.S.-Russian rela­tions to a new low. ​"Putin's man in the White House?" ques­tioned Newsweek.
By Feb­ru­ary 2018, the fact-check­ers at Poli­ti­fact decid­ed the state­ment that Trump's ​"been much tougher on Rus­sia than Barack Oba­ma" was ​"most­ly false." The fol­low­ing month, when Putin announced he was test­ing a range of new nuclear capa­bil­i­ties, NBC decid­ed the Krem­lin had become ​"increas­ing­ly embold­ened by the Trump admin­is­tra­tion" and was respond­ing to ​"an Amer­i­can for­eign pol­i­cy of weak­ness about Russia."
This reached its apogee with the Helsin­ki sum­mit in July last year. Even though Trump had tak­en more than twice as long as his pre­de­ces­sors to hold his first bilat­er­al talks with Putin, U.S. media fear-mon­gered and con­spir­a­cized about the sum­mit in advance, oppos­ing any sort of meet­ing. The Wash­ing­ton Post edi­to­r­i­al board declared that even meet­ing with Putin was ​"kow­tow­ing" to him, oth­er out­lets claimed it would be a ​"big geopo­lit­i­cal win" for the Russ­ian leader, while New York Magazine's Jonathan Chait — yet anoth­er phan­tom WMD pro­po­nent in the Iraq War lead-up who had mor­phed seam­less­ly into a ​"Rus­si­a­gate" boost­er — penned his now-infa­mous case for Trump as a 30-year Russ­ian asset.
When Trump used threats of pulling out of NATO to extract high­er spend­ing com­mit­ments from oth­er mem­bers, and appeared to take Putin's word that Rus­sia hadn't hacked the DNC at a joint press con­fer­ence soon after, the media went apoplec­tic, alleg­ing charges of trea­son and treach­ery. Innu­en­do abound­ed about what Putin and Trump had dis­cussed behind closed doors (arms con­trol, it turns out), and the media have wide­ly spread the false claim that Trump's one-on-one meet­ing with Putin was some­thing new and unprecedented.
This has been much of the media's pos­ture since, with U.S.-Russian rela­tions get­ting steadi­ly worse as Trump has become more bel­li­cose, and the media sim­ply ignor­ing this fact in favor of ongo­ing insin­u­a­tions about Trump's true loy­al­ty. No one at this point should be sur­prised that when Trump pulled out of the Rea­gan-era INF treaty in Feb­ru­ary, yet anoth­er provo­ca­tion to Rus­sia, a vari­ety of news out­lets deemed it a ​"gift" to Putin.
The media's heed­less encour­age­ment of this idea is inde­fen­si­ble, all the more so for how much resources, time and pub­lic atten­tion it's monop­o­lized. Abdi­cat­ing its respon­si­bil­i­ty to inform, the press utter­ly ignored vital issues like the war in Yemen, cli­mate change and grow­ing labor unrest so it could, in the alleged words of CNN chief exec­u­tive Jeff Zuck­er, ​"get back to Rus­sia," a top­ic that meant big rat­ings, clicks, sub­scrip­tion num­bers and, there­fore, prof­its and pro­fes­sion­al pres­tige for those sell­ing it. It also dan­ger­ous­ly mis­in­formed an anx­ious pub­lic about what its gov­ern­ment was doing on the world stage, while push­ing a con­spir­a­cy the­o­ry their fel­low jour­nal­ists in Rus­sia found puz­zling and laugh­able.
The result has been a fren­zy of mis­lead­ing cov­er­age far more wide-reach­ing, polit­i­cal­ly con­se­quen­tial and, ulti­mate­ly, ben­e­fi­cial to Trump than any­thing some troll farm could have cooked up. And by dri­ving up ten­sions with Rus­sia, hand­ing Trump a pub­lic rela­tions win ahead of the 2020 cam­paign may end up being the least of its consequences.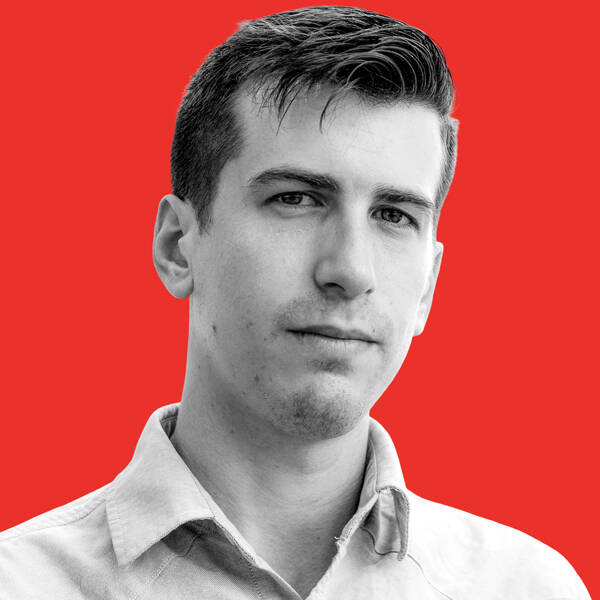 Branko Marcetic
is a staff writer at Jacobin mag­a­zine and a
2019
 – 
2020
Leonard C. Good­man Insti­tute for Inves­tiga­tive Report­ing fel­low. He is work­ing on a forth­com­ing book about Joe Biden.