Keith Ellison: The Time Has Come for Medicare-for-All and a Maximum Wage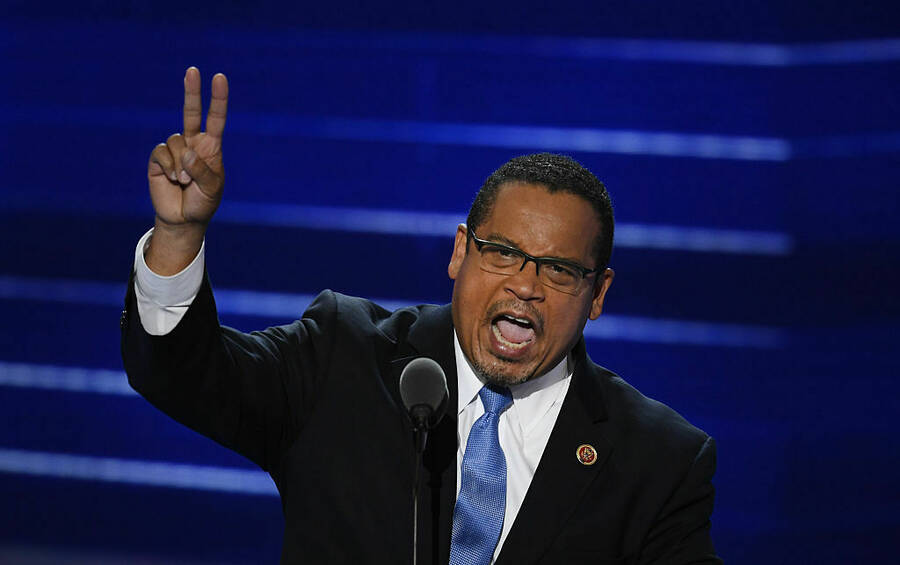 Wel­come to Inter­views for Resis­tance. We're now into the sec­ond year of the Trump admin­is­tra­tion, and the last year has been filled with ups and downs, impor­tant vic­to­ries, suc­cess­ful hold­ing cam­paigns, and painful defeats. We've learned a lot, but there is always more to learn, more to be done. In this now-week­ly series, we talk with orga­niz­ers, agi­ta­tors, and edu­ca­tors, not only about how to resist, but how to build a bet­ter world.
On March 9 and 10, the Con­gres­sion­al Pro­gres­sive Cau­cus gath­ered for its strat­e­gy sum­mit in Bal­ti­more, Mary­land. Mem­bers of the cau­cus and allies from left-lean­ing orga­ni­za­tions and Euro­pean left par­ties gath­ered to talk pol­i­cy and pow­er for the short, medi­um and long term. At the con­fer­ence, I spoke with Demo­c­ra­t­ic Rep. Kei­th Elli­son of Min­neso­ta about the new push for Medicare for All, how to talk about racism and eco­nom­ic jus­tice, and why it might be time to think about a max­i­mum wage.
Sarah Jaffe: I want to start with Medicare for all, what's going on in the House?
Kei­th Elli­son: I just switched in for John Cony­ers. What we're going to do, we're start­ing a Medicare for All task force, a sin­gle-pay­er task force, and Prami­la Jaya­pal and I are going to help lead that effort. Deb­bie Din­gell is there, Ro Khan­na is there, Bar­bara Lee is there, we've got a team, and we're going to real­ly push. We believe that, in this moment, the most impor­tant thing to do is help build the pub­lic sup­port and the pub­lic aware­ness and the pub­lic knowl­edge. That's our goal.
We've got a plan to move out on all fronts and have our mem­bers do a tour, have meet­ings in their dis­tricts on sin­gle pay­er. We're work­ing with Bernie, but we believe that this is the issue and that the time for this issue has come. Now we're all staunch advo­cates of the Afford­able Care Act, but we're look­ing fur­ther. We imag­ine an Amer­i­ca where when you get sick you wor­ry about get­ting well, not whether you might be in bankruptcy.
Sarah: So there's ener­gy with­in and with­out the Demo­c­ra­t­ic Par­ty push­ing in this direc­tion. You were just say­ing you've been in Con­gress for 10 years. Does it feel like there's a momen­tum shift, and when did that start?
Kei­th: It start­ed when peo­ple like Paul Well­stone were rais­ing it, and peo­ple were like, ​"What's that, what is sin­gle-pay­er? We don't know what you're talk­ing about." And all we're doing is build­ing, build­ing, build­ing up the momen­tum. No doubt Bernie's run for pres­i­dent caught a wind and def­i­nite­ly esca­lat­ed the aware­ness. But what is real­ly dri­ving this thing is the fact that you get sick, and can't afford your med­i­cine — I have a young lady who I work with every day, smart as a whip, super tal­ent­ed, but she has tox­o­plas­mo­sis, so she needs Dara­prim. So that lit­tle creep Mar­tin Shkre­li says, ​"Okay, $13 a dose is now rough­ly $750 a dose," not to men­tion EpiPens and insulin! Some­thing like insulin! It's sky­rock­et­ing, all so they can com­mer­cial­ize it. And peo­ple are ask­ing: Does it have to be this way? Is it this way in Cana­da? Is it this way in a whole bunch of oth­er coun­tries? Turns out – no. Peo­ple want a bet­ter alternative.
This is wrapped up with this mar­ket pow­er issue. Every time a Mar­tin Shkre­li screws some­body, we're win­ning con­verts to sin­gle-pay­er health­care, Medicare for All. So what we've got to do is get out there and say there's an alter­na­tive. Par­tic­u­lar­ly when the Repub­li­cans are so dom­i­nant that we're not going to pass it, our mis­sion needs to be to get out there, get out there strong, let peo­ple know there's an alter­na­tive and they don't have to suf­fer this way. They don't have to mort­gage the house so they can get an operation.
Sarah: We're talk­ing about mar­ket pow­er. You made a joke about a max­i­mum wage.
Kei­th: No no no! I did­n't make a joke about max­i­mum wage. I made a state­ment about max­i­mum wage. What I'm say­ing is, if you were to say, ​"Look, if you make more than 20 times more than the peo­ple who actu­al­ly make the prod­ucts and do the ser­vices of your com­pa­ny, then we're going to tax you more. We're going to tax you at all."
Sarah: That would be a good start.
Kei­th: You're going to be inel­i­gi­ble for cer­tain pro­grams. Or we could even do some­thing like say, ​"Look, if you want to pay your­self more than 20 times your aver­age work­er, that's fine, but if you give the work­ers an increase as you get them, then maybe we'll think about that in terms of some sort of a pol­i­cy ben­e­fit." But this idea that you can leave peo­ple in pover­ty as you are stack­ing up dead pres­i­dents like nobody's busi­ness has got to come to an end. I mean, the CEO of McDonald's makes almost $4,000 an hour, and they're fight­ing peo­ple get­ting $15 an hour.
Sarah: But they turned their logo upside down to be a W, so…
Kei­th: They care. Awww. But my point is these peo­ple are not only screw­ing over work­ers, they're screw­ing over the envi­ron­ment. They're clear-cut­ting forests so they can graze more cat­tle, and we all know that beef pro­duc­tion is extreme­ly abu­sive on the envi­ron­ment. They're bad actors, you know?
I was­n't jok­ing about hav­ing a max­i­mum wage. Why should­n't there be a max­i­mum wage? I remem­ber when Ford, GM and Chrysler came for $80 bil­lion to res­cue the Amer­i­can auto indus­try. Okay, well how much does the guy who runs Toy­ota make? Oh, he makes a few mil­lion a year. How much do you make? $28 mil­lion a year. Okay, stop right there, I'm going to tell you what your prob­lem is right there. Your inter­ests and the inter­ests of the com­pa­ny are not aligned. To you, the com­pa­ny is just some­thing like toi­let tis­sue, you wipe some with it and throw it away when you don't need it.
Where did you get that greedy? And how did you cre­ate a phi­los­o­phy that pro­tects your greed, so that if I say you should­n't be that greedy you get to call me a name? Because they do, they call us names because we say your incal­cu­la­ble greed is not accept­able. That's fine. We get to be called com­mu­nists when we say that about them. Why don't we call them what they are, which is avari­cious and greedy? And not tol­er­ate it? You can open up your com­pa­ny, you can even make a prof­it, but why do you have to make more than 21 times your aver­age work­er? The CEO of McDonald's. You're telling me they can't make it on … I don't know, if the work­ers are mak­ing $15 an hour…
Sarah: If.
Kei­th: You notice I said ​"if." Why can't the CEO make $300 an hour? That's still a lot. If you told them they only can make $1,000, they'd be like, ​"Oh no no." It's ridicu­lous. And this is the world we live in. And you know, one of the pan­elists was right. We don't even real­ly know who these peo­ple are. We don't know who they are. We don't encounter them.
Sarah: That's why we know who Mar­tin Shkre­li is. He becomes the face of it.
Kei­th: But we don't even encounter these peo­ple. Your aver­age work­ing-class per­son bust­ing out on $7.25, they know lawyers, because their son had one. They might even know a doc­tor, they go see the guy. But they don't know who owns McDonald's because they guy who owns McDon­ald's, he don't fly com­mer­cial, so there's no way that they were work­ing in the air­port and they saw the guy. Unless you work at Mar-A-Lago, you don't see these peo­ple. And so, we've got to fig­ure out a way to make them famous in a bad way.
Sarah: One of the most com­pelling moments that I've ever seen was being at the Wal­mart share­hold­ers meet­ing and watch­ing the work­ers con­front the CEO. And then the chair­man of the board ran.
Folks were talk­ing ear­li­er about peo­ple being afraid to talk about racism under Trump. I won­der if you have thoughts about how to do that with­out say­ing, like Hillary Clin­ton unfor­tu­nate­ly did, ​"half of these peo­ple are deplorables."
Kei­th: Most of us talk about racism from a very cap­i­tal­is­tic stand­point. And what I mean by that is racism is what work­ing-class white peo­ple do to work­ing-class black people.
What if you looked at racism anoth­er way? Racism is what the big boss­es use to manip­u­late every­body against each oth­er. That's anoth­er way of look­ing at it. Same kind of thing. But what does it prof­it a work­ing-class white per­son in the ante­bel­lum South to be for slav­ery? That's keep­ing you in pover­ty. But you say, you're white. We'll let you walk around in pover­ty, they've got to stay here. It's the clas­sic pit­ting of the have-nots against the have-very-lit­tles. And this is the way they do it.
My view is that we've got to engage in real con­ver­sa­tions with each oth­er. We've got to ask who ben­e­fits from all this racism. Who los­es? All of us! Because when Flori­da purged black vot­ers in the year 2000, the whole coun­try got George W. Bush, which led us into a war with absolute­ly no jus­ti­fi­ca­tion. The whole coun­try got a pre­scrip­tion drug ben­e­fit that enriched Big Phar­ma, this hap­pened to every­one of every col­or. Racism helps elites con­trol every­body else. There­fore, our fight has to be solidarity.
But we've got to do a lot of pub­lic edu­ca­tion to help every­body under­stand what's hap­pen­ing here. Why is it that the states we asso­ciate with the most intense racism are the south­ern old Con­fed­er­ate states and are also the poor­est states? But make no mis­take, they've got rich peo­ple in Alaba­ma, Mis­sis­sip­pi and Louisiana — very rich. But the rea­son they're able to main­tain that wealth is because every­body at the bot­tom is at each oth­er's throats.
Now I'm not say­ing that there's not racism in the upper Mid­west. There's plen­ty of racism in Min­neso­ta. I know that — I'm from there. And there is racism in Maine. I'm not try­ing to say these peo­ple are off the hook. But I'm say­ing that you show me a sec­tion of the coun­try that has the most inequal­i­ty, I'll show you the most racism. And that's just how it works. But I think we've got to look at it that way.
We all see the world from our own angle, right? We've got to do a lot of pub­lic edu­ca­tion, we've got to help peo­ple under­stand that these pup­pets have strings, man, and that we're being manip­u­lat­ed. But we've got to find the right lan­guage to do it. I think it's well with­in our pow­er, and the suc­cess of the pro­gres­sive move­ment depends upon it. We've got to learn how to talk to work­ing-class white peo­ple about racism and not get them so damn defen­sive that they don't even want to have a conversation.
And here's the oth­er thing — and I'm sor­ry for going on. In the pop­u­lar media, who is the racist? It's always the poor, igno­rant white per­son, it's always that guy. In March 2018, the chief racist in Amer­i­ca is Don­ald Trump, a bil­lion­aire who comes out of the chute talk­ing about how Mex­i­cans are rapists, Mus­lims are ter­ror­ists, black peo­ple are all bad, tweet­ing stuff about black peo­ple com­mit­ting crimes. Why is that? My the­o­ry is that if you do not active­ly pro­mote racism, it does­n't work as well. You have to pro­mote it, you have to make peo­ple sus­pect each oth­er, because if you don't it won't take. It does­n't self-per­pet­u­ate on its own: It is promoted.
Inter­views for Resis­tance is a project of Sarah Jaffe, with assis­tance from Lau­ra Feuille­bois and sup­port from the Nation Insti­tute. It is also avail­able as a pod­cast on iTunes. Not to be reprint­ed with­out permission.
Sarah Jaffe
is a for­mer staff writer at
In These Times
and author of
Nec­es­sary Trou­ble: Amer­i­cans in Revolt
, which Robin D.G. Kel­ley called ​
"
The most com­pelling social and polit­i­cal por­trait of our age." You can fol­low her on Twit­ter
@sarahljaffe
.