Meet the Nebraskans Who Could Stop Keystone XL (Again)
But TransCanada is intervening in the process in its own way.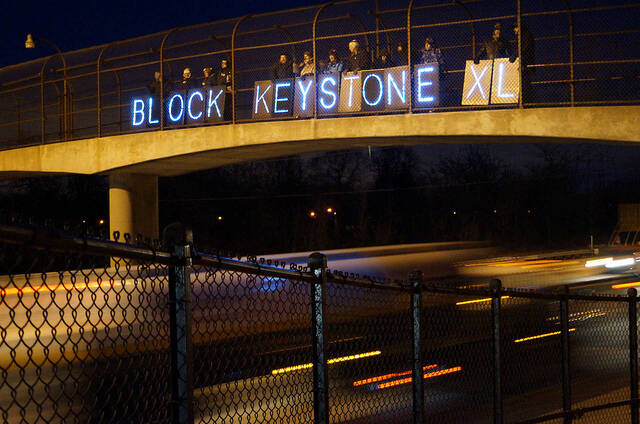 Thanks to a State Depart­ment-issued pres­i­den­tial per­mit, Don­ald Trump has for­mal­ly brought the Key­stone XL pipeline back from the dead, a move he claims will lead to a ​"new era of Amer­i­can ener­gy pol­i­cy." What Trump may not have fac­tored in is the obsta­cle posed to that pipeline by the res­i­dents of a state that vot­ed over­whelm­ing­ly for him in Novem­ber: Nebraska.
'When Trump had his big moment on TV, he had no clue that there are still proceedings in Nebraska that had to occur.'
As they have been before, Nebraskans are now in a posi­tion to dis­rupt both TransCanada's and the administration's plans, using many of the same tac­tics that defeat­ed the pro­posed 1,700-mile long pipe the first time around. Their fight has been waged on mul­ti­ple fronts over the last sev­er­al years, bal­anc­ing a legal strat­e­gy and fierce local oppo­si­tion with a nation­al resis­tance effort. With the pipeline back on the table, its oppo­nents are revving up for anoth­er series of showdowns.
Tak­ing a cue from the Dako­ta and Lako­ta Nation-led encamp­ment pitched in oppo­si­tion to the Dako­ta Access Pipeline last April, sev­er­al tribes nation­wide — includ­ing those whose land the project would pass through — are plan­ning to set up camp all along Key­stone XL's route. As Stand­ing Rock Sioux Chair­man Dave Archam­bault II put it, ​"While we con­tin­ue to fight DAPL in court, we will oppose Key­stone on all fronts as well."
"The Tribe has seri­ous con­cerns about the safe­ty and envi­ron­men­tal impacts of the pipeline," the Pon­ca Tribe said in a state­ment soon after the pipeline's approval. ​"Both the Tribe's present fed­er­al­ly rec­og­nized ter­ri­to­ry and its tra­di­tion­al and abo­rig­i­nal ter­ri­to­ry con­tain his­toric, cul­tur­al, sacred and archae­o­log­i­cal sites and resources. The con­struc­tion and oper­a­tion of the Key­stone XL Pipeline may dis­turb those sites, and may reveal and dam­age impor­tant Trib­al cul­tur­al patrimony."
Every route cur­rent­ly on the table for the Key­stone exten­sion would pass through Pon­ca ter­ri­to­ry in Nebras­ka, and the tribe has vowed to take on the pipeline. Among the venues where they plan to do that is the state's Pub­lic Ser­vice Com­mis­sion (PSC). Cur­rent­ly, the pipeline can't legal­ly be built through Nebras­ka, mean­ing that — even if the rest of the pipeline's route were built — Tran­scana­da wouldn't be able to pump Tar Sands oil through it and down to the Gulf of Mex­i­co. That deci­sion on whether it even­tu­al­ly can now rests with the state's five-mem­ber PSC.
Announc­ing the pipeline's approval, Trump ges­tured vague­ly to the bar­ri­ers it could face, say­ing sim­ply, ​"I'll call Nebras­ka." But its ulti­mate approval will require far more than a phone call.
"When Trump had his big moment on TV, he had no clue that there are still pro­ceed­ings in Nebras­ka that had to occur," Bri­an Jorde, an attor­ney at the Oma­ha-based Dom­i­na Law Group, told me by phone. ​"He has no pow­er on the state law issues. They're kind of clue­less on a nation­al level."
Pos­si­ble dangers
Over the next sev­er­al months, the PSC will delib­er­ate over whether to approve Tran­sCanada's appli­ca­tion, which seeks to allow the Cana­di­an oil giant to move ahead with pipeline con­struc­tion through Nebras­ka, across Pon­ca land and that of sev­er­al of the state's home­own­ers — whether they want it there or not.
The PSC has 210 days from the date when the appli­ca­tion was filed to make a rul­ing, mean­ing a final deci­sion is like­ly to come in mid-Sep­tem­ber. From there, the deci­sion could be extend­ed by anoth­er five months for ​"just cause." From March 30 through June 30, ​"inter­ven­ers" — peo­ple approved by the PSC to offi­cial­ly weigh in on the process — can request infor­ma­tion from Tran­sCana­da, accord­ing to Jorde. They will present that evi­dence along with live tes­ti­mo­ny to the PSC at a five-day pub­lic hear­ing, sched­uled to begin August 7 in Lincoln.
Jorde, who has worked on Key­stone-relat­ed cas­es with Dom­i­na for the last eight years, has been help­ing reg­is­ter inter­ven­ers, 130 of whom have been approved so far.
Rep­re­sen­ta­tives from the Pon­ca tribe will be joined in their inter­ven­tion by more than 90 landown­ers with prop­er­ties that fall along the pipeline's pro­posed route. In a move like­ly meant to chill oppo­si­tion to the pipeline, Repub­li­can PSC mem­ber Tim Schram issued an order recent­ly stat­ing tribes, envi­ron­men­tal groups and unions would have to com­bine their inter­ven­er sta­tus­es and choose one wit­ness each to rep­re­sent their issues. The landown­ers' cas­es will remain separate.
Jorde rep­re­sent­ed many of the same landown­ers in a pre­vi­ous law­suit, when — in 2011 — Tran­sCana­da first filed for emi­nent domain to run the pipeline through their prop­er­ty with­out con­sent. The com­pa­ny lost, and Jorde is still work­ing to col­lect the legal fees Tran­sCana­da now owes to the landown­ers involved in the suit.
Among them is farmer and retired teacher Art Tanderup, who was a plain­tiff in the first round of emi­nent domain law­suits and is now reg­is­tered as an inter­ven­er in the PSC process. He first got involved in fight­ing the pipeline after a Tran­sCana­da rep­re­sen­ta­tive showed up at his door and offered him a hefty sum in exchange for the right to bury the pipeline under his farm. Research­ing the project after that vis­it brought Tanderup to Bold Nebras­ka, an anti-pipeline group. His oppo­si­tion to Key­stone XL is about much more than its effect on the plan­et, though he's con­cerned about that, too.
Tanderup's farm lies on the Nebras­ka Sand­hills, and as a result has porous and sandy soil. ​"Basi­cal­ly it's a sponge," he tells In These Times, ​"and that sponge is the Ogalal­la Aquifer."
"Our well here at the farm that we drink water out of is 70 feet deep. Irri­ga­tion wells [for the Ogalal­la Aquifer] are 120 feet deep. The pipeline would be 50 feet deep," he said.
Any leak at all, then, has the poten­tial to seep quick­ly down into his water source and that of poten­tial­ly mil­lions of oth­er Nebraskans. And it's not as if leaks are uncom­mon, either. Accord­ing to the Pipeline and Haz­ardous Mate­ri­als Safe­ty Admin­is­tra­tion, there have been just short of 9,000 sig­nif­i­cant pipeline-relat­ed inci­dents in the Unit­ed States, result­ing in 548 deaths, 2,576 injuries and more than $8.5 bil­lion in damages.
As a farmer, such leaks are espe­cial­ly risky to Tanderup's prop­er­ty. Were one to hap­pen, he says, ​"We would not be able to have drink­ing water here or water for farm­ing. I do no-till farm­ing, which builds up top­soil over time. I have been doing that for 13 years. A leak would ruin every­thing we've gained in those 13 years."
Even if the pipeline remains leak-free, there are oth­er dan­gers. Tar sands oil is able to flow through pipelines with the help of a chem­i­cal mix­ture. The fric­tion between the two sub­stances with­in the pipe cre­ates con­sid­er­able heat.
"In the win­ter­time that ground won't freeze, and will cre­ate a haven for insects and oth­er crit­ters that will be able to mul­ti­ply," Tanderup says, and eat into his crops in warmer months. In addi­tion to his par­tic­i­pa­tion in legal pro­ceed­ings against Tran­sCana­da, Tanderup has also opened his farm up to serve as a site of anti-pipeline resis­tance, host­ing music fes­ti­vals and crop art cre­ations. His land also lies along the Pon­ca Trail of Tears, and on Memo­r­i­al Day he and sev­er­al Pon­ca elders will par­tic­i­pate in plant­i­ng Pon­ca Sacred Corn there — in memo­ri­am and as a show of defi­ance to TransCanada.
Land­mark fight for the fos­sil fuel industry
Pre­dictably, Tran­sCana­da is inter­ven­ing in the process in its own way. Since the PSC is a major­i­ty-Repub­li­can body, one of the company's main strate­gies has been to try and exert influ­ence over the state's GOP. Through an Amer­i­can sub­sidiary, the Colum­bia Pipeline Group, Tran­sCana­da poured $20,000 into Nebraska's Repub­li­can Par­ty on Feb­ru­ary 8. The sum adds to the $925,000 the com­pa­ny has con­tributed to lob­by­ing efforts in that state over the last five years.
While its back­ers have accused envi­ron­men­tal­ists of ​"politi­ciz­ing" the project, Key­stone XL has become a land­mark fight for the fos­sil fuel indus­try. The Koch Broth­ers are said to have a $100 bil­lion stake in the project's com­ple­tion thanks to their hold­ings in the Alber­ta Tar Sands, and have spent at least $50 mil­lion lob­by­ing Con­gress to push it through. As of 2013, the Amer­i­can Petro­le­um Insti­tute, the main lob­by­ing arm of the fos­sil fuel indus­try, had spent $22 mil­lion. The invest­ment has bared some fruit for the indus­try in the most recent phase of the pipeline fate, with 33 of 49 of Nebraska's state sen­a­tors sign­ing a let­ter urg­ing the PSC to approve the project.
The rea­son behind the lob­by­ing weight is that Key­stone is now a more high-stakes propo­si­tion for oil majors than ever. As of late 2016, a full 35 per­cent of ExxonMobil's liq­uid hold­ings sat in Canada's oil sands, known as the ​"tar" sands because of the thick­ness of the oil extract­ed there. The com­po­si­tion of tar sands oil also makes it more dif­fi­cult to get to mar­ket, mean­ing that Exxon is reliant on some cost-effec­tive way to trans­port it down to refiner­ies in Texas — name­ly, pipelines. With­out one, those hold­ings become what are known as ​"strand­ed assets," assets fig­ured into the total val­ue of oil and gas com­pa­nies that are unable to be realized.
Exxon and oth­er oil giants have more rea­sons to be wor­ried than one pipeline's approval, though. Key­stone XL was dreamed up to serve an oil mar­ket that no longer exists. It's rel­e­vance to today's ener­gy land­scape remains an open question.
While Trump's embrace of fos­sil fuels has cer­tain­ly giv­en it a shot in the arm, the price of oil remains well below its boom-time heights in 2014. Despite a recent ral­ly, prices have float­ed around $50 per bar­rel since last spring. To put that in per­spec­tive, when the project was first being dis­cussed in 2011, prices soared to as high as $122 per bar­rel — the high­est they had been since before the Great Recession.
Because of low prices, no new oil sands projects have been approved since the mar­ket col­lapsed in 2014, save for three small pilot projects that were green lit after last year's slight recov­ery. TransCanada's con­tin­ued insis­tence on com­plet­ing the project now is essen­tial­ly a mul­ti-bil­lion-dol­lar gam­ble on oil prices soar­ing more quick­ly and dra­mat­i­cal­ly than oil indus­try ana­lysts pre­dict they will. (Extract­ing oil at all from Canada's Tar Sands, a high­ly cap­i­tal-inten­sive project, only became viable once prices rose above $70 in 2005.)
The project's now-shaky eco­nom­ic foun­da­tions are part of the rea­son behind a nation­al law­suit being filed by six envi­ron­men­tal groups. The Sier­ra Club, the Bold Alliance and oth­ers are con­tend­ing that the State Depart­ment approved the pipeline based on a ​"woe­ful­ly out-of-date" analy­sis about its eco­nom­ic and envi­ron­men­tal impact, in vio­la­tion of the Nation­al Envi­ron­men­tal Pol­i­cy Act (NEPA). The Indige­nous Envi­ron­men­tal Net­work and North Coast Rivers Alliance recent­ly filed a sim­i­lar suit seek­ing an injunc­tion on any con­struc­tion. And yet anoth­er suit, by sev­er­al con­ser­va­tion groups and the North­ern Cheyenne Native Amer­i­can Tribe of Mon­tana, argues that the State Department's approval of the Key­stone XL con­sti­tutes a vio­la­tion of the NEPA.
"They're not doing us any favors by com­ing through Nebras­ka," said Jorde. ​"We are phys­i­cal­ly and geo­graph­i­cal­ly in the way between Alber­ta and Houston."
For the fore­see­able future, Nebraskans — joined by allies from around the coun­try — are going to use that place­ment to their advantage.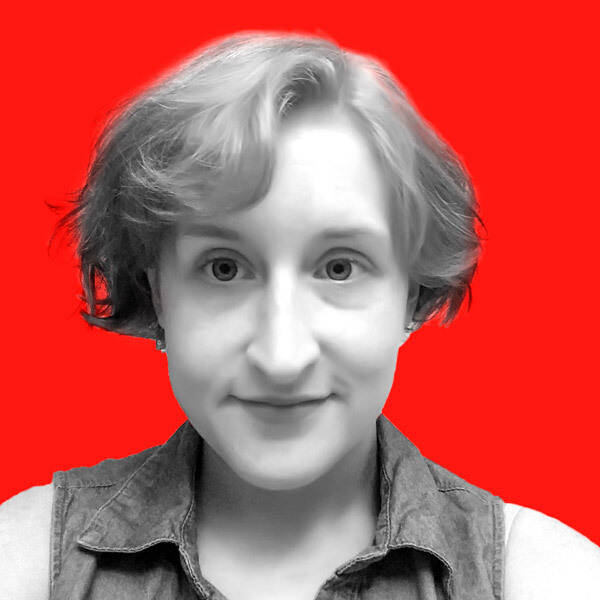 Kate Aronoff
is a Brook­lyn-based jour­nal­ist cov­er­ing cli­mate and U.S. pol­i­tics, and a con­tribut­ing writer at The Inter­cept. Fol­low her on Twit­ter @katearonoff.