'Meet Us on the Streets:' Week of Action Challenges Street Harassment Worldwide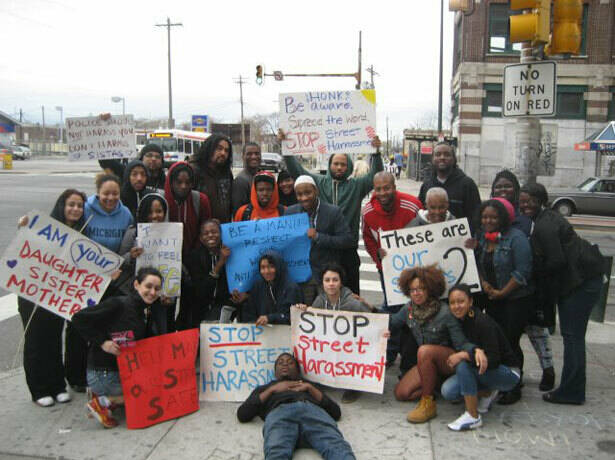 This week, women and allies around the world are mark­ing the sec­ond annu­al Anti-Street Harass­ment Week of Aware­ness, a cam­paign to raise the vis­i­bil­i­ty of and chal­lenge cat­calls, sex­ist com­ments, flash­ing, grop­ing, stalk­ing and assault as forms of gen­der-based violence.
In a 2008 sur­vey done by the group Stop Street Harass­ment, which orga­nized the week, more than 99 per­cent of female respon­dents report­ed that they had expe­ri­enced some form of street harassment.
Last year, SSH founder Hol­ly Kearl orga­nized the first Anti-Street Harass­ment Day. She was hop­ing to have a mod­est reac­tion of about 500 par­tic­i­pants, but was sur­prised to see the event grow before her eyes. In response to the 2011 event, Simone Leid, founder of the Wom­en­Speak Project in Trinidad and Toba­go, told Kearl:
Being part of an inter­na­tion­al effort added cred­i­bil­i­ty to the cause and showed that it was not just a cul­tur­al idio­syn­crasy as many believe, but a glob­al gen­der dis­crim­i­na­tion issue.
In 2011, Kearl saw the impor­tance of the event, and fore­cast­ed:
Each year, I know it will be big­ger, with more par­tic­i­pants and events, as we col­lec­tive­ly refuse to be silent about this per­va­sive prob­lem and decide to take action, share our sto­ries and demand its end.
The cam­paign this year spread to about 100 co-spon­sor­ing groups, rep­re­sent­ing 21 coun­tries, where peo­ple were invit­ed to par­tic­i­pate and share their sto­ries both online and offline at events includ­ing walks, art exhibits and more:
In Brus­sels – Fem­i­nist group Hol­laback girls par­tic­i­pat­ed in a chalk walk, in which they reclaimed the streets they had been har­rassed on by writ­ing mes­sages in chalk. They wrote on their Face­book page:
​"What we dis­cov­ered was that writ­ing with chalk on the side­walk, on the street, on the bridge, telling Brus­sels: ​"I was harassed here' ​'I reclaim the street' is a pow­er­ful, lib­er­at­ing rit­u­al and an amaz­ing hollaback!"
In New York – The Cen­ter for Anti-Vio­lence Edu­ca­tion and New York City Coun­cil mem­bers host­ed a self-defense class aimed at pre-teen women. The Win­dow Sex Pro­ject also pre­miered as a part of a full week sched­ule in New York. The dance-the­atre work brings to light the ​"win­dow-shop­ping," harass­ment that women face, by plac­ing women on dis­play and forc­ing the audi­ence to deal with the objec­ti­fi­ca­tion of women in soci­ety. The many events all cul­mi­nat­ed with a ral­ly on the final day of the week.
In Yemen – Safe Streets cam­paign col­lect­ed women's sto­ries about street harass­ment and dis­trib­uted book­lets to gov­ern­ment and orga­ni­za­tions, with a goal ​"to uni­fy our voic­es with the oth­er campaign[s] to tell the world in one voice Stop Sex­u­al Harass­ment," accord­ing to the group's founder, Ghaidaa Alabsi.
In Chen­nai – Women par­tic­i­pat­ed in Snap Your Fear, in which peo­ple were invit­ed to con­tribute to pho­tos of where they had wit­nessed or expe­ri­enced harass­ment on the street, to aid in the process of over­com­ing fears, while simul­ta­ne­ous­ly map­ping out unsafe pub­lic spaces.
In Ger­many – Soc­cer is wide­ly pop­u­lar in Ger­many, so mem­bers of ProChange dis­trib­uted ​"red cards" against sex­ism in pub­lic places, such as pubs and bus­es. They also passed out spe­cial beer mats that describe the types of sex­ism that take place.
In Wash­ing­ton, DC – An art exhib­it was on dis­play at the Muse­um of Con­tem­po­rary Art, show­cas­ing sub­mi­sions from around the world about peo­ples' expe­ri­ences with street harassment.
On the Web – ​"Shit Men Say to Men Who Say Shit to Women on the Street" video went viral, rid­ing the wave of the pop­u­lar video meme. This video, rather than just high­light­ing things peo­ple say mod­els ways for men to com­bat street harass­ment when they wit­ness it. Dur­ing Anti-Street Harass­ment Week, the video gained more than 150,000 views in less than 72 hours.
Occu­py Bal­ti­more also par­tic­i­pat­ed spread­ing the word for Anti-Street Harass­ment week with mud sten­cils, using art as a medi­um to pub­li­cize the issue.
After the release of Hot Chicks of Occu­py Wall Street video, and the reports of sex­u­al assault in Zucot­ti Park late last year, there has been increas­ing focus on inter­nal sex­ism with­in the movement.
Lind­sey Kra­tochwill
, an In These Times edi­to­r­i­al intern, is stu­dent at North­west­ern University's Medill School of Journalism.