Mental Health First Aid is Important in an Era of Climate Disaster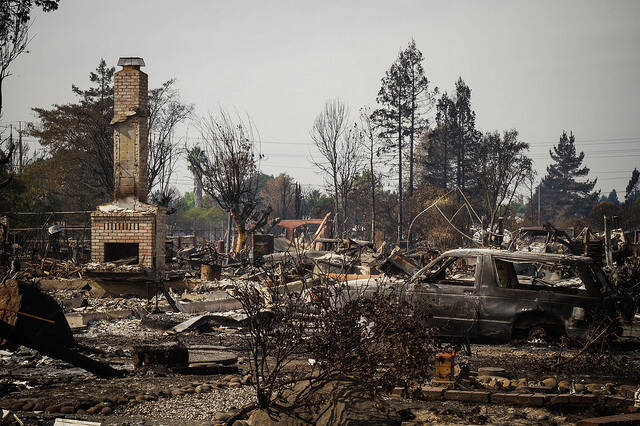 It's late spring, and I'm hik­ing Sug­ar­loaf Ridge State Park in Sono­ma Coun­ty with ther­a­pist, ecopsy­chol­o­gist, and Cal­i­for­nia nat­u­ral­ist Mary Good. A mist is drift­ing down, and we have the park most­ly to our­selves. In Octo­ber 2017, 80 per­cent of Sugarloaf's 3,900 acres of oak wood­lands were scorched by the firestorms in California's North Bay. But today, most of what stretch­es out before us is green and vibrant, brushed with the last signs of a wild­flower superbloom that erupt­ed from the ash ear­li­er this spring.
A dozen miles west in San­ta Rosa, con­trac­tors are rebuild­ing some of the more than 5,000 homes destroyed there. The last of 2.2 mil­lion tons of fire debris has been hauled away from the 383 square miles of charred land in the region. And ther­a­pists like Good con­tin­ue see­ing fire sur­vivors pro bono, help­ing them nav­i­gate the after­math of the disaster.
"It was an absolute trau­ma for every­body involved. The fire is over, but the grief may last a long time," Good says. ​"We live in a time where these nat­ur­al dis­as­ters are going to be hap­pen­ing more and more. How do you devel­op resilience? What do you do to feel like you can be safe in the world again?"
Devel­op­ing that resilience seems cru­cial. Accord­ing to cli­mate research from NASA, we can expect more droughts, stronger and more intense hur­ri­canes, and big changes in pre­cip­i­ta­tion patterns.
As cli­mate change-relat­ed dis­as­ters become more com­mon, there is a crit­i­cal need to address the men­tal health of sur­vivors after a cat­a­stro­phe. San­ta Rosa res­i­dents — and the greater Sono­ma Coun­ty com­mu­ni­ty — rushed in to offer sup­port ser­vices through pop-up holis­tic clin­ics, men­tal health edu­ca­tion, and free coun­sel­ing ser­vices. It's a response that may help oth­er com­mu­ni­ties cope with future disasters.
The mag­ni­tude and chaos of the North Bay fires left local gov­ern­ment and non­prof­it orga­ni­za­tions over­whelmed—the fires plowed through sev­er­al neigh­bor­hoods overnight, send­ing more than 4,000 peo­ple to 43 shel­ters at the peak of the fires. The Red Cross and local orga­ni­za­tions offered psy­cho­log­i­cal first aid, an emer­gency response tac­tic defined by the World Health Orga­ni­za­tion as ​"humane, sup­port­ive, and prac­ti­cal help to fel­low human beings suf­fer­ing seri­ous cri­sis events."
Nation­al pro­grams can help address people's men­tal health needs dur­ing dis­as­ters like these fires and in the imme­di­ate after­math, for exam­ple, the Dis­as­ter Dis­tress Helpline — a con­fi­den­tial, nation­al 24⁄7 call and text service.
Chris­t­ian Burgess, the Helpline's direc­tor, says that most calls dur­ing dis­as­ters are from peo­ple feel­ing over­whelmed and anx­ious, seek­ing infor­ma­tion about the event.
"Dur­ing the long term recov­ery … we start to see deep­er men­tal health con­cerns from callers and tex­ters, such as per­sis­tent anx­i­ety; depres­sion; and sub­stance abuse, which can be relat­ed to trau­mat­ic expo­sure dur­ing the event; loss of loved ones, includ­ing pets; and finan­cial strain," Burgess says.
Oth­er orga­ni­za­tions in Sono­ma Coun­ty took a more grass­roots approach to offer support.
Tré Vasquez is a youth orga­niz­er at the North Bay Orga­niz­ing Project, a San­ta Rosa-based non­prof­it that orga­nizes work­ing-class and minor­i­ty com­mu­ni­ties to build polit­i­cal power.
When the fires erupt­ed, Vasquez and his team mobi­lized quick­ly, col­lab­o­rat­ing with local church­es, herbal­ists, acupunc­tur­ists, ances­tral heal­ers, coun­selors, and com­mu­ni­ty vol­un­teers to launch com­mu­ni­ty heal­ing events called Sanación del Pueblo ("The People's Heal­ing") to sup­port those impact­ed by the fires, espe­cial­ly the region's large immi­grant population.
The first event was host­ed with­in days. In the fol­low­ing weeks and months, Sanación del Pueblo pro­vid­ed phys­i­cal and emo­tion­al sup­port, refer­rals, and meals, and donat­ed res­pi­ra­tors to near­ly 600 peo­ple. The events have been host­ed at a com­mu­ni­ty gar­den, a local Uni­tar­i­an church, and a branch of the Sono­ma Coun­ty Library in a large­ly work­ing-class and Lat­inx neigh­bor­hood of San­ta Rosa. Vasquez says the events are still offered on a quar­ter­ly basis and include peo­ple of all ages shar­ing meals or chat­ting while they wait for their turn at mas­sage tables, coun­sel­ing ses­sions, or limpias—tra­di­tion­al Mex­i­can spir­i­tu­al healings.
Accord­ing to Vasquez, Sanación del Pueblo cen­ters peo­ple who have been his­tor­i­cal­ly under­served by med­ical providers, includ­ing undoc­u­ment­ed immi­grants, women and trans peo­ple, those with exist­ing men­tal health con­cerns, and oth­ers at risk of being left out of emer­gency response services.
Oth­er local orga­ni­za­tions stepped up to pro­vide emer­gency relief after the fires. In cen­tral San­ta Rosa, the Lomi Psy­chother­a­py Clin­ic — a slid­ing-scale out­pa­tient men­tal health clin­ic — opened their doors to fire sur­vivors imme­di­ate­ly, adver­tis­ing drop-in ser­vices over local radio to draw peo­ple in.
Thomas Pope, Lomi's co-founder and clin­i­cal direc­tor, says they have seen about 50 new clients in their fire sur­vivor pro­gram. The pro­gram offers free and reduced-fee coun­sel­ing ser­vices and was par­tial­ly fund­ed by the North Bay Fire Fund, which raised over $32 mil­lion in four months after the fires. Pope and his staff of rough­ly 30 ther­a­pists hope to pro­vide ser­vices to sur­vivors for as long as they need them.
"What we know is that three months to a year after a dis­as­ter is when the most need hap­pens; that's why we want to keep this going," Pope says. ​"I think it's going to be quite a while until this com­mu­ni­ty finds its way out of this ini­tial stage of shock."
Pope's advice to oth­er com­mu­ni­ties respond­ing to large-scale dis­as­ters echoes NBOP's actions: Cre­ate safe places for peo­ple to go where they will have con­nec­tions with oth­ers and pos­i­tive activ­i­ties to focus on. He says that find­ing a bal­ance between dis­cussing what hap­pened and engag­ing in activ­i­ties that bring plea­sure and nour­ish­ment is key.
"Look­ing at dis­as­ters and the wide range of trau­mat­ic response, it's real­ly good for our com­mu­ni­ties to know that there is a huge range of response," Pope says. ​"And it's impor­tant to attend to all of it."
Pope says that pro­vid­ing ser­vices as soon as pos­si­ble should also be pri­or­i­tized. Imme­di­ate­ly after a dis­as­ter, peo­ple need help nav­i­gat­ing resources, calm­ing them­selves, and prob­lem-solv­ing — all key aspects of psy­cho­log­i­cal first aid. For sur­vivors, hav­ing trau­ma val­i­dat­ed and find­ing a sup­port­ive envi­ron­ment quick­ly can be crit­i­cal for long-term well-being.
"And we real­ly need to learn in recov­ery, to be able to shift atten­tion away from dif­fi­cult things to what's work­ing well: love, con­nec­tion, beau­ty, and joy," Pope says. ​"I don't want to sound cal­lous at all, because in the mid­dle of trau­ma, we can't always do that. But in the short range we also need to learn how to get out of the well of despair and find good­ness, also. And that's what we saw in this com­mu­ni­ty: There's an amaz­ing amount of good­will and care and love and good­ness. That's part of recov­ery: being able to allow that sup­port and to inter­nal­ize the care that is here."
Through­out Sono­ma Coun­ty, oth­er sup­port net­works have sur­faced, includ­ing free trau­ma-informed yoga class­es, sup­port groups through hos­pice orga­ni­za­tions, brown-bag lunch dis­cus­sions, pre­sen­ta­tions on how to rec­og­nize and sup­port loved ones with post-trau­mat­ic stress dis­or­der, and holis­tic health care providers offer­ing free ser­vices. But as the land regen­er­ates and homes are rebuilt, the trau­mat­ic mem­o­ries and uncer­tain­ty of being unhoused remain painful real­i­ties for many.
David Leal, a U.S. Navy vet­er­an, uti­lized many of these ser­vices imme­di­ate­ly after he and his wife lost their home of 10 years — in the Cof­fey Park neigh­bor­hood of San­ta Rosa. He attend­ed a free yoga class for fire sur­vivors three days after the fires started.
"The instruc­tor was very com­pas­sion­ate and offered her sup­port at no cost," Leal says. ​"It was my first les­son in receiv­ing help."
Leal also attend­ed the first Sanación del Pueblo event, where he received a free mas­sage and herbal sup­ple­ments that he con­tin­ues using today. He also con­tin­ues a reg­u­lar yoga prac­tice and has received free and low-cost acupunc­ture and herbal sup­ple­ments that have helped him immense­ly with the ser­vice-relat­ed PTSD that was reignit­ed after los­ing his home.
"The fire trig­gered a lot of old stuff that I had expe­ri­enced all the way back to child­hood. The great­est chal­lenge has been loss of sleep due to dreams and night­mares of so many dif­fer­ent painful episodes from my past," Leal says. ​"But between yoga prac­tice and chats with my Navy psych friend — and the herbs — I've been able to recov­er from the sleep­less nights."
He says that the ear­ly sup­port has helped him to be calm, espe­cial­ly as he deals with the stress and red tape of rebuild­ing his home.
"We have a moment right now that's real­ly call­ing upon us to fig­ure out how we're going to return to liv­ing in a good and bal­anced way," Vasquez says. ​"We can cre­ate spaces in which the way that we care for each oth­er is a glimpse into the world as it should be. Or as we hope for it to be, as we mean for it to be."
Back at Sug­ar­loaf Ridge, Good says that com­mu­ni­ty train­ing and plan­ning before dis­as­ter strikes is a must as com­mu­ni­ties look toward adapt­ing to the new nor­mal of cli­mate cat­a­stro­phes. She says that con­nect­ing with nature, even after a dis­as­ter of this scale, is crit­i­cal, recount­ing sto­ries of fire sur­vivors regain­ing hope when the scorched land showed signs of regrowth. Yet she acknowl­edges that sur­vivors face long roads to recovery.
"Putting an entire life back togeth­er — it just stops peo­ple in their tracks," Good says. ​"Where do you even begin? How do you pick a point and start?"
The light rain is let­ting up at the park, and Good is excit­ed about show­ing me a large bay tree that was bad­ly dam­aged by The Nuns Fire. A hole has been burned through its trunk, but there is new growth sprout­ing around its black­ened base, and leaves are spring­ing out from its branches.
"It's such an amaz­ing exam­ple of how you can be burned through to your core both lit­er­al­ly and metaphor­i­cal­ly, and even after being burned through to the core, [the tree] still leafed out this spring," she says. ​"It's a great exam­ple of indi­vid­ual and com­mu­ni­ty regeneration."
("What Wild­fires Do to Our Minds" first appeared inYes!)
Dani Burli­son
is a writer in San­ta Rosa, Cal­i­for­nia. She is the author of Den­drophil­ia and Oth­er Social Taboos: True Sto­ries and the Lady Parts series. She has been a staff writer at a Bay Area alt-week­ly, a book review­er for Los Ange­les Review and a reg­u­lar con­trib­u­tor to many pub­li­ca­tions. When she's not writ­ing or teach­ing writ­ing class­es at a local com­mu­ni­ty col­lege and in var­i­ous oth­er pro­grams, Dani is study­ing, using, and teach­ing on the top­ic of herbal medicine.