A few hun­dred yards from the Mex­i­can bor­der in south­ern Ari­zona lies a qui­et pond, about the size of two foot­ball fields, called Quito­baquito. About 10 miles to the east, heavy machin­ery grinds up the earth and removes veg­e­ta­tion as con­struc­tion of Pres­i­dent Trump's vaunt­ed bor­der wall advances toward the oasis.
I'm a his­to­ri­an and have stud­ied Quito­baquito for six years. When I first start­ed writ­ing about this area, it was remote and lit­tle known, even though the land is part of Organ Pipe Cac­tus Nation­al Mon­u­ment. But for the last few months, the park has head­lined nation­al news.
This spot is an occa­sion­al cross­ing point for trans­bor­der migrants, and some of the wall's first stretch­es will tra­verse the nation­al mon­u­ment with­in steps of Quito­baquito. Many observers fear that the thir­ty-foot wall with night­time flood­light­ing will harm wildlife, low­er the water table and destroy archae­o­log­i­cal trea­sures. Crowds are vis­it­ing the site to protest the con­crete and steel bar­ri­er.
Trump's promise to build a wall began as a rhetor­i­cal flour­ish dur­ing the 2016 pres­i­den­tial cam­paign. But in May 2019, his admin­is­tra­tion announced that it would waive 41 laws to con­struct a high bar­ri­er. I believe this project could destroy an area with a diverse, mul­ti­cul­tur­al his­to­ry that chal­lenges today's bor­der debates.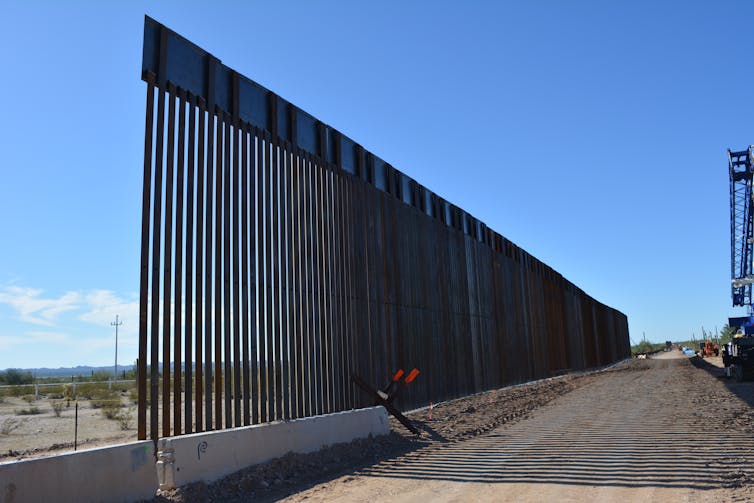 This pho­to shows bor­der wall con­struc­tion in Organ Pipe Cac­tus Nation­al Mon­u­ment in Novem­ber 2019. ( Pho­to by Jared Orsi)
Eras­ing cultures
In my research on Quito­baquito, I've noticed that while its waters have attract­ed a wide array of peo­ples for more than 10,000 years, each wave of new­com­ers tends to erase the evi­dence of those who came before them.
Begin­ning in the late sev­en­teenth cen­tu­ry, Span­ish mis­sion­ar­ies tried to entice native peo­ples in this area to aban­don their tra­di­tions in favor of Chris­t­ian agri­cul­tur­al life. Then, in the ear­ly twen­ti­eth cen­tu­ry, Amer­i­cans con­fined indige­nous peo­ples to reser­va­tions. For most of the 20th cen­tu­ry, the Nation­al Park Ser­vice man­aged this swath of south­ern Ari­zona as an unin­hab­it­ed wilderness.
These actions have erased Quitobaquito's his­to­ry. The bor­der project is the lat­est phase of this rewrite.
A farm that strad­dled the line
Here's some back sto­ry on the diverse cul­tures that have occu­pied this oasis.
Around 1860, a new­com­er from Geor­gia named Andrew Dorsey dammed and enlarged the pond, and a small agri­cul­tur­al set­tle­ment grew at Quito­baquito. M.G. Levy, the Ger­man-edu­cat­ed son of a Jew­ish immi­grant, kept a small store there, employ­ing a French shop­keep­er and doing busi­ness with Amer­i­can and Mex­i­can sup­pli­ers. Chi­nese and Japan­ese migrants stopped there after cross­ing the bor­der from Mex­i­co to evade America's Asian exclu­sion laws.
Some­time in the 1880s, Luis Oroz­co brought his fam­i­ly to Quito­baquito. They iden­ti­fied as mem­bers of the nomadic indige­nous group Hia C'ed O'odham, who had moved through­out south­ern Ari­zona and north­ern Sono­ra long before there was a bor­der. But their sur­name attest­ed to gen­er­a­tions of colo­nial His­pani­ciza­tion of the region's native peoples.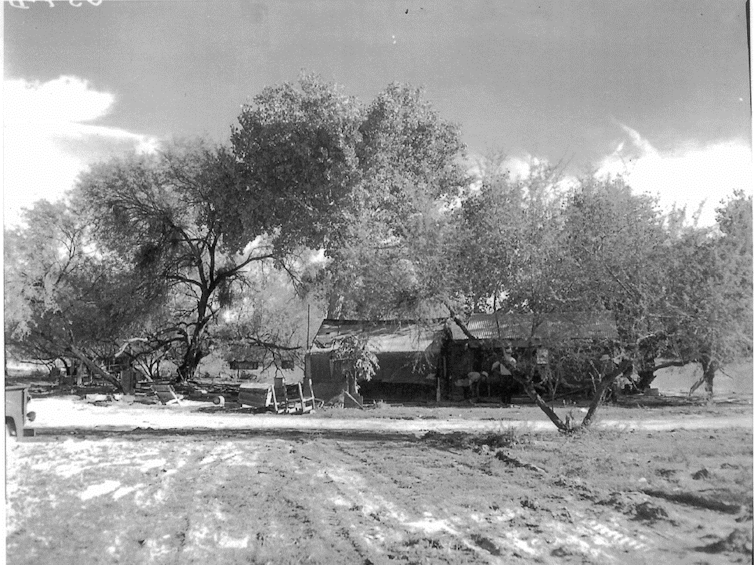 The Oroz­co home­stead, which spanned the U.S.-Mexico bor­der in what became Organ Pipe Nation­al Mon­u­ment, was demol­ished by the Nation­al Park Ser­vice in the late 1950s. (Pho­to cour­tesy of Nation­al Park Service)
For three gen­er­a­tions, the Oroz­cos home­stead­ed a plot that spanned the U.S.-Mexico bor­der. They tend­ed live­stock, built struc­tures and dug wells. Using a net­work of ditch­es, they plant­ed and irri­gat­ed mel­ons, figs, pome­gran­ates and oth­er non-native species. Like every­one else, they cut trees for fire­wood, fenc­ing, and con­struc­tion and hunt­ed wild ani­mals for food and mate­ri­als. Nobody got rich, but they got by.
Whose land?
Over time, almost every­body but the Oroz­cos drift­ed away from Quito­baquito. But the fam­i­ly still lived there in 1937, when the U.S. gov­ern­ment des­ig­nat­ed Organ Pipe Cac­tus Nation­al Mon­u­ment. Luis's son Jose Juan and grand­son Jim were farm­ing on pub­lic lands, but they could not prove title to the land or doc­u­ment their cit­i­zen­ship in either the U.S. or Mexico.
Nation­al Park Ser­vice offi­cials believed that the ram­shackle Oroz­co home­stead under­mined the wilder­ness ideals that had inspired des­ig­na­tion of the area as a nation­al mon­u­ment. They harassed the fam­i­ly for cut­ting wood, con­struct­ing build­ings and hunt­ing deer – long­stand­ing prac­tices that now vio­lat­ed park rules.
After an out­break of hoof-and-mouth dis­ease in the mid-1940s, the agency began to fence the bor­der to keep out Mex­i­can cat­tle. The bar­ri­er sev­ered the Oroz­co homestead.
Through a white ranch­er friend, Jim Oroz­co enlist­ed the aid of U.S. Sen. Carl Hay­den, an Ari­zona Repub­li­can, who bro­kered a com­pro­mise: The Park Ser­vice built a gate allow­ing the fam­i­ly to move back and forth across the bor­der. A decade lat­er, in 1957, the gov­ern­ment bought the Oroz­cos' inter­est for $13,000 and then bull­dozed their buildings.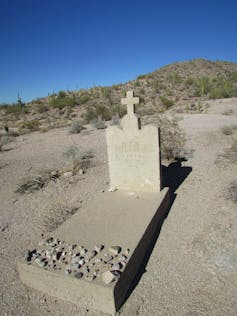 The grave site of Loren­zo Ses­ti­er, a French shop­keep­er who worked at M.G. Levy's gen­er­al store in the late-1800s, over­looks Quito­baquito. (Pho­to by Jared Orsi)
By the 1970s, nation­al sen­ti­ment start­ed to place greater val­ue on his­toric preser­va­tion – espe­cial­ly of ordi­nary, or ver­nac­u­lar, land­scapes like the Oroz­cos' home­stead. In response, Organ Pipe Nation­al Mon­u­ment began spon­sor­ing arche­o­log­i­cal and his­tor­i­cal stud­ies of Quitobaquito.
The park restored the graves of the Oroz­cos and oth­er indige­nous peo­ple who had lived at the oasis. Today it works with Hia C'ed O'odham and Tohono O'odham tribes to pro­vide access to Quito­baquito and the nation­al mon­u­ment for cer­e­mo­ni­al pur­pos­es and col­lec­tion of plants.
His­to­ry resists caricatures
Today, iron vehi­cle bar­ri­ers and the dust and rum­ble of Bor­der Patrol trucks intrude on vis­i­tors' expe­ri­ence at Quito­baquito. The site lacks signs or his­tor­i­cal mark­ers, and the park's vis­i­tor cen­ter does not detail the pond's his­to­ry. The Oroz­cos' sto­ry is hard to discern.
But I believe Quitobaquito's his­to­ry is worth pre­serv­ing. It reveals an Amer­i­can past pop­u­lat­ed by peo­ple who do not fit into cur­rent rhetor­i­cal box­es – Indi­an home­stead­ers, fam­i­lies liv­ing on both sides of the bor­der, white ranch­ers who pro­tect indige­nous resource use and Repub­li­can Sen­a­tors defend­ing the rights of Ari­zo­nans who can't prove their cit­i­zen­ship. These sto­ries are part of this site – and they are incom­pat­i­ble with a wall.
Edi­tor's Note: This arti­cle is repub­lished from The Con­ver­sa­tion under a Cre­ative Com­mons license. Read the orig­i­nal arti­cle.