On Michael Harrington's Democratic Socialism
Maurice Isserman's biography of Harrington depicts a fierce lifelong advocate for democratic socialism who butted heads with the New Left but never wavered in his commitment to economic justice.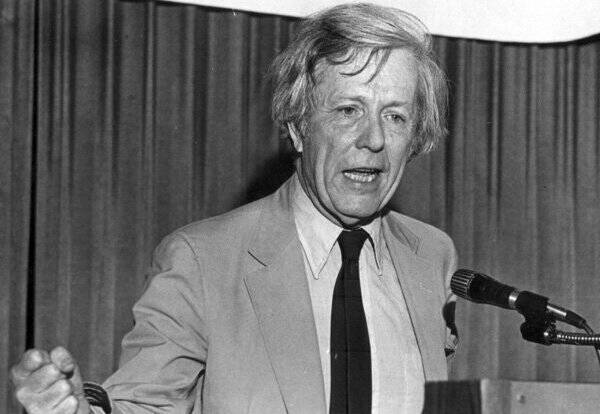 From the July 2000 issue of In These Times:
Harrington's relentless focus on economic issues, his moral seriousness, his "visionary gradualism," his "pragmatic radicalism," represent, to Isserman, the road not taken for the American left.
When Michael Har­ring­ton worked in the Catholic Work­er move­ment as a 23- year-old in the ear­ly ​'50s, young staffers used to joke that they were in pur­suit of saint­hood. Har­ring­ton came close; near the end of his life, he became ​"a kind of sec­u­lar Saint Fran­cis of Assisi," in the words of his biog­ra­ph­er, Mau­rice Isser­man. But Har­ring­ton nev­er grew accus­tomed to saint­hood, even the sec­u­lar variety.
His posi­tion as a lone voice of con­science speak­ing out against Rea­gan­ism remind­ed him of how irri­tat­ed his men­tor, Nor­man Thomas, had been in the posi­tion of ​"a social­ist who threat­ened no one and noth­ing … who could be revered on cer­e­mo­ni­al occa­sions and cit­ed to prove the coun­try was gen­uine­ly tol­er­ant and demo­c­ra­t­ic." Assess­ing his own life, Har­ring­ton wor­ried that he would be remem­bered only as ​"a less­er Nor­man Thomas." It was a pre­scient, if damn­ing, bit of self-analy­sis. At the end of his new biog­ra­phy of Har­ring­ton, The Oth­er Amer­i­can, Isser­man con­cludes that this char­ac­ter­i­za­tion was, unfor­tu­nate­ly, just about right.
Michael Har­ring­ton — author of The Oth­er Amer­i­ca and founder of Demo­c­ra­t­ic Social­ists of Amer­i­ca — makes a per­plex­ing bio­graph­i­cal sub­ject. He may have been ​"the heir to Eugene Debs and Nor­man Thomas as Amer­i­ca's fore­most social­ist," but only long after the Social­ist Par­ty had ceased to have any influ­ence on nation­al affairs. He opposed Com­mu­nism in the ​'50s, and in the ​'60s he did not sup­port the anti-war move­ment. He nev­er held a posi­tion of influ­ence in any large insti­tu­tion. The Oth­er Amer­i­ca is a mov­ing book, but Har­ring­ton's rep­u­ta­tion as ​"the man who dis­cov­ered pover­ty" is wild­ly over­rat­ed, and his actu­al influ­ence on the War on Pover­ty leg­is­la­tion was neg­li­gi­ble. Even Isser­man's open­ing quote — from the E.M. Forster nov­el Howard's End — sug­gests the dif­fi­cul­ty of writ­ing about some­one like Har­ring­ton: ​"With infi­nite effort we nerve our­selves for a cri­sis that nev­er comes."
Yet The Oth­er Amer­i­can is more than a well-writ­ten biog­ra­phy or an ele­gant, bal­anced study of the hid­den recess­es of the post­war Amer­i­can left, though it is both these things. It is, in fact, as much a plea for a cer­tain kind of left pol­i­tics as it is a his­to­ry book. What Har­ring­ton rep­re­sents to Isser­man is the ​"oth­er" Amer­i­can left: anti-Com­mu­nist, friend­ly to lib­er­als, sym­pa­thet­ic to reli­gion, will­ing to work with­in the sys­tem, nose turned up at the extrem­ism of SDS. Isser­man is not roman­tic about Har­ring­ton. The biog­ra­phy is remark­ably even-hand­ed, and offers a good account of Har­ring­ton's fail­ures as well as his suc­cess­es. But Har­ring­ton's life is of inter­est to Isser­man pri­mar­i­ly because it seems to rep­re­sent a (most­ly) usable past for what remains of the left today.
Michael Har­ring­ton was born in St. Louis in 1928, the only child of an Irish Catholic lawyer. An aca­d­e­m­ic gold­en boy, Har­ring­ton was nonethe­less rest­less and uncer­tain about what to do with his life. He entered law school at Yale but dropped out after one year. He flirt­ed with a doc­tor­ate in Eng­lish at the Uni­ver­si­ty of Chica­go, but quit to move to Green­wich Vil­lage and drink at the White Horse Tav­ern. His career only began to take shape when he joined the Catholic Work­er, where he pro­duced book reviews and edi­to­ri­als at a rate that astound­ed even Dorothy Day.
Even before he joined the Catholic Work­er, the Church had instilled in Har­ring­ton a pas­sion­ate­ly moral approach to the world. ​"From the time I was a lit­tle kid the Church said your life is not some­thing you are sup­posed to frit­ter away; your life is in trust to some­thing more impor­tant than your­self," he would say in lat­er life. His writ­ing for the Catholic Work­er reflect­ed this moral, not Marx­ist, approach to social prob­lems: ​"To view … pover­ty as a force in a his­toric [dialec­tic], is not only the dehu­man­iza­tion of the poor, it is the dehu­man­iza­tion of him who thinks it. The reac­tion to this pover­ty should be part­ly one of cal­cu­la­tion, of how can it be erad­i­cat­ed, but it must also be of the Beat­i­tudes, of hunger and thirst for Jus­tice, of love and grief for what goes on before our eyes."
Despite its influ­ence on his world­view, Har­ring­ton's spir­i­tu­al faith wavered through­out his time at the Catholic Work­er. When he left, Day asked him, anx­ious­ly, ​"Is it a woman?" (She had good rea­son to be con­cerned — Har­ring­ton's youth­ful wom­an­iz­ing is a dark thread run­ning through the first half of the book.) No, Har­ring­ton respond­ed, ​"it's the­ol­o­gy." But after leav­ing the Catholic Work­er, he joined an orga­ni­za­tion more doc­tri­naire than the Church: the Young Peo­ple's Social­ist League. Orig­i­nal­ly part of the Social­ist Par­ty, Trot­sky­ists took YPSL over in the late ​'30s. After sev­er­al more inter­nal splits, its last frag­ments went under the con­trol of sec­tar­i­an racon­teur Max Shacht­man, who would be one of Har­ring­ton's men­tors for the rest of his life.
In many respects, Isser­man writes, the Shacht­man­ites were iden­ti­cal to ​"the myr­i­ad of tiny rad­i­cal sects that pre­ced­ed or fol­lowed them into obliv­ion." But unlike the Trot­sky­ists, they did not see the Sovi­et Union as a ​"degen­er­ate work­ers' state," but as a soci­ety run by a new ​"bureau­crat­ic col­lec­tivist" rul­ing class — in oth­er words, not real­ly social­ist at all. The sec­t's rhetoric was one of ​"stern con­fi­dence: ​'his­to­ry,' ​'the mass­es,' ​'the tasks of the moment' and so forth." But ​"this was a par­ty found­ed on doubt, rather than on cer­tain­ty." Though this meant con­stant infight­ing, it also made for a com­bat­ive intel­lec­tu­al envi­ron­ment, a kind of think tank boot camp. It's no won­der that so many labor politi­cos and aca­d­e­mics — Deb­o­rah Meier, Peter Novick, San­dra Feld­man — cut their teeth in groups orbit­ing the Flo­ral Park, Long Island hi-fi dealer.
Obses­sive anti-Stal­in­ism held the Shacht­man­ites togeth­er. A read­er of Labor Action (the Shacht­man­ite paper) once observed that ​"the word Stal­in and its deriv­a­tives" appeared 114 times in a sin­gle issue. Isser­man tries hard to show that Har­ring­ton was not a stooge for Joe McCarthy. He crit­i­cized Sid­ney Hook and the Con­gress for Cul­tur­al Free­dom, call­ing it ​"less an orga­ni­za­tion devot­ed to the defense of cul­tur­al free­dom than an agency pro­pa­gan­diz­ing the Amer­i­can par­ty line." He nev­er took mon­ey from the CIA. But there's no doubt that for all their sec­tar­i­an insan­i­ty, on some lev­el the Shacht­man­ites were actu­al­ly with­in the lib­er­al con­sen­sus of the ​'50s: They agreed that the Com­mu­nist Par­ty and the Sovi­et Union were the com­mand­ing threats to human freedom.
The anti-Stal­in­ist left sought allies among lib­er­als and advo­cat­ed down­right reformist poli­cies — not that any­one noticed. Much of The Oth­er Amer­i­can is absorbed in detail­ing the polit­i­cal zig-zags of an orga­ni­za­tion with a cou­ple of hun­dred mem­bers nation­wide, which held sym­posia on top­ics the prop­er forum for which is a late-night bull ses­sion. (For exam­ple, if a ​"gen­uine­ly" social­ist coun­try had nuclear bombs, should it ever use them?) At first glance, the prag­ma­tism of the Shacht­man­ites seems more ludi­crous than any rev­o­lu­tion­ary rhetoric. But Isser­man sug­gests that because the Shacht­man­ites were will­ing to work with lib­er­al politi­cians, in a very odd way they were ori­ent­ed toward real polit­i­cal change in a man­ner that the New Left was not.
By the late ​'50s, Shacht­man came out in favor of ​"realign­ing" pro­gres­sive forces behind the Demo­c­ra­t­ic Par­ty. Har­ring­ton ini­tial­ly ignored his teacher, and wrote in Nor­man Thomas for pres­i­dent in the 1960 elec­tion — some­thing he lat­er regret­ted as ​"one of the remark­ably stu­pid actions of my polit­i­cal life." For the rest of his days, his main polit­i­cal project would be the strug­gle to reshape the Demo­c­ra­t­ic Par­ty into a coali­tion of labor, civ­il rights orga­ni­za­tions and lib­er­al groups.
Har­ring­ton's prag­ma­tism led him to write The Oth­er Amer­i­ca with­out men­tion­ing the word ​"social­ist" once. (He ago­nized about leav­ing it out.) It's an over­state­ment to say The Oth­er Amer­i­ca ​"start­ed" the War on Pover­ty; the expan­sion of the Amer­i­can wel­fare state in the ​'60s was just one aspect of a post­war eco­nom­ic pol­i­cy that gen­er­al­ly pro­tect­ed unions, increased wages and main­tained full employ­ment. While Har­ring­ton was a mem­ber of the pres­i­den­t's task force in the War Against Pover­ty, by most accounts he played a min­i­mal role in Graft­ing the anti-pover­ty pro­grams. (Dubbed ​"the only respon­si­ble rad­i­cal in Amer­i­ca" by Arthur Schlesinger Jr., he lived up to the descrip­tion by sign­ing his mem­os, ​"Of course, there is no real solu­tion to the prob­lem of pover­ty until we abol­ish the cap­i­tal­ist sys­tem.") The Oth­er Amer­i­ca, how­ev­er, with its vivid descrip­tions of Harlem and Appalachia, of ​"urban hill­bil­lies" and the ter­ri­ble plight of the aging poor, unwit­ting­ly became the best piece of pub­lic rela­tions for the War on Pover­ty the John­son admin­is­tra­tion could have asked for.
Har­ring­ton's roots in the anti-Stal­in­ist left encour­aged him to make alliances with lib­er­als, but they put him at log­ger­heads with the New Left. Through­out the ​'60s, Har­ring­ton was best known in cer­tain cir­cles for lock­ing out the fledg­ling SDS (descend­ed from the League for Indus­tri­al Democ­ra­cy, a Social­ist Par­ty off­shoot) from its offices because the Port Huron state­ment was insuf­fi­cient­ly anti-Com­mu­nist. Though Har­ring­ton apol­o­gized for the inci­dent for the rest of his life it's not real­ly sur­pris­ing that it hap­pened. Unafraid of Com­mu­nist dom­i­na­tion, the New Left saw lit­tle rea­son to work with main­stream politi­cians. SDS pres­i­dent Paul Pot­ters' 1965 descrip­tion of Tom Hay­den was apro­pos for the whole move­ment: ​"Tom seems to be mov­ing clos­er and clos­er to a posi­tion that the lib­er­al estab­lish­ment (if not all lib­er­als) con­sti­tutes the most dan­ger­ous ene­my we confront."
The split deep­ened dur­ing the Viet­nam War, when Har­ring­ton failed to sup­port the anti-war move­ment, think­ing it too sym­pa­thet­ic to the Viet Cong. Isser­man is care­ful to note that Har­ring­ton was always a paci­fist and nev­er sup­port­ed the war. When Shacht­man explic­it­ly came out in favor of the war in the ear­ly ​'70s, Har­ring­ton final­ly broke with him. But if he was­n't in favor of the war, he was cer­tain­ly opposed to the anti-war move­ment. Har­ring­ton's anti-Stal­in­ist social­ism — like Cold War lib­er­al­ism itself — was con­sumed by its own con­tra­dic­tions in the Viet­nam War.
To Isser­man, Har­ring­ton's fail­ure to work with the New Left approach­es tragedy. ​"Michael let pass the chance of a life­time to make a demo­c­ra­t­ic social­ist per­spec­tive rel­e­vant to the hun­dreds of thou­sands of Amer­i­cans who sup­port­ed the anti-war move­ment," he writes. ​"The Viet­nam War destroyed the Social­ist Par­ty, and with it Michael's chance to reshape and rein­vig­o­rate the entire demo­c­ra­t­ic left in America."
Har­ring­ton's relent­less focus on eco­nom­ic issues, his moral seri­ous­ness, his ​"vision­ary grad­u­al­ism," his ​"prag­mat­ic rad­i­cal­ism," rep­re­sent, to Isser­man, the road not tak­en for the Amer­i­can left. If only the old Social­ists had been able to take charge of the anti-war move­ment, con­vinc­ing the kids to trade their Molo­tov cock­tails for del­e­gates' pass­es, per­haps the left would not be as mar­gin­al­ized as it is today. If only the New Left had fol­lowed Har­ring­ton into the Demo­c­ra­t­ic Par­ty, maybe Rea­gan would not have won in 1980 and his­to­ry would not yet be at an end.
It's hard to know what to make of a biog­ra­phy of some­one whose pri­ma­ry inter­est is that he rep­re­sents what did not hap­pen. Unde­ni­ably, there's some­thing appeal­ing about Har­ring­ton's pol­i­tics, espe­cial­ly com­pared to the crazi­ness of the New Left in the late ​'60s. Although the Social­ist Par­ty was a mere shell of its for­mer self through­out his life­time, in a sense Har­ring­ton real­ly did embody the Social­ist tra­di­tion in Amer­i­can pol­i­tics. He reject­ed a tran­scen­dent, Utopi­an left­ism, believ­ing that mod­ern rad­i­cals had to ​"walk a per­ilous tightrope," on the one hand to ​"be true to the Social­ist vision of a new soci­ety," and on the oth­er ​"bring that vision into con­tact with the actu­al move­ments fight­ing not to trans­form the sys­tem, but to gain some lit­tle incre­ment of dig­ni­ty or even just a piece of bread."
Like Debs, he eschewed direct action, believ­ing that to ​"change the con­scious­ness of a nation, one had to be pre­pared to build an orga­ni­za­tion, start a pub­li­ca­tion, speak in a thou­sand halls to crowds of hun­dreds, or scores, or tens, if nec­es­sary, recruit­ing one's fol­low­ers from those con­vert­ed by the sound of one's voice and the strength of one's argu­ments." This kind of slow, patient mass orga­niz­ing and insti­tu­tion-build­ing is pre­cise­ly what the New Left failed to accom­plish, and it's not hard to under­stand why Isser­man admires Har­ring­ton for at least rec­og­niz­ing its importance.
But does it make sense to ask whether Har­ring­ton's efforts to ​"realign" the Demo­c­ra­t­ic Par­ty could have suc­ceed­ed if the New Left had fall­en into line? It's hard to say. There were, after all, real obsta­cles to reform­ing the Demo­c­ra­t­ic Par­ty in the ​'60s and ​'70s. The moral abso­lutism of the New Left was part­ly youth­ful naïveté and ​"rev­o­lu­tion­ary pos­tur­ing." But it also reflect­ed a gen­uine sense of how com­pro­mised the lib­er­al con­sen­sus was, and how impor­tant the seg­re­gat­ed South was to the Demo­c­ra­t­ic Par­ty. The New Left­'s alien­ation from the Demo­c­ra­t­ic Par­ty reflect­ed the ambigu­ous nature of the insti­tu­tion itself: the par­ty of labor and of the Sol­id South, of the War on Pover­ty and the Bay of Pigs.
There's some­thing odd­ly rigid — if one want­ed to rib him, one might almost say sec­tar­i­an — about Isser­man's implic­it crit­i­cism of the rad­i­cal style of the New Left. A tru­ly ​"real­is­tic" approach to pol­i­tics would rec­og­nize that there are times when it's appro­pri­ate for the left to work with the Democ­rats or oth­er lib­er­als, and there are oth­er times, as at the height of the Viet­nam War, when that's a ter­ri­ble mis­take. ​"Mil­i­tant mod­er­a­tion" always seems more rea­son­able, but there are times when it's com­plete­ly off the wall. Prag­ma­tism makes sense when you have a fight­ing chance of exer­cis­ing polit­i­cal pow­er; oth­er­wise, it's as self-delud­ed as dreams of world rev­o­lu­tion. As Michael Har­ring­ton knew too well, in pol­i­tics, as in his­to­ry, there is no room for saints.
Kim Phillips-Fein
is a writer in New York City and a con­tribut­ing edi­tor to
In These Times
. She is work­ing on a book about the busi­ness back­lash against the New Deal.