An Ode to Sharp-Tongued Women, From Dorothy Parker to Susan Sontag
Michelle Dean's new book Sharp profiles brilliant and creative women who fought sexism, but, by and large, did not identify with the feminist movement.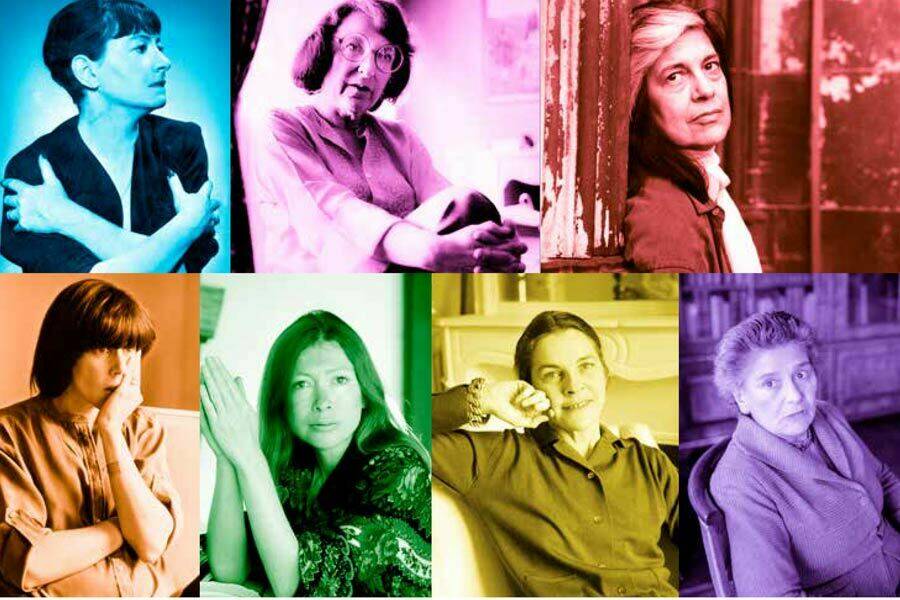 Mary McCarthy could command a room. ​"She stood in what I later recognized as a characteristic stance, right foot forward and balanced on a high heel," recalled poet Eileen Simpson of the time they met. ​"In one hand she held a cigarette, in the other a martini."
All these women fought sexism, but, by and large, did not identify with the feminist movement.
There are moments like this, where a writer makes an impression, throughout Michelle Dean's Sharp, a collective biography of women, like McCarthy, ​"who made an art of having an opinion." Even private moments seem designed to impress, like Susan Sontag's recollection that, while she was writing her first novel, her 10-year-old son, David Rieff, would ​"stand by her and light her cigarettes as she typed."
Throughout Sharp, we witness enough timely encounters with editors and friendships forged from critical reviews to show just how dependent on relationships these women's work was. But to have an opinion is to stake out ground, to stand apart. Dean argues that the writers she profiles, from Dorothy Parker and Rebecca West to Nora Ephron and Janet Malcolm, saw themselves as outsiders and wielded their wit — the ​"sharpness" of the book's title — against a world that often had no place for them.
Fittingly, she begins with Dorothy Parker, whose witticisms set the standard for outlasting their targets, as when she wrote of the then-prime minister's wife and socialite, ​"The affair between Margot Asquith and Margot Asquith will live as one of the prettiest love stories in all literature."
The chapters are artfully interwoven through the connections these women had to each other: as readers and critics of one another's work, rivals, mentors, influences. Renata Adler, for a time, was even engaged to McCarthy's son. The women were at times also friends, although rarely without ambivalence, and not as much as a reader may hope.
Dean roots for her subjects to come together, noting, for example, that "[Pauline] Kael and [Joan] Didion never gave up the grudge and became friends. … This was a shame. The pair could have commiserated on more subjects than just the matter of Woody Allen." (Both had dissented from the accolades surrounding Manhattan, one of many sacred cows Dean's women take delight in skewering. Kael and Didion were also known for disliking The Sound of Music.) A shame but not a surprise, given that Didion had said Kael's criticism had ​"a kind of petit-pointon-Kleenex effect which rarely stands much scrutiny."
The costs of sharpness were real: Along with ruptured friendships, several of the women Dean profiles faced lawsuits for their words. Many struggled internally with the limits of sharpness, moving from criticism and polemic to artistic creation: Sontag yearned for her novels and films to be as well received as her essays, Adler dedicated a decade to novels and Didion pursued screenwriting.
Dean's book comes at a time of renewed attention to the history of feminism, and the most fascinating parts of the book deal with the complicated relationship these women bore to the movement. In a society in which women's talents and ambitions are met with hostility, individual achievement feels like feminist rebellion, yet feminism, like all social movements, demands solidarity and collectivity. (There is a fascinating companion book to be written about writers who navigated this while being ​"inside" the movement, writers like Adrienne Rich, Alix Kates Shulman and Kate Millett, all of whom appear in passing in Sharp as foils or critical targets.)
All these women fought sexism, but, by and large, did not identify with the feminist movement. Some, like Hannah Arendt, saw the whole question as beneath them; others, like Didion, turned their sharpness on the movement in their writing; while others, like Sontag, expressed both sympathy and skepticism. Ephron embraced a role as a feminist writer, but here, too, there is ambivalence: ​"She knew she was supposed to count [feminist authors'] good intentions into the final critical calculus, of course: ​'This is what's known in the women's movement as sisterhood, and it is good politics, I suppose, but it is not good criticism.' "
Yet the pull of collectivity persists throughout the book, as will the desire of many readers to see these women as feminist role models. Dean notes with sympathy that ​"it's not considered very sisterly to believe one stands out from the pack," and makes clear how the specter of the ​"exceptional woman" shaped these lives. Rivalry abounded. The contrast with Rich, who wrote that an authentic life depends on doing away with the sense of one's uniqueness, could hardly be more striking.
Yet even Sontag, who is perhaps the most associated with her celebrity image, struggled to be part of something larger than New York's various intellectual cliques. She wrote movingly of the genuine solidarity she found between revolutionary comrades on her visit to Vietnam, however unfamiliar it was to her experience and sensibility. Reporting from El Salvador, Didion wonders about how to get out of her own way, feeling the insufficiency of her irony in the face of suffering.
Perhaps surprisingly, Parker, the most famous embodiment of sharpness, felt the pull of the collective as deeply as any of Dean's subjects. The fight against the execution of Sacco and Vanzetti pushed her to activism on behalf of the anti-fascist struggle, unions and civil rights, and she left her estate to the NAACP. For Parker, being part of something bigger also meant setting aside the wit that made her famous. As she would reflect in the New Masses: ​"I heard someone say, and so I said it too, that ridicule is the most effective weapon. I don't suppose I ever really believed it, but it was easy and comforting, and so I said it. Well, now I know. I know there are things that never have been funny, and never will be. And I know that ridicule maybe a shield, but it is not a weapon."
Laura Tanenbaum
teaches at LaGuardia Community College, City University of New York. Her work has appeared in the New York Times Book Review, The New Republic, Jacobin and other publications.