An Ode to Sharp-Tongued Women, From Dorothy Parker to Susan Sontag
Michelle Dean's new book Sharp profiles brilliant and creative women who fought sexism, but, by and large, did not identify with the feminist movement.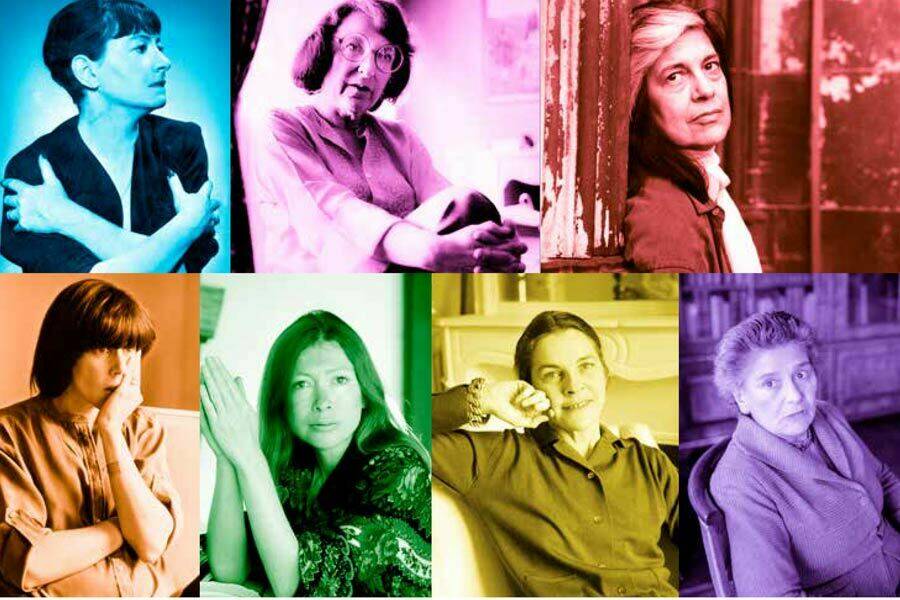 Mary McCarthy could com­mand a room. ​"She stood in what I lat­er rec­og­nized as a char­ac­ter­is­tic stance, right foot for­ward and bal­anced on a high heel," recalled poet Eileen Simp­son of the time they met. ​"In one hand she held a cig­a­rette, in the oth­er a martini."
All these women fought sexism, but, by and large, did not identify with the feminist movement.
There are moments like this, where a writer makes an impres­sion, through­out Michelle Dean's Sharp, a col­lec­tive biog­ra­phy of women, like McCarthy, ​"who made an art of hav­ing an opin­ion." Even pri­vate moments seem designed to impress, like Susan Sontag's rec­ol­lec­tion that, while she was writ­ing her first nov­el, her 10-year-old son, David Rieff, would ​"stand by her and light her cig­a­rettes as she typed."
Through­out Sharp, we wit­ness enough time­ly encoun­ters with edi­tors and friend­ships forged from crit­i­cal reviews to show just how depen­dent on rela­tion­ships these women's work was. But to have an opin­ion is to stake out ground, to stand apart. Dean argues that the writ­ers she pro­files, from Dorothy Park­er and Rebec­ca West to Nora Ephron and Janet Mal­colm, saw them­selves as out­siders and wield­ed their wit — the ​"sharp­ness" of the book's title — against a world that often had no place for them.
Fit­ting­ly, she begins with Dorothy Park­er, whose wit­ti­cisms set the stan­dard for out­last­ing their tar­gets, as when she wrote of the then-prime minister's wife and socialite, ​"The affair between Mar­got Asquith and Mar­got Asquith will live as one of the pret­ti­est love sto­ries in all literature."
The chap­ters are art­ful­ly inter­wo­ven through the con­nec­tions these women had to each oth­er: as read­ers and crit­ics of one another's work, rivals, men­tors, influ­ences. Rena­ta Adler, for a time, was even engaged to McCarthy's son. The women were at times also friends, although rarely with­out ambiva­lence, and not as much as a read­er may hope.
Dean roots for her sub­jects to come togeth­er, not­ing, for exam­ple, that "[Pauline] Kael and [Joan] Did­ion nev­er gave up the grudge and became friends. … This was a shame. The pair could have com­mis­er­at­ed on more sub­jects than just the mat­ter of Woody Allen." (Both had dis­sent­ed from the acco­lades sur­round­ing Man­hat­tan, one of many sacred cows Dean's women take delight in skew­er­ing. Kael and Did­ion were also known for dis­lik­ing The Sound of Music.) A shame but not a sur­prise, giv­en that Did­ion had said Kael's crit­i­cism had ​"a kind of petit-pointon-Kleenex effect which rarely stands much scrutiny."
The costs of sharp­ness were real: Along with rup­tured friend­ships, sev­er­al of the women Dean pro­files faced law­suits for their words. Many strug­gled inter­nal­ly with the lim­its of sharp­ness, mov­ing from crit­i­cism and polemic to artis­tic cre­ation: Son­tag yearned for her nov­els and films to be as well received as her essays, Adler ded­i­cat­ed a decade to nov­els and Did­ion pur­sued screenwriting.
Dean's book comes at a time of renewed atten­tion to the his­to­ry of fem­i­nism, and the most fas­ci­nat­ing parts of the book deal with the com­pli­cat­ed rela­tion­ship these women bore to the move­ment. In a soci­ety in which women's tal­ents and ambi­tions are met with hos­til­i­ty, indi­vid­ual achieve­ment feels like fem­i­nist rebel­lion, yet fem­i­nism, like all social move­ments, demands sol­i­dar­i­ty and col­lec­tiv­i­ty. (There is a fas­ci­nat­ing com­pan­ion book to be writ­ten about writ­ers who nav­i­gat­ed this while being ​"inside" the move­ment, writ­ers like Adri­enne Rich, Alix Kates Shul­man and Kate Mil­lett, all of whom appear in pass­ing in Sharp as foils or crit­i­cal targets.)
All these women fought sex­ism, but, by and large, did not iden­ti­fy with the fem­i­nist move­ment. Some, like Han­nah Arendt, saw the whole ques­tion as beneath them; oth­ers, like Did­ion, turned their sharp­ness on the move­ment in their writ­ing; while oth­ers, like Son­tag, expressed both sym­pa­thy and skep­ti­cism. Ephron embraced a role as a fem­i­nist writer, but here, too, there is ambiva­lence: ​"She knew she was sup­posed to count [fem­i­nist authors'] good inten­tions into the final crit­i­cal cal­cu­lus, of course: ​'This is what's known in the women's move­ment as sis­ter­hood, and it is good pol­i­tics, I sup­pose, but it is not good criticism.' "
Yet the pull of col­lec­tiv­i­ty per­sists through­out the book, as will the desire of many read­ers to see these women as fem­i­nist role mod­els. Dean notes with sym­pa­thy that ​"it's not con­sid­ered very sis­ter­ly to believe one stands out from the pack," and makes clear how the specter of the ​"excep­tion­al woman" shaped these lives. Rival­ry abound­ed. The con­trast with Rich, who wrote that an authen­tic life depends on doing away with the sense of one's unique­ness, could hard­ly be more striking.
Yet even Son­tag, who is per­haps the most asso­ci­at­ed with her celebri­ty image, strug­gled to be part of some­thing larg­er than New York's var­i­ous intel­lec­tu­al cliques. She wrote mov­ing­ly of the gen­uine sol­i­dar­i­ty she found between rev­o­lu­tion­ary com­rades on her vis­it to Viet­nam, how­ev­er unfa­mil­iar it was to her expe­ri­ence and sen­si­bil­i­ty. Report­ing from El Sal­vador, Did­ion won­ders about how to get out of her own way, feel­ing the insuf­fi­cien­cy of her irony in the face of suffering.
Per­haps sur­pris­ing­ly, Park­er, the most famous embod­i­ment of sharp­ness, felt the pull of the col­lec­tive as deeply as any of Dean's sub­jects. The fight against the exe­cu­tion of Sac­co and Vanzetti pushed her to activism on behalf of the anti-fas­cist strug­gle, unions and civ­il rights, and she left her estate to the NAACP. For Park­er, being part of some­thing big­ger also meant set­ting aside the wit that made her famous. As she would reflect in the New Mass­es: ​"I heard some­one say, and so I said it too, that ridicule is the most effec­tive weapon. I don't sup­pose I ever real­ly believed it, but it was easy and com­fort­ing, and so I said it. Well, now I know. I know there are things that nev­er have been fun­ny, and nev­er will be. And I know that ridicule maybe a shield, but it is not a weapon."
Lau­ra Tanen­baum
teach­es at LaGuardia Com­mu­ni­ty Col­lege, City Uni­ver­si­ty of New York. Her work has appeared in the New York Times Book Review, The New Repub­lic, Jacobin and oth­er publications.