Migrant Pickers Expose Slavery Rings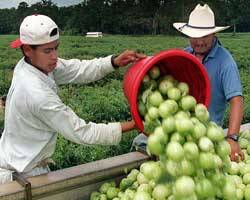 Florida
—Mathieu Beaucicot is an immigrant from Haiti who came to the United States 11 years ago to earn money to send back to his family. He spent years getting up every morning at 4 a.m. to await the old school buses that would take him to the fields in Immokalee, Florida, for long days of picking tomatoes, oranges, and other fruits and vegetables. Beaucicot, 48, worked to the point of exhaustion each day, but after buying small rations of food and paying his rent, he found he rarely had any money to send home.
"In Haiti there was no money and the work was hard but you could have a beer, relax, spend time with your family," Beaucicot says in Spanish. "Here all you do is work. I work when I'm tired, I work when I'm sick and I get no Medicaid, no Social Security, no health insurance. I work so hard for almost no money."
Beaucicot is not alone. The National Agricultural Workers Survey (NAWS) recently reported that migrant farm workers earn an average of $7,500 or less per year, well below the poverty line. Wages are so low partly because the agricultural workforce is largely nonunion.
Farm workers find it hard to organize given they are usually temporarily hired by contractors employed by large growing operations. The contractors are not known among the public, so pressure campaigns are difficult to build, and the growers and corporations that buy the produce distance themselves from labor complaints by pointing out that they don't employ the workers directly.
On top of that, a majority of the workforce is undocumented immigrants reluctant to organize or make waves because they fear being deported.
But Beaucicot is part of a growing movement in south Florida that is having ripple effects across the nation. This movement, spearheaded by the Coalition of Immokalee Workers (CIW), is slowly gaining better conditions for the most vulnerable agricultural workers through industry-wide horizontal organizing, which takes on fly-by-night contractors, growers and corporations that eventually buy their produce.
In fields throughout the southern United States, people are afraid of the CIW's organizing power. The coalition was formed by about 40 farm workers 10 years ago and has grown to include hundreds of migrant laborers who flood the town each growing season.
Contractors know that if they try to get away with the standard practices of not paying, beating or denying workers water breaks, hundreds of farm laborers from Mexico, Guatemala, Honduras, Haiti and other countries will show up at their homes or places of business in protest. In one of their early protests, coalition members marched on the home of a contractor who had beaten a worker, carrying the worker's bloodied shirt above their heads and chanting the old IWW slogan "An injury to one is an injury to all."
"Now things like that don't really happen, because they know if our rights are violated we will march," says Francisca Cortez, a young woman from Oaxaca, Mexico who came here five years ago to work in the fields and is now a staff member at the coalition.
The CIW has gained national attention in the past year for playing a crucial role in the prosecution of five slavery rings affecting more than 1,000 workers in southwest Florida. Immokalee workers went undercover at an operation in Lake Placid, Florida, in order to testify against three contractors who would buy workers from the coyotes who smuggled them across the border, then hold them under armed guard 24 hours a day as they worked for wages of $70 a week or less that were then garnished to pay for the debt they had supposedly incurred with the coyotes.
The FBI began investigating the case largely at the coalition's behest, and in November 2002, three men were sentenced to a total of 34 years in prison and $3 million in assets for their role in the slavery ring. In November, three Immokalee workers, Romeo Ramirez, Julia Gabriel and Lucas Benitez, were awarded the prestigious Robert F. Kennedy Memorial Human Rights Award for their work against slavery.
By raising national awareness, the CIW's work also has helped spark other investigations of slavery. In December, the Palm Beach Post announced the U.S. Department of Justice's ongoing investigation into slavery in another small Florida town, Wimauma.
Besides their cooperation with governmental authorities in breaking up slavery rings and their direct actions against contractors, the CIW is succeeding by taking their campaign to the corporations that buy the produce, most notably Taco Bell. (See David Bacon's "¡No Quiero Taco Bell!," May 13, 2002.)
"If you target these growers, no one knows who they are," said Gerardo Reyes, a 26-year-old immigrant from Zacatecas, Mexico, who came here as a farm worker and is now a staff member for the coalition. "But everyone knows who Taco Bell is. We won't stop targeting the contractors and the growers, but we also want to target the corporations that buy the produce and the consumers who buy the products produced by the corporations."
At the Robert F. Kennedy awards ceremony November 20 in Washington, D.C., Benitez called on the general public to take responsibility for the food they consume.
"Behind the shiny, happy images promoted by the fast-food industry, there is another reality," he said. "Behind those images, the reality is that there are farm workers who contribute their sweat and blood so that enormous corporations can profit."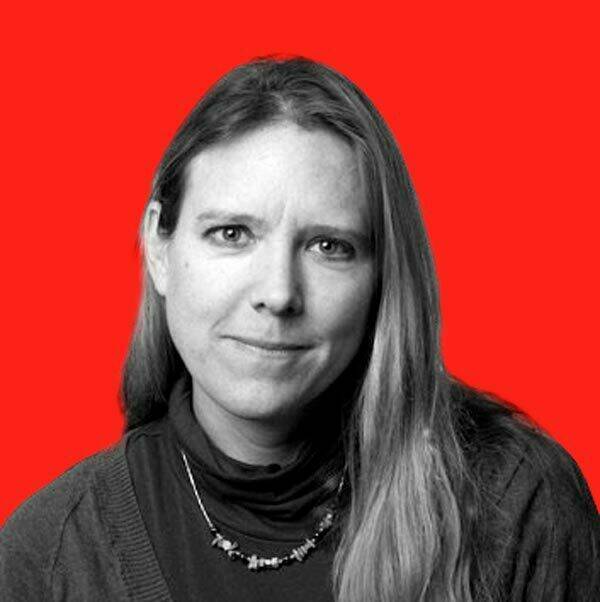 Kari Lydersen is a Chicago-based journalist, author and assistant professor at Northwestern University, where she leads the investigative specialization at the Medill School of Journalism, Media, Integrated Marketing Communications. Her books include Mayor 1%: Rahm Emanuel and the Rise of Chicago's 99%.