Meet the Militant Taxi Drivers Union That Just Defeated Uber and Lyft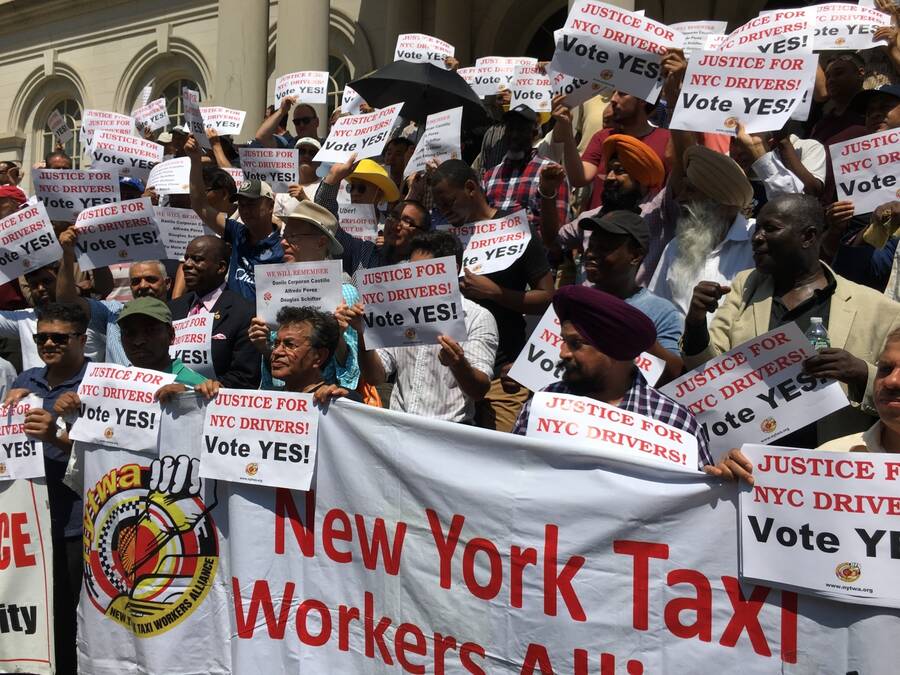 The New York Taxi Work­ers Alliance knows how to throw a punch.
On August 14, the scrap­py but mil­i­tant 21,000 mem­ber union rep­re­sent­ing taxi and for-hire vehi­cle dri­vers in New York City won a land­mark leg­isla­tive vic­to­ry estab­lish­ing the country's first cap on ride-shar­ing com­pa­ny vehi­cles and essen­tial­ly forc­ing them to pay their dri­vers a min­i­mum wage.
This fight pit­ted the Taxi Work­ers Alliance against cor­po­rate giants Uber and Lyft, which togeth­er employ more lob­by­ists than Ama­zon, Wal­mart and Microsoft com­bined.
Uber alone spent $1 mil­lion between Jan­u­ary and June of this year try­ing to put the brakes on the Taxi Work­ers Alliance's efforts.
There is lit­tle won­der why. New York City is Uber's largest U.S. mar­ket and the num­ber of Uber and Lyft vehi­cles on the streets have explod­ed in recent years, from 25,000 in 2015 to 80,000 in 2018.
Since nei­ther Uber nor Lyft con­sid­ers their dri­vers to be employ­ees — instead clas­si­fy­ing them as ​"inde­pen­dent con­trac­tors" — both com­pa­nies have avoid­ed pay­ing social secu­ri­ty and pay­roll tax­es while strip­ping their dri­vers of min­i­mum wage and over­time pro­tec­tions as well as the right to orga­nize a union and col­lec­tive­ly bar­gain a con­tract. A city-com­mis­sioned study found that 85 per­cent of New York app-based dri­vers are earn­ing below the min­i­mum wage.
The com­pa­nies have also made life mis­er­able for many taxi dri­vers. As the num­ber of Uber and Lyft vehi­cles has risen, the val­ue of taxi medal­lions has plum­met­ted. Once a prized asset for aspir­ing work­ing-class fam­i­lies, medal­lions that once sold for $1 mil­lion are today sell­ing for $200,000.
Dri­ven to despair by unreg­u­lat­ed cor­po­rate growth, six New York City dri­vers have tak­en their lives in recent months: Abdul Saleh, Yu Mein Ken­ny Chow, Nicano Ochisor, Dani­lo Cor­po­ran Castil­lo, Afre­do Perez and Dou­glas Schifter.
I spoke with New York Taxi Work­ers Alliance Exec­u­tive Direc­tor Bhairavi Desai direct­ly fol­low­ing the City Coun­cil vote to dis­cuss their vic­to­ry and what this new leg­is­la­tion means for drivers.
New York City is the first to put a cap on for-hire vehi­cles, can you talk about what this leg­is­la­tion does and why it is so important?
This leg­is­la­tion places a cap on for-hire vehi­cles for up to a year. That means no new vehi­cle licens­es will be issued for Uber and Lyft, putting an end to the unchecked growth of these com­pa­nies in New York City. There will be a pret­ty intense study under­tak­en by the city over the course of the next year. At the end of the year, the Taxi and Lim­ou­sine Com­mis­sion (TLC) will be autho­rized to pass regulation.
What kind of per­ma­nent reg­u­la­tion would you hope come from this?
It's hard to say right now, but the TLC could place a per­ma­nent lim­it on the num­ber of for-hire vehi­cles on the road. It's going to be impor­tant that we set­tle on a per­ma­nent cap on for-hire vehi­cles that makes sense for every­one — one that lets every­body mak­ing a liv­ing, that stops the cur­rent race to the bot­tom, and that not only lifts stan­dards for app dri­vers but all dri­vers across the industry.
It seems like part of what gave the city coun­cil a sense of urgency was the fact that six dri­vers com­mit­ted sui­cide. Do you think that's fair and do you think this cap could save lives?
You can't look at Uber and Lyft in a vac­u­um. Part of what's hap­pened over the past three years is that taxi dri­vers have been made to feel invis­i­ble. The six dri­vers who com­mit­ed sui­cide were yel­low cab, liv­ery and black car dri­vers. Part of what drove them to despair was this feel­ing that the dete­ri­ation of their liveli­hoods was not vis­i­ble to pol­i­cy mak­ers or the community.
One of the dri­vers who com­mit­ted sui­cide, Dou­glas Schifter, has writ­ten one of the most impor­tant cri­tiques of the gig econ­o­my. It was his sui­cide note. Doug killed him­self in front of City Hall after writ­ing a pow­er­ful note describ­ing how the flood of for-hire cars left des­per­ate dri­vers scram­bling to make enough mon­ey to feed their fam­i­lies and keep a roof over their heads. His sto­ry human­ized this struggle.
Over the past three years, Uber and Lyft have pre­sent­ed them­selves as social­ly con­scious cor­po­ra­tions while they have been ren­der­ing dri­vers invis­i­ble. That's obvi­ous­ly inten­tion­al, since they want automa­tion in the long run. One of the most impor­tant pro­gress­es we made is putting the dri­vers back in front— as the vis­i­ble face of their indus­try and in the orga­niz­ing cam­paigns to reg­u­late these companies.
We've also been putting togeth­er a men­tal health pro­gram. When dri­vers see our fly­ers, they see that the Taxi Work­ers Alliance is fight­ing for change in the indus­try and that they're not alone. But we also pro­vide infor­ma­tion on bank­rupt­cy and a sui­cide hot­line on every fly­er. No union should have to orga­nize under those con­di­tions. This has been such a spir­i­tu­al­ly enlight­en­ing campaign.
What do you mean by that?
Watch­ing fam­i­lies who lost their loved ones to sui­cide, it's such a per­son­al grief and giv­en that sui­cide is some­thing that most peo­ple are social­ized to keep pri­vate, these fam­i­lies have tak­en their dark­est hour, shared it pub­licly, and stood strong the entire time.
I grew up poor so I don't take for grant­ed the eco­nom­ic strug­gles that we as a move­ment wage to keep food on the table. But when you're on a cam­paign that is lit­er­al­ly about cre­at­ing hope so mem­bers stay alive, then fail­ure is nev­er going to be an option.
The Taxi Work­ers Alliance was also respon­si­ble for pass­ing the first leg­is­la­tion to estab­lish reg­u­la­tion of min­i­mum rate of pay­ment to App dri­vers, right?
That's right. We not only placed a cap on app-based for-hire vehi­cles, but we estab­lished the first min­i­mum pay require­ment for those App dri­vers. That means, the com­pa­nies can't keep low­er­ing the rates by which they pay dri­vers and in estab­lish­ing those rates through rule­mak­ing, the Taxi and Lim­ou­sine Com­mis­sion will con­sid­er dri­vers' expens­es and their right to earn a liv­able income post-expenses.
The orig­i­nal ver­sion of the bill locked in App dri­vers at the state's min­i­mum wage and that floor was the ceil­ing, so we fought for broad­er lan­guage so dri­vers could earn more as the com­pa­nies rake in more rev­enue from pas­sen­ger fares. Our long-term goal is to win a reg­u­lat­ed com­mis­sion sys­tem where dri­vers could earn, for exam­ple, 80 per­cent of the fare.
The same bill also autho­rizes the TLC to reg­u­late the App pas­sen­ger fare at the end of the 12-month study. As long as the pas­sen­ger fare remains unreg­u­lat­ed, the com­pa­nies can keep drop­ping the rates, lock­ing out dri­vers in the com­peti­tor sec­tors from get­ting a raise, as taxi and liv­ery dri­vers would be too afraid that Uber and Lyft would just low­er rates if their rates ever went up. We fought for all dri­vers to get a raise and won leg­is­la­tion to make that possible.
The City Coun­cil has also intro­duced a bill to require a study on the issue of debt and bank­rupt­cies fac­ing medal­lion own­er-dri­vers, and to make rec­om­men­da­tions for coun­cil action, includ­ing ways to finance a fund or low­er inter­est rates. All of these eco­nom­ic demands were in our platform.
On top of the enor­mous leg­isla­tive vic­to­ries in the New York City Coun­cil, the Taxi Work­ers Alliance also just won an impor­tant vic­to­ry at the New York State Unem­ploy­ment Insur­ance Appeal Board, which ruled that Uber dri­vers are employ­ees, not inde­pen­dent con­trac­tors. Can you talk about this ruling?
We've beat Uber and Lyft in labor court and we've beat them at City Hall. These are some of the high­est val­ued com­pa­nies in the world. They get obscene amounts of mon­ey from Wall Street. So many in the labor world said you can't orga­nize these work­ers and you can't beat back these com­pa­nies, but here we are, a mot­ley crew, a grass­roots, work­er-led move­ment and we defeat­ed them because we nev­er gave up. We refuse to make compromises.
The unem­ploy­ment deci­sion is so sig­nif­i­cant because, up to now, these com­pa­nies could over­sat­u­rate the streets with dri­vers and face no con­se­quences. Since Uber claimed that dri­vers were ​"inde­pen­dent con­trac­tors," the com­pa­ny didn't have to pay into unem­ploy­ment insur­ance and dri­vers weren't pre­sumed to be eli­gi­ble for it.
If Uber and Lyft had to con­tribute to unem­ploy­ment insur­ance and all the dri­vers that couldn't make ends meet were receiv­ing unem­ploy­ment, then that would have been a major dis­in­cen­tive for the prof­it strat­e­gy that both com­pa­nies have pur­sued. It's easy for them to glut the mar­ket with dri­vers because they aren't employ­ees of Uber. Oth­er­wise they'd have to pay tax­es for them, and they'd be on the hook for them.
Mis­clas­si­fi­ca­tion, over­sat­u­ra­tion and dereg­u­la­tion of the fares are at the heart of Uber and Lyft's busi­ness mod­el and are the main caus­es of the impov­er­ish­ment of drivers.
What has been the response from the Inde­pen­dent Dri­vers Guild (IDG), which is fund­ed by Uber and would be an ille­gal com­pa­ny-dom­i­nat­ed union if Uber dri­vers were ruled to be employees?
They have been team Uber. When they saw we were going to win on the cap, they turned around and said ​"we sup­port that." But mean­while, they've been say­ing they want the city coun­cil momen­tum to end. Until a cou­ple weeks ago, they were say­ing all that should be done is a min­i­mum wage require­ment set by the TLC.
So they were ini­tial­ly oppos­ing the cap?
They were oppos­ing the cap. They had their great John Ker­ry moment. They were against it before they were in favor of it. Well, I guess he was the flip of that.
Uber has respond­ed to the Taxi Work­ers Alliance's efforts by launch­ing a sev­en-fig­ure pub­lic rela­tions cam­paign high­light­ing many of the legit­i­mate griev­ances felt in Black com­mu­ni­ties about dri­ver bias and being denied rides. Uber also had the sup­port of promi­nent lead­ers of col­or, like Al Sharp­ton and Spike Lee, who stumped for them against the cap. How do you respond to these crit­i­cisms and what is the plan for address­ing them?
This time around, peo­ple real­ly saw the oppor­tunis­tic way in which Uber was try­ing to advance their cor­po­rate agen­da by divid­ing a work­force most­ly of immi­grants of col­or from the African-Amer­i­can com­mu­ni­ty and cre­at­ing this nar­ra­tive that civ­il rights and eco­nom­ic jus­tice for work­ers are some­how not interrelated.
We were able to break through Uber's ploy because we had many coun­cil mem­bers of col­or who we had sev­er­al con­ver­sa­tions with over the course of many months and we put togeth­er a nine-point civ­il rights ini­tia­tive where point nine was, we did­n't call it an office of inclu­sion, but an office at the TLC that would over­see this pro­gram that includ­ed train­ing, con­tin­u­ing licens­ing require­ments, a renew­al course, com­mu­ni­ty ser­vice as well as devel­op­ment of the tech­nol­o­gy for elec­tron­ic hail­ing of yel­low cabs.
An empha­sis on civ­il rights was evi­dent in both the coali­tion behind the leg­is­la­tion passed in New York City and the leg­is­la­tion itself. The Taxis for All coali­tion, which includes numer­ous dis­abil­i­ty rights groups, was out in force at ral­lies. And the leg­isla­tive cap on for-hire vehi­cles specif­i­cal­ly exempts vehi­cles with wheel­chair acces­si­bil­i­ty. So it could be argued that this is not real­ly a cap, but a reg­u­la­tion that is forc­ing the indus­try to become more accessible.
The Taxis for All Cam­paign, they're amaz­ing. We've been in part­ner­ship with them for over ten years. We worked with them to bring a man­date that 50 per­cent of yel­low cabs be wheel­chair acces­si­ble by the year 2020. So they've been sup­port­ing this cam­paign all along and they are remark­able people.
We are one of the few glob­al cities that doesn't have the lev­el of acces­si­ble ser­vice that it should. Uber and Lyft fight acces­si­bil­i­ty pas­sion­ate­ly across the coun­try, not just wheel­chair acces­si­bil­i­ty, but sig­nage require­ments, because taxis have to meet a braille sig­nage requirement.
I don't want to over­state their com­mit­ment to it, but I do think that acces­si­bil­i­ty is some­thing that the City Coun­cil has acknowl­edged to be a stan­dard that App com­pa­nies should be required to meet. Of course, the App com­pa­nies have fought that stan­dard and they used the IDG do it. The IDG said they were against the TLC's acces­si­bil­i­ty man­date because that would make costs go up for dri­vers. But why not fight your employ­er so that they have to absorb some of those expens­es? Why is it a giv­en that the IDG assumes all expens­es have to fall on drivers?
In the taxi indus­try, dri­vers were found to be inde­pen­dent con­trac­tors and so we've focused on TLC-lev­el reg­u­la­tion. Since 1997, we've won caps on all the dif­fer­ent expens­es that dri­vers have to pay. In 2012, we won caps on the financ­ing expens­es that dri­vers pay on vehi­cles. We didn't just assume that dri­vers have to eat these costs.
These vic­to­ries are made pos­si­ble because we believe in work­er orga­niz­ing across our indus­try. We don't let employ­ers define the lim­its of what is pos­si­ble. We orga­nize to make new gains possible.
Since day one, we have refused to believe that Uber and Lyft could­n't be brought under con­trol because we were able to change an entrenched medal­lion indus­try. If we were able to make changes there, why would­n't we be able to do it with these companies?
It's still stun­ning to think that a 21,000 mem­ber union has tak­en on a $70 bil­lion cor­po­ra­tion in New York City.
Since Novem­ber, we've had over 20 actions. We did­n't even send our first let­ter to City Coun­cil until April. They saw our fight and on our demon­stra­tion posters, they saw our plat­form. The 11-point coun­cil pack­age comes direct­ly out of our demands list, includ­ing first-time reg­u­la­tions against preda­to­ry lend­ing in the for-hire indus­try, sim­i­lar to pro­tec­tions we won in the taxi indus­try, and a health and ben­e­fits fund for all dri­vers across the indus­try. We've been hit­ting the streets because we knew this was going to be a pub­lic fight.
These men and women, when they take time off work, they lose income. When you're a yel­low cab dri­ver, you're pay­ing a lot of expens­es. When you're an App dri­ver, you're pay­ing a lot of expens­es. And time you aren't work­ing is time you are los­ing income. Yet our mem­bers turned out to action after action with their fam­i­lies. We won because of our commitment.
Chris Brooks
is a staff writer and labor edu­ca­tor at
Labor Notes,
where he cov­ers the Unit­ed Auto Work­ers. He is a mem­ber of the Nation­al Writ­ers Union (UAW Local
1981
).