Bernie Sanders: Democrats Need to Rein In Our Out-of-Control Military Spending
Democrats must challenge unnecessary spending and interventions—beginning with the war in Yemen.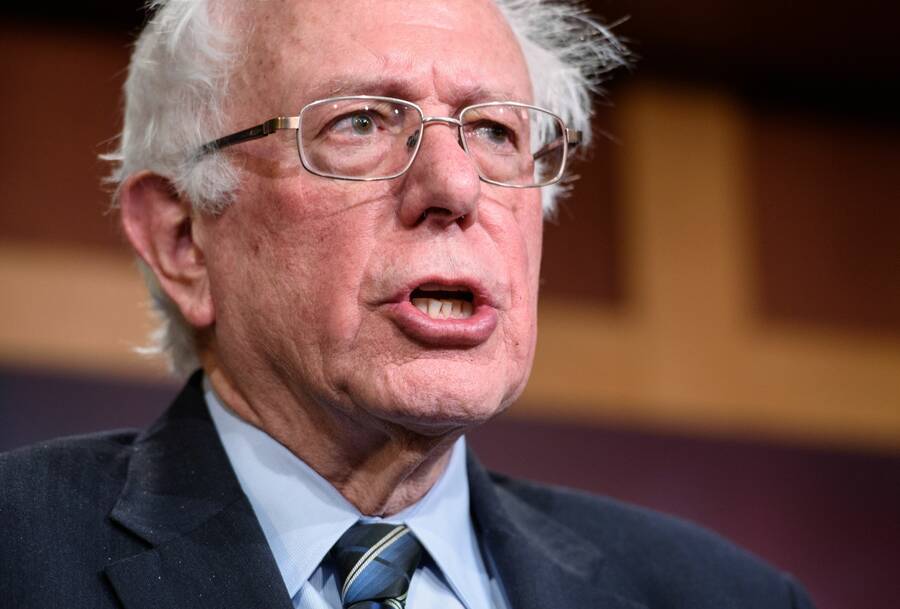 On domes­tic pol­i­cy — tax­a­tion, health­care, the envi­ron­ment, edu­ca­tion, crim­i­nal jus­tice, immi­gra­tion and so forth — there are major dif­fer­ences between the Demo­c­ra­t­ic Par­ty and the Repub­li­can Par­ty. On for­eign pol­i­cy, not so much. In fact, a num­ber of observers have cor­rect­ly point­ed out that, to a very great degree, we have a ​"one-par­ty for­eign pol­i­cy." As a result, there is almost no debate about the basic premis­es under­ly­ing our long-term for­eign pol­i­cy posi­tions. In a com­pli­cat­ed and volatile world, this is not a good thing.
It is reasonably easy to engineer the overthrow of a government. It is far harder, however, to know the long-term impact that that action will have.
Sev­er­al months ago, Democ­rats, with vir­tu­al­ly no oppo­si­tion, gave Pres­i­dent Trump every nick­el that he want­ed in increased defense spend­ing. At a time when our infra­struc­ture is crum­bling, when pub­lic schools lack the resources to pro­vide a qual­i­ty edu­ca­tion for our kids, when 30 mil­lion peo­ple have no health insur­ance, there were very few Democ­rats opposed to Repub­li­can efforts to increase mil­i­tary spend­ing by $165 bil­lion over two years.
Democ­rats, for good rea­son, vehe­ment­ly oppose almost every­thing Trump pro­pos­es, but when he asks for a huge increase in mil­i­tary spend­ing, there are almost no voic­es in dis­sent. Why is that? Do we real­ly have to spend more on the mil­i­tary than the next 10 nations com­bined — most of which are our allies? Why do we dra­mat­i­cal­ly increase fund­ing for the mil­i­tary when the Depart­ment of Defense remains the only major gov­ern­ment agency not to have under­tak­en a com­pre­hen­sive audit? Why is there so lit­tle dis­cus­sion about the bil­lions in waste, fraud and cost over­runs at the Pentagon?
Here's a truth that you don't often hear about in the news­pa­pers, on tele­vi­sion or in the halls of Con­gress. But it's a truth we must face. Far too often, Amer­i­can inter­ven­tion and the use of Amer­i­can mil­i­tary pow­er have pro­duced unin­tend­ed con­se­quences that have caused incal­cu­la­ble harm. Yes, it is rea­son­ably easy to engi­neer the over­throw of a gov­ern­ment. It is far hard­er, how­ev­er, to know the long-term impact that that action will have.
Let me give you some exam­ples: In 1953, the Unit­ed States, on behalf of West­ern oil inter­ests, sup­port­ed the over­throw of Moham­mad Mossadegh, Iran's elect­ed prime min­is­ter, and the rein­stal­la­tion of the shah of Iran, who led a cor­rupt, bru­tal and unpop­u­lar gov­ern­ment. In 1979, the shah was over­thrown by rev­o­lu­tion­ar­ies led by Aya­tol­lah Khome­i­ni, and the Islam­ic Repub­lic of Iran was cre­at­ed. What would Iran look like today if its demo­c­ra­t­ic gov­ern­ment had not been overthrown?
In 1973, the Unit­ed States sup­port­ed the coup against the demo­c­ra­t­i­cal­ly elect­ed pres­i­dent of Chile, Sal­vador Allende, which was led by Gen­er­al Augus­to Pinochet. The result was almost 20 years of author­i­tar­i­an mil­i­tary rule and the dis­ap­pear­ance and tor­ture of thou­sands of Chileans — and the inten­si­fi­ca­tion of anti-Amer­i­can­ism in Latin Amer­i­ca. Else­where in Latin Amer­i­ca, the log­ic of the Cold War led the Unit­ed States to sup­port mur­der­ous regimes in El Sal­vador and Guatemala, which result­ed in bru­tal and long-last­ing civ­il wars.
In Viet­nam, based on a dis­cred­it­ed ​"domi­no the­o­ry," the Unit­ed States replaced the French in inter­ven­ing in a civ­il war, which result­ed in the deaths of mil­lions of Viet­namese in sup­port of a cor­rupt, repres­sive South Viet­namese gov­ern­ment. We must nev­er for­get that more than 58,000 Amer­i­cans also died in that war.
More recent­ly, in Iraq, based on a sim­i­lar­ly mis­tak­en analy­sis of the threat posed by Sad­dam Hussein's régime, the Unit­ed States invad­ed and occu­pied a coun­try in the heart of the Mid­dle East. In doing so, we unleashed forces across the region and the world that we'll be deal­ing with for decades to come.
Unfor­tu­nate­ly, today we still have exam­ples of the Unit­ed States sup­port­ing poli­cies that I believe will come back to haunt us. One is the ongo­ing Sau­di war in Yemen.
On March 20, 2018, Repub­li­can Sen. Mike Lee, Demo­c­ra­t­ic Sen. Chris Mur­phy and I brought a res­o­lu­tion to the floor to end U.S. involve­ment in the Sau­di-led war in Yemen and to change the nature of how Con­gress does for­eign and mil­i­tary policy.
We intro­duced this res­o­lu­tion for two rea­sons. First, the war in Yemen has been a human­i­tar­i­an dis­as­ter for the peo­ple of that impov­er­ished coun­try. Some 10,000 civil­ians have been killed, 40,000 more have been wound­ed and more than 3 mil­lion have been dis­placed. In Novem­ber 2017, the Unit­ed Nations emer­gency relief coor­di­na­tor said that Yemen was on the brink of ​"the largest famine the world has seen for many decades." Fif­teen mil­lion peo­ple lack access to clean water and san­i­ta­tion because water treat­ment plants have been destroyed. More than 20 mil­lion peo­ple in Yemen, over two-thirds of the pop­u­la­tion, need some kind of human­i­tar­i­an sup­port, with near­ly 10 mil­lion in acute need of assis­tance. More than 1 mil­lion sus­pect­ed cholera cas­es have been report­ed, rep­re­sent­ing poten­tial­ly the worst cholera out­break in world his­to­ry. That is rea­son enough to end U.S. mil­i­tary sup­port for what Sau­di Ara­bia is doing in the civ­il war in Yemen.
But the sec­ond rea­son is even more impor­tant. Arti­cle 1, Sec­tion 8 of the Con­sti­tu­tion is very clear. It is Con­gress that has the respon­si­bil­i­ty to declare war and send our armed forces into harm's way. Over the years, Con­gress has, under both Demo­c­ra­t­ic and Repub­li­can lead­er­ship, abdi­cat­ed that respon­si­bil­i­ty and giv­en it over to the pres­i­dent. The time is long over­due for Con­gress to regain con­trol over this vital­ly impor­tant process, as the found­ing fathers mandated.
The issue of which body has con­trol over war­mak­ing and when we send troops into bat­tle is not some abstract intel­lec­tu­al debate. It is of enor­mous con­se­quence. Any­one who under­stands the his­to­ry of Amer­i­can for­eign pol­i­cy knows that, over the years, many of our wars and mil­i­tary inter­ven­tions were based on lies and decep­tions com­ing from the White House. The two most sig­nif­i­cant for­eign pol­i­cy blun­ders in the mod­ern his­to­ry of the Unit­ed States, the war in Iraq and the war in Viet­nam, occurred when Con­gress sat back and allowed two admin­is­tra­tions, one Repub­li­can and one Demo­c­ra­t­ic, to lie to the Amer­i­can peo­ple as they led us into unnec­es­sary con­flicts with hor­rif­ic unin­tend­ed con­se­quences. We must nev­er allow that to hap­pen again. And that's what our res­o­lu­tion was about.
On March 20, 2003, the war in Iraq, which I had strong­ly opposed, began, and the bombs start­ed falling on Bagh­dad. Today, it is wide­ly acknowl­edged that the Iraq War was a tragedy of enor­mous mag­ni­tude, and that our entry into that war was based on a series of false­hoods. Despite what the Bush admin­is­tra­tion said, Iraq had no role in the 9⁄11 attacks, and it did not pos­sess weapons of mass destruc­tion that threat­ened the Unit­ed States. As we now know, that war cre­at­ed a cas­cade of insta­bil­i­ty around the region that we are still deal­ing with today, in Syr­ia and else­where, and will be for many years to come.
Indeed, had it not been for the Iraq War, the Islam­ic State would almost cer­tain­ly not exist. The war deep­ened hos­til­i­ties between Sun­ni and Shi­ite com­mu­ni­ties in Iraq and else­where. It exac­er­bat­ed a region­al strug­gle for pow­er between Sau­di Ara­bia and Iran and their prox­ies in places like Syr­ia, Lebanon and Yemen, and it under­mined Amer­i­can diplo­mat­ic efforts to resolve the Israeli-Pales­tin­ian conflict.
That war was cre­at­ed by a Repub­li­can admin­is­tra­tion. Now, let me tell you about a Demo­c­ra­t­ic admin­is­tra­tion, and an ear­li­er con­flict that began on sim­i­lar­ly false pre­tens­es. In 1964, Pres­i­dent Lyn­don B. John­son cit­ed an attack on a U.S. ship in the Gulf of Tonkin as a pre­text for esca­lat­ing the U.S. inter­ven­tion in Viet­nam. We now know from declas­si­fied record­ings that John­son him­self doubt­ed that the U.S.S. Mad­dox had come under fire on Aug. 4, 1964, but he still used that alleged attack to push for the Gulf of Tonkin Res­o­lu­tion, which autho­rized him to esca­late U.S. mil­i­tary involve­ment in Viet­nam. Johnson's admin­is­tra­tion con­sis­tent­ly mis­led both Con­gress and the Amer­i­can peo­ple into that war, just as the Bush admin­is­tra­tion mis­led us into the war in Iraq.
The les­son that must be learned from all of this is that for­eign pol­i­cy dis­as­ters occur when pres­i­dents refuse to tell their peo­ple the truth, and when Con­gress abdi­cates its con­sti­tu­tion­al respon­si­bil­i­ty to get that truth. Not sur­pris­ing­ly, the Trump admin­is­tra­tion, the Repub­li­can con­gres­sion­al lead­er­ship, and the mil­i­tary estab­lish­ment strong­ly opposed our res­o­lu­tion. Sen­ate Major­i­ty Leader Mitch McConnell held a clas­si­fied hear­ing with mil­i­tary and intel­li­gence lead­ers to gain sup­port to defeat us, and Sec­re­tary of Defense Jim Mat­tis spoke at both the Repub­li­can and Demo­c­ra­t­ic Sen­ate Cau­cus­es on the day of the vote to sup­port the sta­tus quo.
Nonethe­less, the bill passed the Sen­ate on Dec. 13, 2018, with sup­port from all 49 Democ­rats, as well as sev­en Repub­li­cans. It is expect­ed to be tak­en up for a vote by the Demo­c­ra­t­ic-con­trolled House this year.
Adapt­ed with per­mis­sion from Where We Go from Here: Two Years in the Resis­tance (Houghton Mif­flin, 2018). All rights reserved.

Bernie Sanders
(I‑Vt.) was elect­ed to the U.S. Sen­ate in
2006
after serv­ing
16
years in the House of Rep­re­sen­ta­tives. He is the longest serv­ing inde­pen­dent mem­ber of Con­gress in Amer­i­can his­to­ry. Elect­ed May­or of Burling­ton, Vt., by
10
votes in
1981
, he served four terms. Before his
1990
elec­tion as Ver­mon­t's at-large mem­ber in Con­gress, Sanders lec­tured at the John F. Kennedy School of Gov­ern­ment at Har­vard and at Hamil­ton Col­lege in upstate New York. Read more at his
web­site
.