We Should Be Very Wary About the Growing Military Response to the Coronavirus Crisis
The reliance on the military for emergency response is a testament to the failures of the U.S. welfare state.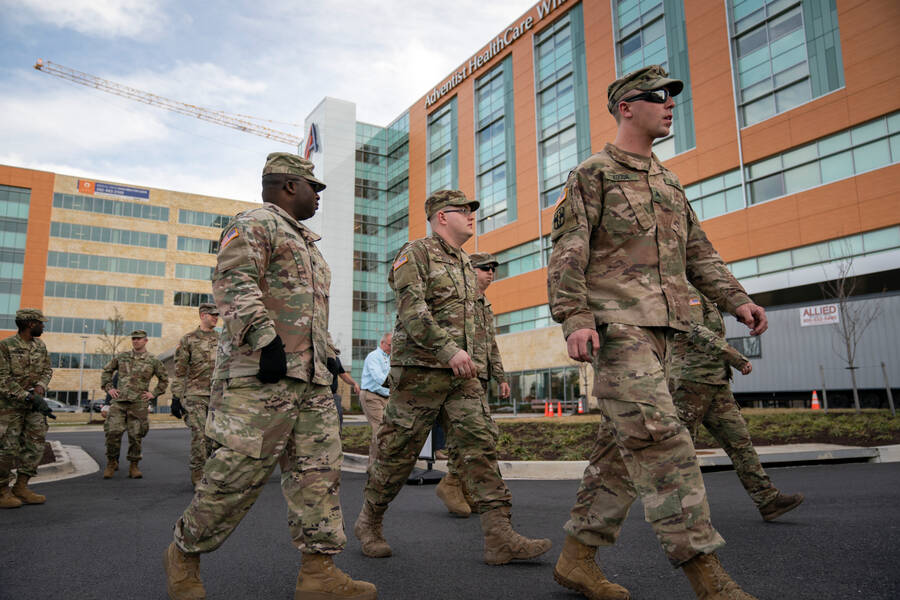 On March 18, New York City May­or Bill de Bla­sio went on CNN and plead­ed for Pres­i­dent Trump to mobi­lize the U.S. mil­i­tary in response to coro­n­avirus. ​"I want their med­ical teams, which are first-rate, I want their logis­ti­cal sup­port, I want their abil­i­ty to get stuff from fac­to­ries all over the coun­try where they're need­ed most," de Bla­sio told Ander­son Coop­er. ​"The only force in Amer­i­ca that can do it effec­tive­ly and quick­ly is the Unit­ed States military."
When we begin to feel the worst effects of the climate crisis, are we just going to hand the country over to unelected military brass?
The next day, March 19, was the 17th anniver­sary of the U.S. inva­sion of Iraq, a cat­a­stroph­ic act of aggres­sion that would go on to kill more than 1 mil­lion Iraqi peo­ple, accord­ing to one esti­mate. Since 2003, that date has often been marked by anti-war protests, street block­ades and demon­stra­tions at mil­i­tary instal­la­tions, but these actions have declined in fre­quen­cy and scale as the years have passed, and on Thurs­day — in quar­an­tine — that anniver­sary went large­ly unremarked.
But it needs to be remem­bered. As polit­i­cal lead­ers on both sides of the aisle fail to cre­ate an emer­gency response that can pro­vide imme­di­ate, mate­r­i­al relief for the mil­lions of peo­ple des­per­ate­ly in need, we are see­ing increas­ing calls to turn to the U.S. mil­i­tary and Nation­al Guard to fill in that gap. The des­per­a­tion dri­ving this trend is under­stand­able, but we must not uncrit­i­cal­ly turn to mil­i­tary insti­tu­tions as providers of ​"med­ical teams" and ​"logis­ti­cal sup­port" with­out look­ing at how the U.S. mil­i­tary itself is a pur­vey­or of uncon­scionable vio­lence, from its 2003 inva­sion of Iraq to its wors­en­ing of the present-day glob­al pan­dem­ic, or how it could be used to crack down on peo­ple with­in the Unit­ed States.
This is espe­cial­ly urgent as politi­cians move rapid­ly to pur­sue a mil­i­tary response. On Sun­day night, Pres­i­dent Trump gave orders to acti­vate the Nation­al Guard in New York, Cal­i­for­nia and Wash­ing­ton into fed­er­al­ized sta­tus, which means they will be paid for by the fed­er­al gov­ern­ment but under the con­trol of states. And Mil­i­tary Times reports that all 50 states, Puer­to Rico, Guam, the U.S. Vir­gin Islands and Wash­ing­ton, DC ​"have each mobi­lized com­po­nents of their Army and Air Nation­al Guard to assist in their state's response to the COVID-19 pan­dem­ic." While the Nation­al Guard is a domes­tic force, it can be mobi­lized in times of war and nation­al emer­gency, and it falls under the purview of the Depart­ment of Defense. Mean­while, accord­ing to Newsweek, ​"the U.S. mil­i­tary is prepar­ing forces to assume a larg­er role in the coro­n­avirus response, includ­ing the con­tro­ver­sial mis­sion of quelling ​'civ­il dis­tur­bances' and enforc­ing the law."
There are already signs that gov­ern­ments around the world are using the cri­sis to expand the secu­ri­ty state. Israeli Prime Min­is­ter Ben­jamin Netanyahu is using the cri­sis to side-step leg­isla­tive over­sight, and an upcom­ing tri­al for cor­rup­tion, to enact sweep­ing ​"secu­ri­ty" mea­sures. Hun­gar­i­an Prime Min­is­ter Vik­tor Orban is also using the cri­sis to seize dra­mat­ic pow­ers that allow him to crim­i­nal­ize the press under the name of pro­tect­ing secu­ri­ty. We should be wary of sim­i­lar maneu­vers in the Unit­ed States.
The mil­i­tary's role in the glob­al crisis
If our con­cern were pro­vid­ing imme­di­ate relief and sup­port for all peo­ple harmed and threat­ened by the coro­n­avirus out­break, regard­less of nation­al ori­gin or res­i­dence, a good step would be to stop the U.S. mil­i­tary from per­pe­trat­ing the harm it's present­ly inflict­ing against peo­ple who are high­ly vul­ner­a­ble to the out­break. Five years of a U.S.-Saudi war and block­ade on Yemen has left that country's med­ical sys­tem dec­i­mat­ed: The groups Physi­cians for Human Rights and the Yemen-based Mwatana for Human Rights have doc­u­ment­ed 120 attacks on med­ical facil­i­ties from March 2015 to the end of 2018 alone, leav­ing the coun­try high­ly vul­ner­a­ble to the virus. Why are calls for an imme­di­ate end to U.S. par­tic­i­pa­tion in that war not con­sid­ered a high-pri­or­i­ty emer­gency response?
When we for­ti­fy the mil­i­tary, we also rein­force the larg­er impe­r­i­al appa­ra­tus it is part of. The Trump admin­is­tra­tion is act­ing on behalf of this impe­r­i­al appa­ra­tus to tight­en U.S. sanc­tions on Iran in the midst of a glob­al pan­dem­ic, despite warn­ings that they are cut­ting off need­ed med­ical sup­plies and increas­ing coro­n­avirus deaths. Iran is one of the coun­tries hard­est hit by this pan­dem­ic. Why isn't end­ing these sanc­tions, just two-and-a-half months after the Trump admin­is­tra­tion assas­si­nat­ed Maj. Gen. Qas­sim Soleimani and almost drew Iran into direct war, con­sid­ered a top pri­or­i­ty in the fight against coronavirus?
U.S. mil­i­tary aid is enabling Israel's 14-year eco­nom­ic and mil­i­tary siege of Gaza, one of the most dense­ly pop­u­lat­ed places in the world, where there are now offi­cial­ly two con­firmed cas­es of coro­n­avirus. With a pop­u­la­tion of 2 mil­lion peo­ple, Gaza has only 62 ven­ti­la­tors. Why isn't it con­sid­ered a top pri­or­i­ty for the Unit­ed States to with­draw its mil­i­tary aid from the siege so that life-sav­ing med­i­cines and sup­plies can get through?
In Venezuela, where there are 42 con­firmed cas­es of coro­n­avirus, U.S. sanc­tions have helped push the country's med­ical sys­tem to ruin, and are esti­mat­ed to have killed 40,000 peo­ple from 2017 to 2018, in part by help­ing erode pub­lic health, accord­ing to the Cen­ter for Eco­nom­ic and Pol­i­cy Research. Where is the urgency around lift­ing those sanctions?
It is no mys­tery what is going to hap­pen to the peo­ple liv­ing in these places if the Unit­ed States doesn't act imme­di­ate­ly to relieve the tremen­dous harm it is caus­ing. While there are no con­firmed cas­es in Yemen yet, Altaf Musani, Yemen's World Health Orga­ni­za­tion rep­re­sen­ta­tive, said last week ​"It is a per­fect storm of a dis­as­ter should this virus intro­duce itself." The same goes for all places where health sys­tems and social safe­ty nets are bat­tered and weak­ened by U.S. war, occu­pa­tion, proxy bat­tle and aer­i­al bom­bard­ments. By fail­ing to take imme­di­ate steps to stop the harm it is doing in the midst of a glob­al pan­dem­ic, the Unit­ed States will bear respon­si­bil­i­ty for these deaths. Yet some­how this harm nev­er fac­tors into the domes­tic con­ver­sa­tion about a mil­i­tary response to a cri­sis, even though, in a glob­al pan­dem­ic, an out­break in any one of these places impacts the whole world.
Not a pub­lic health organization
Dis­cus­sions of the U.S. mil­i­tary in the con­text of a cri­sis only ever go in one direc­tion: pour­ing more resources into the Pen­ta­gon. Under­stand­ably, peo­ple are des­per­ate, and there is a dearth of large-scale insti­tu­tions capa­ble of con­vert­ing aban­doned build­ings into hos­pi­tals, or quick­ly dis­trib­ut­ing tests, med­ical sup­plies and food — acts that will be nec­es­sary to deal­ing with the com­ing del­uge of coro­n­avirus patients. May­ors and gov­er­nors may very well feel that they have nowhere else to turn but the mil­i­tary — a pro­found fail­ure of our polit­i­cal system.
But the U.S. mil­i­tary is not a pub­lic health orga­ni­za­tion: It is a pur­vey­or of wars, occu­pa­tion and proxy bat­tles, with 800 mil­i­tary bases around the world. We have every rea­son to think it would be a fero­cious force polic­ing the streets of the Unit­ed States, prone to puni­tive respons­es at a time peo­ple des­per­ate­ly need food and rent mon­ey. When the Nation­al Guard was deployed to New Orleans in the after­math of Hur­ri­cane Kat­ri­na, it took on a large­ly puni­tive law enforce­ment role. As the New York Times report­ed on Sep­tem­ber 9, 2005, ​"New Orleans has turned into an armed camp, patrolled by thou­sands of local, state, and fed­er­al law enforce­ment offi­cers, as well as Nation­al Guard troops and active-duty soldiers."
On March 17, Gov­er­nor Gavin New­som pub­licly float­ed the pos­si­bil­i­ty of impos­ing mar­tial law, a state­ment he lat­er walked back. Mean­while, accord­ing to Politi­co, the Depart­ment of Jus­tice is seek­ing emer­gency pow­ers to detain peo­ple indef­i­nite­ly with­out tri­al, cit­ing the coro­n­avirus cri­sis. The pos­si­bil­i­ty that we are on the verge of expand­ing gov­ern­ment pow­ers to detain and police peo­ple domes­ti­cal­ly has trou­bling echoes of the post‑9/​11 era, which saw politi­cians on both sides of the aisle ram through the repres­sive and sweep­ing Patri­ot Act.
Anti-war orga­niz­ers are already grap­pling with the ques­tions that a sup­pos­ed­ly ​"human­i­tar­i­an role" for the mil­i­tary rais­es rais­es, par­tic­u­lar­ly giv­en the U.S. his­to­ry of declar­ing a human­i­tar­i­an mis­sion to jus­ti­fy bru­tal wars. In a state­ment writ­ten for the anti-mil­i­tarist orga­ni­za­tion About Face: Vet­er­ans Against War, activist and writer Drake Logan argues that, dur­ing the out­break, ​"We need to draw care­ful lines between what is accept­able mil­i­tary response and what is cat­e­gor­i­cal­ly unac­cept­able." Logan writes:
What would be cat­e­gor­i­cal­ly unac­cept­able to com­mu­ni­ties in the U.S. is for sol­diers to have their weapons and war-grade Kevlar — as well as oth­er bat­tle­field gear — out on our streets… We already have a high­ly mil­i­ta­rized domes­tic police force which fills our streets with weapon­ry, and which dai­ly kills inno­cent Amer­i­cans who nev­er have a chance to be inno­cent until proven guilty. We can­not afford more of the same from U.S. soldiers.
As Lara Kiswani, the exec­u­tive direc­tor of the Arab Resource and Orga­niz­ing Cen­ter, tells In These Times, ​"A mil­i­ta­rized response to this cri­sis would put those most vul­ner­a­ble to this pan­dem­ic and his­tor­i­cal­ly mar­gin­al­ized com­mu­ni­ties at fur­ther risk of harm and mar­gin­al­iza­tion. By instill­ing fear in peo­ple, such a response would dis­cour­age com­mu­ni­ties to seek crit­i­cal ser­vices, or worse yet, crim­i­nal­ize the same peo­ple who are most at risk, in turn exac­er­bat­ing this pub­lic health crisis."
Expand­ing our polit­i­cal imagination
At the very least, the need to pro­tect peo­ple from mil­i­tary force should be vocif­er­ous­ly dis­cussed in pub­lic forums. The fact that it's not shows that, as a coun­try, our government's default pos­ture is that of mil­i­tarism, rely­ing on the Depart­ment of Defense to per­form duties that should be run by civil­ians. Over the long term, we must change this state of affairs. After all, the coro­n­avirus out­break is not the only cri­sis we face. When we begin to feel the worst effects of the cli­mate cri­sis, are we just going to hand the coun­try over to unelect­ed mil­i­tary brass? Each time there is drought or a super-storm, are we going to expand the secu­ri­ty state while shrink­ing the wel­fare state?
Instead of fur­ther for­ti­fy­ing the U.S. mil­i­tary dur­ing times of cri­sis, we need to build robust civil­ian social pro­grams like Medicare for All and a Green New Deal that allow us to effi­cient­ly and effec­tive­ly dis­burse med­ical care and social sup­port both in the event of crises, and on the day to day. In the­o­ry, civil­ian-run, domes­tic insti­tu­tions like FEMA should be play­ing this role, but hav­ing been gut­ted and giv­en a lim­it­ed purview, they're not equipped to han­dle the scope of the cur­rent crisis.
But we also must not suf­fer from a fail­ure of polit­i­cal imag­i­na­tion in the present moment. The Unit­ed States should be spend­ing tril­lions of dol­lars to keep afloat the mil­lions of peo­ple who are los­ing their jobs in the midst of this cri­sis. We should be using all options on the table: trans­form­ing cor­po­rate offices and hotels into hos­pi­tals and hous­ing for the unhoused, pass­ing blan­ket mora­to­ri­ums for water and elec­tric­i­ty shut-offs, and let­ting peo­ple out of pris­ons, where the virus is spread­ing. ​"Resources and job cre­ation can hap­pen by car­ing for the com­mu­ni­ty and pro­vid­ing social goods for every­one, instead of mil­i­ta­riza­tion and com­ing in with guns and tanks," Cindy Wies­ner, the exec­u­tive direc­tor of Grass­roots Glob­al Jus­tice Alliance, tells In These Times. ​"There are ways we can make demands in this moment to have a par­a­digm shift about what well-being and safe­ty mean." Crit­i­cal to all this, the U.S. mil­i­tary must remove its boot from the necks of peo­ple around the world, who des­per­ate­ly need a reprieve from war and sanc­tions in the midst of a glob­al pandemic.
Hyper-mil­i­tarism may be a tempt­ing short-term emer­gency strat­e­gy, but it's ubiq­ui­ty is a tes­ta­ment to the fail­ures of the U.S. wel­fare state. Replac­ing it with strong pub­lic insti­tu­tions under civil­ian con­trol as the go-to large-scale logis­ti­cal insti­tu­tion in times of cri­sis should be an urgent pri­or­i­ty – to get us through this cri­sis, and the next one.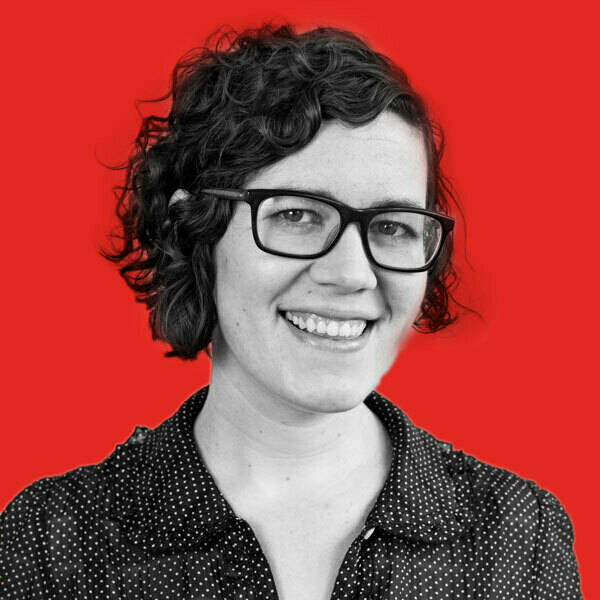 Sarah Lazare is web edi­tor at In These Times. She comes from a back­ground in inde­pen­dent jour­nal­ism for pub­li­ca­tions includ­ing The Inter­cept, The Nation, and Tom Dis­patch. She tweets at @sarahlazare.