Billionaire-Backed Group Spends Unprecedented $290K in Minneapolis School Board Race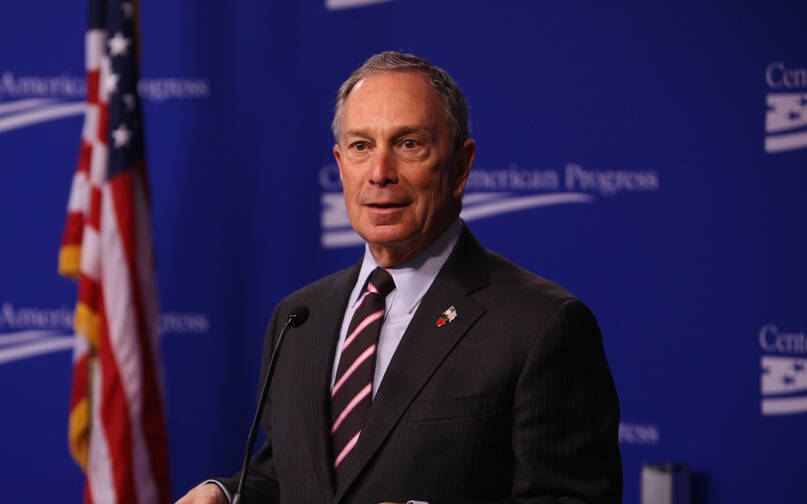 New cam­paign finance reports filed in Min­neso­ta show that the 2014 Min­neapo­lis school board elec­tion is being buoyed by a tremen­dous amount of out­side mon­ey, includ­ing a $100,000 con­tri­bu­tion from for­mer New York City may­or Michael Bloomberg.
Bloomberg's mon­ey went to a group that calls itself the Min­neapo­lis Pro­gres­sive Edu­ca­tion Fund. This fund also ben­e­fit­ed from a $90,000 influx of cash from Cal­i­for­nia bil­lion­aire and ven­ture cap­i­tal­ist Arthur Rock, and anoth­er $25,000 from Con­necti­cut busi­ness­man Jonathan Sack­ler, a trustee of the Achieve­ment First char­ter school chain.
A cam­paign finance report filed by the Fund this week shows that between July 30 and Octo­ber 21, it raised $228,300 and spent $146,860 on such things as phone bank­ing, strat­e­gy and cam­paign lit­er­a­ture, includ­ing $8,500 for social media and web­site resources. In total, the group has spent more than $286,000 on the race this year.
There are four con­tenders for the two open at-large seats on the school board. So far, all of the Fund's resources have been used to pro­mote two can­di­dates: Don Samuels and Iris Altami­ra­no. In addi­tion to a web­site that advis­es peo­ple to vote for Samuels and Altami­ra­no on Novem­ber 4, the Fund also sent out two glossy cam­paign mail­ers that advo­cate for Samuels and Altami­ra­no and crit­i­cize incum­bent can­di­date Rebec­ca Gagnon.
One of the Fund's recent mail­ers says that Gagnon is ​"Good For Big Donors" and there­fore ​"Bad For Our School Board." Gagnon's per­son­al cam­paign finance reports show that she has raised a lit­tle more than $12,000, putting her well behind fundrais­ing fron­trun­ners Samuels and Altami­ra­no, who have raised more than $65,000 and $41,000, respec­tive­ly. The fourth at-large can­di­date, Ira Jour­dain, has raised just over $3,000.
The Fund is chaired by Min­neapo­lis res­i­dent Daniel Sell­ers, who also serves as exec­u­tive direc­tor of both the local edu­ca­tion reform advo­ca­cy group Min­nCAN and the Min­neso­ta chap­ter of its 501c4 advo­ca­cy arm, 50CAN Action Fund, which is also cam­paign­ing for Samuels. While some might ques­tion why out-of-state bil­lion­aires like Bloomberg and Rock would throw their mon­ey into the Min­neapo­lis school board race, Sell­ers tells In These Times that he con­sid­ers their invest­ments noth­ing more than an indi­ca­tion of their sup­port for the city and for the Min­neapo­lis Pro­gres­sive Edu­ca­tion Fund's desire to raise aware­ness about the election.
Sell­ers says that Bloomberg, Rock and the oth­er donors gave no indi­ca­tion of which can­di­dates the Fund should sup­port, and that the Fund has no agen­da at this point beyond get­ting Samuels and Altami­ra­no elect­ed. When asked why the Fund had cho­sen to sup­port these two can­di­dates, Sell­ers told In These Times it was because of the their com­mit­ment to ​"equi­ty and excel­lence" and ​"trans­paren­cy of dis­trict leadership."
Meet the billionaires
Bloomberg is the eighth-rich­est per­son in the Unit­ed States and has a track record of using his mon­ey to influ­ence local elec­tions. In Los Ange­les in 2013, for exam­ple, Bloomberg gave $1 mil­lion to a group called the Coali­tion for School Reform, which backed a ​"reform-mind­ed" slate of school board can­di­dates who sup­port­ed the agen­da of then-Super­in­ten­dent John Deasy. Deasy has since resigned from his posi­tion, after a scan­dal over an inside deal with edu­ca­tion soft­ware giant Pear­son.
Bloomberg is a well-known pro­po­nent of char­ter schools. As may­or of New York, he sup­port­ed pro­vid­ing pri­vate­ly run char­ters with free rent. Pub­lic fund­ing for char­ter schools ​"explod­ed from $32 mil­lion to $659 mil­lion" dur­ing his first ten years in office, accord­ing to the New York Dai­ly News.
Arthur Rock, too, is a not­ed donor to local school board elec­tions and, like Bloomberg, sup­ports char­ter schools. Rock is an investor in the Rock­et­ship char­ter school chain, which has been crit­i­cized for its large class sizes, com­put­er-based instruc­tion, and use of non-salaried aides rather than tra­di­tion­al class­room teach­ers. (Jour­nal­ist David Bacon detailed these crit­i­cisms in an Octo­ber 17 arti­cle for Rethink­ing Schools.)
Jonathan Sack­ler, who gave $25,000 to the Min­neapo­lis Pro­gres­sive Edu­ca­tion Fund, is a ​"ven­ture phil­an­thropist" and a promi­nent sup­port­er of, and investor in, char­ter schools — includ­ing the Achieve­ment First chain of char­ter schools, which he helped start. Sack­ler recent­ly gave $25,000 to the Rhode Island chap­ter of the 50CAN Action Fund to help sup­port a Prov­i­dence may­oral can­di­date who pre­vi­ous­ly served on the board of Achieve­ment First. Accord­ing to a Rhode Island news report, the oth­er can­di­date in the race, Bud­dy Cian­ci, ​"oppos­es char­ter schools."
The stakes in Minneapolis
What do investors like Bloomberg, Rock and Sack­ler stand to gain by pour­ing mon­ey into the Min­neapo­lis school board race? While nation­al char­ter school chains such as Rock­et­ship do not oper­ate here, the city's school dis­trict recent­ly entered into the state's first-ever ​"dis­trict-char­ter com­pact" with local char­ter school chain Hiawatha Lead­er­ship Acad­e­mies. This com­pact was borne out of a 2010 Dis­trict-Char­ter Col­lab­o­ra­tion Com­pact signed by Min­neapo­lis Pub­lic School admin­is­tra­tors, local politi­cians and char­ter school oper­a­tors. In the future, Min­neapo­lis Pub­lic Schools spokesper­son Myr­le Croas­dale tells In These Times, the dis­trict is ​"open to devel­op­ing part­ner­ships with out­side stake­hold­ers." Per­haps this will­ing­ness helps to explain how the Min­neapo­lis Pro­gres­sive Edu­ca­tion Fund has attract­ed such big-dol­lar out­side sup­port for school board candidates.
Samuels and Altami­ra­no have sought to dis­tance them­selves from the Fund in recent days, and both said via email that they have dis­avowed neg­a­tive cam­paign­ing. Samuels also said he has ​"no involve­ment with the Min­neapo­lis Pro­gres­sive Edu­ca­tion Fund." The two can­di­dates declined to com­ment fur­ther on the Fund and the hun­dreds of thou­sands of dol­lars it has spent back­ing them.
Sarah Lahm's report­ing on the Min­neapo­lis school sys­tem is sup­port­ed by the Nation Insti­tute Inves­tiga­tive Fund, with sup­port from the Puf­fin Foundation.
Sarah Lahm is a Min­neapo­lis-based writer and for­mer Eng­lish Instruc­tor. She writes the Mid­west Dis­patch col­umn for the Pro­gres­sive mag­a­zine, and her work has appeared in oth­er local and nation­al outlets.