Minor League Umps Call a (Labor) Strike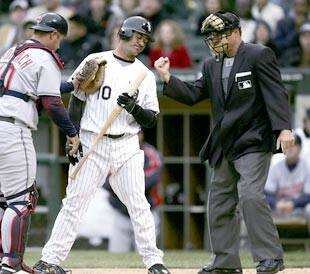 On April 2, after a three-hour rain delay, the defending-champion Chicago White Sox picked up right where they left off in October, clobbering the visiting Cleveland Indians 10-4 in Major League Baseball's (MLB) season opener. While the clouds relented to reassure baseball fans that spring had returned, two days later the rumblings of a labor dispute marred the debut of the less glamorous minor league season: Citing alleged union-busting by management, minor league umpires went on strike.
The conflict started back in February when the umpires' employer, Professional Baseball Umpire Corporation (PBUC), declared an impasse in contract negotiations with the Association of Minor League Umpires (AMLU). At issue was the terms of a the umpires' first pay-raise in a decade. The union says it's badly needed: on average, umpires earn between $5,500 in the rookie leagues and $15,000 in Triple-A over a five-month, 142-game season. In contrast, a MLB ump, working a 162-game schedule, starts out at $84,000 (not including potential bonuses and ample compensation for expenses) and tops out at nearly $300,000.
On March 24, the union announced it had filed unfair labor practice charges with the National Labor Relations Board and was planning to strike. The AMLU alleges management threatened to fire umps who went on strike and find replacements, in violation of labor law. Two days after the AMLU issued its statement, PBUC lawyer George Yund told the Associated Press that the union was ​"changing their story" after previously ​"threatening to strike in support of their contract demands for weeks."
With their paychecks cut off, the umpires will have to find other ways to make ends meet, something they're used to. Off-season work is essential for minor league umpires. Brian Kennedy, a 31-year-old Double-A umpire from Charlotte, N.C., coordinates deliveries for his brother-in-law's tile and granite company when away from the diamond. Like the aspiring ballplayers whose on-field fate they preside over, umpires are hard-working dream chasers devoted to baseball and willing to do whatever it takes to make it to the sport's ultimate stage. Andy Roberts, AMLU president and an ump at the Triple-A level based out of Birmingham, Ala., puts it this way: ​"We love the game. We want to contribute."
But if umping at this level has never been about the money, why are they striking? Well, love can only get you so far. Double-A umpire Brandon Bushee of Fort Wayne, Ind., who has pieced together out-of-season jobs in construction, retail and substitute teaching, says many employers aren't interested in workers who are only available for half the year.
And what's a good umpire worth? Both Roberts and Kennedy played baseball in college, but they have found that as umpires they play a more meaningful role. ​"I played a lot of baseball growing up," Kennedy says, ​"but I don't look through the eyes of a player anymore." For Roberts, nothing beats ​"calling a good game [as home-plate ump] and no one behind the plate says a word."
Kennedy, sounding like an apprentice in love with his craft and in awe of its masters, refers to umps at the major league level as ​"men of character" who ​"uphold the integrity of baseball."
But the apprenticeship often proves bittersweet, given the slim likelihood of breaking into the majors. Rising through the farm system ranks up to the big show is not a meritocracy, but a lottery. Only three umpires have been called up since 2000. The major league season opened with only 68 full-time umpires, none of whom are new hires. When an ump makes it, he stays put, living out his dream and finally earning a big-league paycheck. To be part of the less than one percent of a graduating umpire class to reach the majors, an aspiring ump needs something beyond his training: luck.
First, an open spot must be available. Then, after having made it from the rookie leagues to Triple-A (which often takes at least seven to 10 years), having participated in a fall instructional league in Arizona and spring training (which both require invites), and finally becoming a major league fill-in, it comes down to the opinion of supervisors. ​"It takes someone to like you," Kennedy says. A major league umpire supervisor might be impressed by an ump nicely handling a close call or argument at a pivotal moment, but that supervisor must witness such a precious flash.
Since making it to the bigs requires both time and timing, for the umps on strike the tangible goal is securing the conditions needed to hang in there. Commenting on the growing numbers of older umps who can no longer afford to stay in the hunt, Roberts says, ​"Ten to 14 years of life invested and it can be done in the flick of a light switch." They're holding out for the lights to stay on a bit longer.
Jeffrey Lane
is the author of the forthcoming book,
Under the Boards: The Culture War in Basketball
.