Modern-Day Monkeywrencher
During the final days of the Bush administration, Tim DeChristopher's civil disobedience drew attention to a rushed federal auction for Utah drilling rights.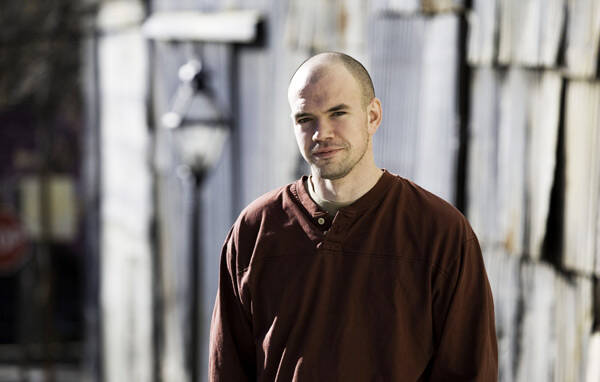 On Dec. 19, Tim DeChristo­pher, 27, walked into a Bureau of Land Man­age­ment build­ing in Salt Lake City where an auc­tion was being held. The fed­er­al gov­ern­ment was sell­ing drilling rights on 164,000 acres of land in Utah's Red Rock Coun­try. Ear­li­er that month, sev­er­al envi­ron­men­tal groups – includ­ing the Nation­al Resources Defense Coun­cil (NRDC), the South­ern Utah Wilder­ness Alliance (SUWA), the Wilder­ness Soci­ety and Earth Jus­tice – had filed a law­suit chal­leng­ing the auc­tion. They object­ed to the leas­ing of 110,000 acres of pub­lic lands, most of which are adja­cent to Arch­es and Canyon­lands Nation­al Parks, and argued that drilling would dam­age views and increase pollution.
'I see this as the way the environmental movement should be working: with some big groups on the inside... And then people like me, on the outside, pushing the boundaries'
When DeChristo­pher entered the build­ing, offi­cials mis­took him for a bid­der and allowed him to enter the auc­tion, where he was giv­en a bid­ding pad­dle – num­ber 70. The Uni­ver­si­ty of Utah eco­nom­ics stu­dent says he stood out in a room filled most­ly with vet­er­an oil and gas men, but he start­ed hold­ing up his pad­dle to bid. By the time offi­cials caught on and stopped the auc­tion, DeChristo­pher had acquired the rights to 12 parcels of land, total­ing 22,000 acres – for $1.79 mil­lion that he didn't have.
He lat­er told author­i­ties he had engaged in civ­il dis­obe­di­ence to pro­tect the land and was will­ing to go to prison for his actions. Attract­ing media atten­tion and sup­port from around the world, DeChristo­pher raised enough mon­ey to offer an ini­tial $45,000 pay­ment for the lands he had acquired, but the Bureau of Land Man­age­ment refused it.
On Jan. 17, the envi­ron­men­tal groups won their law­suit, and Inte­ri­or Sec­re­tary Ken Salazar lat­er inval­i­dat­ed 77 con­tro­ver­sial leas­es from the auc­tion, includ­ing all of DeChristopher's. Despite the vic­to­ry, he still faces fed­er­al crim­i­nal charges.
In These Times called DeChristo­pher in Salt Lake City, where he lives.
Why did you inter­vene in the auction?
It was a rushed attempt to sell off some of the most pre­cious lands in south­ern and east­ern Utah right before Bush left office. And there were a lot of exam­ples of how rushed it was. One of the most enter­tain­ing is that when they first announced what parcels were up for auc­tion, they includ­ed land in the city of Moab that had hous­es on it. They includ­ed the land under­neath the Moab golf course, which they tried to auc­tion off to drill.
There was a lot of oppo­si­tion to it, and the envi­ron­men­tal impact state­ment wasn't ade­quate­ly done and didn't fac­tor in a lot of the costs asso­ci­at­ed with drilling. And the pub­lic com­ment peri­od was rushed and peo­ple were obstruct­ed from get­ting accu­rate information.
Who were some of the oth­er bidders?
A lot of them were small ener­gy pro­duc­ers who were intend­ing to lat­er flip the parcels, to sell them to the big­ger com­pa­nies. There were a few big­ger com­pa­nies there, like Bill Bar­rett Cor­po­ra­tion. And I was told that one of the com­pa­nies I was bid­ding against was Halliburton.
What is your reac­tion to Sec­re­tary Salazar's deci­sion to inval­i­date 77 of the leas­es, includ­ing all of yours?
I was encour­aged by Salazar's deci­sion. I saw it as a strong stand by our new admin­is­tra­tion to pro­tect the land and to pro­tect the cli­mate. The admin­is­tra­tion not only rein­forced the law­suit, but it also went well beyond the grounds of the law­suit to chal­lenge those under­ly­ing resource man­age­ment plans.
I see this as the way the envi­ron­men­tal move­ment should be work­ing: with some of the big groups on the inside, like SUWA and NRDC, that are work­ing through their means – whether through law­suits or what­ev­er is avail­able to them. And then peo­ple like me, on the out­side, push­ing the bound­aries and doing the con­tro­ver­sial stuff that the big groups can't do.
Could the law­suit alone have pro­duced this out­come or was your action necessary?
My action was cer­tain­ly need­ed and that's the feed­back I've got­ten from a lot of peo­ple involved in this issue. It brought to light the injus­tice behind this auc­tion. And it kept it in the media and the pub­lic eye for that month or so after the auc­tion before Salazar made his decision.
What's going to hap­pen to the 77 parcels now?
Now the gov­ern­ment goes back and con­sid­ers whether it's real­ly a good idea to be auc­tion­ing off this land for oil and gas devel­op­ment. It'll look at the land's real val­ue and hope­ful­ly do an accu­rate envi­ron­men­tal impact state­ment that weighs the costs of air pol­lu­tion, the cost of road build­ing, the loss of recre­ation – all those things it hadn't con­sid­ered before.
Do you still expect to be crim­i­nal­ly charged?
I would expect that it would still hap­pen. The Salazar deci­sion didn't erase the case against me even though it did pro­tect the land for now. The one thing that it did is take away the dam­ages from my case, which I think puts me in a bet­ter legal posi­tion because there's no way that they can show $1.7 mil­lion of dam­ages to any­one. And because the deci­sion is an offi­cial rul­ing stat­ing that this auc­tion was inap­pro­pri­ate and ille­gal, it strong­ly sup­ports the idea that what I was stand­ing up against was some­thing unjust.
Have you been sur­prised by all the sup­port you've received?
I've been very sur­prised by that and sur­prised by how broad that sup­port is. It's been com­ing from all over the coun­try and from across the polit­i­cal spec­trum. A lot of main­stream folks are sup­port­ing this not-so-main­stream action.
From my lawyer, Patrick Shea – the for­mer direc­tor of the Bureau of Land Man­age­ment [under Clin­ton], who's now join­ing my side and sup­port­ing what I did – to a lot of pro­fes­sors and folks at the uni­ver­si­ty who are sup­port­ing what I did. Last week I went to Utah Val­ley Uni­ver­si­ty, to Orem and Pro­vo, and had two speak­ing engage­ments down there. And that's real­ly the most con­ser­v­a­tive part of Utah, which is one of the most con­ser­v­a­tive states in the coun­try. I received a huge amount of sup­port there.
How do you feel about peo­ple equat­ing your action with that of Edward Abbey and The Mon­key Wrench Gang?
I was a big fan of Edward Abbey, espe­cial­ly when I was younger. And in the last cou­ple months, I've met a lot of Edward Abbey's close friends and some of the peo­ple who inspired the char­ac­ters in The Mon­key Wrench Gang. What they told me is that my actions are cat­e­gor­i­cal­ly dif­fer­ent than mon­key­wrench­ing. The mon­key­wrench­ing of Abbey's style was some­thing soli­tary that one did at night and then snuck away and nev­er talked about again. Where­as what I did was more in line with civ­il dis­obe­di­ence, of peo­ple open­ly stand­ing in the way of an unjust law or an unjust sys­tem and accept­ing the con­se­quences for it.
In the weeks fol­low­ing the auc­tion, you raised about $100,000, much of which was intend­ed to pay for the lands. Since that option is now off the table, what do you plan to do with the money?
About $40,000 of that mon­ey is in the legal fund that we'll hang on to because it looks like there's a good chance that this case will go to tri­al. And we'll prob­a­bly need quite a bit more than that.
The rest of the mon­ey is in the lease pur­chase fund. I'm draft­ing a let­ter right now that I'm going to send out in the next few days to all the donors, inform­ing them of what the sit­u­a­tion is and ask­ing them whether they want the mon­ey returned, put toward my legal fund or put toward anoth­er sim­i­lar cause, name­ly the non­prof­it group that I've helped launch in the last two months called Peace­ful Upris­ing – a group that seeks to be the direct action side of the envi­ron­men­tal move­ment that has been lack­ing in recent years.
Our mis­sion is to train and sup­port and defend those who take non­vi­o­lent direct action to pro­tect our future from cli­mate change.
In pro­mot­ing more aggres­sive, grass­roots tac­tics with­in the envi­ron­men­tal move­ment, you've expressed crit­i­cism of some of the main­stream envi­ron­men­tal groups for not push­ing peo­ple to act out­side of tra­di­tion­al meth­ods, such as donat­ing mon­ey, writ­ing let­ters and sign­ing petitions.
All of that stuff is nec­es­sary and it needs to con­tin­ue to be an impor­tant part of the move­ment, but it can't con­sti­tute the whole move­ment, espe­cial­ly an envi­ron­men­tal move­ment where there are entrenched inter­ests on the oth­er side.
The fos­sil fuels indus­try, for exam­ple, is prof­it­ing off the destruc­tion of our future. We're bat­tling against this huge force that has far more polit­i­cal pow­er than the move­ment does. That indus­try gets to write the rules.
If the envi­ron­men­tal move­ment always plays by the rules, there's no way we can win. There's no way we can defend our future. And we're always going to be backpedal­ing, which is what we've seen in the move­ment for the last 20 years. We've basi­cal­ly tried to just put out fires and gone from one fire to anoth­er and we're always los­ing ground.
So, if the envi­ron­men­tal move­ment is going to make progress, it must shift the cen­ter and shift what's con­sid­ered rea­son­able. There needs to be that direct action side of it.
Mar­tin Stainthorp
is an edi­to­r­i­al intern at
In These Times
. A native of Chica­go, he grad­u­at­ed from the Uni­ver­si­ty of Rich­mond in
2007
.