In 2009, more than twice as many peo­ple were killed in Mexico's Ciu­dad Juárez (pop­u­la­tion 1.3 mil­lion) than in New York City, Los Ange­les or Chica­go (total pop­u­la­tion 15 mil­lion) com­bined. The vio­lence, much of which is relat­ed to the drug trade, is hard to fath­om — but not impos­si­ble to count.
Since 2008, Mol­ly Mol­loy has done this macabre account­ing on her Google News­group ​"The Fron­tera List." Work­ing from reports in Juárez's dai­ly news­pa­pers, Mol­loy, a ref­er­ence librar­i­an at New Mex­i­co State Uni­ver­si­ty in Las Cruces, tal­lies the num­ber of peo­ple killed each day, and then trans­lates and trans­mits the grim news to the listserv.
Mol­loy also pro­vides impor­tant con­text and analy­sis to pat­terns in the vio­lence, both of which are often miss­ing in Juárez news reports because jour­nal­ists work­ing in the bor­der city are often the tar­gets of vio­lence from car­tels them­selves. On August 24, the Unit­ed Nations named Mex­i­co the most dan­ger­ous coun­try in the Amer­i­c­as for journalists.
In addi­tion to main­tain­ing the Fron­tera List, to which more than 500 peo­ple now sub­scribe, Mol­loy has col­lab­o­rat­ed with Charles Bow­den (who was inter­viewed in In These Times' Sep­tem­ber issue) to chal­lenge the Mex­i­can government's offi­cial expla­na­tion of the country's vio­lence epi­dem­ic and pro­vide research assis­tance for his lat­est book, Mur­der City: Ciu­dad Juárez and the Glob­al Economy's New Killing Fields. She and Bow­den are co-edit­ing an auto­bi­og­ra­phy of a Mex­i­can drug car­tel sicario, or assas­sin, to be pub­lished in the spring of 2011.
In These Times inter­viewed Mol­loy via e‑mail in August 2010.
—Asso­ciate Pub­lish­er Dan Dineen (Pho­to by Richard Baron)
Media
What do you hope the Fron­tera List achieves?
I think it rais­es aware­ness of the day-to-day real­i­ty of the vio­lence in Juarez. When you see, read about, even the most basic details of the mur­der vic­tims, it makes it much more dif­fi­cult to believe the rhetoric of both Mex­i­can and U.S. gov­ern­ment offi­cials when they say that ​"90 per­cent" of the vic­tims [through­out Mex­i­co] are crim­i­nals being killed by oth­er crim­i­nals. Pres­i­dent Calderon has said this explic­it­ly and it has been echoed by his secu­ri­ty offi­cials, by both the U.S. and Mex­i­can Ambas­sadors and by var­i­ous mem­bers of the U.S. admin­is­tra­tion, includ­ing Sec­re­tary of State Hillary Clinton.
There are quite a few reporters and edi­tors on the list and I've noticed that the updat­ed num­bers I try to post dai­ly on the mur­der toll in Juarez do appear in the Eng­lish-lan­guage press more fre­quent­ly than they used to. I still see huge under­es­ti­mates of the deaths, but I'm pret­ty con­fi­dent of my tal­ly and when there are new offi­cial reports in the Mex­i­can press, they are almost always MORE than what I've record­ed on a day-to-day basis. So, when/​if I com­plain about under­counts in the U.S. press, I think I'm right.
I also use the list as a ​"pro­to-archive," a place to store thou­sands of orig­i­nal arti­cles that doc­u­ment this time-peri­od in Juarez and in oth­er places in Mex­i­co and the bor­der region. I'm work­ing on a plan to devel­op these archived arti­cles into some­thing that will be a real data­base that will allow us to find out more about the char­ac­ter­is­tics of the vic­tims (ages, gen­der, cir­cum­stances of the mur­ders, etc.) This infor­ma­tion will be an impor­tant piece of the record of what happened.
Which media out­lets, both Amer­i­can and Mex­i­can, do you depend on for the Fron­tera List?
I get most of the infor­ma­tion on the killings in Juarez from the online ver­sions of El Diario and Norte de Ciu­dad Juarez. I look at Mex­i­can nation­al sources like El Uni­ver­sal, Mile­nio, Pro­ce­so, La Jor­na­da and oth­ers. I also check web­sites includ­ing Lap​o​la​ka​.com and Arroba​juarez​.com. I also have sev­er­al Google alerts for Juarez news and get post­ings from the main­stream press and a lot of blogs and web­sites that way. Also, there are reporters from the Wall Street Jour­nal, Los Ange­les Times, Wash­ing­ton Post, New York Times, Asso­ci­at­ed Press, NPR, El Paso Times and var­i­ous region­al TV sta­tions on the list. They will often let me know when they have a new sto­ry. There are also quite a few activists and aca­d­e­mics on the list and they will send press releas­es or links to new pub­li­ca­tions. It is a real hodge­podge of sources.
Are you in con­tact with any jour­nal­ists work­ing inside Juárez?
Yes, there are sev­er­al Juarez reporters and pho­to­jour­nal­ists on the list and they some­times point out sto­ries I have missed. I also e‑mail them now and then to see if they have oth­er sources for cur­rent sta­tis­tics or for fol­low up on cer­tain stories.
Cul­ture
Why does the per­cep­tion that the vio­lence in Juarez is femi­cide persist?
That is a hard ques­tion to answer, but I think that a focus on the mur­ders of women enables peo­ple to feel that the sit­u­a­tion in Juarez is con­tain­able, that it is a crime dra­ma to be solved with good police work, with activism, con­scious­ness-rais­ing, protests and a vari­ety of artis­tic pro­duc­tion (nov­els, movies, art exhi­bi­tions, etc.) It seems more man­age­able per­haps to deal with a phe­nom­e­non in which all the vic­tims are so obvi­ous­ly inno­cent and sym­pa­thet­ic. It is a lot more chal­leng­ing to look at the huge caul­dron of social pathol­o­gy that Juarez has become — that Juarez has been becom­ing for a long time.
The mur­ders of women began to be noticed and writ­ten about in Juarez in the ear­ly 1990s and in the U.S. press a few years lat­er. For about 15 years, women made up about 10 – 12 per­cent of mur­der vic­tims in the city. When the mur­der num­bers explod­ed in 2008, the per­cent­age of vic­tims that are women dropped to about 5 per­cent while the actu­al num­bers of all peo­ple killed increased by more than five times and those num­bers of both male and female vic­tims con­tin­ue to increase. As of ear­ly August 2010, the death toll in Juarez is more than 1,800 and about 170 of those are women. The per­cent­age of female vic­tims is climb­ing again.
But based on the avail­able infor­ma­tion, most of the women are killed in the same cir­cum­stances as the men — shot to death on the street or in their homes or in oth­er pub­lic places like bars and shop­ping malls. Many women are also vic­tim­ized by spous­es or oth­er male rel­a­tives or acquain­tances, and in fact, dur­ing the years when the ​"Juarez femi­cides" became the dom­i­nant focus of activists and aca­d­e­mics out­side of Mex­i­co, it is esti­mat­ed that at least three-fourths of those cas­es were domes­tic violence. …
From 1993 through August 5, 2010, more than 800 women have been mur­dered in Juarez, and more than 8,800 men. It does not mean that the small­er per­cent­age of female vic­tims do not mat­ter, but rather that ALL of the lives — of women, men, boys and girls—ALL of them mat­ter. And that in the cur­rent explo­sion of crime and vio­lence, all of the peo­ple of Juárez are vic­tims, not only the women. What is hap­pen­ing in Juarez is much more than ​"femi­cide." It is a human rights disaster.
What effect does the vio­lence in Juarez have on youth cul­ture in Mexico?
I think a lot of youth are afraid that they could be vic­tims of vio­lence and with rea­son. I think that most of the vic­tims are prob­a­bly younger than 25 and many are teenagers. Kids have been killed on the street, at large gath­er­ings in pri­vate homes, in bars, dance clubs and pool halls. There are reports of grow­ing nihilism among young peo­ple, the desire to live fast and die young and that many are attract­ed to the life of gangs, crime and violence.
But there are also youth who study and play sports and work in social caus­es. I don't get too much per­son­al expo­sure to youth in Juarez, but here are two recent anec­dotes. Last spring, I attend­ed an all-day Sat­ur­day work­shop at Casa Ami­ga Cen­tro de Cri­sis, the domes­tic vio­lence coun­sel­ing cen­ter found­ed by Esther Chavez Cano. In atten­dance were about 50 vol­un­teers and staff, at least three-fourths of them were high school and col­lege stu­dents. They spent about 9 hours that Sat­ur­day lis­ten­ing to a vari­ety of coun­selors and aca­d­e­mics giv­ing pre­sen­ta­tions on the ori­gins of domes­tic vio­lence, gen­der vio­lence, the cri­sis of mas­culin­i­ty in the bor­der region and oth­er such topics.
To me, that indi­cates a pret­ty high lev­el of per­son­al com­mit­ment to social change. Just yes­ter­day, I went to an Indios soc­cer game. The kids I met there were devot­ed sup­port­ers of Juarez' minor league pro­fes­sion­al team and they were row­dy, drink­ing and smok­ing and cheer­ing and hang­ing out. The stands were far from full, but the crowd was rau­cous and hap­py cause the team had a big win.
But after the game, it seemed that all the kids were going home, no late night par­ties at bars, even though they told sto­ries of how much wilder things used to be. Also, as I crossed back over the bridge to El Paso, I noticed a lot of young peo­ple who had been at the game in the line going back to the US. Many fam­i­lies who have the means and the oppor­tu­ni­ty to do so have moved to El Paso in hopes of pro­tect­ing them­selves from ran­dom vio­lence, kid­nap­ping and extortion.
Pol­i­tics
Does the immi­gra­tion debate, in the wake of Ari­zona S.B. 1070, dis­tract Amer­i­cans from the sit­u­a­tion in Juarez? How are the immi­gra­tion cri­sis and the drug war related?
In a way, I think it dis­tracts both Amer­i­cans AND Mex­i­cans. The Mex­i­can gov­ern­ment has gone on the record protest­ing the dis­crim­i­na­to­ry nature of the Ari­zona law, espe­cial­ly the like­li­hood that Mex­i­cans will be tar­get­ed for dis­crim­i­na­tion regard­less of their cit­i­zen­ship or immi­gra­tion sta­tus. And it is cer­tain­ly true that the law will dis­crim­i­nate against Mex­i­cans and Mex­i­can-Amer­i­cans and any­one who ​"looks like" some pro­file of an ille­gal alien. We should all protest the implic­it civ­il rights vio­la­tions in this legislation.
But what about the human rights abus­es of the Mex­i­can gov­ern­ment? Not only against their own cit­i­zens, but also against immi­grants from Cen­tral Amer­i­ca who must pass through Mex­i­can ter­ri­to­ry on their even longer and more dan­ger­ous jour­ney from coun­tries even poor­er than Mex­i­co and also expe­ri­enc­ing increas­ing lev­els of vio­lence, some of it prob­a­bly caused by Mex­i­can drug traf­fick­ing orga­ni­za­tions oper­at­ing in their countries.
In the U.S., I appre­ci­ate the protests against the Ari­zona law and I believe that this grow­ing activism may spur the fed­er­al gov­ern­ment to work on more com­pre­hen­sive immi­gra­tion reform. But I do not think that a focus on dis­crim­i­na­tion and abuse of immi­grants in the U.S. should be viewed in iso­la­tion from the increas­ing­ly vio­lent sit­u­a­tion in Mex­i­co. The vio­lence, to a large degree, comes from the same fac­tors as the ille­gal immi­gra­tion to the U.S.: the fail­ure of the Mex­i­can econ­o­my to pro­vide a decent liveli­hood for most of its cit­i­zens and the fail­ure of the Mex­i­can gov­ern­ment to pro­vide the most basic secu­ri­ty and jus­tice for most of its citizens.
Mex­i­cans are cer­tain­ly more aware than Amer­i­cans are of the effects of cor­rup­tion, gov­ern­ment pro­tec­tion of and depen­dence on crim­i­nal syn­di­cates and ram­pant abus­es of pow­er that affect their lives every day. It makes sense that they would try to build bet­ter lives for their fam­i­lies. Com­pre­hen­sive immi­gra­tion reform in the U.S. must look real­is­ti­cal­ly at Mex­i­co and not pre­tend that free trade, a few crim­i­nal jus­tice reforms and ever more pow­er and resources in the hands of the Mex­i­can mil­i­tary will make that coun­try a place that respects the human rights of its citizens.
Is Amer­i­can pub­lic dis­course so nar­row that it can only han­dle one nar­ra­tive about the border?
This use of the word nar­ra­tive implies that there are mul­ti­ple sto­ries being told and that you can just pick one you want to believe. That is a belief sys­tem, an ide­ol­o­gy or a reli­gion, and allows peo­ple to ignore facts they find dis­agree­able. I think facts and knowl­edge are nec­es­sary to under­stand prob­lems. There is no way that a par­tic­u­lar nar­ra­tive or rhetor­i­cal frame­work can con­trol what Amer­i­cans or Mex­i­cans think or say about immi­gra­tion, drugs, vio­lence or any oth­er issue.
But there is no hope to influ­ence any pos­i­tive change with­out some under­stand­ing of facts on the ground. A lot of Amer­i­cans think that vio­lence is spilling over the bor­der, but there is no fac­tu­al basis for that sto­ry they choose to believe.
Is the legal­iza­tion of drugs, as Charles Bow­den sug­gests, the only way to quell drug vio­lence in Mexico?
I don't think that legal­iza­tion of drugs will quell vio­lence in Mex­i­co in the short term because so much of the vio­lence is con­nect­ed to oth­er fac­tors — pover­ty, lack of social infra­struc­ture, mil­i­tary and para­mil­i­tary actions that may be tar­get­ing cer­tain parts of the pop­u­la­tion for ​"social cleans­ing," per­haps oth­er fac­tors. It is a fact that the crim­i­nal syn­di­cates that orig­i­nat­ed to pro­duce and trans­port and sell drugs have expand­ed into many oth­er areas of busi­ness, legal and otherwise.
I think that in the short term, if the eco­nom­ic incen­tives were removed from the drug busi­ness, the vio­lence would increase. The mon­ey from drugs per­me­ates many facets of eco­nom­ic life in Mex­i­co — most esti­mates put the drug busi­ness at between $30 and $50 bil­lion per year. What will replace it? In the long term, the only way to deal with the human appetite for drugs will be to legal­ize the sub­stances and to treat addic­tion as a health issue, not a crim­i­nal issue. It will not be easy, it can­not be accom­plished by one coun­try act­ing alone. What can replace the human desire to seek escape from the pain of pover­ty and hope­less­ness? I do not have an answer.
Giv­en Pres­i­dent Felipe Calderon's recent state­ment regard­ing legal­iza­tion, do you think this fun­da­men­tal pol­i­cy shift could occur?
I think that it would be a pos­i­tive dis­cus­sion for Mex­i­cans to have and to have peo­ple in the rul­ing polit­i­cal par­ty open the door to the dis­cus­sion can be pos­i­tive. I also do not think that it will have any influ­ence on open­ing up the same dis­cus­sion in the U.S. If drugs were legal­ized in Mex­i­co, it would not neu­tral­ize the pow­er and influ­ence of crim­i­nal orga­ni­za­tions. These groups are already expand­ing into oth­er crim­i­nal activities.
Can you explain the Meri­da Ini­tia­tive? Do you think it will change the pat­tern of drug vio­lence or the cul­ture sur­round­ing it?
The Meri­da Ini­tia­tive pro­vides U.S. aid mon­ey direct­ly to the Mex­i­can Army and to oth­er secu­ri­ty forces in that coun­try. Noth­ing so far seems to indi­cate that these insti­tu­tions are more effec­tive or less cor­rupt. In the time since the Meri­da Ini­tia­tive has been pro­posed and fund­ed, the vio­lence and crim­i­nal­i­ty has only increased.
Per­son­al
Back to the media. Does the lan­guage bar­ri­er inhib­it a nation­al con­ver­sa­tion about the state of Juárez and America's con­nec­tion to it? Specif­i­cal­ly, at the lev­els of infor­ma­tion dis­sem­i­na­tion (espe­cial­ly on the Inter­net) and news report­ing, does the lan­guage dif­fer­ence stop Amer­i­cans from under­stand­ing the grav­i­ty of the situation?
I think that it does. The basic facts of the day-to-day vio­lence in Mex­i­co are report­ed most­ly in the local, Span­ish-lan­guage media. Even the U.S. media phys­i­cal­ly clos­est to Juárez report only a small frac­tion of the car­nage. But I do not think that is why most Amer­i­cans do not under­stand it. I think they choose to ignore it. I'm not sure I under­stand it, but I know enough to under­stand when peo­ple in pow­er in both gov­ern­ments are lying about it. That 90 per­cent thing, for example.
What's the most com­mon mis­take the Amer­i­can media makes about Juárez?
Echo­ing gov­ern­ment spokes­men who tell us that all of the dead in this war are guilty crim­i­nals with­out demand­ing one shred of evi­dence. Or repeat­ing over and over like a mantra that the Mex­i­can Army is a hero­ic and com­pe­tent insti­tu­tion fight­ing a war against drugs.
What's one piece of leg­is­la­tion (state or nation­al) you would like to see passed right now?
I'd like to see cer­tain areas in the Organ Moun­tains east of Las Cruces and the Potril­lo Moun­tains south­west of Las Cruces [in New Mex­i­co] des­ig­nat­ed Wilder­ness areas.
And, being an edu­ca­tor, regard­less of what hap­pens to com­pre­hen­sive immi­gra­tion reform, Con­gress should pass the DREAM Act allow­ing access to high­er edu­ca­tion to young peo­ple who came to the U.S. ille­gal­ly many years ago. These kids are new Amer­i­cans, regard­less of where they were born. We are all invest­ed in them and they deserve to con­tin­ue their edu­ca­tion and to become cit­i­zens of the Unit­ed States if they so choose.
You live about 45 min­utes away from Juárez. How does the enor­mous amount of vio­lence so close to where you live affect your community?
There are more Mex­i­can peo­ple from Juárez and oth­er places in north­ern Mex­i­co who have moved here to seek refuge from the vio­lence. Some are open­ly seek­ing polit­i­cal asy­lum, but many more are liv­ing here under the radar and under the bor­der patrol check­points, try­ing to make a liv­ing and take care of their fam­i­lies. Many peo­ple with fam­i­ly and pro­fes­sion­al ties to Juárez no longer go there. It is no longer pos­si­ble to take stu­dent groups to Juárez, nor will area uni­ver­si­ties spon­sor or even allow pro­fes­sion­al trav­el to Juárez.
Every day, you aggre­gate and dis­sem­i­nate news sto­ries detail­ing deeply dis­turb­ing vio­lence. What effect does this have on you personally?
I admit to being a bit obsessed with the num­bers of peo­ple killed in Juárez and I lose some sleep to doc­u­ment it. But I think the work is impor­tant. I have the inten­tion of orga­niz­ing this dig­i­tal archive into a data­base that will help to answer ques­tions for future researchers.
Some peo­ple insist that my focus on the num­bers denies the human­i­ty of the vic­tims and of those work­ing for social change in Juárez. I dis­agree. The actu­al vic­tims of the slaugh­ter hap­pen­ing in Juárez dis­ap­pear in the pages of com­men­tary and pol­i­cy analy­sis from gov­ern­ment, aca­d­e­m­ic and law enforce­ment experts in both the Unit­ed States and Mex­i­co. Poets and crit­ics say that per­haps ​"Juárez has become a metaphor, an emblem of the future of the U.S.-Mexico bor­der…" [See ​"Juárez is dying, promi­nent jour­nal­ist warns," El Paso Times, April 10, 2010.]
But Juárez is not a metaphor. It is a real place of great neglect and great suf­fer­ing. It is a place where gangs of killers — orga­nized and oth­er­wise — com­mit mur­der with no fear of pun­ish­ment. It is a place where the cit­i­zens can expect no pro­tec­tion from their gov­ern­ment lead­ers or from their institutions.
My job is easy com­pared to the Mex­i­can jour­nal­ists in Juárez and else­where who risk their lives to gath­er facts and tell these sto­ries every day. If it helps more Amer­i­cans to open their eyes to a human rights dis­as­ter on our bor­der, then I feel I'm begin­ning to do my job.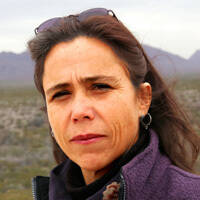 Mol­ly Mol­loy
is a research librar­i­an for Latin Amer­i­ca and the bor­der at New Mex­i­co State Uni­ver­si­ty and the cre­ator of the Fron­tera List, a list­serv that tracks vio­lence in Mexico.