Monkey Wrenching the Frackers
Radical environmentalists prepare to fight gas export terminal through direct action.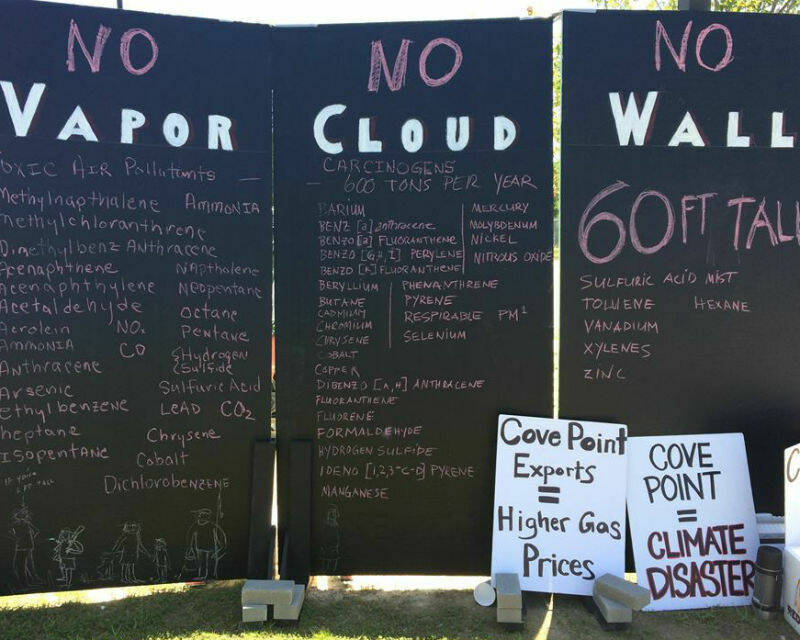 ​"All right, moth­er­fuck­ers! This is an unlaw­ful assembly!"
'The protests have been very fluffy. As we say, things need to get a bit spikier. Because spikier gets more attention.'
A group of five ​"police" charge at a mob of milling ​"pro­test­ers," throw­ing sev­er­al to the ground and play­ful­ly beat­ing them with rolled-up pieces of old news­pa­per — the ​"batons." ​"Fuck­ing hip­pies!" some­one shouts from the tussle.
The make-believe cops have been sup­plied with blaze orange con­struc­tion vests, plas­tic badges and faux police caps, which com­bine with their many tat­toos and pierc­ings to make them look like a punk ver­sion of the Vil­lage People.
This mock police ambush was part of a three-hour crash course in ​"Respon­si­ble Direct Action" held at last week's Ener­gy Exports Action Camp in Maryland's Jug Bay Nat­ur­al Area, a coun­ty park some 25 miles south­east of Wash­ing­ton, D.C. The week-long camp was designed to train, con­nect and ener­gize activists gear­ing up to take direct action to stop Domin­ion Energy's Cove Point project, a nat­ur­al gas export ter­mi­nal planned in Lus­by, Md. Oppo­nents say the plant will encour­age more frack­ing, spur Mary­land to drop its state-wide mora­to­ri­um on the prac­tice, and exac­er­bate glob­al cli­mate change.
The camp's core orga­niz­ers hail from Chesa­peake Earth First!, a local chap­ter of the loose­ly orga­nized nation­al envi­ron­men­tal group. They were joined by about 60 activists from around the mid-Atlantic region, includ­ing oth­er Earth Firsters and non-aligned sym­pa­thiz­ers. In keep­ing with their infa­mous slo­gan, ​"No Com­pro­mise in the Defense of Moth­er Earth," Earth Firsters sup­port what's known as a ​"diver­si­ty of tac­tics" — code for a will­ing­ness to use force. His­tor­i­cal­ly, their bag of tricks has includ­ed block­ades, tree-sits, and in rare cas­es, acts of indus­tri­al sab­o­tage, or ​"mon­key-wrench­ing," a term pop­u­lar­ized by Edward Abbey's clas­sic 1975 novel.
Activists at the camp are encour­aged to use ​"every tool in the tool­box," accord­ing to Richelle Brown, one of the orga­niz­ers, ​"from law­suits to lock-downs."
As Earth First! and its rab­ble-rous­ing sym­pa­thiz­ers pre­pare to jump into the fray, they open a new chap­ter in the strug­gle to stop Cove Point. To date, protests against Cove Point, led most­ly by the non-prof­it Chesa­peake Cli­mate Action Net­work (CCAN), have includ­ed a large ral­ly in Bal­ti­more, small­er ral­lies at the offices of elect­ed offi­cials, and a cou­ple of civ­il dis­obe­di­ence actions at two dif­fer­ent coun­ty cour­t­hous­es — none of which has man­aged to seri­ous­ly dis­turb Dominion's dreams of becom­ing the first gas exporter on the East Coast. It's hard to say what direct actions Earth First! is plan­ning, since activists tra­di­tion­al­ly keep mum on any such plans. Nobody I asked told me of any spe­cif­ic plots. But Bat­ty, a Bal­ti­more-based activist who declined to pro­vide her full name, says, ​"The protests have been very fluffy. As we say, things need to get a bit spiki­er. Because spiki­er gets more attention."
The con­se­quences of Cove Point
After frack­ing and hor­i­zon­tal drilling took off in 2008, domes­tic prices of nat­ur­al gas fell steeply. Aroused by the allure of new mar­kets, U.S. gas pro­duc­ers are increas­ing­ly look­ing to take their goods abroad: most notably to Asia, where liq­ue­fied nat­ur­al gas (LNG) fetch­es about triple its price state­side. In 2011, Domin­ion Ener­gy start­ed mak­ing moves to con­vert Cove Point—a sel­dom-used LNG import facil­i­ty built in the 1970s to ser­vice gas from Alge­ria—into an export facility.
Unlike, say, TransCanada's Key­stone XL pipeline, which is still await­ing State Depart­ment approval, Cove Point is breez­ing through the fed­er­al reg­u­la­to­ry process for LNG export ter­mi­nals. The Depart­ment of Ener­gy (DOE) has already grant­ed con­di­tion­al approval — the first big step in the per­mit­ting process. Now, the Fed­er­al Ener­gy Reg­u­la­to­ry Com­mis­sion (FERC) appears to be on the verge of giv­ing the thumbs up — the sec­ond major hur­dle before con­struc­tion can move for­ward. The oth­er key per­mit-issu­ing agen­cies in this case, such as the Army Corps of Engi­neers and Envi­ron­men­tal Pro­tec­tion Agency (EPA), have until mid-August to weigh in. Mean­while, a sep­a­rate 30-day pub­lic com­ment peri­od for the assess­ment ends June 16. By law, FERC needs only to wait for that pub­lic com­ment peri­od to con­clude before mak­ing a deci­sion. But a neg­a­tive response from one of the key per­mit-issu­ing agen­cies — the EPA, for instance — could cause fur­ther delays.
An agency spokesper­son tells In These Times that FERC will take the time to care­ful­ly review the pub­lic com­ments before com­ing to judg­ment. But the rad­i­cals at Jug Bay have lit­tle faith FERC will reverse course.
​"They are essen­tial­ly a rub­ber-stamp for indus­try," says Jesse Schultz, a Chesa­peake Earth Firster and Indus­tri­al Work­ers of the World mem­ber who biked to the action camp from his house in D.C..
Among the crew's many gripes with the agency is its unwill­ing­ness to acknowl­edge Cove Point's full cli­mate-change impact. Crit­ics say that an envi­ron­men­tal assess­ment issued last month by FERC glossed over the full cycle of green­house gas emis­sions asso­ci­at­ed with the ter­mi­nal — that is, the cumu­la­tive methane and car­bon emis­sions pro­duced by drilling, trans­port­ing, liq­ue­fy­ing, re-con­vert­ing and ship­ping nat­ur­al gas across the globe.
Anoth­er major griev­ance is FERC's rejec­tion of envi­ron­men­tal advo­cates' claims that Cove Point could lead to more frack­ing in the region — arguably, the sin­gle great­est ral­ly­ing point for the oppo­si­tion. ​"The spe­cif­ic details, includ­ing the tim­ing, loca­tion, and num­ber of addi­tion­al pro­duc­tion wells that may or may not be drilled, are spec­u­la­tive," FERC's assess­ment reads. ​"As such, impacts asso­ci­at­ed with the pro­duc­tion of nat­ur­al gas that may be sourced from var­i­ous loca­tions and meth­ods for export by the Project are not rea­son­ably fore­see­able or quantifiable."
Kel­ly Cana­van, one of the camp's orga­niz­ers, says the agency's claims are espe­cial­ly frus­trat­ing because pub­licly avail­able infor­ma­tion shows oth­er­wise. Last Decem­ber, Cabot Oil & Gas signed a 20-year agree­ment to sup­ply Cove Point with gas from the Mar­cel­lus Shale. The deal sup­plies almost half of the terminal's capac­i­ty. Transco's pro­posed expan­sion of the Atlantic Sun­rise pipeline will ensure that Penn­syl­va­nia-drilled gas flows to the ter­mi­nal. Crit­ics say that new infra­struc­ture will help sus­tain afford­able frack­ing in the region for the long run.
What is to be done?
On July 13, Chesa­peake Cli­mate Action Net­work (CCAN) — an envi­ron­men­tal non-prof­it that has gal­va­nized in-state oppo­si­tion — will hold a mass protest march in Wash­ing­ton, D.C., call­ing on FERC to reject the project. The march comes on the heels of a Feb­ru­ary ral­ly in Bal­ti­more, deemed the largest envi­ron­men­tal protest in city his­to­ry.
But action camp par­tic­i­pants believe that it's going to take more than con­tin­ued march­es and appeals to pub­lic offi­cials to put the brakes on Cove Point.
Envi­ron­men­tal­ist activism against the project and local adver­tis­ing in its favor by Domin­ion have faced off to influ­ence pub­lic opin­ion. But when it comes to the key reg­u­la­tors and politi­cians, the CCAN-led coali­tion of non-prof­its has strug­gled to land its punch­es. For months now, CCAN has unsuc­cess­ful­ly demand­ed that FERC con­duct an envi­ron­men­tal impact state­ment (EIS) rather than the less thor­ough envi­ron­men­tal assess­ment. FERC main­tains an EIS is unnec­es­sary since Cove Point already exists as an import facil­i­ty and would not be built from scratch.
CCAN has also fruit­less­ly called on Maryland's two U.S. Sen­a­tors, Democ­rats Ben Cardin and Bar­bara Mikul­s­ki, to demand an EIS. Mean­while, on May 30, the Mary­land Pub­lic Ser­vice Com­mis­sion approved Dominion's pro­pos­al to build a pow­er gen­er­at­ing sta­tion for Cove Point—in defi­ance of a CCAN-dri­ven April peti­tion deliv­ery of more than 35,000 sig­na­tures against the plan as a whole.
So what's it going to take?
Kel­ly Cana­van, who also heads the Acco­keek Mat­ta­woman Pis­cat­away Creeks Coun­cil, a local non-prof­it, says the key is delay­ing con­struc­tion until it's no longer prof­itable for Domin­ion to continue.
For one, that includes ​"paper-wrench­ing" — law­suits that force Domin­ion to expend its team of high­ly paid cor­po­rate lawyers and experts to stamp out an array of legal chal­lenges. Cana­van point­ed to two such law­suits filed on behalf of the AMP Creeks Coun­cil: One alleges the Calvert County's Board of Com­mis­sion­ers improp­er­ly used zon­ing text amend­ments to pave the way for Cove Point and anoth­er tar­gets the County's non-dis­clo­sure agree­ment with Dominion.
Cana­van also says the AMP Creeks Coun­cil will appeal the appeal the Pub­lic Ser­vice Com­mis­sions' recent approval of the pow­er station.
​"We are absolute­ly in it to win every one of these fights," she stresses.
Then there's the direct action route: Unpre­dictable head­line-gen­er­at­ing actions at var­i­ous pieces of Cove Point-relat­ed infra­struc­ture could force Domin­ion to spend more mon­ey on pub­lic rela­tions, beef up its secu­ri­ty pres­ence, and encour­age more pub­lic scruti­ny of the project.
​"Part of the project's suc­cess hinges on stick­ing to a time­line; [Domin­ion] has said that pub­licly sev­er­al times," Cana­van says. ​"So every time we appeal some­thing, every time we drag out a law­suit, every time some­one steps in and does some sort of direct action, it throws them off their timeline."
Cana­van even hint­ed at some poten­tial targets.
​"Domin­ion is start­ing to move for­ward with pre­lim­i­nary steps like clear­ing off ​'Site A' [a park­ing and stor­age space a mile and a half away from the main site] and start­ing con­struc­tion of their pier," she says. ​"I ful­ly expect to see autonomous direct action begin to take place."
​"What I would like to see?" asks Bat­ty. ​"Maybe some­thing a bit cre­ative and a lit­tle bit cheeky — you can do [those actions] in a way that makes peo­ple feel real­ly great, and those are always the most powerful."
The gang
Of the 60 or so camp atten­dees, only a hand­ful actu­al­ly reside in Calvert Coun­ty. Most trav­elled to Jug Bay from D.C., Bal­ti­more and Philadel­phia. Many had already met each oth­er at sim­i­lar action-ori­ent­ed camps: Shale­field Jus­tice Spring Break in cen­tral Penn­syl­va­nia, which focused on frack­ing, or Moun­tain Jus­tice Spring Break, based this year in north­ern West Vir­ginia, and geared toward the coal industry.
The rov­ing band of most­ly 20-some­things is dri­ven by an intense love for the eco-sys­tem, an equal mea­sure of hatred for extrac­tive indus­tries and a deep mis­trust in state-led respons­es to the cli­mate crisis.
Earth Firsters and their allies tend to prac­tice an intense form of ​"secu­ri­ty cul­ture" — a set of orga­niz­ing prin­ci­ples designed to min­i­mize the risk of infor­ma­tion leaks to hos­tile par­ties. While activists may all con­sid­er them­selves part of the same cause, they often work in indi­vid­ual affin­i­ty groups, i.e. ​"cells," that don't share infor­ma­tion with each other.
Keep­ing from being pub­licly iden­ti­fied was a major con­cern for some.. At one point, I was rep­ri­mand­ed by a few activists for tak­ing pho­tos of the mock direct action that Nadine Bloch facil­i­tat­ed (despite iden­ti­fy­ing myself as a jour­nal­ist, warn­ing that I planned to take pho­tographs, and get­ting approval from Bloch) Some of the par­tic­i­pants accused me of vio­lat­ing their con­sent and insist­ed that I delete every pho­to I took. When I pho­tographed a dif­fer­ent ses­sion, a hand­ful of peo­ple moved in order to get out of the shot.
This struck me as a bit para­noid, but it's not with­out basis. In Green Is The New Red, a book rec­om­mend­ed to me by sev­er­al dif­fer­ent Jug Bay campers, jour­nal­ist Will Pot­ter chron­i­cles the U.S. government's post‑9/​11 crack­down on rad­i­cal envi­ron­men­tal­ists and ani­mal rights advo­cates. The peri­od is often known as the ​"Green Scare."
The Bush admin­is­tra­tion may be gone, but the fed­er­al gov­ern­ment still has an unfor­tu­nate ten­den­cy to treat peace­ful envi­ron­men­tal activists like vio­lent ter­ror­ists. Some­times this takes the form of dra­con­ian charges: Last Decem­ber, for exam­ple, anti-Key­stone XL activists were charged with stag­ing a ​"ter­ror­ism hoax" after unfurl­ing a ban­ner at the Okla­homa City head­quar­ters of Devon Energy.
Often­times, it's just sur­veil­lance: This Feb­ru­ary, the Colum­bus Free Press obtained a July 2013 report from an FBI-Penn­syl­va­nia State Police Joint Ter­ror­ism Task Force focused on ​"eco-ter­ror­ism." The report men­tioned Mar­cel­lus Shale Earth First, warn­ing that Penn­syl­va­nia and New York Earth First chap­ters were engaged in ​"active train­ing events relat­ed to civ­il disobedience."
But it's part of the game, says Gabriel Echev­er­ri, an eth­nob­otany major at Frost­burg State Uni­ver­si­ty. ​"If you fight these kinds of things, if you fight these cor­po­ra­tions, if you fight these gov­ern­ments, and your move­ment has any teeth to it, they come after you," he says.
And there's no doubt it's worth it, he says.
​"It's nec­es­sary to fight to be able to look myself in the eye, to be able to have any kind of inter­ac­tion with this nat­ur­al world that I con­sid­er to be home, to be able to hold my head high when I walk through the woods and inter­act with the rest of our broth­ers and sis­ters in cre­ation. To be able to do that, I have to do this. I have to fight," Echev­er­ri con­tin­ues. ​"And maybe there is a cer­tain amount of self-sat­is­fac­tion that comes from throw­ing a wrench in the gears. From just screw­ing with them."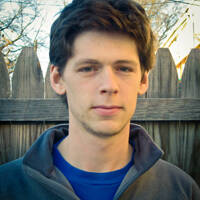 Cole Stan­gler
writes about labor and the envi­ron­ment. His report­ing has also appeared in The Nation, VICE, The New Repub­lic and Inter­na­tion­al Busi­ness Times. He lives in Paris, France. He can be reached at cole[at]inthesetimes.com. Fol­low him
@colestangler
.