Trump's EPA Has a Monsanto Problem
The EPA is meant to protect us. Instead, it's been captured by industry.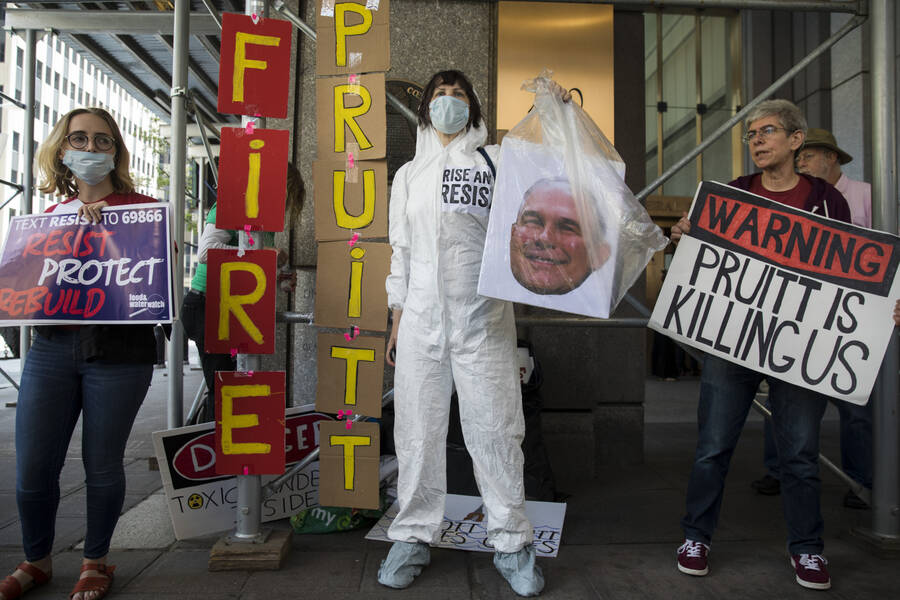 A jury award­ed a Cal­i­for­nia cou­ple more than $2 bil­lion in May for dam­ages in their suit against Mon­san­to, a sub­sidiary of the chem­i­cal giant Bayer.
The fact that you can buy a carcinogenic herbicide at your local Home Depot is a prime example of "regulatory capture."
Farm­ers Alva and Alber­ta Pil­liod claimed their use of Monsanto's best-sell­ing her­bi­cide, Roundup, caused non-Hodgkin's lym­phoma in each of them, and pre­sent­ed inter­nal Mon­san­to doc­u­ments reveal­ing the com­pa­ny cov­ered up evi­dence that the her­bi­cide itself, glyphosate, caused cancer.
That ver­dict marks the third con­sec­u­tive deci­sion against Mon­san­to; an addi­tion­al 13,400 law­suits are pend­ing. Since acquir­ing Mon­san­to in June 2018, Bay­er has lost more than 40% of its stock mar­ket val­ue, now worth less in total than the orig­i­nal Mon­san­to price tag.
The EPA, whose offi­cials have for decades pro­claimed the safe­ty of glyphosate over the objec­tions of its own sci­en­tists, has come to Bayer's defense, declar­ing April 30 that ​"glyphosate is not a car­cino­gen" and (when used prop­er­ly) pos­es ​"no risks to pub­lic health." Yet, in March 2015, the Inter­na­tion­al Agency for Research on Can­cer, cit­ing mul­ti­ple peer-reviewed stud­ies, deter­mined that glyphosate is ​"prob­a­bly car­cino­genic to humans." One piv­otal lab­o­ra­to­ry study using mice sound­ed the alarm as ear­ly as 1983. This Feb­ru­ary, researchers at the Uni­ver­si­ty of Wash­ing­ton found expo­sure to glyphosate increased the risk of cer­tain can­cers by more than 40%.
The fact that you can buy a car­cino­genic her­bi­cide at your local Home Depot is a prime exam­ple of ​"reg­u­la­to­ry cap­ture": when an indus­try and its allies con­trol the oper­a­tions of a gov­ern­ment agency to advance their own cor­po­rate interests.
Reg­u­la­to­ry cap­ture occurred, for exam­ple, when Scott Pruitt, Trump's for­mer EPA admin­is­tra­tor, dis­missed mem­bers of the EPA's Sci­ence Advi­so­ry Board and Board of Sci­en­tif­ic Coun­selors and replaced them with indus­try allies.
An indus­try-friend­ly EPA ensures there will be no new envi­ron­men­tal reg­u­la­tions with teeth. Liam Con­don, pres­i­dent of Bayer's crop sci­ence divi­sion, shrugged off the $2 bil­lion judg­ment, telling agri­cul­tur­al investors: ​"The key point is, from a reg­u­la­to­ry point of view, noth­ing has changed." Indeed, as Bay­er appeals these cas­es, it will argue that the EPA deter­mi­na­tion that glyphosate is a non­car­cino­gen should pre­empt the right of state courts to rule against glyphosate manufacturers.
The legal doc­trine of pre­emp­tion holds that claims in state courts are not allowed if they con­flict with fed­er­al law. Bayer's hope is that the glyphosate cas­es end up in the Supreme Court, which has heard three anal­o­gous pre­emp­tion cas­es since 2005 and, every time, ruled for the corporation.
It doesn't hurt Bayer's chances that Asso­ciate Jus­tice Neil Gor­such — who, as a fed­er­al judge, refused to let envi­ron­men­tal groups par­tic­i­pate in law­suits involv­ing pub­lic lands — would help decide the case. Neil's mom, the late Anne Gor­such Bur­ford, an anti-envi­ron­men­tal activist and Pres­i­dent Ronald Reagan's first EPA admin­is­tra­tor, sits along­side Pruitt in the pan­theon of cor­rupt GOP offi­cials forced from office in disgrace.
Polit­i­cal rad­i­cals have long claimed that big busi­ness dic­tates gov­ern­ment oper­a­tions. Nev­er­the­less, in the 20th cen­tu­ry, pres­sure from the labor and envi­ron­men­tal move­ments led to impor­tant regulations.
Today, we observe a Great Regres­sion to the sav­age cap­i­tal­ism of the Gild­ed Age — the ​"decon­struc­tion of the admin­is­tra­tive state," as Steve Ban­non would call it. As the Demo­c­ra­t­ic pri­maries approach, vot­ers should dis­tin­guish can­di­dates who have demon­strat­ed an appetite to con­front cor­po­rate pow­er from those who have proven them­selves behold­en to it. It's time to break the chains of cor­po­rate capture.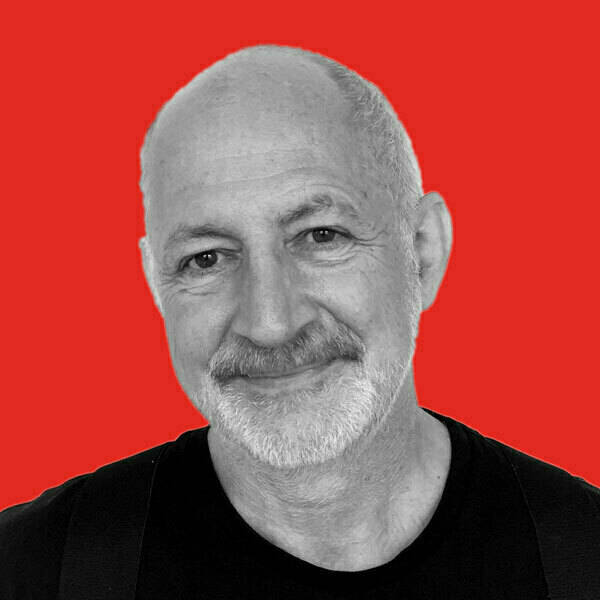 Joel Blei­fuss, a for­mer direc­tor of the Peace Stud­ies Pro­gram at the Uni­ver­si­ty of Mis­souri-Colum­bia, is the edi­tor & pub­lish­er of In These Times, where he has worked since Octo­ber 1986.