Message to 'Moral Mondays' Protesters: Be Silent—Or Else
North Carolina residents are being denied First Amendment rights.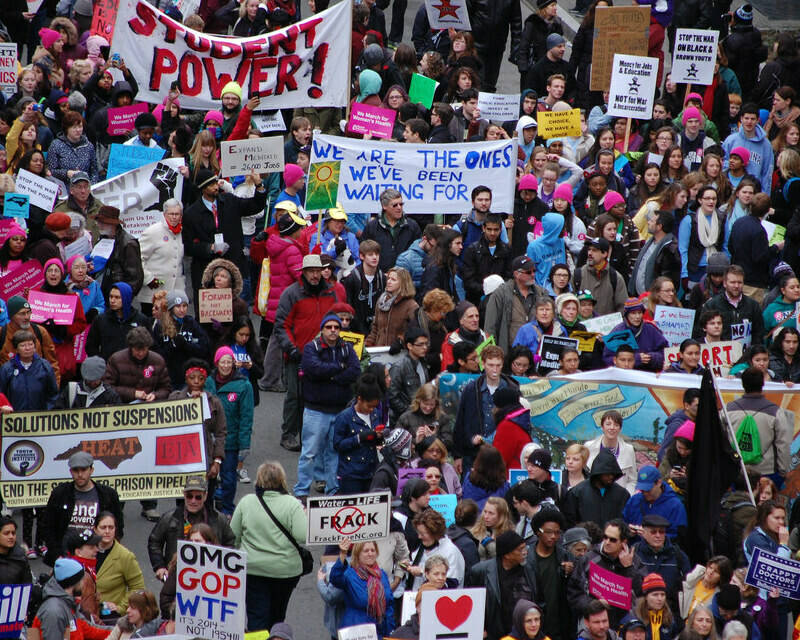 A dozen North Car­olini­ans had the brazen idea that, as Amer­i­can cit­i­zens, they could exer­cise their right to express their con­cerns to one of their elect­ed rep­re­sen­ta­tives, Thom Tillis, who is the gen­er­al assembly's Speak­er of the House.
The GOP decrees violate virtually every protection in the First Amendment to the U.S. Constitution—the right to petition the government for redress of grievances, the right to peaceably assemble and the right of free speech.
They wait­ed patient­ly for 10 hours in Tillis' office in the state Capi­tol late last month. Then police charged them with tres­pass­ing, hand­cuffed them and hauled them out of the people's house.
These Moral Mon­day pro­test­ers didn't under­stand the sit­u­a­tion as Tillis did or, for that mat­ter, from the per­spec­tive of his fel­low hard­line Repub­li­cans from Wis­con­sin to Geor­gia. The way GOP hard­lin­ers see it, Tillis is the Speak­er. He speaks, and every­body else shuts up and lis­tens. These law­mak­ers don't rep­re­sent con­stituents in a con­sti­tu­tion­al democ­ra­cy. They are over­lords. And as rulers over the peo­ple, they've award­ed them­selves the pow­er to muz­zle and hand­cuff any­one who dis­agrees with them.
While styling them­selves as defend­ers of the con­sti­tu­tion and pro­tec­tors of indi­vid­ual rights, hard­line GOP­ers, in prac­tice, pro­tect their own pow­er and posi­tion by vio­lat­ing the Con­sti­tu­tion and deny­ing indi­vid­u­als their rights. Just take North Car­oli­na for example.
There, Moral Mon­day activists gath­ered at the Capi­tol week­ly for months last year, protest­ing the gen­er­al assembly's vot­er sup­pres­sion laws, cuts to unem­ploy­ment ben­e­fits, denial of expand­ed Med­ic­aid ben­e­fits to the work­ing poor under the Afford­able Care Act, repeal of the Racial Jus­tice Act and tax cuts for the rich. These demon­stra­tions resumed this year, with 80,000 ral­ly­ing at the first one in Raleigh in Feb­ru­ary. And they've spread across the south, to Geor­gia and South Car­oli­na. In Alaba­ma, the week­ly events are called Truth­ful Tuesdays.
Last year, police arrest­ed 945 of these pro­test­ers when they entered the North Car­oli­na Capi­tol to make their voic­es heard after con­gre­gat­ing out­side to chant, sing spir­i­tu­als and hear speech­es. They got lots of pub­lic­i­ty. And their pop­u­lar­i­ty soared while that of the GOP-con­trolled gen­er­al assem­bly plummeted.
This, of course, annoyed hard­line Repub­li­cans respon­si­ble for the poli­cies the activists protest­ed. So this year, they did some­thing about it. No, they didn't ​"repent, repeal and restore," as the activists request­ed. Instead, the hard­lin­ers attempt­ed to repress, rescind and revoke the cit­i­zens' con­sti­tu­tion­al rights.
The Repub­li­can major­i­ty in the North Car­oli­na leg­is­la­ture adopt­ed rules mak­ing it a crime—a mis­de­meanor—for cit­i­zens to exer­cise their First Amend­ment rights to assem­bly, speech and protest in the Capi­tol, leg­isla­tive office build­ings and grounds.
The rules for­bid cit­i­zens who enter the Capi­tol build­ings from ​"dis­turb­ing" law­mak­ers or their staff mem­bers. This includes singing, clap­ping, shout­ing and play­ing musi­cal instru­ments. No Christ­mas car­ols in the North Car­oli­na Capi­tol! Skulk­ing lob­by­ists, how­ev­er, are welcome.
That's not all, though. The rule says police may arrest and crim­i­nal­ly charge a cit­i­zen who pos­es an ​"immi­nent dis­tur­bance." The GOP neglect­ed to define immi­nent dis­tur­bance, though. So, depend­ing on the law enforce­ment offi­cer, an immi­nent dis­tur­bance could be cast­ing a dirty look at a law­mak­er. It could be clutch­ing a hym­nal. It could be walk­ing with two hands capa­ble of clapping.
The rules also out­law signs on sticks and plac­ards that would ​"dis­turb" a law­mak­er or leg­isla­tive staffer. So, basi­cal­ly, pick­et­ing at the state Capi­tol is barred. Under the U.S. Constitution's First Amend­ment, North Car­oli­na GOP State Sen­a­tor Thom Gools­by was free to den­i­grate the activists as ​"Moron Mon­day" pro­test­ers in an op-ed pub­lished in the Chatham Jour­nal. But if Gools­by were ​"dis­turbed" by a cit­i­zen scrawl­ing ​"Gools­by is a moron" on card­board and car­ry­ing it in the Capi­tol, the leg­isla­tive rules give the GOP law­mak­er the pow­er to order guards to con­fis­cate it and charge the cit­i­zen with a crime.
In addi­tion, the rules require pro­test­ers to get per­mits to ral­ly on Capi­tol grounds from the very peo­ple who don't want them to ral­ly on Capi­tol grounds. The GOP hard­lin­ers have invest­ed in them­selves the pow­er to deter­mine exact­ly who has and who does not have a First Amend­ment right to assem­ble on pub­lic prop­er­ty in North Carolina.
The GOP decrees vio­late vir­tu­al­ly every pro­tec­tion in the First Amend­ment to the U.S. Con­sti­tu­tion — the right to peti­tion the gov­ern­ment for redress of griev­ances, the right to peace­ably assem­ble and the right of free speech.
This is Repub­li­can rule, not rep­re­sen­ta­tive gov­er­nance. This is the arro­gance of King George, not the def­er­ence of a pub­lic ser­vant. It's uncon­sti­tu­tion­al and un-American.
In May, imme­di­ate­ly after Repub­li­cans in the leg­is­la­ture imposed the new rules, 1,500 Moral Mon­day activists met and broke bread in the Bicen­ten­ni­al Mall in front of the North Car­oli­na Leg­isla­tive Build­ing. Then they cov­ered their mouths with duct tape and marched silent­ly through the Capi­tol, dis­trib­ut­ing bread to sev­er­al lawmakers.
The Raleigh News & Observ­er described it this way in an edi­to­r­i­al after­ward: ​"These pro­test­ers have done a pub­lic ser­vice, pure and sim­ple. They have spo­ken elo­quent­ly and loud­ly, even when they do not speak at all."
Amer­i­cans cher­ish the idea that they live in a coun­try that pulls up the down­trod­den, pro­tects the weak, and pro­vides equal oppor­tu­ni­ty for all to suc­ceed. They believe their gov­ern­ment should work to ful­fill these ideals. When it fails, Amer­i­cans know their Con­sti­tu­tion­al pro­tec­tions, like the right to speak, protest and assem­ble, will help them get their rep­re­sen­ta­tion­al democ­ra­cy back on track.
The Moral Mon­day pro­test­ers are dis­si­dents, defy­ing over­lords who are try­ing to shut them up and shut them down by deny­ing them their most basic Con­sti­tu­tion­al rights.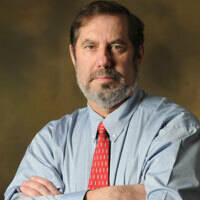 Leo Ger­ard is inter­na­tion­al pres­i­dent of the Unit­ed Steel­work­ers Union, part of the AFL-CIO. The son of a union min­er; Ger­ard start­ed work­ing at a nick­el smelter in Sud­bury, Ontario, at age
18
, and rose through the union's ranks to be appoint­ed the sev­enth inter­na­tion­al pres­i­dent Feb.
28
,
2001
. For more infor­ma­tion about Ger­ard, vis­it
usw​.org
.