More For Murdoch?
The FCC wants to relax media consolidation rules.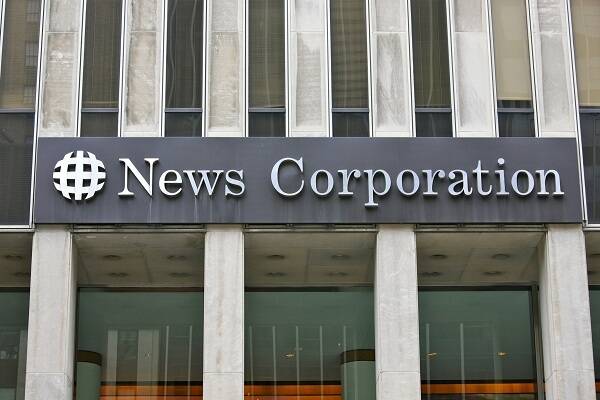 Julius Gena­chows­ki is not a house­hold name, yet his deci­sions help shape the news that's pumped to your inbox, mail­box and TV screen. Gena­chows­ki was giv­en the helm of U.S. media pol­i­cy in 2009 when he was appoint­ed chair of the Fed­er­al Com­mu­ni­ca­tions Com­mis­sion. His stat­ed goal for the FCC is to dri­ve inno­va­tion, fos­ter com­pe­ti­tion and empow­er media consumers.
Consolidation of ownership means more of the same news spread out through more outlets, creating an illusion of more choices but, in reality, fewer.
Instead, he may be empow­er­ing nation­al media giants from Clear Chan­nel to News Corp to get even big­ger. Not to inno­vate, mind you, but to use what they already have and dis­sem­i­nate it cheap­ly through new­ly acquired out­lets. If you don't like the same voic­es, the same style, and the same news to come at you from every cor­ner of the con­tent pro­vid­ing uni­verse, then media con­sol­i­da­tion is worrisome.
A state­ment from Gena­chows­ki called for a vote to ​"stream­line and mod­ern­ize media own­er­ship rules, includ­ing elim­i­nat­ing out­dat­ed pro­hi­bi­tions on news­pa­per-radio and TV-radio cross-own­er­ship." The pro­vi­sions he's tar­get­ing date back to 1975. The prob­lem is that the FCC has already been legal­ly chal­lenged over such ​"mod­ern­iza­tion" attempts by media reform groups such as Free Press. And the FCC lost, three times. Fed­er­al courts sided with the pub­lic on this one, say­ing con­sol­i­da­tion was off the table until FCC com­mis­sioned new stud­ies on media own­er­ship per­tain­ing to women and minorities.
Such stud­ies are sup­posed to be done every four years or so. The last one was released to the pub­lic on Novem­ber 14 and con­duct­ed by the FCC itself. If three years ago the courts said that there would be no con­sol­i­da­tion until own­er­ship diver­si­fies, then this report is sure­ly not going to change their minds.
It showed no progress on women or minor­i­ty own­er­ship from the pre­vi­ous one in 2007 by Duke Uni­ver­si­ty pro­fes­sors Arie Beresteanu and Paul Ellick­son. (See chart below).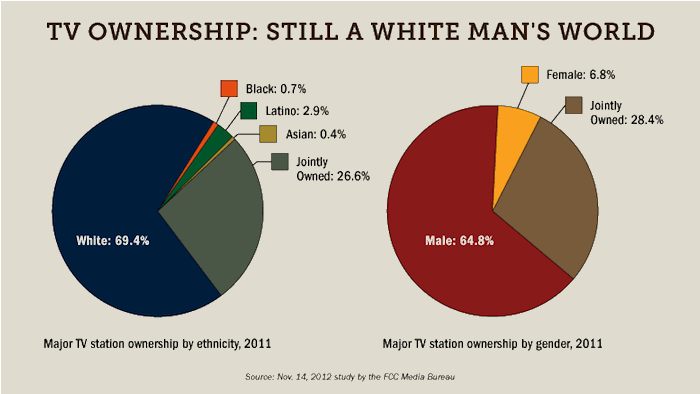 The Novem­ber study put women own­er­ship of full pow­er broad­cast tele­vi­sion sta­tions at 6.8 per­cent, up from 5.6 per­cent. Racial minori­ties owned 2.2 per­cent, unchanged from 2010. For FM radio sta­tions, women own 5.8 per­cent and racial minori­ties own 3.5 per­cent of FM stations.
With the excep­tion of indus­tries such as con­struc­tion and whole­sale ware­hous­ing, minori­ties are less present in media than they are in most indus­tries. Accord­ing to the Duke study, women run more man­u­fac­tur­ing firms than TV stations.
​"If nec­es­sary, we will take the FCC to court for a third time in four years, and we will win," says Craig Aaron, pres­i­dent of Free Press, which bat­tled the FCC in 2004, 2007 and 2011. He adds, ​"Why is the FCC in a rush to get this done all of a sud­den? Maybe Mur­doch is in a rush. He can wait. The rush is for the FCC to live up to its man­date to pro­mote local­ism and pro­mote diver­si­ty. They need to deal with that first, not when every­thing else has been giv­en away."
The agency has not yet sched­uled a pub­lic hear­ing or open meet­ings on con­sol­i­da­tion at this time.
In addi­tion to the man­date for four-year assess­ments, a fed­er­al appeals court instruct­ed the FCC to study the impact of any rule changes on own­er­ship diver­si­ty before embark­ing on consolidation.
From a pure­ly legal stand­point, the FCC might not be able to go ahead with con­sol­i­da­tion if oppos­ing groups suc­ceed at show­cas­ing just how lit­tle progress has been made on the own­er­ship front. But there's anoth­er prob­lem with con­sol­i­da­tion that has noth­ing to do with the num­ber of Oprah Win­freys and Kather­ine Gra­hams own­ing TV and newspapers.
The prob­lem is that it cre­ates less news. Con­sol­i­da­tion of own­er­ship means more of the same news spread out through more out­lets, cre­at­ing an illu­sion of more choic­es but, in real­i­ty, fewer.
For exam­ple, in media-diverse Mass­a­chu­setts, News Corp owns some small local news­pa­pers, such as The Stan­dard Times, a dai­ly in the old Moby Dick town of New Bed­ford. But it does not own the old, strug­gling con­ser­v­a­tive tabloid, the Boston Her­ald. A pri­vate fam­i­ly owns that. If Mur­doch were to buy it out, much of the local news on the Fox News affil­i­ate, WFXT would be shared with the Boston Her­ald. It would prob­a­bly also be shared with the Stan­dard Times. There would be no inno­va­tion oth­er than to con­nect those two com­pa­ny's IT depart­ments. The news team would grow small­er as writ­ers for FXT's Fox 25 and Boston Her­ald were pressed to pro­duce dual-pur­pose content.
​"Under con­sol­i­da­tion, you'll have broad­cast roll-ups between TV sta­tions, news­pa­pers and radio. And what is more like­ly to hap­pen than not is that you bring togeth­er employ­ees doing the same work for two dif­fer­ent sets of media and that will lead to job cuts, few­er employ­ees, less cov­er­age and less diver­si­ty," says Bernie Lun­z­er, pres­i­dent of The News­pa­per Guild, which rep­re­sents over 26,000 work­ers in print and some in broad­cast media.
Lun­z­er has seen this indus­try shrink: Back in 1987, the Guild had over 34,400 mem­bers. Con­sol­i­da­tion will make it worse. It'll mean even more jet­ti­son­ing of reporters in favor of celebri­ty pun­dits billed as ​"experts." It's eas­i­er to build a pundit's pro­file when you are beam­ing him or her onto TV screens across the nation. Why have a staff of ten peo­ple cov­er­ing edu­ca­tion, when you can have one house­hold name telling you how the world works instead?
Indus­try con­sol­i­da­tion is only one fac­tor in the opin­ion­iza­tion of news, but one thing is cer­tain: If Mur­doch owned a news­pa­per and a TV sta­tion in Boston, news­room staffers would lose their jobs.
The legal hur­dle to con­sol­i­da­tion remains a tall one. There aren't many news media moguls left. The hun­gri­est of the hold­outs is Rupert Mur­doch. But Mur­doch's phone-tap­ping scan­dals in the U.K. have hurt him, and as a result, his polit­i­cal caché has dimmed mas­sive­ly since the George W. Bush years. No one in Wash­ing­ton wants to be seen as pro­vid­ing any shel­ter for Mur­doch. The pres­i­dent has no use for him. Mur­doch is on his own.
If the FCC decides to go ahead with con­sol­i­da­tion, we can expect more of the same: a mas­sive amount of con­tent in the hands of few­er peo­ple, regur­gi­tat­ed nation­wide to give us the illu­sion of diversity.
Hope­ful­ly, the Free Press and friends can keep the brakes on. The media envi­ron­ment is bad enough as it is, and con­sol­i­da­tion by the major play­ers isn't going to make any­thing bet­ter for jour­nal­ists or news junkies. Con­sol­i­da­tion is one news dra­ma this busi­ness can do without.
This report­ing is sup­port­ed by The Media Con­sor­tium.
A long­time reporter and for­eign cor­re­spon­dent for Dow Jones and the
Wall Street Jour­nal
,
Ken­neth Rapoza
is an
In These Times
colum­nist who writes about the news busi­ness. His work has also appeared in
The Amer­i­can Prospect, The Nation
and at
Salon​.com
. He can be reached at ken@​inthesetimes.​com.