This Mother's Day, Mexican Moms Marched for Their Disappeared Children
Mothers are demanding the return of their missing children—and charging the Mexican state with culpability.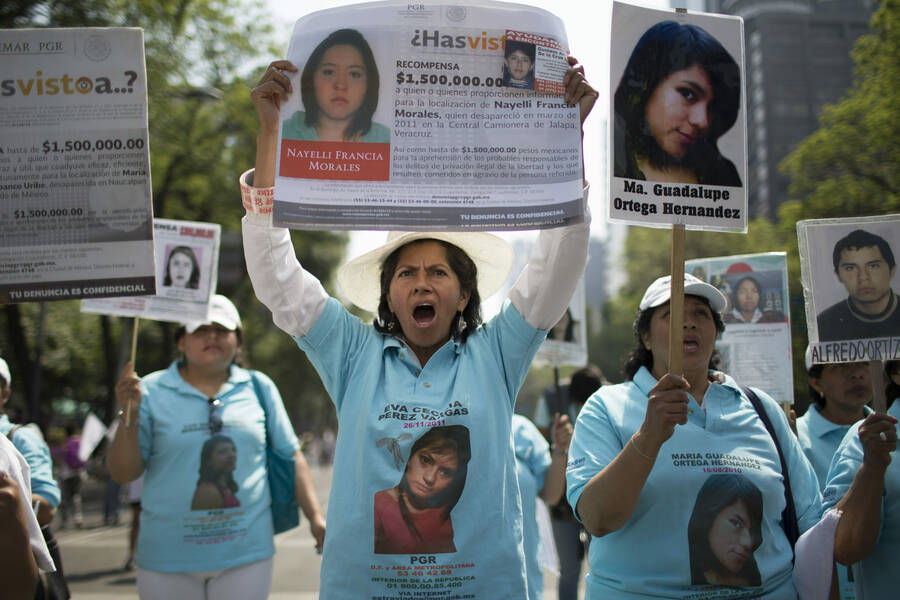 It's been two months since Margarita Castillo Fuentes has hugged her son.
Besides the trauma of living in ambiguous loss due to the perpetual uncertainty, women face ongoing victimization after a disappearance due to the financial burden that comes with focusing extensive time and resources on the search of their loved ones.
She's joining, for the first time, the hundreds of mothers marching in Mexico City on Mother's Day to demand the return of their missing children. Twenty minutes before 10:00 a.m., Margarita lines up holding a banner with an image of her son, Ángel de Jesús González Castillo, with a big question on top: ​"Have you seen him?"
On March 8 of this year, Ángel de Jesús González Castillo, a 20 year old with dark eyes, brown hair and a small scar on his right cheek, went out for dinner with his friend, Rubén González, in Xicotepec in Puebla state. According to Margarita, they were driving a black SUV, and suddenly they vanished.
"We haven't had any response from the authorities," says Rubén's mother, Guadalupe Rangel. ​"In fact, we've asked to check the town's CCTV cameras, the cellphones, but nothing. Nothing has happened."
Margarita and Guadalupe are aware of the worrying security situation in Puebla, where, according to official figures, at least 1,852 people have been disappeared.
"We know many parents, many families, who are like us. Many young people are disappearing, young women too," says Margarita. ​"We've just started organizing to gather the parents to create the collective. I am visiting them."
Marchers say that disappearances are not isolated cases, but stem from deliberate and systemic actions by federal and state security forces, as well as members of organized crime. In its 2017/2018 report on Mexico, Amnesty International concluded, ​"Enforced disappearances with the involvement of the state and disappearances committed by non-state actors continued to be common and those responsible enjoyed almost absolute impunity."
Unlike the political disappearances of the 1960s and 1970s, a period known as the Dirty War in which authorities forcibly disappeared more than 1,200 people under the rule of the Institutional Revolutionary Party, the current wave of disappearances was initially attributed to organized crime. However, as security forces were sent to confront these groups as part of the war on drugs strategy in 2006, the violence intensified and disappearances increased significantly as both sides battled for control of the territory, and authorities at every level colluded with organized crime. Earlier this year, for instance, prosecutors in the state of Veracruz affirmed that police used death squad tactics to disappear at least 15 people.
More than 34,000 people have been disappeared since the Mexican government declared the war on drug cartels, backed by the United States. The figures, however, could be higher considering that many people are still afraid of reporting the cases, and the government has repeatedly failed to investigate and properly document many cases.
Thousands of mothers whose children are missing have now become a symbol of resistance, claiming their right to know where their daughters and sons are, and defying the stereotype of mothers as passive victims. May 10, when Mexicans celebrate Mother's Day, has become a call for justice. For the seventh consecutive year, has been marked with the March for National Dignity, and similar demonstrations held in other cities, led by hundreds of mothers, sisters, aunts, and grandmothers.
These women have been at the helm of efforts to break the culture of silence around enforced disappearances by organizing into search collectives to exhume bodies and collect burnt human remains.
Lucy López Castruita has become an expert in finding search sites in Torreón, in the northern state of Coahuila, while her husband, Jesús Lamas, has roamed thousands of kilometers searching. They travelled more than 12 hours to walk along Paseo de la Reforma, the central boulevard in downtown Mexico City, to demand the return of their daughter, Irma Claribel Lamas, who disappeared on 2008 on her way to a party in a nearby city.
"I came because, then in my house, I'm alone," says Lucy, leader of Asociación Internacional de Búsqueda de Desaparecidos en México (International Association of the Search for the Disappeared in Mexico), which has organized three caravans to search for the disappeared alive in hospitals and prisons, among other places.
"It hurts, the pain never goes away, but it's good to see that we are not alone, that more people are supporting us", she adds.
Many of the mothers and relatives have been forced to become forensic experts, lawyers and investigators due to government inaction and high levels of impunity. This puts women on the front line as advocates for truth and justice, calling to the plight of their children with courage and resilience.
Sometimes, however, this comes at great personal risk. Last year, Miriam Rodríguez Martínez, who found the remains of her missing daughter and organized families, was shot dead on Mother's Day when gunmen burst into her home in Tamaulipas, a state on the Texas border with the highest number of disappearances registering over 5,000 missing.
Zaida Fernanda Guerra Medina, from Tamaulipas, marched with her two small children to the chant of ​"Vivos se los llevaron, vivos los queremos," or ​"Alive, they took them. Alive, we want them!" This scream has become the slogan of the families' movement. The 24-year-old says she was forced to leave her home two years ago with her family after the two police officers investigating the disappearance of her brother, then 29-year-old Aldo Oliver, were killed.
"This is my first time," Zaida says. ​"My mother is in Tamaulipas participating in some exhumations so I came to represent my family."
The impact of disappearances on women is often not adequately addressed by governments. Besides the trauma of living in ambiguous loss due to the perpetual uncertainty, women face ongoing victimization after a disappearance due to the financial burden that comes with focusing extensive time and resources on the search of their loved ones. Family conflicts often arise when mothers abandon some parenting responsibilities to commit full time to their fight. Oftentimes, they even are blamed for the disappearance of their children.
As Mexico's presidential election nears, the epidemic of disappearances and the plight of the mothers have received little attention from the candidates, whose proposed solutions are vague and null.
"What has the State done for them?" asked a manifest shared by the participant collectives. ​"Deny them and say that the disappearance is something of a few civilians who were involved with organized crime, denies that this tragedy is widespread and that in Mexico disappear not only men, but also women and children."
Chantal Flores
is a freelance journalist in Mexico City. She is currently working on her first book, focused on the parents of Mexico's disappeared. Her writing has appeared at
Vice, Rolling Stone Mexico and Upworthy.