This Mother's Day, Mexican Moms Marched for Their Disappeared Children
Mothers are demanding the return of their missing children—and charging the Mexican state with culpability.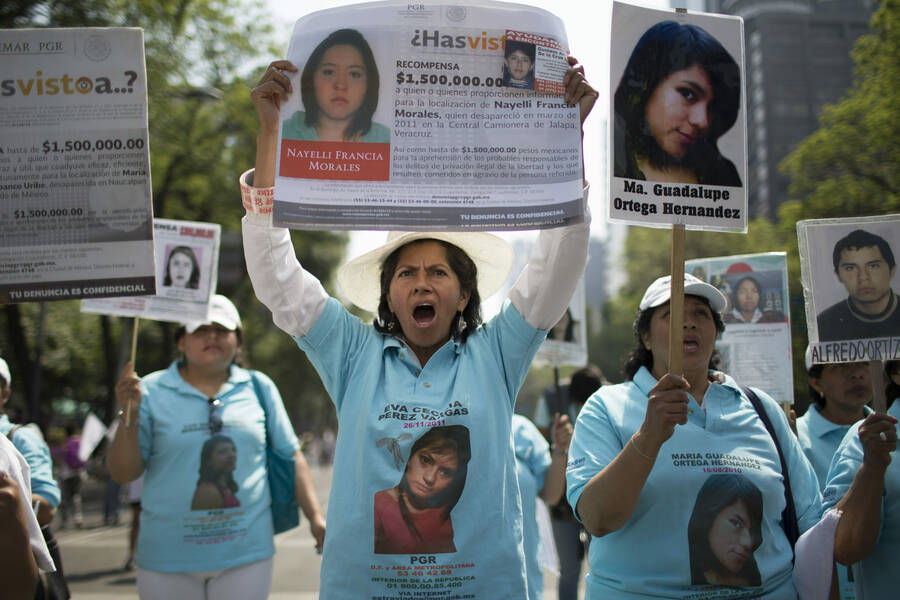 It's been two months since Mar­gari­ta Castil­lo Fuentes has hugged her son.
Besides the trauma of living in ambiguous loss due to the perpetual uncertainty, women face ongoing victimization after a disappearance due to the financial burden that comes with focusing extensive time and resources on the search of their loved ones.
She's join­ing, for the first time, the hun­dreds of moth­ers march­ing in Mex­i­co City on Mother's Day to demand the return of their miss­ing chil­dren. Twen­ty min­utes before 10:00 a.m., Mar­gari­ta lines up hold­ing a ban­ner with an image of her son, Ángel de Jesús González Castil­lo, with a big ques­tion on top: ​"Have you seen him?"
On March 8 of this year, Ángel de Jesús González Castil­lo, a 20 year old with dark eyes, brown hair and a small scar on his right cheek, went out for din­ner with his friend, Rubén González, in Xicote­pec in Puebla state. Accord­ing to Mar­gari­ta, they were dri­ving a black SUV, and sud­den­ly they vanished.
"We haven't had any response from the author­i­ties," says Rubén's moth­er, Guadalupe Rangel. ​"In fact, we've asked to check the town's CCTV cam­eras, the cell­phones, but noth­ing. Noth­ing has happened."
Mar­gari­ta and Guadalupe are aware of the wor­ry­ing secu­ri­ty sit­u­a­tion in Puebla, where, accord­ing to offi­cial fig­ures, at least 1,852 peo­ple have been disappeared.
"We know many par­ents, many fam­i­lies, who are like us. Many young peo­ple are dis­ap­pear­ing, young women too," says Mar­gari­ta. ​"We've just start­ed orga­niz­ing to gath­er the par­ents to cre­ate the col­lec­tive. I am vis­it­ing them."
Marchers say that dis­ap­pear­ances are not iso­lat­ed cas­es, but stem from delib­er­ate and sys­temic actions by fed­er­al and state secu­ri­ty forces, as well as mem­bers of orga­nized crime. In its 2017/2018 report on Mex­i­co, Amnesty Inter­na­tion­al con­clud­ed, ​"Enforced dis­ap­pear­ances with the involve­ment of the state and dis­ap­pear­ances com­mit­ted by non-state actors con­tin­ued to be com­mon and those respon­si­ble enjoyed almost absolute impunity."
Unlike the polit­i­cal dis­ap­pear­ances of the 1960s and 1970s, a peri­od known as the Dirty War in which author­i­ties forcibly dis­ap­peared more than 1,200 peo­ple under the rule of the Insti­tu­tion­al Rev­o­lu­tion­ary Par­ty, the cur­rent wave of dis­ap­pear­ances was ini­tial­ly attrib­uted to orga­nized crime. How­ev­er, as secu­ri­ty forces were sent to con­front these groups as part of the war on drugs strat­e­gy in 2006, the vio­lence inten­si­fied and dis­ap­pear­ances increased sig­nif­i­cant­ly as both sides bat­tled for con­trol of the ter­ri­to­ry, and author­i­ties at every lev­el col­lud­ed with orga­nized crime. Ear­li­er this year, for instance, pros­e­cu­tors in the state of Ver­acruz affirmed that police used death squad tac­tics to dis­ap­pear at least 15 people.
More than 34,000 peo­ple have been dis­ap­peared since the Mex­i­can gov­ern­ment declared the war on drug car­tels, backed by the Unit­ed States. The fig­ures, how­ev­er, could be high­er con­sid­er­ing that many peo­ple are still afraid of report­ing the cas­es, and the gov­ern­ment has repeat­ed­ly failed to inves­ti­gate and prop­er­ly doc­u­ment many cases.
Thou­sands of moth­ers whose chil­dren are miss­ing have now become a sym­bol of resis­tance, claim­ing their right to know where their daugh­ters and sons are, and defy­ing the stereo­type of moth­ers as pas­sive vic­tims. May 10, when Mex­i­cans cel­e­brate Mother's Day, has become a call for jus­tice. For the sev­enth con­sec­u­tive year, has been marked with the March for Nation­al Dig­ni­ty, and sim­i­lar demon­stra­tions held in oth­er cities, led by hun­dreds of moth­ers, sis­ters, aunts, and grandmothers.
These women have been at the helm of efforts to break the cul­ture of silence around enforced dis­ap­pear­ances by orga­niz­ing into search col­lec­tives to exhume bod­ies and col­lect burnt human remains.
Lucy López Cas­tru­i­ta has become an expert in find­ing search sites in Tor­reón, in the north­ern state of Coahuila, while her hus­band, Jesús Lamas, has roamed thou­sands of kilo­me­ters search­ing. They trav­elled more than 12 hours to walk along Paseo de la Refor­ma, the cen­tral boule­vard in down­town Mex­i­co City, to demand the return of their daugh­ter, Irma Clari­bel Lamas, who dis­ap­peared on 2008 on her way to a par­ty in a near­by city.
"I came because, then in my house, I'm alone," says Lucy, leader of Aso­ciación Inter­na­cional de Búsque­da de Desa­pare­ci­dos en Méx­i­co (Inter­na­tion­al Asso­ci­a­tion of the Search for the Dis­ap­peared in Mex­i­co), which has orga­nized three car­a­vans to search for the dis­ap­peared alive in hos­pi­tals and pris­ons, among oth­er places.
"It hurts, the pain nev­er goes away, but it's good to see that we are not alone, that more peo­ple are sup­port­ing us", she adds.
Many of the moth­ers and rel­a­tives have been forced to become foren­sic experts, lawyers and inves­ti­ga­tors due to gov­ern­ment inac­tion and high lev­els of impuni­ty. This puts women on the front line as advo­cates for truth and jus­tice, call­ing to the plight of their chil­dren with courage and resilience.
Some­times, how­ev­er, this comes at great per­son­al risk. Last year, Miri­am Rodríguez Martínez, who found the remains of her miss­ing daugh­ter and orga­nized fam­i­lies, was shot dead on Mother's Day when gun­men burst into her home in Tamauli­pas, a state on the Texas bor­der with the high­est num­ber of dis­ap­pear­ances reg­is­ter­ing over 5,000 missing.
Zai­da Fer­nan­da Guer­ra Med­i­na, from Tamauli­pas, marched with her two small chil­dren to the chant of ​"Vivos se los lle­varon, vivos los quer­e­mos," or ​"Alive, they took them. Alive, we want them!" This scream has become the slo­gan of the fam­i­lies' move­ment. The 24-year-old says she was forced to leave her home two years ago with her fam­i­ly after the two police offi­cers inves­ti­gat­ing the dis­ap­pear­ance of her broth­er, then 29-year-old Aldo Oliv­er, were killed.
"This is my first time," Zai­da says. ​"My moth­er is in Tamauli­pas par­tic­i­pat­ing in some exhuma­tions so I came to rep­re­sent my family."
The impact of dis­ap­pear­ances on women is often not ade­quate­ly addressed by gov­ern­ments. Besides the trau­ma of liv­ing in ambigu­ous loss due to the per­pet­u­al uncer­tain­ty, women face ongo­ing vic­tim­iza­tion after a dis­ap­pear­ance due to the finan­cial bur­den that comes with focus­ing exten­sive time and resources on the search of their loved ones. Fam­i­ly con­flicts often arise when moth­ers aban­don some par­ent­ing respon­si­bil­i­ties to com­mit full time to their fight. Often­times, they even are blamed for the dis­ap­pear­ance of their children.
As Mexico's pres­i­den­tial elec­tion nears, the epi­dem­ic of dis­ap­pear­ances and the plight of the moth­ers have received lit­tle atten­tion from the can­di­dates, whose pro­posed solu­tions are vague and null.
"What has the State done for them?" asked a man­i­fest shared by the par­tic­i­pant col­lec­tives. ​"Deny them and say that the dis­ap­pear­ance is some­thing of a few civil­ians who were involved with orga­nized crime, denies that this tragedy is wide­spread and that in Mex­i­co dis­ap­pear not only men, but also women and children."
Chan­tal Flo­res
is a free­lance jour­nal­ist in Mex­i­co City. She is cur­rent­ly work­ing on her first book, focused on the par­ents of Mexico's dis­ap­peared. Her writ­ing has appeared at
Vice, Rolling Stone Mex­i­co and Upwor­thy.