The Moynihan Report Is Turning 50. Its Ideas on Black Poverty Were Wrong Then and Are Wrong Now.
African-Americans' family structure is not the "master problem" of racial inequality in America.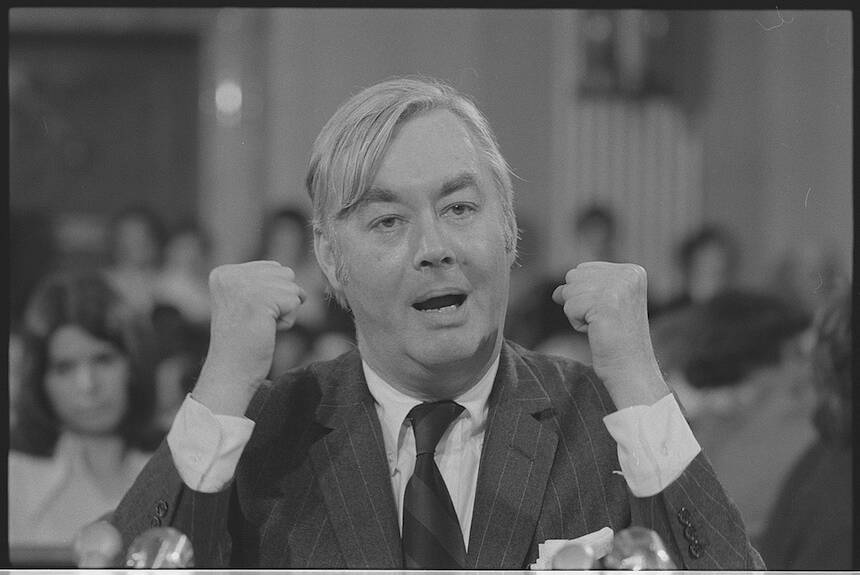 When­ev­er con­ser­v­a­tives argue that the main bar­ri­ers to racial equal­i­ty are cul­tur­al fac­tors with­in the African-Amer­i­can com­mu­ni­ty such as the high rate of female-head­ed fam­i­lies and out-of-wed­lock births, they often cite Daniel Patrick Moynihan's 1965 gov­ern­ment report, The Negro Fam­i­ly. The Moyni­han Report, as it's more com­mon­ly known, is a Frankenstein's mon­ster that con­ser­v­a­tives res­ur­rect every time Amer­i­cans are con­front­ed with the con­se­quences of racial and class inequality.
Moynihan, from the start, contradicted his case for liberal social policies by identifying family structure as African Americans' "master problem," the root cause of their self-perpetuating "tangle of pathology."
Despite the fact that the report is now half a cen­tu­ry old, today's con­ser­v­a­tives have used the report much as their fore­run­ners did when it was released short­ly after the Watts Upris­ing. The Right argues that Moyni­han pre­scient­ly revealed that African-Amer­i­can inequal­i­ty is root­ed pri­mar­i­ly in fam­i­ly struc­ture; thus, only moral revi­tal­iza­tion — not eco­nom­ic redis­tri­b­u­tion and a strong social safe­ty net — can ensure black progress.
The con­ser­v­a­tive response to the gross racial injus­tices recent­ly high­light­ed in Fer­gu­son, Bal­ti­more and else­where have proven no excep­tion: Jason T. Riley of the Wall Street Jour­nal, for instance, observes that Moyni­han showed ​"ghet­to out­comes" result from ​"ghet­to cul­ture," not from his­toric and ongo­ing oppres­sion. Con­ser­v­a­tive insti­tu­tions such as the Her­itage Foun­da­tion, the Hoover Insti­tu­tion, and the Man­hat­tan Insti­tute now cel­e­brate the report's half-cen­tu­ry anniversary.
For 50 years, con­ser­v­a­tives have used the report to ratio­nal­ize the per­sis­tence of inequal­i­ty in the post-civ­il rights era. Cit­ing Moyni­han in 1965, William F. Buck­ley declared, ​"lead­ers of the Negro peo­ple must take on the respon­si­bil­i­ty of help­ing their own peo­ple and dis­pelling the illu­sion that what is left to do is pri­mar­i­ly up to the white man." At an Amer­i­can Enter­prise Insti­tute event com­mem­o­rat­ing the report's thir­ti­eth anniver­sary in 1995, William Ben­nett con­clud­ed, ​"The most seri­ous prob­lems afflict­ing our soci­ety today are man­i­fest­ly moral, behav­ioral and spir­i­tu­al, and there­fore remark­ably resis­tant to gov­ern­ment cures."
Like Dr. Franken­stein, who did not antic­i­pate his creation's des­tiny, con­ser­v­a­tive appro­pri­a­tion of the Moyni­han Report is deeply iron­ic because Moyni­han wrote it as a lib­er­al offi­cial in Pres­i­dent Lyn­don Johnson's admin­is­tra­tion. The civ­il rights move­ment had suc­cess­ful­ly pushed for the Civ­il Rights Act of 1964; the Vot­ing Rights Act of 1965 would soon fol­low. But, as Moyni­han under­stood, African Amer­i­cans sought not only legal and polit­i­cal rights, but also a guar­an­teed basic stan­dard of liv­ing. By high­light­ing black fam­i­ly ​"insta­bil­i­ty," Moyni­han hoped to draw atten­tion to the deep­er social and eco­nom­ic inequities faced by African Amer­i­cans, espe­cial­ly the dearth of job oppor­tu­ni­ties for black men that pre­vent­ed them from serv­ing as fam­i­ly bread­win­ners. Con­ser­v­a­tives shame­less­ly ignore these ele­ments of the report when cel­e­brat­ing it.
There are those today — such as the authors of the Urban Institute's The Moyni­han Report Revis­it­ed, promi­nent soci­ol­o­gist William Julius Wil­son, and Nicholas Kristof of the New York Times — who seek to revive the report as a lib­er­al doc­u­ment. Moyni­han, they say, actu­al­ly argued for a strong wel­fare state that helps keep fam­i­lies intact; his good inten­tions have sim­ply been misunderstood.
But lib­er­als ignore how suc­cess­ful­ly con­ser­v­a­tives have used this con­tra­dic­to­ry doc­u­ment to their own ends at their own per­il. This is not a mon­ster that lib­er­als can con­trol. High­light­ing fam­i­ly struc­ture is just as like­ly to ratio­nal­ize inequal­i­ty as it is to dra­ma­tize it.
More­over, the report remains deeply ambigu­ous and flawed. The very fact that it appeals to both con­ser­v­a­tives and lib­er­als sug­gests its ide­o­log­i­cal promis­cu­ity. Moyni­han, from the start, con­tra­dict­ed his case for lib­er­al social poli­cies by iden­ti­fy­ing fam­i­ly struc­ture as African Amer­i­cans' ​"mas­ter prob­lem," the root cause of their self-per­pet­u­at­ing ​"tan­gle of pathol­o­gy." By so doing, Moyni­han implied either that African Amer­i­cans must cre­ate and pre­serve nuclear fam­i­lies through their own efforts or that racial inequal­i­ty was so entrenched that gov­ern­ment could not effec­tive­ly alle­vi­ate it. Para­dox­i­cal­ly, a report meant to con­vince John­son to take ​"nation­al action" offered a pow­er­ful jus­ti­fi­ca­tion for gov­ern­ment inaction.
Wrest­ing the report back from con­ser­v­a­tives fur­ther­more lim­its today's ambi­tions to the faulty aspi­ra­tions of 1960s lib­er­al­ism. We don't have to mis­char­ac­ter­ize Moyni­han as a racist or as a pro­po­nent of dra­con­ian wel­fare reform to see the prob­lems with his analysis.
As many of Moynihan's crit­ics at the time rec­og­nized, focus­ing on African Amer­i­cans' behav­ior over­looked sys­temic racism. It labeled fam­i­lies that devi­at­ed from the patri­ar­chal nuclear fam­i­ly mod­el ​"patho­log­i­cal." Moyni­han, wor­ried about the per­ni­cious effects of ​"matri­archy," even advo­cat­ed tak­ing jobs away from black women to give them to black men. His most con­crete pol­i­cy sug­ges­tion for pro­vid­ing employ­ment to black men was to recruit more into the armed forces, then fight­ing a war in Viet­nam — one kind of jobs pro­gram, dead­ly and high­ly unjust, that this coun­try has proved will­ing to pro­vide for African Amer­i­cans and poor people.
Endorse­ments of the Moyni­han Report also risk ignor­ing the facts revealed by a half-cen­tu­ry of social sci­ence research. As a recent report by the Coun­cil on Con­tem­po­rary Fam­i­lies shows, while the num­ber of sin­gle-par­ent fam­i­lies has risen among all Amer­i­cans, many of Moynihan's oth­er con­clu­sions have been dis­proven. For exam­ple, the increase in sin­gle-par­ent fam­i­lies has not led to a rise in juve­nile crime rates as Moyni­han pre­dict­ed. We should study the adverse effects of unem­ploy­ment and pover­ty on fam­i­lies, but Moyni­han is clear­ly not a reli­able guide to the subject.
Lib­er­al sup­port­ers also join con­ser­v­a­tives in repeat­ing a com­mon — but mis­tak­en — under­stand­ing of the Moyni­han Report con­tro­ver­sy that blames intem­per­ate left­ists for mis­un­der­stand­ing Moynihan's inten­tions. On Meet the Press this May, for exam­ple, Tom Brokaw blamed ​"black lead­ers" for hav­ing ​"vil­i­fied" Moyni­han instead of ​"seiz­ing the moment" in 1965. Actu­al­ly, some civ­il rights lead­ers includ­ing Mar­tin Luther King, Jr., con­curred with parts of Moynihan's diag­no­sis. But the real issue is not whether or not one agreed with Moyni­han, but our society's fail­ure — then and now — to devote the resources nec­es­sary to redress cen­turies of racial oppres­sion and fair­ly dis­trib­ute our wealth. Blam­ing the Left for fail­ing to accept Moynihan's con­clu­sions per­verse­ly holds civ­il rights activists account­able for con­tem­po­rary inequalities.
Racial and class inequal­i­ty are again on the nation­al agen­da as they were when Moyni­han wrote his report. Yet the doc­u­ment is hard­ly a good start­ing point for dis­cussing these prob­lems. The uncrit­i­cal cel­e­bra­tion of Moynihan's analy­sis threat­ens once again to dis­tract from the real caus­es of inequities and injus­tice in our soci­ety. As the Moyni­han Report turns 50, we should let it enjoy a long-delayed nat­ur­al death.