Liberals Need to Admit the Moynihan Report Failed To Produce Progressive Reforms
The time for liberal apologetics for the report is long past overdue.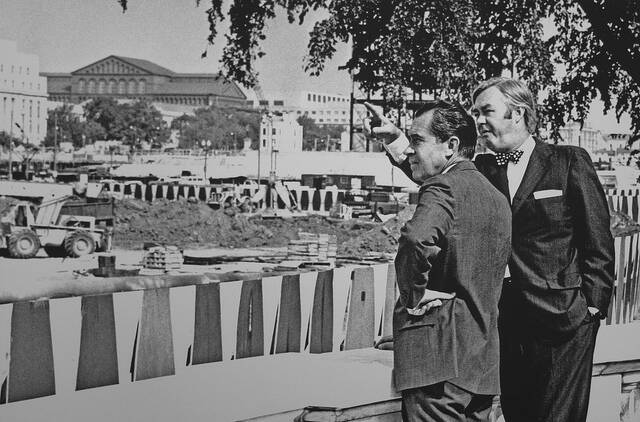 I wish, as I recent­ly wrote in these pages, that lib­er­als would admit that the Moyni­han Report failed as a strat­e­gy for gen­er­at­ing pro­gres­sive reforms. Greg Wein­er writes as a lib­er­al who is gen­uine­ly con­cerned about the effects of pover­ty on fam­i­lies. I respect that. But he and oth­er lib­er­als are mis­tak­en when they cel­e­brate the Moyni­han Report as a solu­tion to inequality.
By arguing that family instability was the "fundamental" problem facing African Americans, Moynihan shifted attention away from institutional racism and class inequality.
Cit­ing Moynihan's sup­port for a guar­an­teed annu­al income, Wein­er con­cludes, ​"lib­er­al­ism owes Moyni­han a greater debt — and more regrets — than it real­izes, in which case a reprieve for the Moyni­han Report might be jus­ti­fied." Had the Moyni­han Report sim­ply pro­posed jobs pro­grams and fam­i­ly allowances, the Left would have lit­tle quar­rel with it. But it did more than that. Moyni­han under­mined his own case for ​"nation­al action" by posit­ing that African Amer­i­cans suf­fered from a self-per­pet­u­at­ing ​"tan­gle of pathol­o­gy." By argu­ing that fam­i­ly insta­bil­i­ty was the ​"fun­da­men­tal" prob­lem fac­ing African Amer­i­cans, he shift­ed atten­tion away from insti­tu­tion­al racism and class inequality.
Wein­er con­tests my analo­giz­ing of Moyni­han to Dr. Frankenstein:
Is the sug­ges­tion that Moyni­han should not have raised the issue lest ill uses be made of his con­cerns? Per­haps: ​"This is not a mon­ster," Geary warns, ​"that lib­er­als can con­trol. High­light­ing fam­i­ly struc­ture is just as like­ly to ratio­nal­ize inequal­i­ty as it is to dra­ma­tize it." …The sug­ges­tion is to avoid high­light­ing fam­i­ly struc­ture because of what doing so will ratio­nal­ize: to eschew cre­ation of the ​"mon­ster" lest one side in the debate be unable to con­trol it.
Unlike Wein­er, I believe we can fault Moyni­han for the con­ser­v­a­tive uses to which his report has been put. If Moyni­han was mak­ing an unequiv­o­cal case for lib­er­al reform, why didn't he dis­as­so­ci­ate him­self from his con­ser­v­a­tive admir­ers? In fact, Moyni­han was proud that William F. Buck­ley repeat­ed his views. He even declared, ​"Every­thing Mr. Buck­ley has said on the Negro ques­tion is a pla­gia­rism tak­en straight out of my book [with Nathan Glaz­er], Beyond the Melt­ing Pot."
Sim­i­lar­ly, con­tem­po­rary lib­er­al sup­port­ers of the Moyni­han Report are ready to pounce any­time some­one on the Left points out the report's flaws. They love to talk about how ​"lib­er­als blew it" by crit­i­ciz­ing Moyni­han. But where are they when some­one like George Will writes a col­umn prais­ing Moyni­han for show­ing that ​"cul­ture" explains inequal­i­ty and that lib­er­al gov­ern­ment reforms are only bound to fur­ther weak­en African Amer­i­can families?
Lib­er­al sup­port­ers of the report are curi­ous­ly silent when it comes to its obvi­ous­ly patri­ar­chal assump­tions. Moyni­han believed the only way African Amer­i­cans could obtain equal­i­ty was by form­ing male-head­ed fam­i­lies. He wrote that African Amer­i­can men suf­fered from a ​"matri­ar­chal" cul­ture and would ben­e­fit from a stint in the army, which would offer them ​"an utter­ly mas­cu­line world … a world away from women, a world run by strong men of unques­tioned author­i­ty." Moyni­han also sup­port­ed tak­ing job oppor­tu­ni­ties away from black women so that black men could have them and black fam­i­lies wouldn't suf­fer from ​"reversed" gen­der roles. Moyni­han was not espe­cial­ly sex­ist for his time, but the report's cen­tral com­mit­ment to patri­archy sure­ly makes its analy­sis inad­e­quate for our own time.
Let's pre­tend for a moment that Moyni­han unam­bigu­ous­ly intend­ed as lib­er­als say he did: to use the issue of fam­i­ly struc­ture to high­light broad­er inequal­i­ties. It didn't work. Moyni­han failed to con­vince the John­son admin­is­tra­tion to adopt jobs pro­grams or a guar­an­teed annu­al income. Instead, his report pro­vid­ed grist for con­ser­v­a­tives who blamed the Watts Upris­ing on ​"fam­i­ly break­down" while ignor­ing under­ly­ing racial and class injus­tice. Con­ser­v­a­tives today are still using the report to shift focus away from the bla­tant injus­tice under­lined in Fer­gu­son, Bal­ti­more and elsewhere.
As Bayard Rustin rec­og­nized at the time, the Moyni­han Report was ​"ambiva­lent about the basic reforms that are need­ed" — like the $100 bil­lion Free­dom Bud­get Rustin cham­pi­oned to erad­i­cate pover­ty among all Amer­i­cans that Moyni­han point­ed­ly refused to endorse. Rustin knew that regard­less of Moynihan's inten­tions, shift­ing a nation­al dis­cus­sion about racial inequal­i­ty toward the issue of fam­i­ly struc­ture was dan­ger­ous: many whites were bound to inter­pret it as say­ing that African Amer­i­cans ​"should put their own house in order."
Rustin under­stood that the report was a Frankenstein's mon­ster that lib­er­als could not con­trol. And, after 50 years, they real­ly should know better.