A Former Nation of Islam Activist Looks Back on Muhammad Ali
From a bout in Jamaica to an Air Force base in Germany to the streets of Chicago, Ali's presence was massive.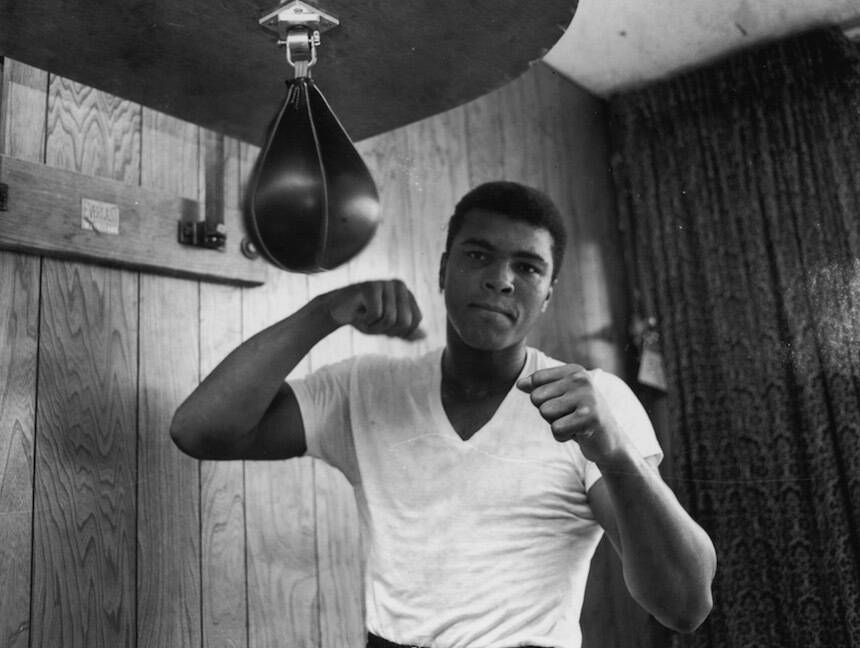 I met Muham­mad Ali in Jamaica in 1974, two months after he had regained the heavy­weight title against George Fore­man in the ​"Rum­ble in the Jun­gle" of Zaïre (now the Repub­lic of Con­go), a fight immor­tal­ized in the 1996 doc­u­men­tary When We Were Kings.
When Ali made that provocative statement, I was a member of the US. Air Force, stationed in Germany. It would have been difficult to find a black G.I. who disagreed with Ali's stance.
How­ev­er, I felt as if I had known him since 1964, when the then Cas­sius Clay shook up the world by beat­ing Son­ny Lis­ton for the heavy­weight title. He van­quished the fear­some Lis­ton with a daz­zling dis­play of box­ing skills, which itself was enough to gen­er­ate legions of fans in the hero-starved black community.
Although our meet­ing was more of an offi­cial inter­view, the con­ver­sa­tion veered into per­son­al direc­tions. We talked of how black Chica­go wel­comed him dur­ing his years of box­ing exile, from 1968 to 1971, and how much he learned from earn­ing his liv­ing as a pub­lic speak­er, exchang­ing views with a wide range of peo­ple through­out the country.
His can­dor and enthu­si­asm were sur­pris­ing for some­one so accus­tomed to the pub­lic spot­light. I was a bit intim­i­dat­ed by Ali's out­sized pub­lic per­sona, but his casu­al man­ner put me at ease.
Both Ali's flam­boy­ance and his expres­sion of racial com­mit­ment were rare. The intense­ly neg­a­tive pub­lic reac­tion to the flam­boy­ant Jack John­son, boxing's first African-Amer­i­can heavy­weight cham­pi­on (1908−1915), like­ly induced suc­ceed­ing black cham­pi­ons like Joe Louis to adopt non-threat­en­ing pub­lic images. They may have felt that a gen­tle per­sona would help mol­li­fy the implied threat of their phys­i­cal dominance.
But Ali was even fiercer out of the ring, and that rang all the right bells with those of us fired up on the rebel­lious spir­it of the era. While sports tra­di­tion­al­ly were con­sid­ered a refuge from social tumult, this unortho­dox young pugilist flipped the script. He com­bined Johnson's boast­ful per­sona with the racial can­dor of Mal­colm X.
The com­bi­na­tion of ath­let­ic prowess and social con­science boost­ed his appeal for a gen­er­a­tion of black baby boomers whose sense of racial dis­tress was reach­ing a boil­ing point. The same year Clay became Ali, cities began explod­ing in rage in an Amer­i­ca charged with racial griev­ance and its white backlash.
We fol­lowed Ali's career close­ly as he worked his pugilis­tic mag­ic on var­ied oppo­nents, mar­veling at the styl­is­tic vari­a­tion he brought to the box­ing ring and his abil­i­ty to evade punch­es. Not only were we fans of Ali's new-school box­ing style — his flashy foot­work and tor­so swerves were refresh­ing devi­a­tions from the pon­der­ous, heavy­weight norm.
But we also shout­ed ​"right on!" when he refused to enter the Army with his poet­ic jus­ti­fi­ca­tion, ​"I ain't got no quar­rel with them Viet­cong." He was lat­er wide­ly quot­ed as say­ing, ​"No Viet­cong ever called me ​'nig­ger.' "
When Ali made that provoca­tive state­ment, I was a mem­ber of the US. Air Force, sta­tioned in Ger­many. It would have been dif­fi­cult to find a black G.I. who dis­agreed with Ali's stance. The mil­i­tary was iron­i­cal­ly a rad­i­cal­iz­ing agent for many African Amer­i­cans dur­ing the Viet­nam era, and Ali's sen­ti­ments spoke direct­ly to their dis­con­tent. I was one of those rad­i­cal­ized and joined the Black Pan­ther Par­ty direct­ly after my discharge.
A lit­tle while lat­er, I joined Ali in the Nation of Islam where I even­tu­al­ly became an edi­tor of Muham­mad Speaks and its suc­ces­sor, Bilalian News. After being cleared by a unan­i­mous Supreme Court rul­ing revers­ing his reject­ed con­sci­en­tious objec­tor sta­tus, Ali began box­ing around the world (Indone­sia, Zaïre, Malaysia, Philip­pines, Ger­many) and the news­pa­per cov­ered it.
I fol­lowed him to Jamaica in Decem­ber 1974, where I inter­viewed him. I was there as part of a Nation of Islam con­tin­gent led by Min. Louis Far­rakhan that was clear­ly designed to exploit the celebri­ty of the new­ly recrowned heavy­weight cham­pi­on. As a rep­re­sen­ta­tive of the media, I was swept up into many events on that mag­i­cal island nation and mar­veled at just how beloved he was. He was treat­ed as a head of state; for exam­ple, he was giv­en the key to the Kingston cap­i­tal by Jamaican Pres­i­dent Michael Man­ley. Thou­sands of cel­e­brat­ing Jamaicans crowd­ed the side­walks to catch a glimpse of Ali as his motor­cade snaked through Kingston's nar­row streets. Ali told me he was exceed­ing­ly proud of being treat­ed as a states­man, rather than as an athlete.
He was also deeply revered by the anti-Viet­nam War move­ment. His refusal to join the armed forces as a con­sci­en­tious objec­tor was a direct emu­la­tion of Eli­jah Muham­mad, the leader of the Nation of Islam (NOI), who was jailed from 1942 – 1946 on charges relat­ed to eva­sion of mil­i­tary ser­vice. Iron­i­cal­ly, the NOI doc­trine to which Ali sub­scribed at the time iden­ti­fied most mem­bers of his protest­ing cheer­lead­ers as ​"dev­ils."
Ali had to rec­on­cile these para­dox­es dur­ing much of his time in the pub­lic lime­light fol­low­ing his ban from box­ing, and he finessed it as well as pos­si­ble. He ren­dered Eli­jah Muhammad's race-based the­ol­o­gy palat­able to his white sup­port­ers through his engag­ing per­son­al­i­ty. But NOI doc­trine was always a hard fit in the pub­lic square.
When Eli­jah died in 1975, Wal­lace D. Muham­mad (lat­er Warith Deen Mohamed), his son and suc­ces­sor, altered the doc­trine, took ​"dev­il" out of whites' descrip­tion and embraced con­sti­tu­tion­al Amer­i­ca with a new fer­vor. This doc­tri­nal devi­a­tion released Ali from a stance of racial exclu­siv­i­ty and allowed him to engage his mul­tira­cial fans in ways for­mer­ly avoid­ed. Far­rakhan ini­tial­ly fol­lowed this course as well, but lat­er re-embraced Elijah's racial doc­trine, break­ing with Ali. Although the two had doc­tri­nal dif­fer­ences, their rela­tion­ship remained cordial.
Some spec­u­late that Ali's uni­ver­sal pop­u­lar­i­ty in his lat­er years was boost­ed by Parkinson's dis­ease, a debil­i­tat­ing ill­ness that show­cas­es a lack of phys­i­cal prowess. There may be truth to that. But it brings me back to my 1974 con­ver­sa­tion with the champ. Even then, he seemed to regard his phys­i­cal gifts as a nec­es­sary evil as he boast­ed about his states­man­like treat­ment in Jamaica.
He didn't down­play his ath­let­ic prowess — after all, that's what got him where he was — but he sought to keep adu­la­tion down to accord more with the NOI's edicts against sport-and-play. And that, inci­den­tal­ly, was anoth­er para­dox: NOI doc­trine advised against the very pro­fes­sion, box­ing, in which Ali excelled.
We talked about those doc­tri­nal intri­ca­cies that sun­ny day in Jamaica like old homies; him, me and his broth­er Rah­man. I soon real­ized that his agile mind was even more grace­ful than his box­ing skills. I was remind­ed of that when we occa­sion­al­ly touched base over the years. He may have been qui­et­ed by Parkinson's, but the force of his exam­ple reminds us that our pow­er is beyond the phys­i­cal. I will miss him.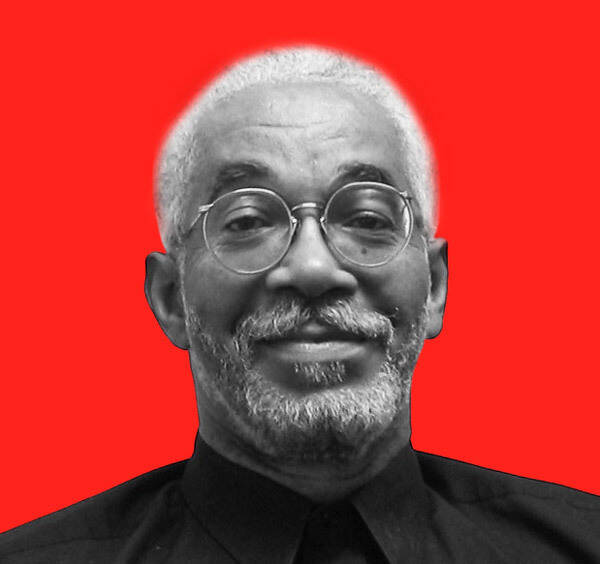 Sal­im Muwakkil
is a senior edi­tor of
In These Times
, where he has worked since
1983
. He is the host of The
Sal­im Muwakkil
show on WVON, Chicago's his­toric black radio sta­tion, and he wrote the text for the book
HAROLD: Pho­tographs from the Harold Wash­ing­ton Years
.