"My Words Are Dangerous": An Interview with Christopher Zoukis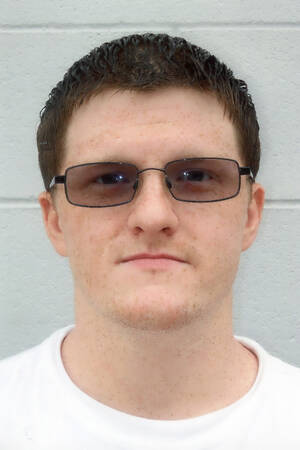 While there has been a lot of inter­est in recent years in jour­nal­ism about pris­ons and the crim­i­nal jus­tice sys­tem, less well known is the jour­nal­ism being done by pris­on­ers them­selves. From the San Quentin News in Cal­i­for­nia to Prison Radio in Penn­syl­va­nia there are dozens of prison news­pa­pers and radio sta­tions and indi­vid­ual authors writ­ing and pub­lish­ing from inside prison. Among them is Christo­pher Zoukis, an award-win­ning writer, cur­rent­ly incar­cer­at­ed at FCI Peters­berg in Vir­ginia. Since he was first locked up, in 2006, Christo­pher has pub­lished three books and writ­ten for a num­ber of out­lets, includ­ing Prison Legal News Ser­vice, the Huff­in­g­ton Post, AND Mag­a­zine and the New York Jour­nal of Books. But writ­ing behind bars is fraught with dif­fi­cul­ties, as Zoukis told Avi­va Stahl in this recent interview.
When did you first start think­ing about being a jour­nal­ist? What drew you to it?
I would say that I was a prison writer before becom­ing an incar­cer­at­ed jour­nal­ist. I want­ed to make some­thing of my time in prison and I want­ed to con­nect with oth­ers like myself. In a way I sup­pose I was search­ing for com­mu­ni­ty and camaraderie.
But as time went on things changed. No longer was I writ­ing poems, but more and more seri­ous arti­cles. While yes, this is the direc­tion that I want­ed to take my work, I did­n't so much feel that it was a choice, but almost an oblig­a­tion or an hon­or­able duty. I'm now the guy peo­ple come to when they don't know where else to turn. This is a respon­si­bil­i­ty that gives my life in here pur­pose, but also a tremen­dous weight.
My work is not always suc­cess­ful in the vein that I view my pub­lished work not as the end of the process, but the begin­ning. The goal of the writ­ing is pri­mar­i­ly to expose injus­tice, cor­rect wrongs, and hold gov­ern­men­tal wrong­do­ers account­able for their actions. But one of the peo­ple that I wrote about, Ash­ley Jean Arnold, a trans­gen­der pris­on­er incar­cer­at­ed at FCI Peters­burg, took her life on Feb­ru­ary 24, 2015. To date that has been my great­est fail­ure. It is due to Ash­ley that I real­ize the work that incar­cer­at­ed jour­nal­ists engage in isn't mere­ly assert­ing that pris­on­ers are an essen­tial stake­hold­er in the dis­cus­sion, but that with­out our input more lives will be lost.
Talk about the process of report­ing from the inside (e.g., meet­ing and estab­lish­ing rap­port with sources/​interviewees; con­duct­ing inter­views; doing research for cur­rent or future sto­ries; writ­ing up; com­mu­ni­cat­ing with edi­tors, etc.).
In terms of the process, it is all pret­ty much the same these days. When a sto­ry is not yet on my radar, a prospec­tive inter­view sub­ject will approach me and explain what is going on with them. This could be in the law library, walk­ing the track, in the chow hall, or, as of last night, while work­ing out on the small rec field. Regard­less of how I meet them, we usu­al­ly sit down and I try to under­stand if they have some­thing worth exploring.
In terms of research, I have to rely on my friends out­side of prison to help me when the law library com­put­ers aren't enough. Note that I can gain access to case law, fed­er­al reg­u­la­tions, and statu­to­ry law, but not the inter­net or any schol­ar­ly jour­nals. Due to these lim­i­ta­tions, I exten­sive­ly rely on Google Alerts. Friends print and mail these to me on a dai­ly basis. On the oth­er hand, when I want to delve into a spe­cif­ic top­ic, I ask an out­side con­tact to search it out online and mail me what­ev­er she finds.
If I find that there is a need that I can ful­fill, or at least try to, then I'll use the same old tools of the trade that oth­ers have used before I was even born: paper and pen. I sit down, out­line what the per­son has explained to me, show it to them to ensure that I'm under­stand­ing them cor­rect­ly, and then get to draft­ing. This is where my tools of the trade dif­fer. Fed­er­al pris­on­ers don't have access to true word proces­sors. Instead I have access to a clear Swin­tec type­writer and the Cor​rlinks​.com/​T​R​U​LINCS com­put­er sys­tem. For larg­er projects I use the type­writ­ers, but for arti­cles I use the com­put­ers, which allow me to email friends and fam­i­ly. Using this mon­i­tored email sys­tem I can draft my arti­cles and zip them off to my out­side con­tacts, who then make sub­mis­sion to spe­cif­ic out­lets for me. This is one area where I'm large­ly at a loss because it's often not worth it to con­vince edi­tors to sign up to the email ser­vice, so I can't com­mu­ni­cate with them direct­ly. Instead I must rely on my out­side con­tacts to do so for me.
What is the great­est chal­lenge you face in reporting?
I would say that there are three areas that cause me much trou­ble: source mate­r­i­al, tech­nol­o­gy, and the media in gen­er­al. For the most part, I have to come up with my own arti­cle ideas and, hence, source mate­r­i­al. This is nev­er easy. The only pub­li­ca­tion that actu­al­ly helps me with this is Prison Legal News, who, under­stand­ing the plight of incar­cer­at­ed writ­ers, send the mate­ri­als that I require in order to ful­fill the arti­cles that they assign. My grat­i­tude for this knows no bounds. Paul Wright and Alex Fried­mann, Pub­lish­er and Man­ag­ing Edi­tor of PLN, inti­mate­ly know the prob­lems that incar­cer­at­ed writ­ers have due to being incar­cer­at­ed writ­ers at one point in their lives.
The oth­er two areas go hand in hand. Being incar­cer­at­ed in a fed­er­al prison, I'm very much dis­con­nect­ed from the out­side world. This makes it very dif­fi­cult to show my val­ue to main­stream media out­lets and to sim­ply obtain the mate­ri­als that I need to do time­ly report on devel­op­ing sto­ries. It's hard to get some­one to invest in myself as a writer when I can't com­mu­ni­cate with them on a reg­u­lar basis due to com­mu­ni­ca­tion bar­ri­ers. Prison admin­is­tra­tors also make this chal­leng­ing due to restrict­ing access to com­mu­ni­ca­tions (e.g., lim­i­ta­tions on tele­phone min­utes, email access, and vis­i­ta­tion) and retal­ia­to­ry actions against incar­cer­at­ed writ­ers. The deck is stacked against us from the start.
What about retal­i­a­tion – have you ever endured any kind of pun­ish­ment for your work? How does that fear shape your expe­ri­ences as a journalist?
I think that all suc­cess­ful prison jour­nal­ists and jail­house lawyers expe­ri­ence retal­i­a­tion due to their work. While the the­o­ry of retal­i­a­tion is ever-present, it'on­ly when you actu­al­ly become suc­cess­ful and vis­i­ble that crit­i­cal mass is achieved and the ugli­ness starts. In my case the crit­i­cal mass hit in ear­ly 2012, when my first book, Edu­ca­tion Behind Bars (Sun­bury Press), came out. At the time I was thrown in the hole, sanc­tioned to years loss of var­i­ous priv­i­leges (i.e., email, tele­phone, vis­i­ta­tion, and com­mis­sary), and even put in for a trans­fer to a max­i­mum secu­ri­ty fed­er­al prison. While we were able to stop the trans­fer, get me out of the hole, and even­tu­al­ly beat the three inci­dent reports, it was ugly. This cer­tain­ly left me with the under­stand­ing that suc­cess­ful­ly writ­ing from prison would be pun­ished severe­ly. At this point I had to make a deci­sion: sit down and shut up or pay the piper. I chose the latter.
Come late 2014, when my sec­ond book, Col­lege for Con­victs (McFar­land & Co.), was released, I again was sub­ject­ed to dis­ci­pli­nary action. This time I received four inci­dent reports and again years loss of priv­i­leges. After anoth­er few months of fight­ing FCI Peters­burg offi­cials, all of the inci­dent reports were expunged and removed from my record. That was my least pleas­ant Christ­mas in a decade of incarceration.
Of course, all of this just con­sti­tutes the tan­gi­bles. The intan­gi­bles include cell shake­downs, the ongo­ing open­ing of my legal mail, and com­plete com­mu­ni­ca­tion mon­i­tor­ing. To date SIS offi­cials – the inter­nal branch of the Fed­er­al Bureau of Pris­ons that mon­i­tors and inves­ti­gates seri­ous prison mis­con­duct – lis­ten to all of my phone calls, read all of my emails, and open and inspect all of my mail. There is lit­er­al­ly no com­mu­ni­ca­tion that is not read, record­ed, and reviewed by prison secu­ri­ty offi­cials. The cost of being a prison writer, I suppose.
In terms of fear shap­ing my expe­ri­ence as a jour­nal­ist, it makes you vig­i­lant. The hon­est answer is that every word might be my last for quite some time. They are com­ing; the ques­tion is when. One day prison secu­ri­ty offi­cials will group up, march up the stairs to my hous­ing unit, slap cuffs on me, and haul me away. It has hap­pened before and it will again. This real risk of reprisal, at least in my mind, makes my work that much more mean­ing­ful. Unlike my non-incar­cer­at­ed peers in the Unit­ed States, my words are dan­ger­ous and come at a cost. I'm with­in the con­fines of a fed­er­al prison try­ing not to get thrown in a small, dark hole and nev­er heard from again. If I don't step up to the plate and do what I believe to be the right thing, then who will?
You've pub­lished a lot of writ­ing over the past year – what piece of report­ing are you espe­cial­ly proud of?
Two top­ics come to mind: the sto­ry of Ash­ley Jean Arnold and my work advo­cat­ing for pris­on­ers to again become eli­gi­ble for Pell grants. Ash­ley was a trans­gen­der pris­on­er at FCI Peters­burg who hung her­self from her prison bunk on Feb­ru­ary 24, 2015 at 2:00 in the after­noon. I knew her well and put in a lot of time suing and fil­ing griev­ances against the prison offi­cials who refused to treat her gen­der dys­pho­ria and who con­tin­ued to abuse her with impuni­ty. I think she real­ized that through her sac­ri­fice oth­er trans women would receive bet­ter care. She was right. In the wake of her death, while the care isn't great and her abusers have been allowed to con­tin­ue in their posi­tions with­out cause for con­cern, care has been expand­ed. This is by far the most impor­tant sto­ry that I've ever cov­ered, and per­haps ever will.
Pell grants is anoth­er issue that I'm very pas­sion­ate about. The research is clear that with each addi­tion­al lev­el of edu­ca­tion obtained that the rate of recidi­vism is slashed. Cor­rec­tion­al edu­ca­tion is the sin­gle most cost-effec­tive, proven method of recidi­vism reduc­tion that the world cur­rent­ly knows of. But pris­on­ers as a group don't have the funds required to improve their lots in life. With Pell grant fund­ing restored, they will be able to afford the tools (aca­d­e­m­ic edu­ca­tion and career train­ing) that they need in order to suc­ceed post-release.
What are some projects you're cur­rent­ly work­ing on or issues you're hop­ing to cov­er in the com­ing years?
After serv­ing over ten years in prison I feel that my time is run­ning short now that I only have two more left to go. Dur­ing that time I'd like to focus strong­ly on the cur­rent Pell grant push (which will con­tin­ue in some form beyond my release date). I hope to accom­plish this through my work with the Huff­in­g­ton Post, Prison Legal News, and Pris​onE​d​u​ca​tion​.com. In addi­tion to this, I'm also fin­ish­ing up my ​"Fed­er­al Prison Hand­book." This will prob­a­bly be my final book project while behind bars. The idea is that through detailed research, which is ver­i­fied through per­son­al expe­ri­ence, that I can put out a book that will advise not only soon-to-be and cur­rent fed­er­al pris­on­ers of life in prison and their rights, but more impor­tant­ly to help attor­neys intro­duce them­selves to prison life and the gov­ern­ing regulations.
There's been a real increase in the cov­er­age of prison issues in the main­stream news in the last few years. Do you think news out­lets do enough to seek out and pub­lish the work of jour­nal­ists on the inside?
While the addi­tion­al cov­er­age and inter­est in our nation's pris­ons are impor­tant devel­op­ments, the news media gen­er­al­ly does­n't seem to care about pris­on­ers that much. While the New York Times does present an hon­est review of what is occur­ring behind bars, most of the oth­er news out­lets seem to me to be focus­ing on the sen­sa­tion­al. But this response is more about cov­er­age than what the main­stream news media is doing to con­nect with incar­cer­at­ed writ­ers, which it gen­er­al­ly does­n't both­er to do.
When I think of where incar­cer­at­ed writ­ers typ­i­cal­ly pub­lish, I think of Prison Legal News and the Jour­nal of Pris­on­ers on Pris­ons. That's about it. Both, espe­cial­ly PLN, real­ly try to get incar­cer­at­ed jour­nal­ists involved. These two pub­li­ca­tions are the excep­tion to the rule. While the Huff­in­g­ton Post has pro­vid­ed me with a reg­u­lar venue to pub­lish my thoughts, most oth­er main­stream media out­lets have been much more chal­leng­ing to crack, even when the top­ic con­cerns pris­ons and crime.
Any pet peeves when it comes to the writ­ing of out­side jour­nal­ists who write about prison issues?
Absolute­ly. Pris­on­ers are not stu­pid brutes. This is espe­cial­ly the case as it con­cerns incar­cer­at­ed writ­ers, lawyers, and aca­d­e­mics. Regard­less of this, jour­nal­ists out­side of prison seem inclined to char­ac­ter­ize us as such. While we all did some­thing to get locked up, and I'll be the first to accept full respon­si­bil­i­ty for my actions, this emphat­i­cal­ly does not mean that we have noth­ing of impor­tance to con­tribute. It just would be nice if jour­nal­ists would reach out to those in prison when doing sto­ries that per­tain to those in prison as opposed to advanc­ing stereotypes.
Close­ly relat­ed to this pet peeve is of aca­d­e­mics dis­count­ing the pub­lished research of pris­on­ers. In the prison edu­ca­tion realm Dr. Jon Marc Tay­lor, a Mis­souri state inmate, has been a lead­ing voice. In the 1990s he even pub­lished an influ­en­tial op-ed in the New York Times con­cern­ing Pell grants for pris­on­ers. Yet, most of the aca­d­e­mics in the realm ignore his work and refuse to cite him sim­ply because he is a prisoner.
Anoth­er issue is that jour­nal­ists seem very inclined to be fed infor­ma­tion by prison offi­cials. Impar­tial and mer­i­to­ri­ous jour­nal­ism does not mean receiv­ing a one-sided press release or inter­view with a prison offi­cial and then writ­ing the sto­ry based on the best spin pos­si­ble for the admin­is­tra­tion. Jour­nal­ists need to actu­al­ly inves­ti­gate sto­ries that con­cern pris­ons, pris­on­ers, and prison admin­is­tra­tors ful­ly. Once they under­stand the full issue, then it is time to write the sto­ry. We see time and time again that prison offi­cials first come out with a sto­ry that sup­ports their posi­tion (e.g., the inmate vio­lat­ed the rules and was pun­ished), but then when the law­suit fol­lows we see the truth (e.g., the prison offi­cials were angry about the pris­on­er's com­ments in an inter­view or arti­cle and decid­ed to write an inci­dent report so that they could turn off his phone for a few months).
What are some ways that jour­nal­ists and read­ers on the out­side can sup­port your work and the work of oth­er jour­nal­ists on the inside?
There are sev­er­al ways that jour­nal­ists can help. First and fore­most, when report­ing on pris­ons, ensure to get both sides of any sto­ries that you cov­er. Just because the prison admin­is­tra­tion has a posi­tion, it does­n't mean that it is the cor­rect one, much less a trans­par­ent answer. As for me and my fel­low writ­ers, I'm sure that all of us would be grate­ful for the olive branch of oppor­tu­ni­ty to be extend­ed. There are a hand­ful of world class writ­ers in Amer­i­can pris­ons. Giv­en the oppor­tu­ni­ty, I'm sure that we would be up to the task for exten­sive­ly bol­ster­ing your cov­er­age and exper­tise on the crime, crim­i­nal jus­tice, and prison beats. As with many ideas, the first step is to reach out and dis­cuss the possibilities.
Final­ly Christo­pher, what are your plans for your writ­ing career once you're released?
In Sep­tem­ber 2018 I will be released to Charleston, South Car­oli­na, where my par­ents live. My hope is to first get accli­mat­ed to soci­ety again – it's been 10 years after all – and then to sit for the LSATs. I hope to fol­low in the foot­steps of Bran­don Sam­ple and Shon Hop­wood by earn­ing a law degree and aggres­sive­ly advo­cat­ing for my clients. But I don't plan on becom­ing sim­ply a crim­i­nal defense or civ­il rights attor­ney, I hope to also become Amer­i­ca's lead­ing voice for the incar­cer­at­ed. Through the writ­ten word I hope to ensure that those con­fined with­in Amer­i­ca's bro­ken prison sys­tem have a voice. I hope to become some­one that oth­ers can count on to always do the right thing, even when it hurts to do so. This I feel is my sin­gle great­est asset: I'm will­ing to endure hard­ship in order to real­ize my goals. And in the bat­tle for truth – in this case the sub­ject of prison jour­nal­ism – that is what is often required of those who fol­low this tur­bu­lent path into the ter­ri­fy­ing unknown.
Avi­va Stahl
is a Brook­lyn-based jour­nal­ist who writes about pris­ons, nation­al secu­ri­ty, and immi­gra­tion deten­tion. You can fol­low her @stahlidarity or read more of her work at stahli​dar​i​ty​.com.