These LA Activists Are Showing How to Fight Surveillance Under Trump
Racial justice organizers stopped the mayor from expanding an Islamophobic "counter-terrorism" program. They're building a coalition to end all spying on communities of color.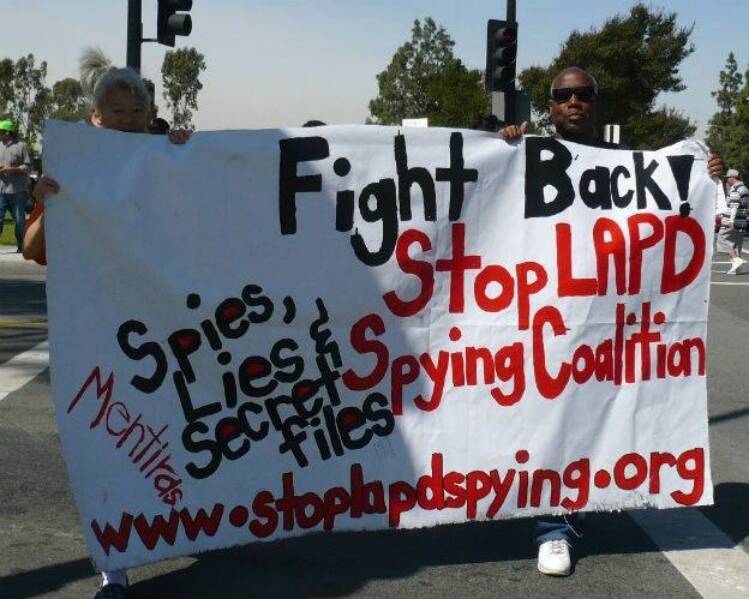 On a hot August day at a com­mu­ni­ty space on Los Ange­les' Skid Row, about two dozen youth of col­or from the undoc­u­ment­ed-led Immi­grant Youth Coali­tion (IYC) gath­ered for a workshop.
What's more, declarations that the "Countering Violent Extremism" program is dead are premature—the approach at the heart of the program appears likely to continue through other federal and state channels.
At the front of the room an activist from the Stop LAPD Spy­ing Coali­tion, which aims to end police sur­veil­lance pro­grams, gave instruc­tions to the par­tic­i­pants. On pieces of paper fold­ed into four quar­ters, orga­niz­er Nadia Khan told the kids, ​"I want you to respond to the fol­low­ing ques­tion: What do you con­sid­er suspicious?"
Every­one scrib­bled down their answers in mark­er, crum­pled up the pieces of paper and threw them towards the front of the room. Par­tic­i­pants got up from their seats to grab some­one else's answer from the balled-up sheets, then took turns read­ing them out loud.
"Police," read one. ​"White peo­ple in my neigh­bor­hood watch­ing me," said anoth­er. ​"Men fol­low­ing me."
The par­tic­i­pants repeat­ed the activ­i­ty with anoth­er prompt: ​"Was there a time or moment when you were sus­pi­cious of some­one? What were the indic­tors?" The next: ​"Was any­one ever sus­pi­cious of you?" And a final one: ​"If you see some­thing, say some­thing — what is this state­ment ask­ing you to look for?"
By the time the activ­i­ty was over, the kids were speak­ing flu­id­ly about their expe­ri­ences of being sur­veilled and how notions of sus­pi­cion are tied into race, class and gen­der — and that's exact­ly what the mod­er­a­tors intended.
The youth were there, in part, to learn about Coun­ter­ing Vio­lent Extrem­ism (CVE), an anti-ter­ror­ism ini­tia­tive osten­si­bly intend­ed to pre­vent vul­ner­a­ble peo­ple from being recruit­ed by ​"vio­lent extrem­ist" groups. Last win­ter, Stop LAPD Spy­ing and a coali­tion of racial jus­tice groups began devel­op­ing a cur­ricu­lum that con­tex­tu­al­ized CVE along­side the broad­er tar­get­ing of Lat­inx and undoc­u­ment­ed peo­ple, the LGBTQ com­mu­ni­ty, indige­nous peo­ple — and, most of all, Black peo­ple. The kids at IYC in August were one of the first groups to engage with this new ped­a­gog­i­cal approach.
Launched by the Oba­ma admin­is­tra­tion, CVE is under­go­ing a shake­up under Trump. Last month, NBC News reported that the Depart­ment of Home­land Secu­ri­ty (DHS) plans to dis­con­tin­ue fund­ing for the pro­gram. That deci­sion, arriv­ing short­ly after the dead­ly shoot­ing at a Pitts­burgh syn­a­gogue, drew crit­i­cism from com­men­ta­tors such as The Atlantic's Peter Beinart as anoth­er exam­ple of Trump aid­ing and abet­ting far-right and white suprema­cist groups.
Yet civ­il lib­er­ties and racial jus­tice groups have assailed the pro­gram for focus­ing dis­pro­por­tion­ate­ly on Mus­lims and treat­ing indi­vid­u­als' polit­i­cal views, reli­gios­i­ty and even men­tal health as poten­tial mark­ers of future violence.
What's more, dec­la­ra­tions that CVE is dead are pre­ma­ture — the approach at the heart of the pro­gram appears like­ly to con­tin­ue through oth­er fed­er­al and state chan­nels, albeit under dif­fer­ent names.
Michael Ger­man, a fel­low with the Bren­nan Cen­ter for Justice's Lib­er­ty and Nation­al Secu­ri­ty Pro­gram, notes that even if DHS ends its CVE fund­ing, the Jus­tice Depart­ment, U.S. Attor­neys' Offices and FBI all have their own programs.
"Anoth­er fea­ture of CVE pro­grams is that they often rebrand to escape scruti­ny and account­abil­i­ty, so com­mu­ni­ties and local pol­i­cy mak­ers need to be cau­tious about new gov­ern­ment pro­grams mov­ing for­ward," he told In These Times. ​"CVE may be end­ing, but the neg­a­tive impact it had on tar­get­ed com­mu­ni­ties will last much longer."
That's why, for Khan and a coali­tion of orga­niz­ers in Los Ange­les, the fight against sur­veil­lance can­not begin and end with CVE. They've already won an impor­tant local vic­to­ry — in August, Los Ange­les announced it was turn­ing down a $425,000 CVE grant fol­low­ing pub­lic pres­sure. The coalition's pub­lic edu­ca­tion and orga­niz­ing efforts offer impor­tant lessons for orga­niz­ers con­tin­u­ing the fight against gov­ern­ment sur­veil­lance in an uncer­tain landscape.
Coopt­ing rela­tion­ships of trust
CVE was born in 2014, when then-Attor­ney Gen­er­al Eric Hold­er announced that the Jus­tice Depart­ment was cre­at­ing a pilot pro­gram to ​"bring togeth­er com­mu­ni­ty rep­re­sen­ta­tives, pub­lic safe­ty offi­cials, reli­gious lead­ers and the Unit­ed States Attor­neys to improve local engage­ment [and] counter vio­lent extremism."
The pro­gram is root­ed in the ​"con­vey­or belt" the­o­ry of rad­i­cal­iza­tion, which holds that so-called extrem­ist reli­gious ide­olo­gies oper­ate like a mechan­i­cal force dri­ving peo­ple to com­mit vio­lent acts. Under this log­ic, poten­tial­ly vul­ner­a­ble peo­ple — those with men­tal health issues, for exam­ple — are con­sid­ered espe­cial­ly ​"at risk" of rad­i­cal­iza­tion. Anti-Amer­i­can polit­i­cal beliefs and increased reli­gios­i­ty are seen as poten­tial indi­ca­tors of an individual's grow­ing extrem­ism. Impor­tant­ly, there's no empir­i­cal evi­dence to bear out this the­o­ry of rad­i­cal­iza­tion — there are many com­plex fac­tors that can lead some­one to com­mit an act of polit­i­cal violence.
CVE extends the reach of law enforce­ment by coopt­ing rela­tion­ships of trust between com­mu­ni­ty mem­bers and work­ers in the pub­lic and non-prof­it sec­tor. Three munic­i­pal CVE pilot pro­grams announced in 2014 enlist­ed com­mu­ni­ty part­ners that pro­vide men­tal health and social ser­vices, includ­ing a men­tor­ing pro­gram for Soma­li youth in Min­neapo­lis and antibul­ly­ing pro­grams in Boston.
In Los Ange­les, the third pilot city, the mayor's office has accept­ed at least a quar­ter of a mil­lion dol­lars from the fed­er­al gov­ern­ment to fund CVE programs.
One local non-prof­it, the Mus­lim Pub­lic Affairs Com­mit­tee (MPAC), received tens of thou­sands of dol­lars in seed mon­ey from the mayor's office for a pilot pro­gram called Safe Spaces. The pro­gram pro­vid­ed Mus­lim com­mu­ni­ty mem­bers with indi­vid­ual, cou­ples and fam­i­ly coun­sel­ing with a spe­cif­ic aim in mind: ​"to help trou­bled indi­vid­u­als and inter­vene with poten­tial­ly harm­ful behav­iors, and to pre­vent ide­o­log­i­cal vio­lence that could stem from those vul­ner­a­bil­i­ties." Men­tal health work­ers screened par­tic­i­pants for ​"threats of pub­lic vio­lence" that could poten­tial­ly require refer­ral to the police.
Racial jus­tice and anti-sur­veil­lance groups raised the alarm when they dis­cov­ered that MPAC had also been award­ed CVE fund­ing direct­ly by the Oba­ma Depart­ment of Home­land Secu­ri­ty, though the fund­ing was nev­er dis­bursed by the Trump admin­is­tra­tion. The Safe Spaces pro­gram is no longer in operation.
"MPAC nev­er received any [CVE] funds and Safe Spaces specif­i­cal­ly had no law enforce­ment role," MPAC Direc­tor of Devel­op­ment & Com­mu­ni­ca­tions Shah­bano Nawaz told In These Times via e‑mail.
Stop LAPD Spy­ing has been involved in the fight against CVE from the begin­ning. But when the LA City Coun­cil announced in Decem­ber 2017 that it was con­sid­er­ing an addi­tion­al $425,000 CVE grant, the group kicked into high gear.
As Khan start­ed orga­niz­ing to oppose the funds, she got con­nect­ed to young peo­ple from a range of oth­er groups, includ­ing Pales­tin­ian Youth Move­ment, the Black Stu­dent Union from Uni­ver­si­ty of Cal­i­for­nia Irvine (BSU-UCI), the Immi­grant Youth Coali­tion (IYC) and Jew­ish Voice for Peace.
"What has real­ly brought us togeth­er is just an unwa­ver­ing rejec­tion of police and the many ten­ta­cles of the sys­tem," said Khan. Activists in Stop LAPD Spy­ing and oth­er groups were con­cerned with how anti-CVE cam­paign­ing had tra­di­tion­al­ly been framed by civ­il rights lib­er­ties groups.
"They're real­ly focus­ing on just the Islam­o­pho­bic aspects of [CVE]," said Khan. ​"And that is harm­ful, because it feeds more into that divi­sive­ness that is present in our communities."
The activists decid­ed to join forces and devel­op a new approach to com­mu­ni­ty edu­ca­tion about CVE and oth­er pro­grams that mark youth of col­or as vio­lent extrem­ists. After a cam­paign meet­ing in May, three activists who helped devel­op the cur­ricu­lum shared what had brought them to the project. Celine Qussiny, who is active in the Pales­tin­ian Youth Move­ment, said she was excit­ed to be part of a coali­tion orga­niz­ing against CVE through a col­lec­tive process, and to be in a space that cen­tered anti-Blackness.
Jas­mine Adams has served on the lead­er­ship com­mit­tee of BSU-UCI. She's also done exten­sive research on the sig­nif­i­cance of the FBI's Black Iden­ti­ty Extrem­ist des­ig­na­tion, which has been used to pros­e­cute Black activists who have advo­cat­ed for gun rights. ​"I kept com­ing because the work is inter­sec­tion­al," she told In These Times.
Akhil Gopal is active in Jew­ish Voice for Peace and has been research­ing how CVE is con­nect­ed to police vio­lence here and in Israel. The Anti-Defama­tion League, for exam­ple, brings police offi­cers to train in Israel and is also a big pro­po­nent of CVE.
"Before there were even talks of Mus­lim data­bas­es, there were already gang data­bas­es, before there were talks of Mus­lim sur­veil­lance, there was sur­veil­lance of Black Mus­lims," he said.
Glen­da Stam­per, a senior at Woodrow Wil­son High School in Long Beach, has also been close­ly involved in the cam­paign. ​"I just think it's a real­ly good idea to bring every­one togeth­er," she told In These Times in a phone interview.
The cur­ricu­lum is designed to make con­nec­tions between all these issues, link­ing CVE to the the crack­down on so-called Black Iden­ti­ty Extrem­ist activists to the polit­i­cal repres­sion of Pales­tine orga­niz­ers and the demo­niza­tion of Lat­inx youth as MS-13 ​"ter­ror­ists."
At the August work­shop, the IYC youth engaged in activ­i­ties to break down what con­sti­tutes vio­lent extrem­ism and who gets marked as sus­pi­cious to law enforce­ment. They spoke about the his­to­ry of sur­veil­lance pro­grams in the Unit­ed States, includ­ing COIN­TEL­PRO and its impact on the strug­gle for Black Lib­er­a­tion. By the end of the day, they'd learned about CVE and the grant under con­sid­er­a­tion by the mayor's office and made plans to edu­cate their fam­i­ly mem­bers and community.
Over the past year, Stop LAPD Spy­ing has also engaged in oth­er efforts to oppose the grant, includ­ing reach­ing out to com­mu­ni­ty groups and orga­niz­ing activists to attend and speak-out at City Coun­cil meet­ings. These efforts were aug­ment­ed by efforts inside schools, includ­ing orga­niz­ing by Los Ange­les teacher's union, which in July passed a motion oppos­ing CVE as well as PVE, or Pre­vent­ing Vio­lent Extrem­ism, which focus­es on bring­ing ​"derad­i­cal­iza­tion" pro­gram­ming to K‑12 schools.
Sur­veil­lance by a new name
A sus­tained pub­lic cam­paign by Stop LAPD Spy­ing, Asian Amer­i­cans Advanc­ing Jus­tice-Los Ange­les (AAAJ-LA) and oth­er groups paid off in August, when the office of LA May­or Eric Garcetti announced it was turn­ing down the CVE grant. Experts inter­viewed by In These Times believe that this is a first time that a munic­i­pal­i­ty has moved to turn down this kind of funding.
"I think it's impor­tant devel­op­ment and give cred­it to the local groups who orga­nized around the Coun­ter­ing Vio­lent Extrem­ism pro­gram, par­tic­u­lar­ly the young peo­ple who are most direct­ly impact­ed by it," said the Bren­nan Center's German.
The same coali­tion is now gear­ing up to fight a new round of state fund­ing for sur­veil­lance pro­grams. Last month, the Cal­i­for­nia Gov­er­nor's Office of Emer­gency Ser­vices announced that it would award more than $600,000 to five non­prof­its through a new ​"Pre­vent­ing Vio­lent Extrem­ism" pilot program.
AAAJ-LA, along with the state chap­ter of the Coun­cil on Islam­ic Rela­tions, called the pro­gram ​"eeri­ly sim­i­lar" to CVE and is demand­ing greater trans­paren­cy about the new program.
"Cal­i­for­nia has been at the fore­front of resist­ing anti-immi­grant and divi­sive poli­cies and should be at the fore­front of resist­ing fed­er­al poli­cies like CVE," said Advanc­ing Jus­tice-LA Lit­i­ga­tion Direc­tor Laboni Hoq in a press release. ​"We urge the state to con­tin­ue resist­ing injus­tice by refus­ing to part­ner with the Trump admin­is­tra­tion and DHS, who has con­tin­ued to pro­mote a white suprema­cist agen­da of which CVE is just one part."
As for the activists who helped devel­op the anti-CVE cur­ricu­lum, they're think­ing big about next steps and con­tin­u­ing to bring their work­shop to com­mu­ni­ty and activist groups. Qussinys won­ders if com­mu­ni­ties in Los Ange­les could oper­ate their own pro­gram­ming and sup­port ser­vices, with­out rely­ing on fed­er­al fund­ing, and in doing so pre­vent law enforce­ment from infil­trat­ing with the promise of CVE money.
"We can cre­ate things for our­selves, it's actu­al­ly pos­si­ble to do that," she said, recall­ing how mosques had cre­at­ed com­mu­ni­ty cen­ters and oper­ates social and men­tal health ser­vices in the past. ​"And we can do that now, too."

Avi­va Stahl
is a Brook­lyn-based jour­nal­ist who writes about pris­ons, nation­al secu­ri­ty, and immi­gra­tion deten­tion. You can fol­low her @stahlidarity or read more of her work at stahli​dar​i​ty​.com.