In Myanmar, "Anti-Terrorism" Is Cover for Ethnic Cleansing
A brutal state crackdown against the long-persecuted Rohingya minority has created a humanitarian crisis.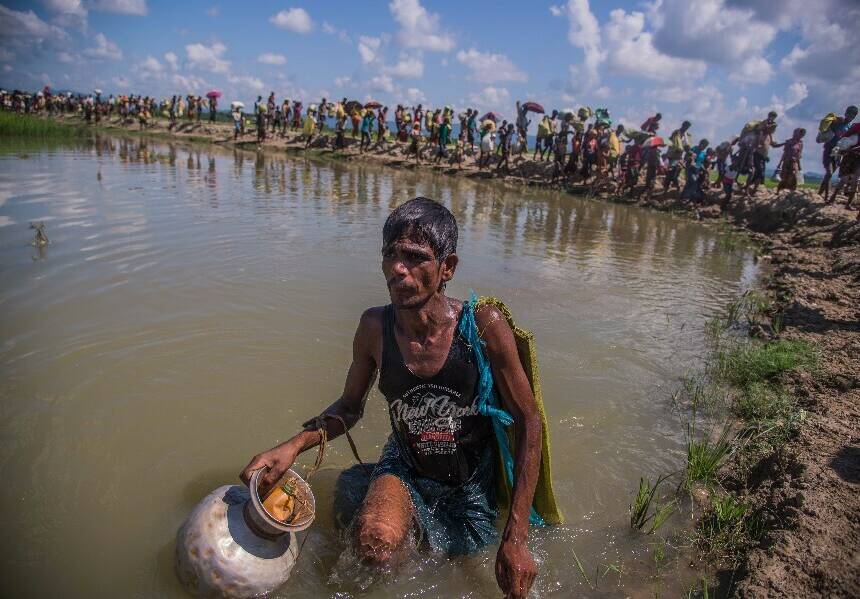 On August 25, the Arakan Rohingya Sal­va­tion Army (ARSA) — a fledg­ling insur­gent group in con­flict with the Myan­mar gov­ern­ment—attacked mul­ti­ple bor­der police posts in the west­ern state of Rakhine and killed 12 offi­cers. In response, Myanmar's secu­ri­ty forces launched a bloody cam­paign against the country's embat­tled Rohingya com­mu­ni­ty, a cam­paign that has killed more than 1,000 peo­ple, accord­ing to the UN Spe­cial Rap­por­teur on Human Rights for Myanmar.
When the Union Citizenship Act was passed, defining which ethnicities could gain citizenship, the Rohingya were excluded.
A month since the crack­down, it is esti­mat­ed that close to half a mil­lion Rohingyas, a Mus­lim minor­i­ty in the major­i­ty-Bud­dhist state, have fled the army's bru­tal offen­sive into neigh­bor­ing Bangladesh. The num­ber of Rohingya who have tak­en transna­tion­al sanc­tu­ary sur­pass­es even the worst month of the Syr­i­an war's refugee cri­sis. Amnesty Inter­na­tion­al indicts the mil­i­tary for sanc­tion­ing a scorched-earth oper­a­tion replete with extra­ju­di­cial killings, sys­tem­at­ic rape and wan­ton mur­der of chil­dren. Satel­lite imagery from Human Rights Watch shows the incin­er­a­tion of entire villages.
UN human rights chief Zeid Ra'ad Al Hus­sein says what is tran­spir­ing ​"seems a text­book exam­ple of eth­nic cleans­ing." UN sec­re­tary gen­er­al Anto­nio Guter­res has called on Myan­mar author­i­ties to cease mil­i­tary oper­a­tions, call­ing the cri­sis ​"the world's fastest devel­op­ing refugee emer­gency and a human­i­tar­i­an and human rights night­mare." Yet the gov­ern­ment defends itself by claim­ing to be com­bat­ing ter­ror­ism as jus­ti­fi­ca­tion for launch­ing clear­ance oper­a­tions in what has amount­ed to be an indis­crim­i­nate crack­down on civilians.
In Myan­mar — a frac­tious, under­de­vel­oped, mul­ti-eth­nic coun­try beset by sev­er­al insur­gen­cies — the Rohingya inhab­it an excep­tion­al sta­tus of neglect and abuse. Liv­ing in squalor and apartheid-like con­di­tions in Rakhine, the 1.1 mil­lion Rohingya rank as one of the world's most per­se­cut­ed minori­ties; state-spon­sored repres­sion of the group has per­sist­ed for decades.
Myanmar's rul­ing author­i­ties have long endorsed a racial­ized con­cep­tion of eth­nic­i­ty, and offi­cial­ly rec­og­nizes 135 eth­nic groups (those that alleged­ly lived with­in the country's bound­aries before the 1824 British inva­sion). Since the 1962 coup, the state machin­ery has assumed the role of arbi­tra­tor, reg­u­la­tor and enforcer of col­lec­tive iden­ti­ties. A stark exam­ple is the ID cards that all cit­i­zens are oblig­ed to car­ry, which state both their eth­nic­i­ty and reli­gion — two inter­twined cat­e­gories that to a large degree deter­mine one's place in the coun­try. As such, those adju­di­cat­ed as ​"belong­ing" to the Burmese poli­ty are exclu­sive­ly defined on iden­ti­tar­i­an grounds, as oth­er groups are sub­or­di­nat­ed in a hier­ar­chy dom­i­nat­ed by the Burmese-Bud­dhist majority.
It is then telling that the Myan­mar state does not con­sid­er the Rohingya as a legit­i­mate part of its socio-polit­i­cal order. Fol­low­ing inde­pen­dence from the British in 1948, the Union Cit­i­zen­ship Act was passed, defin­ing which eth­nic­i­ties could gain cit­i­zen­ship. The Rohingya were exclud­ed. (It did, how­ev­er, allow those with fam­i­lies liv­ing in the coun­try for at least two gen­er­a­tions to apply for ID cards.) With the pass­ing of the 1982 cit­i­zen­ship law, the gov­ern­ment ren­dered the Rohingya state­less. Effec­tive­ly barred from legal recog­ni­tion as one of Myanmar's 135 eth­nic­i­ties, they were exclud­ed from even the basic lev­el of nat­u­ral­ized cit­i­zen­ship because the appro­pri­ate paper­work had been denied to them by pre­vi­ous regimes. As a result, their rights to work, edu­ca­tion, trav­el, mar­riage, and access to health care have been and con­tin­ue to be severe­ly restricted.
Since then, the state has mount­ed inter­mit­tent, mil­i­tary-led cam­paigns to effec­tive­ly purge the Burmese body politic of a peo­ple offi­cial­ly deemed by the gov­ern­ment to be ​"Ben­galis," imply­ing that they are ille­gal immi­grants from Bangladesh — despite their pres­ence in the region for gen­er­a­tions — to foment their era­sure. At the same time, state author­i­ties vehe­ment­ly reject the term ​"Rohingya" itself as a recent inven­tion, cre­at­ed for polit­i­cal rea­sons to legit­imize a for­eign contagion.
In 2015, the oppo­si­tion Nation­al League for Democ­ra­cy (NLD) — led by Aung San Suu Kyi — secured the country's first elec­toral vic­to­ry in decades, ush­er­ing in a sev­en-step roadmap to democ­ra­cy, referred to as ​"dis­ci­pline-flour­ish­ing democ­ra­cy," after a half-cen­tu­ry of dic­ta­tor­ship. The tran­si­tion, care­ful­ly man­aged by the mil­i­tary brass, has been rel­a­tive­ly smooth, and despite ten­sions between the NLD and the mil­i­tary, they man­aged to fos­ter a pow­er-shar­ing arrangement.
But this (par­tial) polit­i­cal lib­er­al­iza­tion would not bring about any sub­stan­tial improve­ment in the Rohingya's plight. The army remains con­sti­tu­tion­al­ly sep­a­rat­ed from civil­ian over­sight and retains con­trol of key min­istries. It has every incen­tive to keep eth­nic ten­sions sim­mer­ing so it can ped­dle itself as a nation­al secu­ri­ty but­tress against exter­nal threats.
The NLD's response to the last month's blood­shed has been tepid. Inter­na­tion­al out­cry has aimed at the silence of Suu Kyi, rife with calls from edi­to­ri­als, colum­nists and fel­low lau­re­ates to rescind the Nobel Peace Prize award­ed to her in 1991 for non-vio­lent strug­gle to secure democ­ra­cy and human rights in the country.
Giv­en that the NLD lacks the orga­ni­za­tion­al cadres of a mass par­ty and relies in part upon the pop­u­lar mobi­liza­tion of Bud­dhist monks, it has been reluc­tant to con­front extrem­ist Bud­dhist groups that have been at the van­guard of pro­vok­ing antag­o­nism against the Rohingya such as Ma Ba Tha, a promi­nent ultra-nation­al­ist and anti-Mus­lim grass­roots out­fit. It is evi­dent that the par­ty also fears chal­leng­ing the army's daunt­ing insti­tu­tion­al strength.
The Rohingya's predica­ment also stems, in part, from the ​"war on ter­ror." Giv­en the appalling bar­barism the Myan­mar state has inflict­ed on them, it shouldn't be a sur­prise that some Rohingya would turn to mil­i­tan­cy — what even­tu­al­ly became known as ARSA, an inter­na­tion­al­ly bank-rolled, rag­tag insur­gency of a few hun­dred fight­ers trained in guer­ril­la war tactics.
The Myan­mar gov­ern­ment uses ARSA as evi­dence of Islam­ic extrem­ism embed­ded with­in the Rohingya, cast­ing them as a sin­is­ter threat to the secu­ri­ty of the Bud­dhist major­i­ty, while treat­ing Rohingya men as poten­tial ter­ror­ists and block­ing human­i­tar­i­an aid in the process. It's a tac­tic used by the U.S. state abroad and more recent­ly by the Assad régime in Syr­ia: tar­ring oppo­nents as extrem­ists while inflict­ing war crimes upon hap­less civilians.
This all has a famil­iar ring to it. By using dis­pro­por­tion­ate force that has dri­ven hun­dreds of thou­sands from their homes, the gov­ern­ment risks fos­ter­ing con­di­tions for fur­ther rad­i­cal­iza­tion that transna­tion­al jihadists will read­i­ly exploit.
Devoid of pro­tract­ed inter­na­tion­al pres­sure to enforce a cease­fire, Myan­mar author­i­ties have lit­tle rea­son to curb their onslaught. And even once hos­til­i­ties sub­side, any sus­tain­able long-term solu­tion must involve an over­haul of Myanmar's exclu­sion­ary cit­i­zen­ship law. The Rohingya must be afford­ed the basic right to exist in the coun­try — a coun­try that oth­er­wise sees fit to exter­mi­nate them from its col­lec­tive memory.
Amar Diwakar
is a writer and researcher. He tweets at @indignant_sepoy and blogs at Splin­tered Eye.