Dairy Farmer to Donald Trump: "Replace NAFTA, It's Not Good For Farmers Anywhere"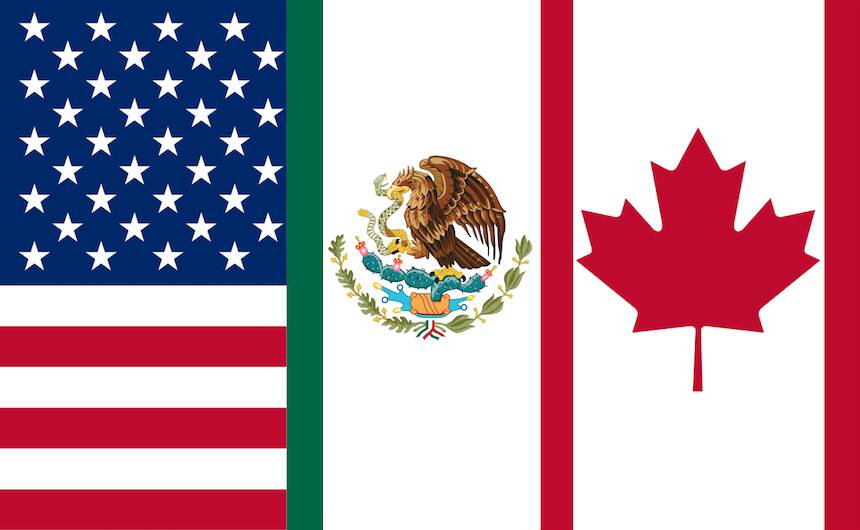 There is a lot of angst in the U.S. cor­po­rate world. They are quite con­cerned that the rene­go­ti­a­tion talks between the Unit­ed States, Cana­da and Mex­i­co (the three par­tic­i­pants in the North Amer­i­can Free Trade Agree­ment, or NAF­TA) may not deliv­er a new agree­ment that is as lucra­tive as the old NAFTA.
NAF­TA has been in place since 1994. It is one of those clas­sic neolib­er­al trade deals that essay­ist George Scial­ab­ba describes as ​"investor rights agree­ments mas­querad­ing as ​'free trade' and con­strain­ing the rights of gov­ern­ments to pro­tect their own work­ers, envi­ron­ments, and cur­ren­cies." As such, it has served cor­po­rate inter­ests well.
U.S. cor­po­ra­tions count­ed on NAF­TA and oth­er trade agree­ments to keep wages low by the threat of, or actu­al move­ment of, man­u­fac­tur­ing jobs to wher­ev­er it was eas­i­est to exploit work­ers and the environment.
A rene­go­ti­at­ed NAF­TA, would, if U.S. nego­ti­at­ing posi­tions were accept­ed, force Cana­da to scrap the price pro­tec­tions that give their dairy farm­ers a fair price for their milk. In Mex­i­co, U.S. cor­po­rate inter­ests would hope to pre­vent Andrés Manuel López Obrador, if elect­ed pres­i­dent, from try­ing to bring Mex­i­can farm­ers out of pover­ty. Obrador calls for expand­ing the country's dairy indus­try and rebuild­ing its native corn pro­duc­tion. (Amer­i­can agribusi­ness destroyed Mex­i­can fam­i­ly farm corn pro­duc­tion by dump­ing cheap­er corn on the Mex­i­can mar­ket — hence the spike in ille­gal emi­gra­tion to the Unit­ed States after NAF­TA went into force.)
Pro­tec­tion­ist poli­cies on the part of Cana­da and Mex­i­co? Yes, but what is the func­tion of gov­ern­ment if not to pro­tect its cit­i­zens? Trump says ​"Amer­i­ca first" but it goes both ways. Pre­sum­ably, our gov­ern­ment was not found­ed with the intent of pro­tect­ing cor­po­rate inter­ests. In fact, as Thomas Jef­fer­son noted:
"The end of our democ­ra­cy … will occur when gov­ern­ment falls into the hands of lend­ing insti­tu­tions and mon­eyed incorporations."
Looks like we're there.
If farm­ers, union mem­bers and small busi­ness­es were the intend­ed ben­e­fi­cia­ries of free trade agree­ments we should all be doing quite well finan­cial­ly. Dairy farm­ers should be get­ting a fair price for their milk, work­ers should be earn­ing a liv­ing wage and small busi­ness­es should be lin­ing the main streets of Amer­i­ca again — but we know that is not the case.
Multi­na­tion­al cor­po­ra­tions, the real ben­e­fi­cia­ries of free trade agree­ments, write the rules, stash their prof­its in off­shore tax havens, all while they clev­er­ly tout the agree­ments as being in the best inter­ests of the farmer and wage earner.
As a dairy farmer I am told trade agree­ments have and will con­tin­ue to help me ​"com­pete glob­al­ly." Through NAF­TA we can increase our sales of dairy prod­ucts to Mex­i­co and crack Canada's pro­tec­tion of their farm­ers' milk price. Notice they do not say this will increase our prof­itabil­i­ty, only our sales — so why should I want to pro­duce more, sell more, when there is no prof­it? It only means farm­ers will need to work hard­er to make the same or less, at the expense of Cana­di­an and Mex­i­can farmers.
Of course, that is not the con­cern of the ​"dairy indus­try." Their prof­it is ensured by the will­ing­ness of farm­ers to pro­duce more and nev­er ques­tion why they can­not get a fair price. If dump­ing our cheap corn on Mex­i­co or putting Cana­di­an dairy farm­ers out of busi­ness is the price of increas­ing cor­po­rate prof­it — so be it.
Pres­i­dent Trump promised to make NAF­TA bet­ter or pull out. What he and his admin­is­tra­tion would define as bet­ter is a very loaded ques­tion. I have seen lit­tle in the past year to indi­cate the admin­is­tra­tion wants to do any­thing to raise farm prices or wages, or curb the influ­ence of cor­po­rate inter­ests on gov­ern­ment. Just look at the new tax bill — let the good times roll for the rich and the corporations!
Wis­con­sin Assem­bly Speak­er Robin Voss is wrong when he says ​"NAF­TA has worked for Wis­con­sin. It's not the time to put new obsta­cles in place that would hurt the very mar­kets that our busi­ness own­ers and farm­ers depend on." If NAF­TA has worked, why are farm­ers being told to expect con­tin­ued low prices in 2018?
So, rather than more of the emp­ty pop­ulist rhetoric that fueled his cam­paign and elec­tion, the pres­i­dent, for once, actu­al­ly needs to fol­low through on a promise: NAF­TA should be replaced not renegotiated.
As Pub­lic Citizen's Glob­al Trade Watch not­ed, ​"Trump launched the promised NAF­TA rene­go­ti­a­tion in August, but U.S. cor­po­rate inter­ests have per­suad­ed Cana­da and Mex­i­co to not engage on U.S. pro­pos­als to trans­form NAF­TA in ways that U.S. unions, small busi­ness­es and con­sumer groups have long argued would slow job out­sourc­ing and down­ward pres­sure on U.S. wages."
Any­one who sup­ports the con­tin­u­a­tion of NAF­TA with­out ques­tion­ing who actu­al­ly ben­e­fits real­ly has no con­cern for the best inter­ests of farm­ers or work­ers in the Unit­ed States, Cana­da or Mexico.